2020 Draft recap: Pittsburgh Pirates
Bucs land Gonzales' potent bat at No. 7, load up on arms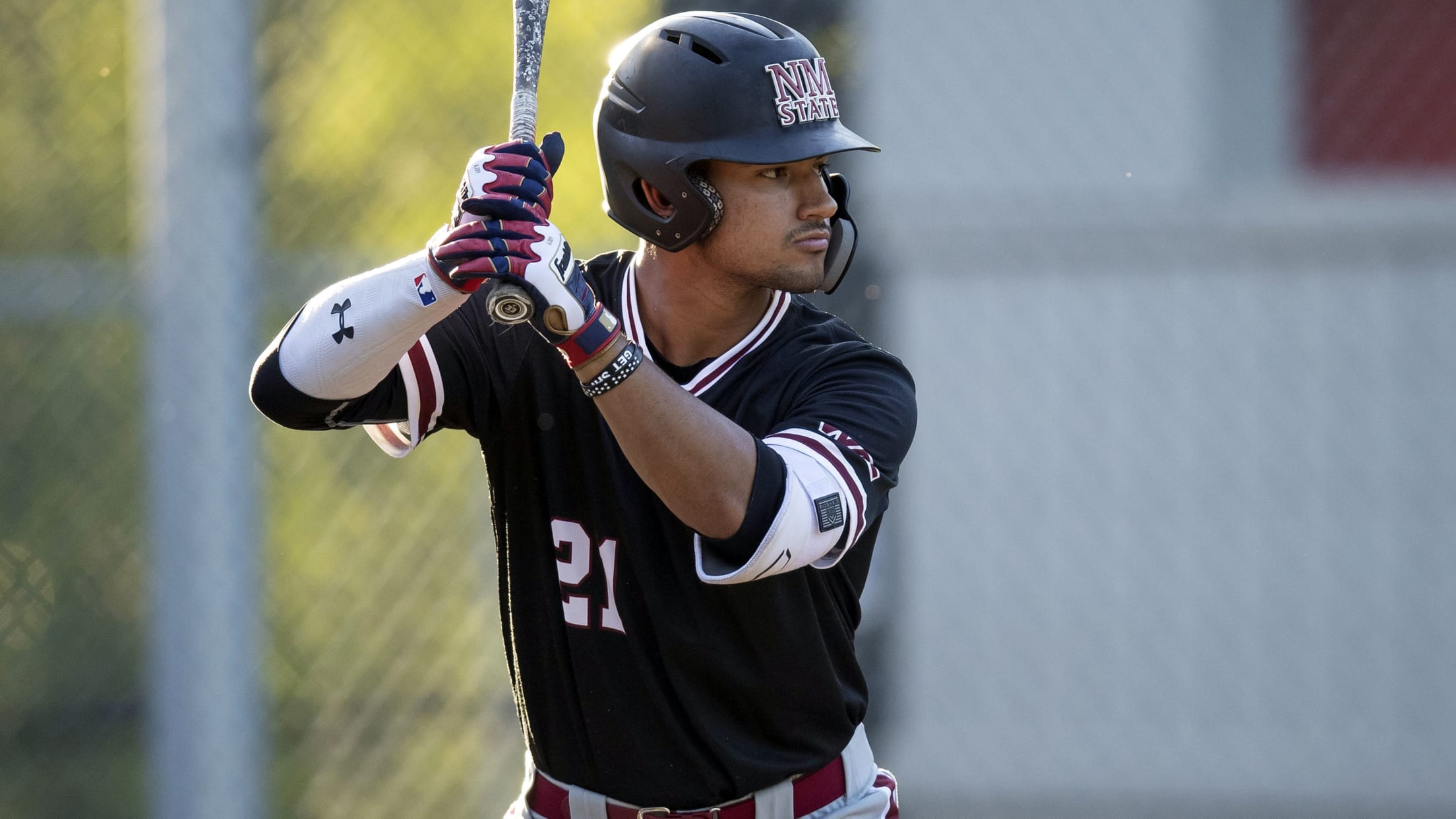 Nick Gonzales hit .432/.532./773 as a New Mexico State sophomore in 2019. (AP)
Following the five-round 2020 MLB First-Year Player Draft, MiLB.com takes an organization-by-organization look at each pick with help from team scouting executives. The Draft shrunk to unprecedented dimensions. The Pirates, though, still brought in a prospect with the potential to become a Major League mainstay, then instantly altered the depth
Following the five-round 2020 MLB First-Year Player Draft, MiLB.com takes an organization-by-organization look at each pick with help from team scouting executives.
The Draft shrunk to unprecedented dimensions. The Pirates, though, still brought in a prospect with the potential to become a Major League mainstay, then instantly altered the depth of their system's pitching.
Much of the groundwork was done before the COVID-19 pandemic made baseball in 2020 a year unlike any other. Four of Pittsburgh's six selections impressed in last summer's Cape Cod League. Another was a high school stud and showcase standout. A combination of years of scouting and research, along with multiple departments buying into a remote process in more recent months, produced a class that the Pirates hope will help them through a rebuild.
"The Zoom and virtual aspect was definitely different," said Joe DelliCarri, Pittsburgh's senior director, amateur scouting, "but the people were the same, and the people who are putting the inputs into everything and their expertise and their care and want to and willingness to work together was tremendous."
First Round: SS Nick Gonzales (No. 7 overall)
Gonzales possessed maybe the best pure bat in the Draft, yet he has always had his detractors. He went undrafted out of high school, then walked on at New Mexico State. He put up absurd numbers in two full seasons as an Aggie -- .392/.484/.690 with 25 homers, 36 doubles, six triples and one fewer walk (68) than strikeouts (69) -- but his conference was not the SEC and his home games were played at high altitude.
Pittsburgh chose to ignore others' pessimism and embrace Gonzales' production, like his MVP campaign in the Cape Cod League last summer, during which he hit .351/.451/.630 with seven homers in 153 at-bats. For that, MLB.com's No. 5 Draft prospect will soon slot somewhere just as high on the Pirates' Top 30 prospect list. Already, three of the club's top five prospects play the infield. No. 41 overall prospect Ke'Bryan Hayes, a third baseman, should graduate to the Majors in 2020 and bring his elite glove. No. 64 overall Oneil Cruz continues to grow and reached Double-A last season as a 6-foot-7, 20-year-old shortstop with superstar possibilities. Fifth-ranked Pirates prospect Liover Peguero, acquired for Starling Marte this past offseason, is just 19 and shredded the Pioneer League last year. Inserting Gonzales -- who some scouts believe profiles long term at second base, his primary position in college -- only makes a good problem for Pittsburgh even better.
"He's going to continue to grow in so many areas because of who he is," DelliCarri said. "The passion for the game. The passion for learning. Very focused and very intentional young man. So, albeit, we all think he's a terrific young hitter. The industry similarly going into this Draft thought he was a good young hitter. But it really lies in growth in all areas because of who he is."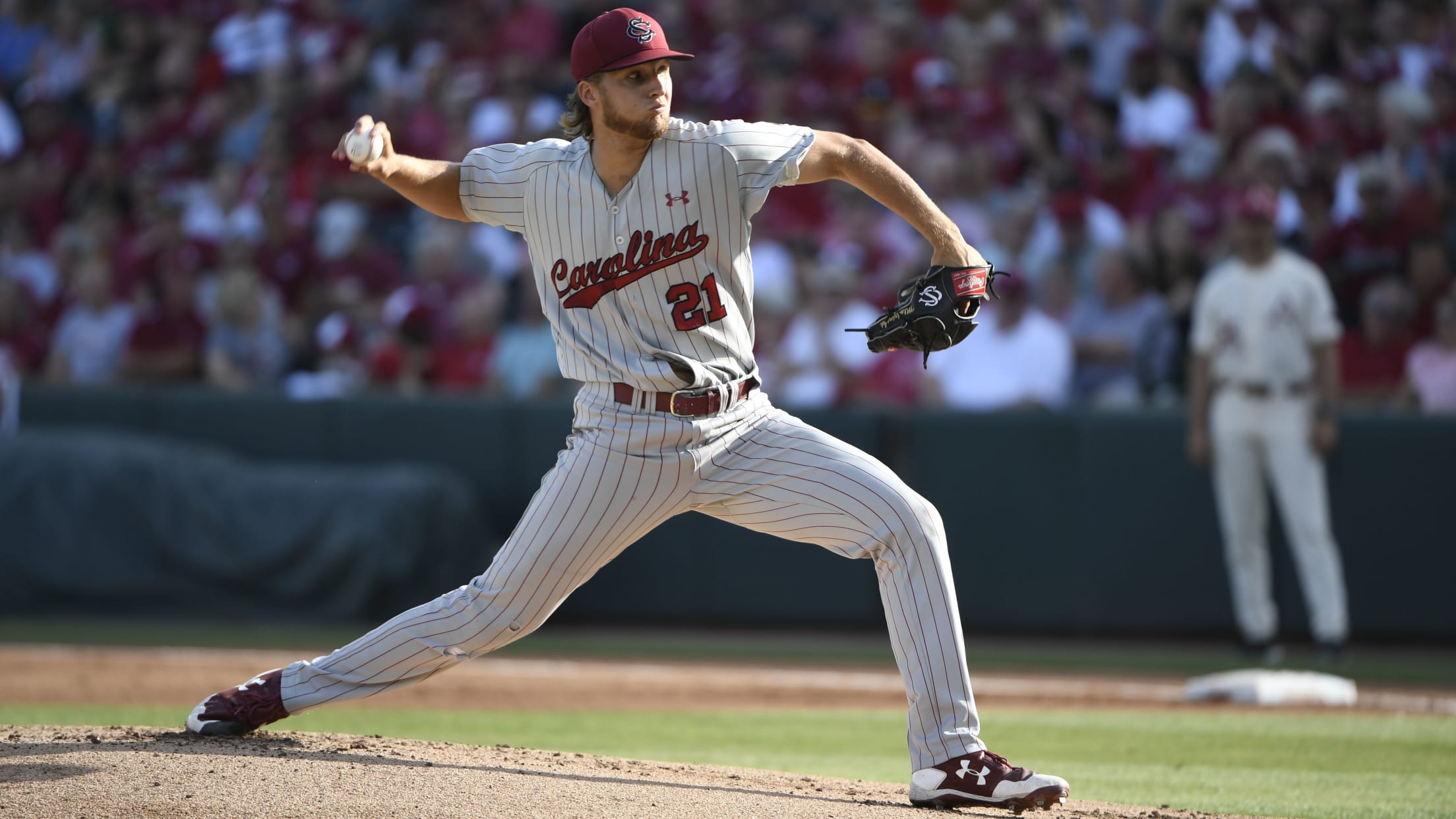 Competitive Balance Round A: RHP Carmen Mlodzinski (No. 31 overall)
Mlodzinski's a power pitcher whose best weapon is a sinker that has hit 99 mph. He has a curveball and a changeup and both he and the Pirates believe he can hone a deeper mix of pitches to last as a starter. But he didn't pitch until halfway through high school, and didn't commit to it seriously until his senior year. The right-hander struggled as a freshman at South Carolina, then made three starts before fracturing his foot as a sophomore. Like Gonzales, Cape Cod was his ultimate proving ground; Mlodzinski went 2-0 with a 2.15 ERA and 40 strikeouts in 29 1/3 innings over six starts. He owned a 2.84 ERA through 25 1/3 frames this spring before collegiate baseball shut down.
Because of his limited sample size, it's tough to say where Mlodzinski, ranked as the No. 21 prospect entering the Draft, might enter Pittsburgh's system. Mitch Keller, the club's top prospect, has already debuted in the Majors. Mlodzinski could assume Keller's spot as Pittsburgh's top pitching prospect in the coming months. But Quinn Priester and Brennan Malone (another pickup from the Marte deal), both 19 and further down the ladder, will vie for that spot as well. Either way, the development of all three will be something for Pirates fans to follow closely over the next couple of years.
"He is just on the surface of tapping into the way his body moves, the way his arm works, the way he's able to make the ball move with multiple pitches," DelliCarri said. "I think that's where we see Carmen and how we view Carmen going forward."
Second Round, RHP Jared Jones (No. 44 overall)
As a high school junior in California, Jones hit .477. The Pirates were more attracted to his 0.77 ERA and 97 mph fastball. His slider can miss bats. His changeup needs work. But he's only 18, and as is the case with most high school pitchers selected this early in the Draft, Pittsburgh saw enough in the Texas commit to give his young arm time to develop.
Jones, the No. 55 prospect entering the Draft, was the only high-schooler selected by the Pirates. In a stable of pitching that grew overnight, he'll likely take the longest to climb the ranks. That's OK. DelliCarri indicated that conversations between Jones and the club left both sides feeling good about leaving his bat behind.
"I think Jared showed us over a long period of time as a position player and a pitcher that he's a very competitive, very athletic young man," DelliCarri said, "and we felt this spring -- coming off of last year -- some of the foundational body movement, adjustments and ease of operation, that he'd continue to progress on the mound."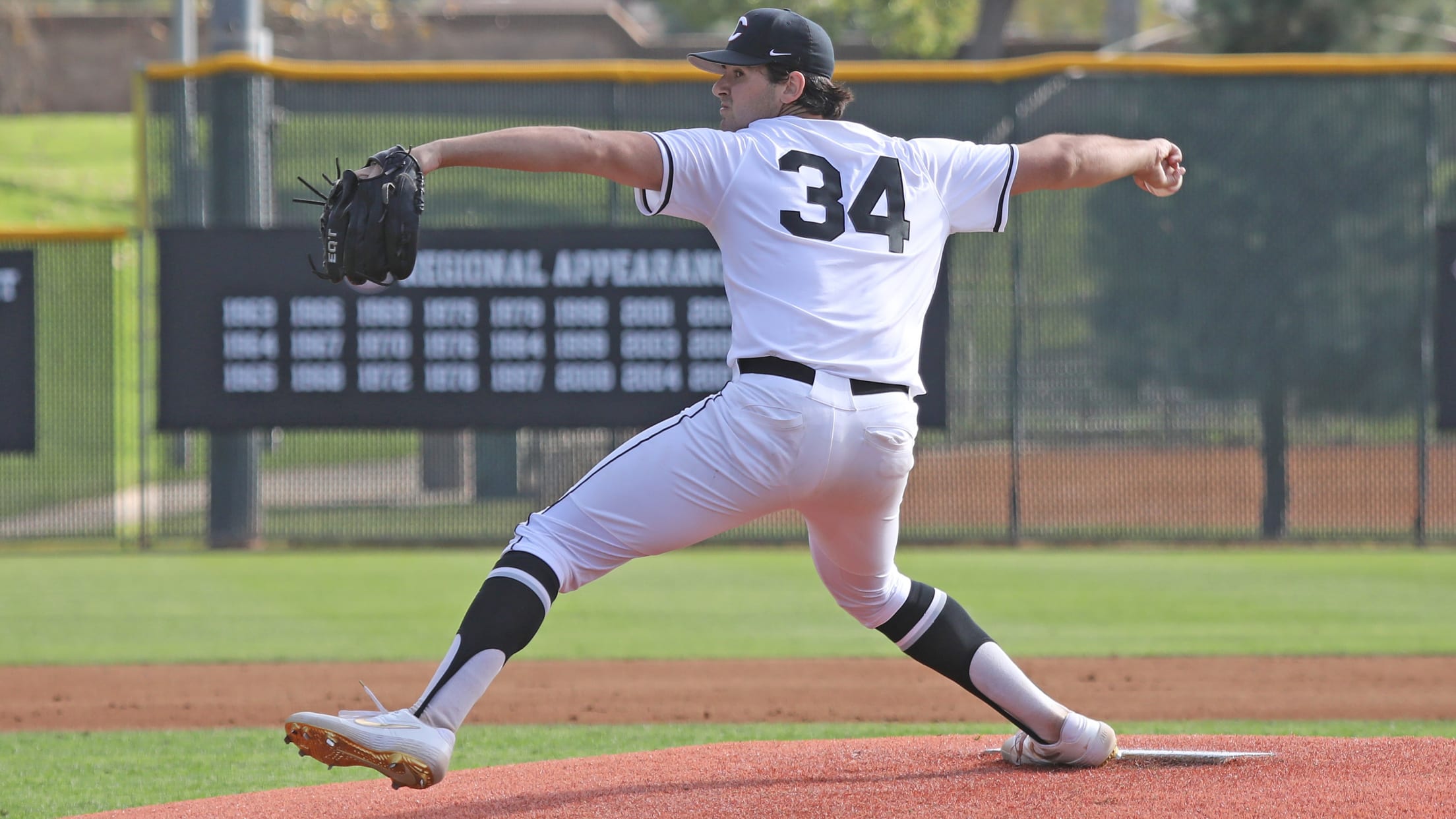 Third Round: RHP Nick Garcia (No. 79 overall)
Trend alert -- much like the two pitchers the Pirates took before him, and the two pitchers the Pirates took after him, Garcia is a right-hander who has done relatively less pitching than most hurlers. He spent his first year at Division III Chapman University as a position player. As a sophomore, he thrived as the team's closer during its National Championship season, going 9-0 with 12 saves and a 0.64 ERA in 30 appearances. He moved to the rotation this spring, making five starts and posting a 4-1 record with a 2.00 ERA before the shutdown.
The Pirates saw him in relief in the Cape Cod League last year and had several scouts see him in person this spring. The difference was enough for them.
"He just continues to get better with his athleticism, his arm speed, the way his arm works," DelliCarri said. "And really the natural progression in his foundation, the way his delivery and body works is just a good fit for believing going forward that he can give innings, is going to give innings, has a chance to be a starting pitcher because of all of those traits."
Fourth Round: Jack Hartman (No. 108 overall)
Hartman spent 2017 at a Florida community college and hit .267. He played both ways at a different community college in 2018. The 6-foot-3 righty did fine at Appalachian State in 2019, posting a 4.98 ERA with 26 strikeouts in 21 2/3 innings, but really came on this spring with a 3.00 ERA and team-best 22 punchouts in 12 innings.
Fifth Round: Logan Hofmann (No. 138 overall)
In his lone season at Northwestern State, before the pandemic halted the campaign, Hofmann didn't allow an earned run in 28 innings. It was a fitting encore to an All-Star effort in the Cape Cod League last summer, where the 5-foot-10 right-hander went 3-1 with a 3.54 ERA and 27 strikeouts in 20 1/3 innings. It helped Hofmann go from a 35th-round pick in 2019 to a fifth-round pick in 2020.
Hartman and Hofmann, of course, are different pitchers. They could follow different paths in their chase to the Majors. But the Pirates went after both for similar reasons.
"Between Jack Hartman and Logan Hofmann, they have pitches, they have things that we like in terms of getting people out," DelliCarri said. "They're also makeup-wise very strong for us. Competitive young men. Although be it different in size -- when you look initially at the Draft list, one's pretty tall and the other is not as much -- they both come with ... the ability to get people out. They have some miss in their repertoire, and they are very competitive young men."
Overall outlook: This was the first draft for the Pirates under new general manager Ben Cherington. They're rebuilding. In Gonzales, they acquired an advanced hitter who could ascend quickly through the system and find himself hitting at PNC Park in two or three years. In the rest of the class, which Cherington said was the result of taking the best available player, the Pirates have added another wave of inexperienced arms to a pitching stock that MiLB.com rated as a middle-of-the-pack group in February. If anything, it will be an experiment in development worth following.
Given the circumstances, both achievements seem beneficial to the rebuild. They just don't mean it's complete.
"I don't think you ever have enough pitching," DelliCarri said. "That's a statement everybody uses, but in terms of overall young ability, we'll continue to do that on the trade front. We'll continue to look for opportunities on the domestic side, look for opportunities on the international side. Quite frankly, you've gotta be good in all spaces all the time in injecting young talent. We feel really good about this group, as you've heard us share, that they will be a part of that going forward, that injection of arms into the system."
Joe Bloss is a contributor for MiLB.com. Follow him on Twitter @jtbloss.