2020 Draft recap: Miami Marlins
Miami bolsters system with six high-upside hurlers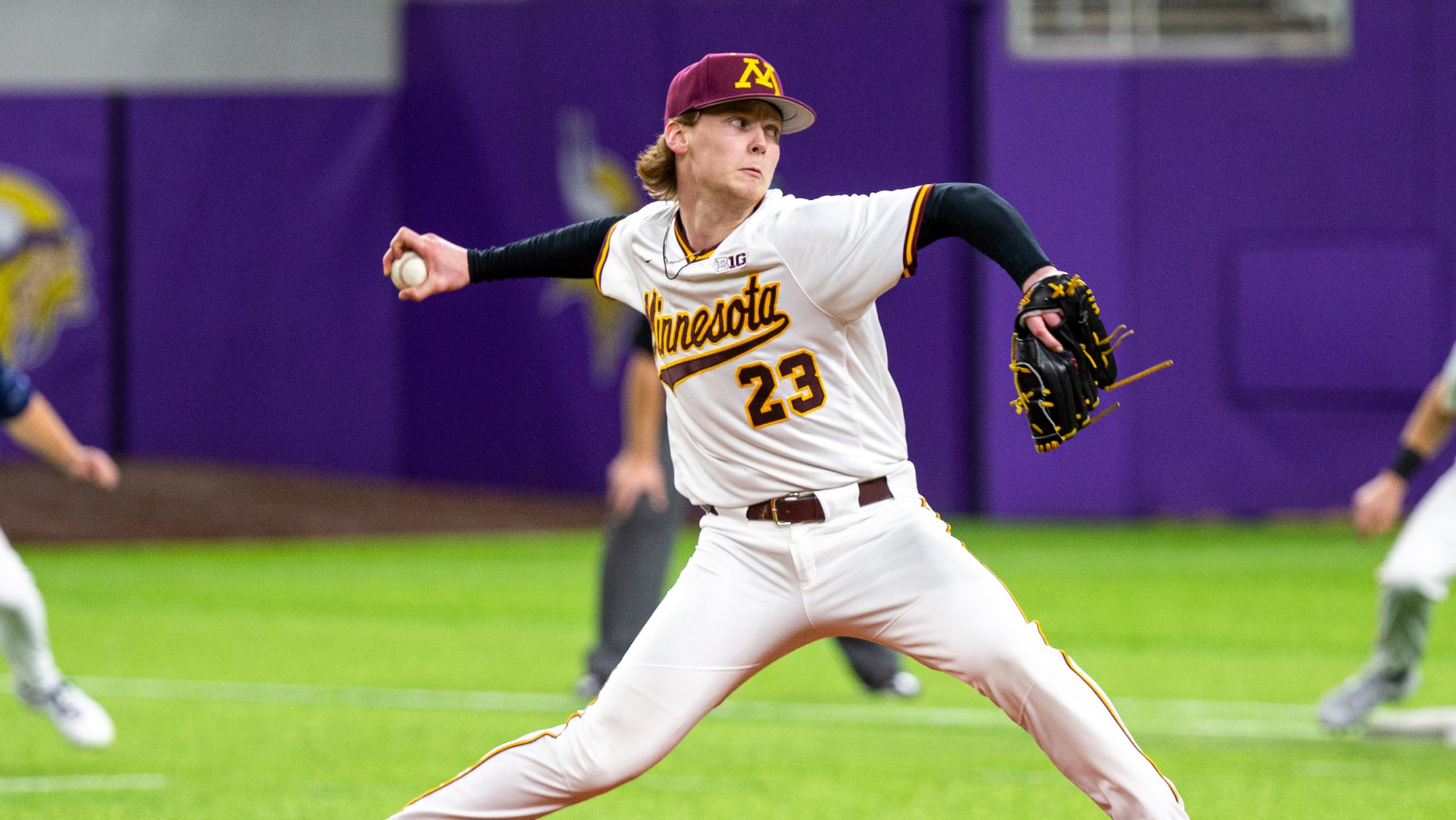 Max Meyer earns 70 grades on the 20-80 scouting scale for his fastball and curveball. (Kelly Hagenson/University of Minnesota Athletics)
Following the five-round 2020 MLB First-Year Player Draft, MiLB.com takes an organization-by-organization look at each pick with help from team scouting executives. Heading into this year's Draft, the Marlins didn't have any intentions of using all six of their picks on pitching prospects. But with the unusual circumstances leading up
Following the five-round 2020 MLB First-Year Player Draft, MiLB.com takes an organization-by-organization look at each pick with help from team scouting executives.
Heading into this year's Draft, the Marlins didn't have any intentions of using all six of their picks on pitching prospects.
But with the unusual circumstances leading up to the Draft and having college and high school seasons across the country cut short by the COVID-19 pandemic, the club felt that when it was time to pick, it needed to go with players about whom it had the most information. So Miami ended up with six new arms that have a lot of high upside and, as Marlins director of amateur scouting D.J. Svihlik noted, stayed true to the formula of power fastballs and curveballs that both had exceptional spin rates.
"Well, the theme of our Draft was draft, which, you know, and, and in the current environment, there were a lot of things that we didn't know because we didn't get to scout the players long enough," Svihlik said. "So whenever there was a situation in the room where we had to lean one way, we leaned into the things that provided the most amount of information and, given the current environment, as you might imagine, it was the pitching.
"Now there are certainly position players that were scattered throughout the Draft that we were really close to selecting. The cards just didn't fall that way."
So for the first time in team history, Miami selected hurlers with their six picks. In doing so, the Marlins landed five pitchers who ranked among MLB.com's Top-100 Draft prospects.
"I think the industry knew that this Draft was really strong and pitching and we knew it as well," Svihlik said. "So we wanted to take advantage of that."
First Round: Max Meyer (No. 3 overall)
Speaking of strong pitching, Miami might have scooped one of those with the highest ceiling in the right-hander out of the University of Minnesota.
Possessing a fastball and slider that both sit in the plus-plus realm, there was a lot to like with Miami's first selection. Meyer had a stellar career with the Golden Gophers, opening as a reliever and shifting to a starter during his sophomore season. Overall, he compiled a 2.13 ERA and 187 strikeouts over 148 innings. And last summer, he led USA Baseball's collegiate national team with a 0.69 ERA.
At 6 feet, Meyer has been viewed by some as a reliever (who could be ready in the near term), but Miami projects him as a valuable piece at the top of the rotation.
As it stands, the Marlins have right-hander Sixto Sanchez as their top prospect. As he gets closer to making his big league debut, there's a good chance Meyer could succeed him in that slot.
"It was a comfortable selection," Svihlik said of Meyer. "It was an exciting selection because we had so much information out there. There were some high school players that we really liked that we just weren't able to see this year, and I wasn't going to lean into just what we saw prior. There were some players that had to answer some questions and they didn't have a chance to do it.
"In the case of Max, he answered all the questions. And the deeper we dug into the evaluation, the more he separated himself from the pack and turned himself into our first pick."
Second round: Daxton Fulton (No. 40 overall)
About a year ago, Fulton was near the top of a lot of Draft boards and was viewed as an easy first-round selection. But after undergoing Tommy John surgery and missing the shortened prep season, he did not pitch at all in 2020.
Even with that in mind, the Marlins had done their homework on the southpaw, who's in the mold of a pitcher with a power fastball-curveball combination. Given that Miami had thought highly of him and knew he'd fallen in the Draft following the surgery, it felt like an easy pick at that spot. The Marlins have two lefties (Braxton Garrett and Trevor Rogers) among their top 30 prospects at Double-A, but the 6-foot-6 Fulton could vie for one of their spots when he's back on the hill.
His fastball sits in the mid 90s and, with a 60-grade breaking ball, he was a tantalizing option who was too good to pass on. Keeping high spin rates and an adept ability to tunnel his offerings made the southpaw even more enticing. With a long history of scouting Fulton, not seeing him pitch this year was not much of an issue.
"It's a very classic surgery and he's in really good shape right now -- he's already throwing," Svihlik said. "And given the size of our bonus pool, we looked at that and said here's a player that our reports from the summer were in the middle of the first round, no doubt. He was right up there with Mick Abel -- it was him and Mick Abel. And then it was everybody else. [Area scout] James Vilarde did a great job getting to know the family. He's known him a long time.
"What we knew of the physical talent, it just made it a no-brainer by the time we got to 40. I've gotten multiple calls from directors going, 'That was an unbelievable pick right there.' It's not to say that they're right, but it just gives you some comfort from other people that you respect in the game."
Competitive Balance Round B: Kyle Nicolas (No. 61 overall)
In a truncated third season at Ball State, Nicolas whiffed 37 and walked seven over 23 frames.
There had been some concerns about his mechanics and ability to maintain control within the strike zone (he issued 102 free passes in college), but the raw stuff has never been a question mark. He has a remarkable fastball that can touch triple digits along with a slider and curveball that have shown strong glimpses.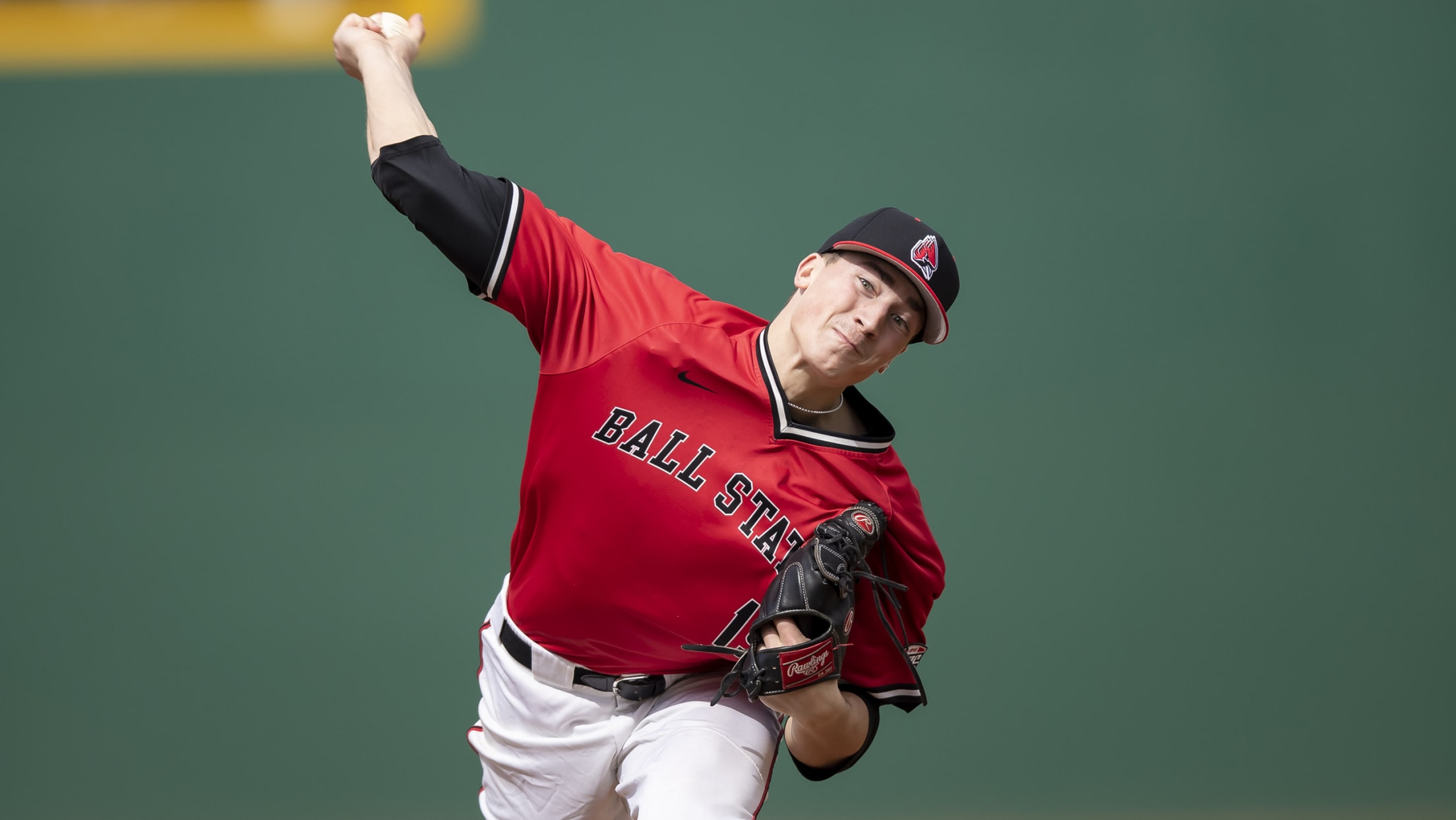 Yes, Nicolas' fastball regularly registers high numbers on radar guns, but the Marlins looked deeper into why he could be a successful pitcher. That came down to a lot of the analytical tools at their disposal. But for Svihlik, what he saw from Nicolas' stuff in the Cape Cod League stood out.
"So you look at all the pitchers that we took: power arms, power curveballs, big bodies with analytic backing. It was a pretty simple recipe," Svihlik said. "We weren't just taking velocity to take the velocity. There were plenty of guys on the board that had velocity that we just kind of veered away from. There were a lot of checkpoints in the size of the bodies, the type of fastball, the attributes of the fastball, the attributes of the curveball that made us think, 'You know what, this is sustainable stuff because of the information that we get today.' Not just us, but other teams, we have our own unique way of doing it. But because of the information that we have, you can separate these players, these high-velocity guys. So in the case of Kyle, I really like Kyle.
"When I saw him in Cape Cod, I saw him up on the Cape and I was like, 'Wow, this was a big-time arm. The slider was crazy good. And I thought to myself like, 'Wow, this is a late bloomer.'"
In terms of offerings, Nicolas ranked among the top hurlers in the Draft, according to the Marlins when they looked a little deeper at the analytics.
"There were three magnets on my board that I would tell you have the two best pitch combinations in the entire Draft. And I thought it was undeniable," Svihlik said. "It was Max Meyer. It was Kyle Nicolas. And it was Clayton Beeter."
Third round: Zach McCambley (No. 75 overall)
There had been some ups and downs for the right-hander during his first two seasons at Coastal Carolina, but he stood out during his stint on the Cape last summer (24 punchouts over 20 2/3 innings) and had a 1.80 ERA in four starts this season.
And unsurprisingly, he has a fastball (55 grade) and curveball (65 grade) that consistently produce high spin rates. So, looking at those tools, it was an easier decision when the Marlins were up in the fourth round.
Although Svihlik didn't get to see McCambley last summer, he credits area scout Blake Newsome and regional crosschecker Mike Soper for vouching for the pitcher.
While there has been some speculation that he'll be a reliever long-term, Svihlik said McCambley has plenty of control in his repertoire and can repeat his delivery enough to remain a starter.
"One of the things that I don't agree with is people that go into a ballpark and say, "That's a starter's delivery. That's a reliever's delivery,'" Svihlik said. "Now if it looks like a reliever's delivery and it's equating to a bunch of walks and wildness, then sure, OK, I can buy into that. When a player doesn't have any red flags in his delivery mechanically and he can repeat his delivery, well, that speaks to his athleticism and his feel. So when I watch Zach, I see two pitches, but I also see a lot of feel and I see pitchability and I see that he can throw strikes."
Fourth round: Jake Eder (No. 104 overall)
After a bumpy start to his career at Vanderbilt, Eder bounced back in a big way as a sophomore and carried that into 2020, putting up a 4.00 ERA with 105 strikeouts during his time with the Commodores.
The southpaw fits the profile of a Marlins pick in this class: a big arm with the fastball and curveball attributes the club values. Eder has had some consistency issues in his fastball velocity and curveball overall, but he has the raw stuff that checked the boxes for Miami. At 6 foot 4, he's a big left-hander who surprised the Marlins by lasting into the fourth round.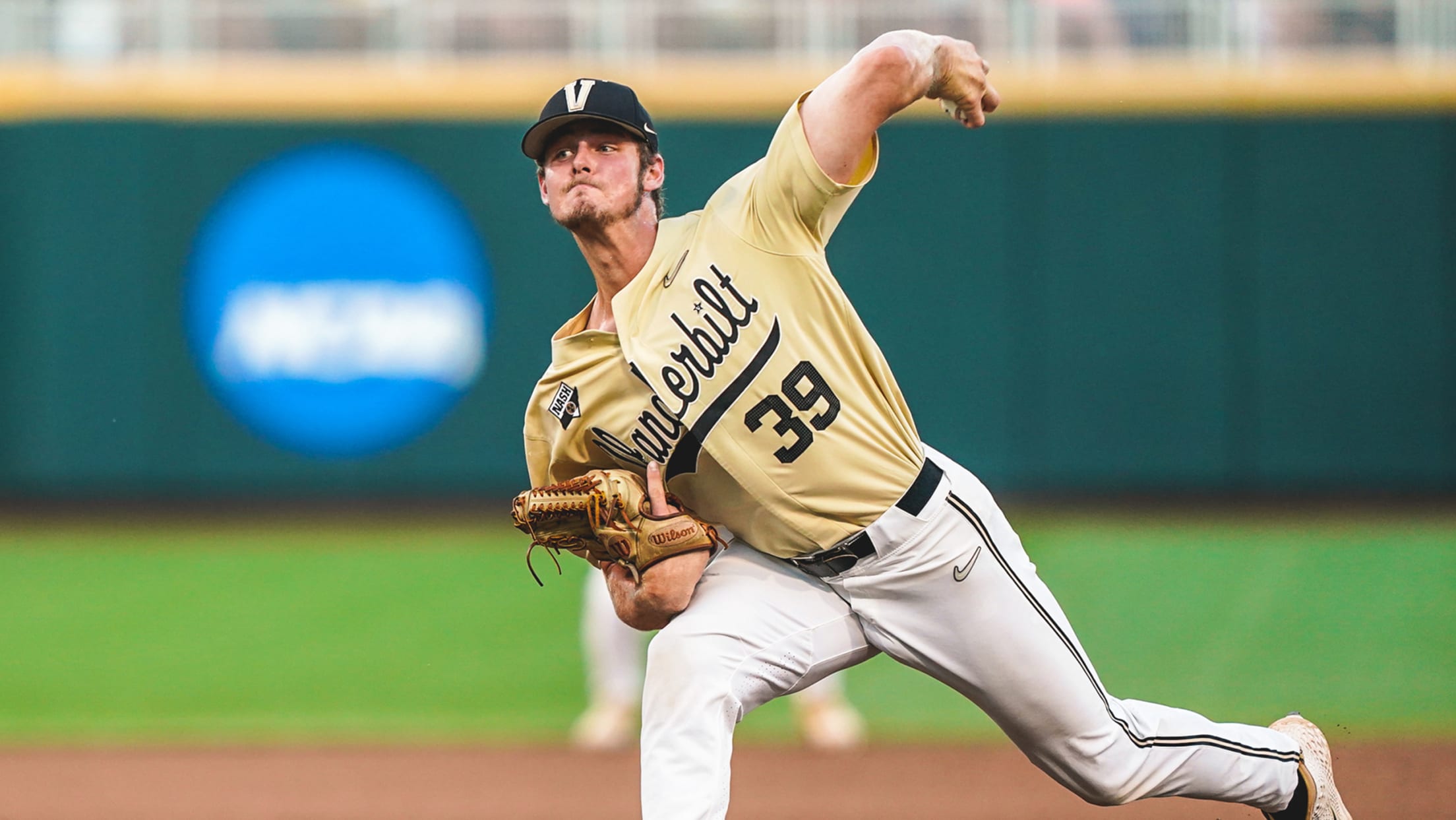 "I liked him all the way back in high school," Svihlik said. "His whole career he's battled inconsistencies for a number of different reasons. When I saw him on the Cape, that was the pitcher I thought we just got. He was fabulous on the Cape -- 92 to 95 [mph] with an above-average breaking ball and above-average changeup from the left side.
"Certain players need certain environments to achieve their maximum potential. And I think what we offer and how we develop our pitchers is going to be very, very advantageous and beneficial to Jake."
Fifth round: Kyle Hurt (No. 134 overall)
Hurt was a bit of a polarizing prospect heading into the Draft because the raw stuff has been there, but his time at USC was marred by control issues (107 walks over 172 2/3 innings) that led to a 5.06 ERA.
He has a four-pitch mix consisting of a high-90s fastball, changeup, slider and curveball. When Marlins scouts saw Hurt pitch this season, they couldn't believe his potential, equating his stuff to that of a first-rounder. That made the pick that much easier.
"At that point, the hitters that we really wanted were off the board. And I was just staring down the barrel at Kyle Hurt," Svihlik said. "And I'm like, I'm taking the big body. I'm staying with theme of big body, big stuff, what we know. Brandon Woodruff was way down the Draft board because of his inconsistencies years ago at Mississippi State and he's turned out all right. So ... that was the general idea there."
Overall outlook
Even with half of their top-10 prospects being pitchers, the Marlins felt comfortable adding more because, as Svihlik noted, a lot of their best young hurlers are approaching the big leagues. In recent Drafts, the Marlins have gone more with position players but flipped that script in a major way this year.
"Certainly, you look at our last two Drafts, we leaned into the position players heavily and ... that tends to be the theme of most Draft boards," Svihlik said. "You take the position players high because you can get the pitchers later and all that kind of stuff. I definitely understand that. But when the Draft is offering you something so fruitful, it's the pitching class and you lean into that."
From Svihlik down to the area scouts and analysts and everyone who works on the Draft, it came down to what the numbers indicated.
"We looked at [the pitchers] and said, 'Wow, what a wonderful opportunity to add another layer,'" Svihlik said.