2020 Draft Recap: Kansas City Royals
Royals add pitching, hitting talent to existing timeline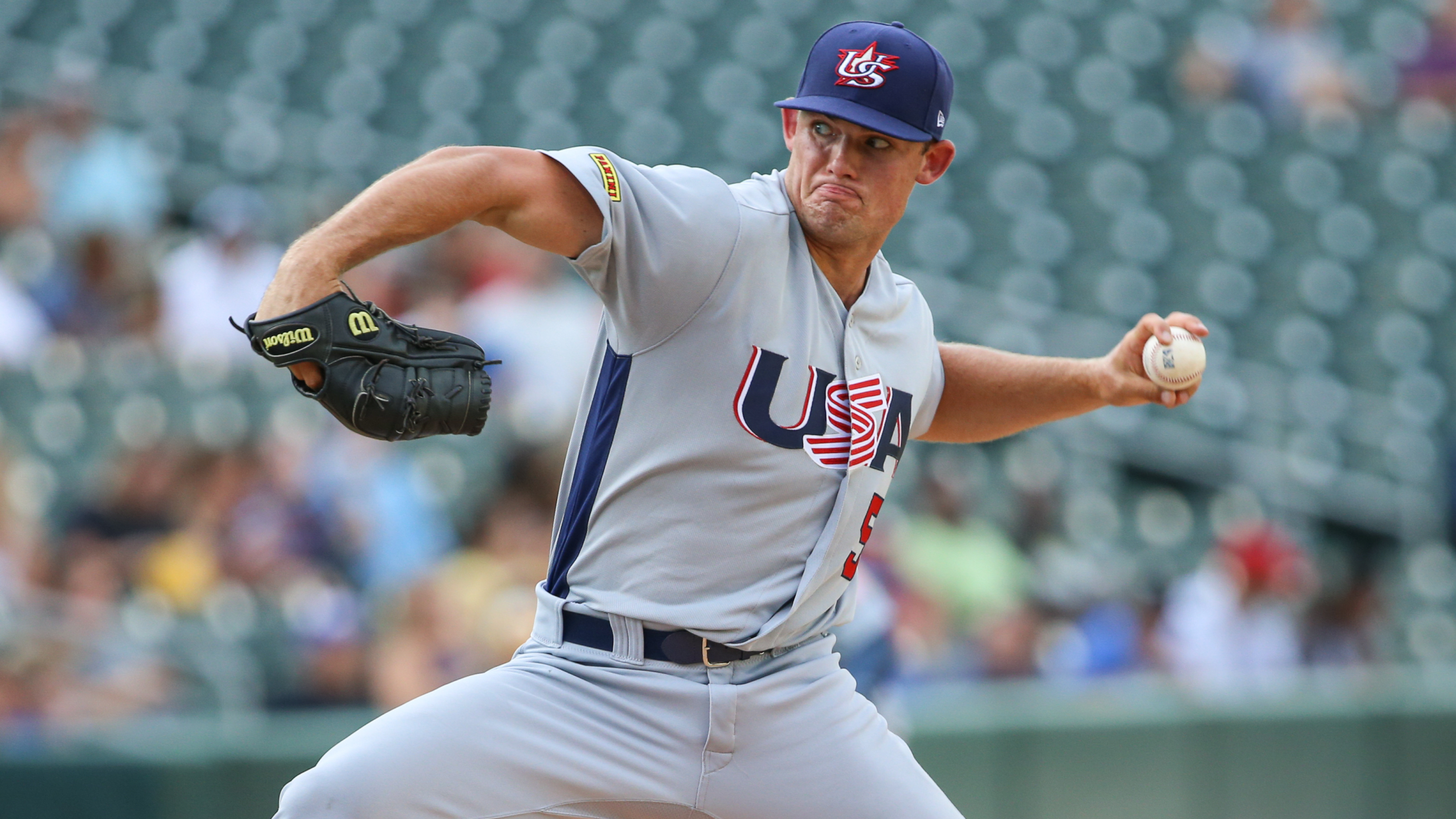 Asa Lacy was the highest drafted player out of Texas A&M, surpassing Jeff Granger, who went to the Royals at No. 5 in 1993.
Following the five-round 2020 MLB First-Year Player Draft, MiLB.com takes an organization-by-organization look at each pick with help from team scouting executives. There already was a decent amount of uncertainty going into this year's Draft, between the shortened format and significantly reduced amount of recent scouting information as a result
Following the five-round 2020 MLB First-Year Player Draft, MiLB.com takes an organization-by-organization look at each pick with help from team scouting executives.
There already was a decent amount of uncertainty going into this year's Draft, between the shortened format and significantly reduced amount of recent scouting information as a result of the COVID-19 pandemic canceling amateur seasons across the country. But for the Royals, who were slotted to pick at No. 4, the circumstances were especially confounding.
"There was a lot of unpredictability," Royals assistant scouting director Danny Ontiveros said. "We weren't sure exactly what was going to happen. I think we had a good idea that (Asa) Lacy or (Austin) Martin and (Spencer) Torkelson were probably going to be near the top. There were some rumblings in the morning that certain teams might do something different. So we just kind of prepared ourselves."
When the Orioles picked Heston Kjerstad out of the University of Arkansas second and the Marlins took Max Meyer out of the University of Minnesota third, those rumblings proved to be true. That opened the door for Kansas City to select Texas A&M left-hander and No. 3 overall prospect Asa Lacy, giving them a true headlining talent to start the Draft and assuage any concerns regarding the process.
They maintained that momentum over the next four rounds, supplementing the Lacy selection with a polished pack of college and high school talent to round out what ended up being arguably one of the top Draft classes.
First Round: Asa Lacy (No. 4 overall)
The Royals have made a point in the last few Drafts to load their Minor League ranks with top-shelf college pitching talent, and they got exactly that with Lacy. The former Aggie is a big, experienced pitcher who boasts a superb fastball and slider in addition to a strong curveball and changeup. He's played in plenty of big games, having thrown three seasons in the Southeastern Conference -- arguably the best college circuit in the nation -- and spent a summer as a member of the Team USA Collegiate National Team in 2019.
He joins an elite group of Royals pitching prospects and will compete with Brady Singer, the club's second-ranked prospect, for the title of best arm in the organization. He'll also link up with No. 3 Daniel Lynch and No. 6 Kris Bubic to form a Cerberus of nasty left-handed starters that rivals that of any organization.
"When he got to pick four, we were really excited and made the pick," Ontiveros said. "I think he's just going to blend in with some of the other arms that we've taken the last few years, fit right in with the potential to be a front-of-the-rotation starter. … You never know what's going to fall your way, and we were excited that he did."
Competitive Round A: Nick Loftin (No. 32 overall)
The Royals loved Loftin so much heading into the Draft that general manager Dayton Moore told MLB.com the team was even considering taking him at No. 4. They didn't, obviously, but were able to snag him 28 picks later.
Loftin brings to Kansas City tremendous versatility with the glove and a solid contact bat with some pop. There's an obvious comparison to be made to current Royal Whit Merrifield, who has appeared at every defensive position except shortstop (Loftin's listed position) and catcher. While Merrifield holds down the bigs, Loftin will rise through the ranks likely as the team's top infield prospect, alongside 15th-ranked Brady McConnell and No. 17 Jeison Guzman who are both listed as shortstops.
"To be able to get him at 32, we were excited, man," Ontiveros said. "There's tons of upside with this kid. He fills a lot of roles on the field, we believe in the bat, we think there's power there, it's a plus arm, the makeup, the instincts -- they're just all plus. So a lot of things aligned with him … we think he's going to play a big role in our big league club in a few years."
That road to the Majors will be made a bit easier for both Loftin and Lacy by their personal relationship, since they were roommates last summer while playing in Japan for Team USA. It's similar to in 2018, when the team picked college teammates and roommates Singer and No. 4 Jackson Kowar with their first two selections.
"Obviously, that makes things easier," Ontiveros said. "You step into pro ball the first time and to be able to see a familiar face, somebody that you've spent time with, especially in the situation they were, playing for the country and playing overseas, I'm sure they formed a pretty good bond. I think it'll make it obviously easier for them."
Second Round: Ben Hernandez (No. 41 overall)
After spending their first two picks on college players, the Royals turned to the high school ranks and took Hernandez in the second round. The Chicago native operates with a mid-90's fastball and a changeup that is beyond his years, and displays overall advanced polish for his age. He'll follow Lacy, Singer and Kansas City's other top pitching prospects, eventually landing in an already stacked rotation by the time he reaches the big leagues.
Hernandez was primed for a stellar senior season after being named an Under Armour All-American as a junior, but the pandemic put a stop to that before it even began. Had he been able to compete in one last high school campaign, Ontiveros believes it's possible he would've posted dominant numbers and seen his stock soar above where the Royals took him.
"He didn't get to throw a pitch at all," Ontiveros said. "It just goes to show how important making sure you do your work on these guys in the summer [is]. … I mean, who knows if Ben had a full season to pitch, if he wouldn't have even been there when we picked. And I don't know the answer to that."
Third Round: Tyler Gentry (No. 76 overall)
Much like Hernandez, Gentry missed the chance to boost his Draft stock when the season was canceled. He ranked among the nation's best in virtually every offensive category, posting a .429/.554/.750 line through 17 games at the University of Alabama.
"When you start talking about steals, I think this is where -- if this guy had a full season through the SEC, and the way he was trending, this is a guy that might've gone higher in the Draft. … Our scout, Will Howard, and our cross-checker, Sean Gibbs, knew this kid well and were talking about him prior to the season like, 'This is the kind of guy that can blow up,'" Ontiveros said.
Gentry brings a much-needed offensive spark to a group of Royals position players that trended downward at the plate in 2019. He profiles to have both good power and contact, with the potential to rack up decent home run totals and steal a few bags in the process. He's also proficient defensively, boasting a solid glove and arm that will come in handy in the wide outfield of Kauffman Stadium -- possibly sooner rather than later.
Fourth Round: Christian Chamberlain (No. 105 overall)
Chamberlain brings a winning pedigree to the system. He helped lead Oregon State to the College World Series title in 2018 and in the process tied a tournament record by notching 11 strikeouts in 4 2/3 innings. He consistently gets swings and misses, thanks in part to his mid-90's heater and menacing 12-to-6 curveball.
More than anything, though, the Royals are excited to add a pitcher with Chamberlain's experience and fine-tuned makeup. He's not going to overwhelm anybody with his 5-foot-10 frame, but he more than makes up for it with a tremendous mental approach and energy on the mound along with an overall feel for the game.
"This kid is a competitor," Ontiveros said. "He's a really good athlete. You look up stuff on Christian Chamberlain from high school, this kid was a two-way guy. You look at his offensive numbers and I think he hit close to .450 his junior and senior year with double-digit home runs and doubles. I mean, this guy's just a baseball player."
Fifth Round: Will Klein (No. 135 overall)
The four college prospects the Royals drafted to this point all played in major conferences, unlike Klein, who pitched in the Ohio Valley Conference for Eastern Illinois. That's not to say there's a talent dropoff, though -- the big-framed left-hander throws absolute gas, having touched 99 mph in the Northwoods League last summer and sitting in the mid-90's on a regular basis. He also sports a strong curveball and solid changeup.
Klein converted to a starting role just this year, having been a reliever his first two campaigns with the Panthers. It's possible he returns to the bullpen in the pros, but his frame, power and overall ceiling have the Royals confident he has the ability to stick in the rotation.
"He does all the right things, and he's just continued to get better and better," Ontiveros said. "And these are the kind of guys that we put in our system and our player development [guys] love to get their hands on, because he's ... he's just got so much upside, and all the stuff is there. And just continuing to learn how to pitch, harness his pitches, be as efficient as possible … we envision this guy as a starter."
Overall Outlook: The Royals' farm system has climbed from where it was a few years ago, and if immediate impressions hold up, this Draft crop will continue the trend. They've placed an emphasis on pitching as of late and added to the top of that bunch with Lacy. He and those taken alongside him fit well with the franchise's existing timeline, lining up with Singer, Bobby Witt Jr. and others on their journey to The Show. If everything goes according to plan, that wave of talent will begin to arrive in Kansas City in the next few years, following the same blueprint that produced a World Series title in 2015.
Jordan Wolf is a contributor to MiLB.com. Follow him on Twitter: @byjordanwolf.