2020 Envisioning: The Lugnuts' Next Infield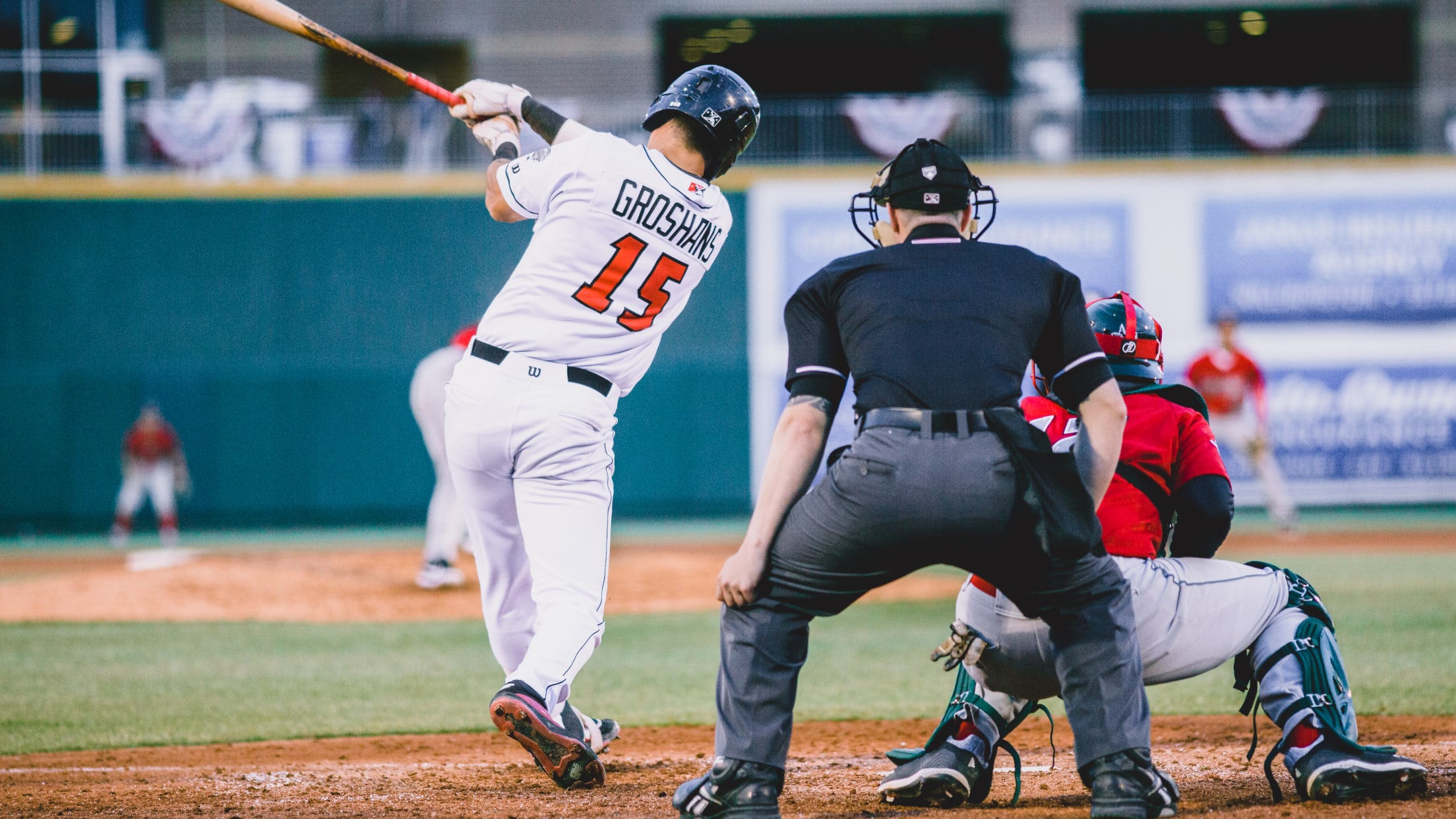 The Blue Jays' top position-player prospect played in Lansing in 2019. Will he be back in 2020? (Miguel Arcaute / Lansing Lugnuts)
In Part I - check it out here - we examined which of the Blue Jays' current Top 30 prospects might play in Lansing in 2020, the 25th season of Lugnuts baseball.Let's get more specific.Let's talk catchers and infielders.*
In Part I - check it out here - we examined which of the Blue Jays' current Top 30 prospects might play in Lansing in 2020, the 25th season of Lugnuts baseball.
Let's get more specific.
Let's talk catchers and infielders.
*
The Nuts' 2019 catchers comprised Alejandro Kirk, who likely begins 2020 in Double-A New Hampshire; Gabriel Moreno and Ryan Gold, who likely move up to A-Advanced Dunedin; 2017 second-rounder Hagen Danner, who hit 12 homers in 80 games; and Jesus Lopez, who played in three games at the very end of the year. With that in mind...
It would be unsurprising to see Danner, age 21 next year, back for a second go-round in Lansing, whether at catcher or at first base (a position he began to play increasingly as the year went on). The more surprising event: If Danner, a two-way pitching/hitting threat in high school, converted back to pitching.
Lopez was acquired via trade with Oakland in March 2019 for Kendrys Morales with the intention of moving him to catcher. He's a wild card, having played in the Midwest League in 2016, 2017, 2018 and 2019, the first three of those years with Beloit. Could he play in the Midwest League for a fifth straight season? Has _anyone _played in the Midwest League for five straight seasons? (The highlight of Lopez playing with the Lugnuts was the forming of an all-Nicaraguan battery with Randy Pondler, clearly special to both of them.)
The two Blue Jays selected two pertinent catchers in the 2019 draft:
The top catching pick was Philip Clarke, nicknamed "The Hitman," taken in the ninth round from national champion Vanderbilt (sorry, Michigan!) and signed for $500,000. He opened red hot with Vancouver, was named a Northwest League All-Star, and then finished the year hitting .257 with 21 walks and 22 strikeouts in 37 games. If he's a Lugnut next year - which feels probable but isn't 100% certain, since 2018 fifth-rounder Chris Bec jumped from 2018 Vancouver to 2019 Dunedin - he's hitting in the middle of the order.

The last catching pick taken by Toronto in June was 38th-rounder Ryan Sloniger, a Penn State product from Punxsutawney, Pennsylvania. Sloniger came out of high school as the No. 28 catcher in the country and the second-ranked catcher in the Keystone State (read this profile of him for more). He inked with the Blue Jays as a senior sign, opened his pro career with Bluefield, moved to Vancouver six days later, came back to Bluefield in July and crushed it: nine homers, a .327 batting average and a 1.031 OPS in 30 games. He finished the year with Vancouver, which would seem to suggest he comes to Lansing next year.
Coincidentally, both Clarke and Sloniger bat from the left side.
The primary catcher in Vancouver was

Bluefield's two other catchers were
*
The potential 2020 Lugnuts infield feels
crowded. If healthy, SS But what about, in no particular order...

*
Tough decisions will have to be made, which is a good thing: Competition, you would hope, brings out the most in these players, leading the Lugnuts to have the best of all possible infields starting next year, with depth ready when promotions come.
Here's a big statement, but defensible considering the potential presences of Groshans, Hiraldo, Jimenez, Clarke, Morris, Morris, Horwitz, and onward: The infield is going to provide the backbone of the 2020 Lansing Lugnuts offense.
*
Up next...