State of the System: Cincinnati Reds
Greene, Lodolo aim to be kings of the hill in the Queen City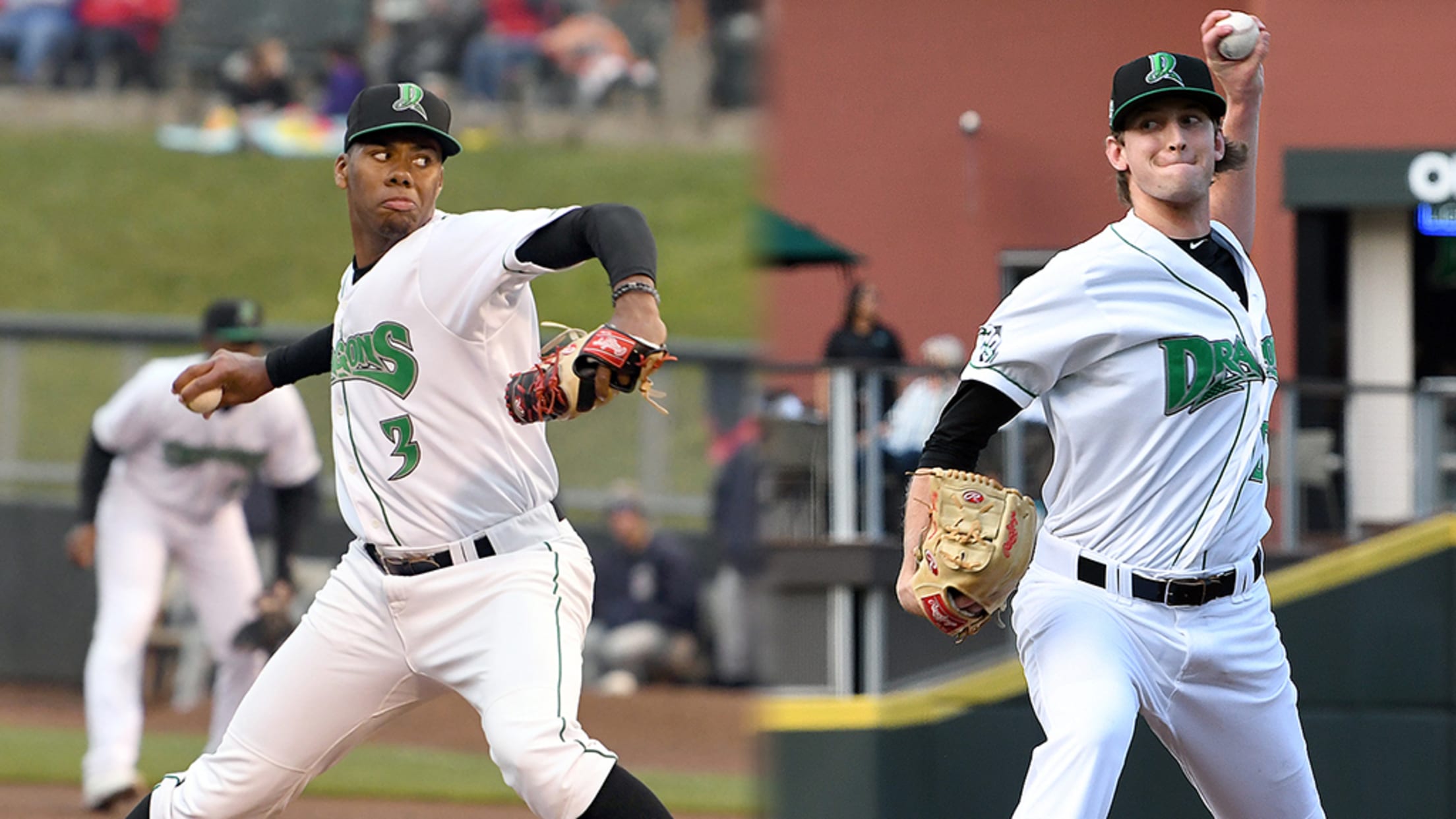 The Reds believe Hunter Greene and Nick Lodolo will form a potent 1-2 punch atop their rotation. (Tom Nichols/Dayton Dragons)
Starting in October and running through the end of the year, MiLB.com's State of the System series will evaluate the strengths and weaknesses of each Major League organization, highlights prospects who've made the biggest strides in 2020 and offers a peek at 2021.
Starting in October and running through the end of the year, MiLB.com's State of the System series will evaluate the strengths and weaknesses of each Major League organization, highlights prospects who've made the biggest strides in 2020 and offers a peek at 2021.
The truncated 2020 season brought an end to a pair of noteworthy streaks for the Reds. An offseason spending spree paid dividends and culminated with Cincinnati's first winning season (31-29) and playoff appearance since 2013. Now the comes the hard part: building a sustained winner. It's a feat made more difficult by the cancellation of the Minor League season.
Ranked 28th in MiLB.com's Overall Farm System Rankings last spring, the Reds are banking on continued development from the likes of talented hurlers Nick Lodolo and Hunter Greene. Cincinnati's top two prospects ooze potential but come with question marks. The former has eight professional appearances under his belt, while the latter has not thrown a pitch in an official game since 2018.
The addition of 2020 first-round pick and No. 3 prospect Austin Hendrick along with fourth-ranked Tyler Stephenson gives Cincinnati four players ranked among MLB Pipeline's Top 100 Prospects.
The top pitcher in the #MLBDraft according to MLB Pipeline, Nick Lodolo posted a 2.36 ERA with 131 strikeouts over 103 innings this year at TCU, holding opponents to a .203 average.

More ➡️ https://t.co/o119eIAkHC pic.twitter.com/ovxp6rTfSJ

— Cincinnati Reds (@Reds) June 4, 2019
System strengths: Although only three of the Reds' top 10 prospects are pitchers -- No. 10 Tony Santillan, Lodolo and Greene -- 12 of the remaining 20 make their living on the mound. Cincinnati has a made a point of prioritizing pitching. Reds vice president of player development Shawn Pender admitted that's no accident.
"Like anyone who's been in the game for a long time will tell you, you're only as good as your pitching," he said.
That potential begins with Lodolo and Greene, who look the part but must prove it. Lodolo has thrown all of 18 1/3 innings as a pro, while Greene is returning from a nearly three-year absence following Tommy John surgery. Neither has pitched above Class A.
Although his stock dipped after a rough 2019 (2-8 with a 4.84 ERA with Double-A Chattanooga), Santillan possesses a lively right arm that produced 19 wins and a 3.22 ERA the previous two seasons. The 2020 Draft brought three more pitchers into the fold -- right-handers Christian Roa (No. 12), Bryce Bonnin (No. 21) and Joe Boyle (No. 27).
"Our pitching isn't going to be ready tomorrow, but we're in good shape," Pender said. "Our arms are moving in the right direction and we're focused on getting them the necessary instruction and development to turn them into Major Leaguers.
"I was amazed at what I saw from these guys, particularly the pitchers. Guys came in throwing harder, with better secondary stuff and throwing strikes. At this time last year, we could point to a lot of our arms as projectable types, but throwing strikes was an issue. That's not abnormal, but they really came in and showed us something."
Areas for growth: Development, development, development. The rare breed of prospect is labeled as "can't-miss," but most find themselves in the "projectable" category. The elimination of the Minor League season only exacerbated any question marks and cast a shadow on what to expect from some players moving forward.
How does Greene recover from surgery? What of No. 5 prospect Jonathan India, the fifth overall pick in the 2018 Draft who is still finding his way? On the whole, the system is young, inconsistent and unproven. Having no games to monitor only makes the task tougher for Pender and his staff.
"We're all in the same boat [with COVID-19's impact]. It's made things challenging," he said. "But the fact we were able to get an instructional league in was a real benefit. Being able to play 20-something games over six weeks and seeing basically our entire [2020] Draft stock in a competitive setting was huge. It's not the same as the day-in, day-out grind of full-season or even short-season baseball, but it's something."
Pender was pleasantly surprised by what he saw from the instructional league contingent, which included outfielder Michael Siani (the club's No. 7 prospect) and infielders Tyler Callihan (No. 8) and Rece Hinds (No. 9).
What's changed: Cincinnati believes it hit a home run in this year's Draft. Pender considers the selection of Hendrick at No. 12 a coup for the organization and likens the Pennsylvania native to a name with which Reds fans will be familiar.
"Austin reminds me of [former All-Star] Jay Bruce, but a more physical version at the same age. He's still raw but has all the tools of an exciting young player. When you see Austin walk up to the plate, he looks like he's going to hit ... and he does. He's the real deal."
Hendrick wasn't alone. Cincinnati has high hopes for No. 14 prospect Jackson Miller, a competitive-balance pick at catcher following the second round, and No. 30 Mac Wainwright, an outfielder and fourth-rounder. Interestingly, all three position players selected were high schoolers. Conversely, Roa (second round), Bonnin (third round) and Boyle (fifth round) -- all pitchers -- were collegians.
"Everyone from our Draft has the look of impact players," Pender said. "Our scouting department and player evaluation contingent did terrific and exhaustive work leading up to the Draft. I'm happy to take the reins and put these players on a path towards the big leagues. Obviously, it's not so simple, but the first impressions have been excellent."
Alternate site standouts: Pender was quick to praise several players -- most notably India -- for their performances at the alternate training site in Mason, Ohio. Considered one of the best sluggers and all-around hitters in the 2018 Draft, the 23-year-old has shown a good approach at the plate since his pro debut, a potential harbinger of future success. Through 165 games, India has drawn 59 walks, contributing to a solid .365 on-base percentage. Although the power numbers have yet to translate (17 homers and a .410 slugging percentage), a nagging triceps injury in 2019 might have contributed to his lack of pop.
"Jonathan made some great strides in his development coming off [2019]," Pender said. "It showed in all facets of his game. We saw increased bat speed, the power we envisioned from him and a continuously refined approach. Our organization adopted a somewhat different hitting approach this past year, from the top on down. Jonathan was one of the guys who bought in, and it seems to be paying off."
The positive vibes didn't end with India. The return of Greene from reconstructive elbow surgery was arguably the most important news for the organization. Blessed with one of the game's best power arms, the California native mixed flashes of brilliance and inconsistency in 2018 with Class A Dayton. Greene cuts an imposing figure on the mound and the results bore that out. The 6-foot-4, 215-pounder fanned 89 and walked 23 over 68 1/3 innings two years ago, a strong ratio considering he played the entire season at just 18.
His 4.48 ERA was skewed by one start in which he surrendered seven runs while recording two outs. Subtract that outlier and Greene's ERA drops to 3.59, an impressive figure considering the average age of Midwest League players was nearly 22 in 2018.
"We were thrilled with what we saw from Hunter," Pender beamed. "He worked so hard to get back and when he did, he looked just as good as before. He's throwing with ease, is filling up the strike zone and showing that velocity we're all enamored with."
Pender also mentioned Lodolo, Santillan and Stephenson, who made his Major League debut in July, as players who opened eyes at the alternate site.
Impact rookies: The Reds were a mostly veteran squad this year. Japanese import Shogo Akiyama was a rookie in name only. The 32-year-old amassed more than 1,400 hits in eight seasons with the Seibu Lions prior to coming stateside. He was Cincinnati's primary leadoff hitter and offset a .245 average and limited pop (seven extra-base hits in 155 at-bats) with 25 walks and a .357 on-base percentage.
Sixth-ranked Jose Garcia, No. 23 Joel Kuhnel, Tejay Antone and Stephenson were among seven rookies to see action with the Reds this season, most in a limited capacity. At 22, Garcia was the youngest of the bunch. The Havana native spent all of 2019 with Class A Advanced Daytona and made the big jump to the Majors, where he hit .194/.206/.194 in 67 at-bats.
Stephenson played well, albeit in a small sample. The No. 96 overall prospect batted .294/.400/.647 with two homers and six RBIs in 17 at-bats, but it was Antone who arguably enjoyed the most overall success. The 26-year-old went 0-3, but posted a 2.80 ERA in 13 appearances, including four starts. Antone yielded 20 hits and totaled 45 strikeouts while walking 16 across 35 1/3 innings during his first taste of The Show. The right-hander was particularly effective in relief, sporting a 1.89 ERA and a 0.63 WHIP in nine games.
Next big thing: Lodolo and Greene. Greene and Lodolo. The order doesn't much matter, especially to the Reds, who feel this lefty-righty combo could be a dominating one atop their big league rotation for years to come. Both possess high-octane fastballs, strong secondary offerings and a pitchers' intellects. Unique? Hardly, but the art of pitching goes much deeper than the ability to blow hitters away. It's a distinction Pender believes gives Cincinnati a double leg up on the competition.
"I can't say enough about the potential of [Lodolo and Greene]. Both have frontline rotation stuff. Nothing is guaranteed, particularly with pitchers, but we have two guys we feel are going to help us in the future and hopefully soon," he said.
The chances of either hurler making an impact, much less a big impact, in the Majors in 2021 are slim. However, it's not hard to envision Luis Castillo, Lodolo and Greene headlining a royal rotation in the Queen City in the not-too-distant future.
Michael Avallone is a writer for MiLB.com. Follow him on Twitter @MavalloneMiLB.