State of the System: Kansas City Royals
Kowar, Lynch look to follow lead of fellow hurlers Singer, Bubic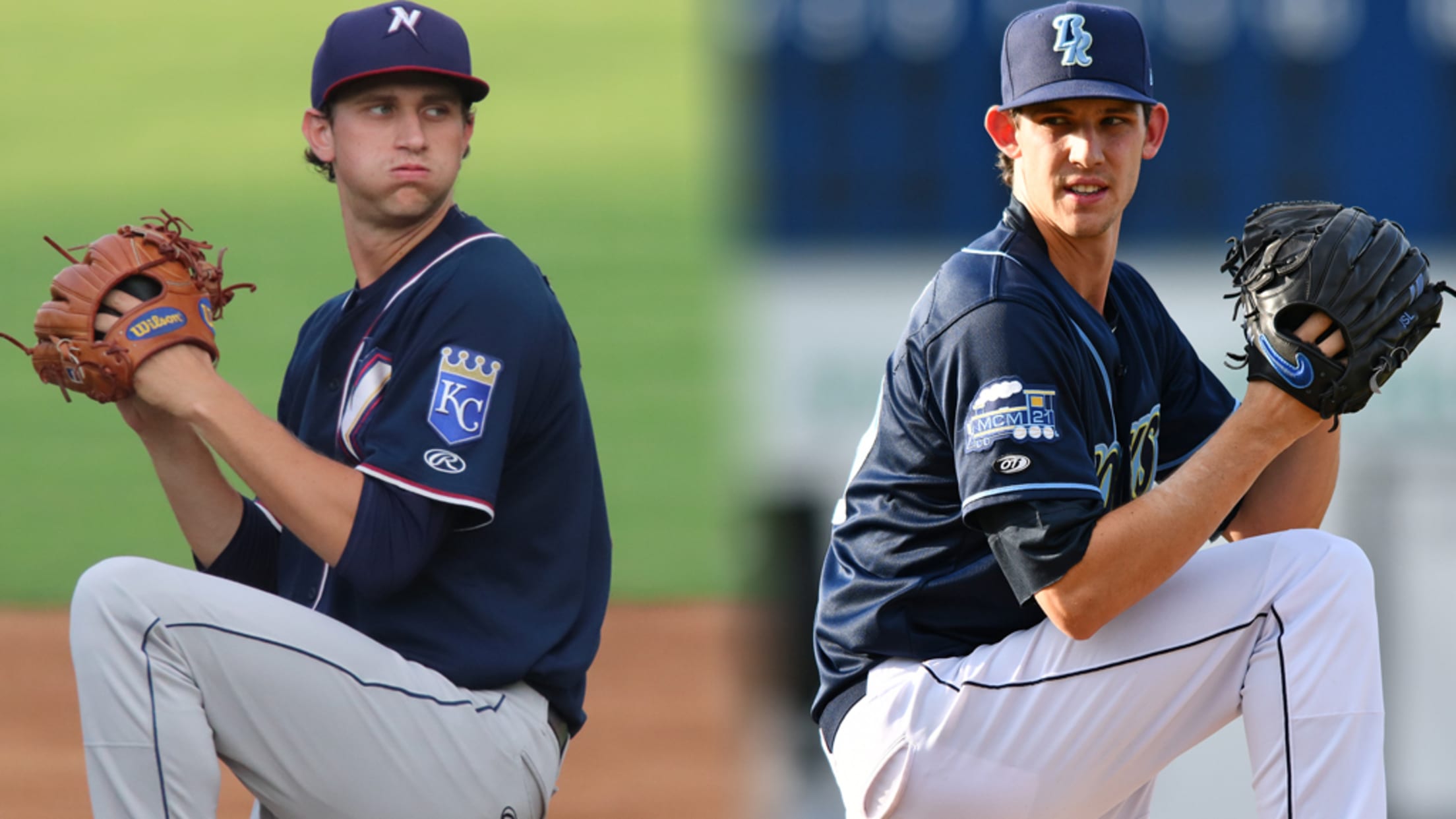 Jackson Kowar and Daniel Lynch were among the team's alternate site standouts this summer. (Joshua Tjiong, Ken Inness/MiLB.com)
Starting in October and running through the end of the year, MiLB.com's State of the System series will evaluate the strengths and weaknesses of each Major League organization, highlights prospects who've made the biggest strides in 2020 and offers a peek at 2021. Much was made of the previous generation
Starting in October and running through the end of the year, MiLB.com's State of the System series will evaluate the strengths and weaknesses of each Major League organization, highlights prospects who've made the biggest strides in 2020 and offers a peek at 2021.
Much was made of the previous generation of Royals prospects as future stars Eric Hosmer, Mike Moustakas, Danny Duffy and others climbed the ladder together with great success, winning multiple Minor League championships and exciting Kansas City fans with their potential of carrying that success to The Show.
A little less than a decade later, another wave of high-ceiling talent is on its way to Kauffman Stadium. In fact, some have already arrived.
The Royals currently boast a system with three MLB.com Top 100 prospects -- No. 8 Bobby Witt Jr., No. 26 Asa Lacy and No. 54 Daniel Lynch -- not to mention the recent graduation of right-hander Brady Singer, a mainstay on that list before his much-heralded arrival in the Majors. There's also Kris Bubic, who also made his big league debut in 2020, along with a number of other impressive players waiting in the wings.
So as the big league team struggles while assimilating this budding talent into the mix, Kansas City fans can rest assured that a tide is rising, and things may look more like 2015 than 2020 before too long.
System strengths: It's no secret that the Royals system is built on pitching. Three of the club's top four prospects are pitchers, and prior to the graduation of Singer and Bubic, the team sported one of the best groups of young arms.
Leading the way is the left-handed Lacy, whom Kansas City drafted with the fourth overall selection this past summer out of Texas A&M. He forms a filthy southpaw duo with Lynch, who has done nothing but turn heads since his professional debut in 2018. They're trailed by fourth-ranked Jackson Kowar, a right-hander who continued to make strides this summer and may not be far off from joining the Top-100 ranks.
Some may view the organization as being too pitcher-heavy, but the Royals take a more glass-half-full approach. For while they may be a step behind their competitors when it comes to hitting talent, having anchors such as Lacy, Lynch and Kowar arguably puts them ahead of the pack on the mound.
"They all are really high-ceiling pitchers that we believe will be at the top end of rotations," said Royals vice president/assistant general manager of player personnel J.J. Picollo. "There's still a lot of potential and upside that they're going to reach. They're not by any means finished products. ... They're going to get to the Major Leagues and they're going to continue to develop into the pitchers they will one day be."
And while Lynch and Kowar only played together briefly in 2019 prior to Lacy's arrival, the trio got consistent reps together at the team's alternate site this summer. That coexistence, in addition to the time they'll spend together once they return to the Minors, will pay dividends in their development, according to Picollo.
"Like we've seen the last few years, they sort of feed off of each other," he said. "There's a motivating factor that exists in our system right now that nobody wants to get outdone by the other. It's very healthy. I think the competition is going to breed excellence, and that's ultimately what we want to have."
Areas for growth: The Royals' emphasis on adding pitching talent over the past couple years has left the well a bit dry when it comes to offensive firepower. The club's only real impact bat belongs to Witt, who projects to be an All-Star-caliber shortstop both at the plate and in the field.
That being said, there's plenty to keep an eye on when it comes to Kansas City's hitting prospects. Seventh-ranked Kyle Isbel projects to be a versatile outfielder and a potential difference-maker in the bigs sooner rather than later, while No. 5 Erick Pena and No. 6 Nick Loftin -- the No. 32 overall pick in June -- both provide immense long-term upside.
More than anything, though, the reason for the Royals' shallow pool of offensive talent can be attributed to the setbacks encountered by a handful of their most prominent names. No. 12 Nick Pratto, No. 13 MJ Melendez and No. 14 Seuly Matias all took steps back at the plate in 2019, and the lack of a 2020 season meant they didn't have the chance to bounce back and reclaim their status among the team's elite prospects.
But while there weren't official game reps this summer, they were able to stay active and keep the ball rolling on climbing back to their pre-2019 positioning. According to Picollo, the trio made significant progress toward accomplishing that mission.
"All three had their successes ... all three can really impact their team offensively," Picollo said. "So from that perspective, it was a really good summer. I think the downside is, we would've liked to have seen it during a season, against other teams, but nobody got to do that this year, so we're not at any more of a disadvantage than the next team."
What changed in 2020: The promotions of Singer and Bubic dramatically changed the system on paper, but the general framework remained the same.
The biggest difference is that the organization is down a headliner, as Singer and Witt were seen as the poster boys for the next generation going into the year. Singer lived up to that billing this summer as he logged a 4.06 ERA over his first 12 big league starts, striking out 61 and posting a 1.17 WHIP over 64 1/3 innings. It was a daunting challenge for the 24-year-old, who had never appeared above Double-A Northwest Arkansas before making his Major League debut, but Picollo and company knew he was up for it.
"Brady, he's a warrior, and that's sort of what we all saw at the University of Florida," Picollo said. "So you knew he wasn't going to be intimidated by competition. Again, his poise, his confidence, his ability to attack and stay on the attack, I think really showed up in the Major Leagues … everything that our amateur scouts identified in him and believed in him, I think we saw it all right from the get-go. He was very competitive from the start."
Brady Singer lived that fantasy.

The @Royals prospect carried a no-no into the eighth, allowing just one hit with eight K's in a dominant performance.

🦾🦾🦾🦾🦾🦾🦾🦾pic.twitter.com/7vIfMKW8ZY

— Minor League Baseball (@MiLB) September 11, 2020
Most expected Singer to crack the big league roster at some point in 2020, but Bubic's promotion came as a major surprise. After all, he had never pitched above Class A Advanced Wilmington, and he carried a far less marquee pedigree than his right-handed counterpart.
That was evident early on, but by the time the second half rolled around, Bubic looked the part of a big league twirler with convincing ease. In the month of September, he turned in a 2.86 ERA over four starts and struck out 22 batters across 22 frames.
"The bumps and bruises that you get when you first get to the Major Leagues are necessary to go through at some point," Picollo said. "We felt like Kris' resiliency and his confidence, his maturity, his poise gave us every reason to believe that he can deal with some failure in the Major Leagues. He went through it and he persevered and he got through it, and next year he's going to be that much better."
Alternate site standouts: As he watched Singer and Bubic soar to new heights in the big leagues, Lynch demonstrated similar growth at the alternate site. He might have been the most dominant player at T-Bones Stadium, which Picollo said can largely be attributed to his unleashing of a new weapon: the changeup.
"Because there's no true stats taken, there's no 'W' or 'L' put on you at the end of the day, I think guys were able to commit to things that we always say are important," Picollo said. "And for Daniel, it was, 'Hey, let's get this changeup going, and get to the point where it can be a left-on-left changeup.' ... It's a plus pitch -- it's not like it's just, 'I'm trying to throw this to throw it.' It's a plus pitch."
And even though it was a new addition to his repertoire, it didn't take long for the offering to become one of his best ones.
"That pitch, there was about a two-week stretch in there that I'm not so sure it was put in play," Picollo said. "I mean, it was a swing-and-miss pitch."
Others who stood out included Pratto, whom Picollo said improved the most of any player, Isbel, who displayed Gold Glove potential in the outfield, and catcher Sebastian Rivero, who filled out as a hitter to complement his defensive prowess behind the plate. But none of them made as big of an impact as Witt, whose extraordinary performance during summer camp somehow improved as time went on at the alternate site.
#Royals' Bobby Witt Jr. hasn't even played above Rookie ball and he's out here making it look easy! 🤯 pic.twitter.com/UMatRBjAAP

— Minor League Baseball (@MiLB) July 21, 2020
"I can honestly tell you, I don't think there was a day that he didn't get better throughout the summer, in some form or fashion. … He's fun to watch. I mean, I don't know how to else to explain it," Picollo said. "It's a different player, and I'm not so sure I've been around another player like him."
Impact rookies: He didn't spend much time on the club's Top 30 prospects list before graduating, but Josh Staumont impressed just as much in 2020 as Singer and Bubic and about as much as any rookie reliever, period.
The flamethrowing right-hander quickly established himself as a dominant back-end bullpen piece -- after he allowed one run in his second appearance, he went on a 16-game tear from late July to early September in which he didn't give up a single earned run. His ERA jumped a bit in the final month of the season as all six runs he allowed came over two outings. Without those slip-ups, he would've finished the season with a 0.36 ERA instead of the 2.45 mark he ended up with.
Either way, those numbers represented a significant improvement on his 2019 production, when he posted a 3.72 ERA over 19 1/3 innings of relief. Picollo believes most of Staumont's jump can be credited to the changes in the environment surrounding him and the effects that they had on his mental approach.
"I think what happened this year was he was around Greg Holland, he was around Trevor Rosenthal, they took him under [their] wing," Picollo said. "I think he learned a lot by watching how they work and what they do … and he just started to gain confidence. When guys gain confidence and are able to really have a plan and stick to that plan and then see it work, their confidence just grows and grows and grows."
Next big thing: With Singer and Bubic arriving in the Majors and Lynch and Kowar not far behind, it's safe to say the generational shift in Kansas City is already underway. As they begin to make an impact in the bigs, the focus in the Minors will shift toward Lacy and Witt, the next pieces in the team's long-term timeline.
Once they join the fray, the board will look much like it did at the start of last decade: a wealth of blue-chip talent who developed and meshed together in the Minors while learning what it means to win. And if the past is any indication, that knowledge is likely to transfer over to the Majors.
"This group's going through the same thing," Picollo said. "I mean last year we won four championships; the year before we won championships. So they know that they can win -- they can win at the highest level that they're at at that point. So the confidence piece comes in. I think they just look at it like it's another level of competition, so when we get to the Major Leagues, we're going to win. ... That's what I think is exciting about this, and will be fun to watch in years to come."
Jordan Wolf is a contributor to MiLB.com. Follow him on Twitter: @byjordanwolf.