State of the System: Boston Red Sox
Infield remains strength, needed pitching help on way to Fenway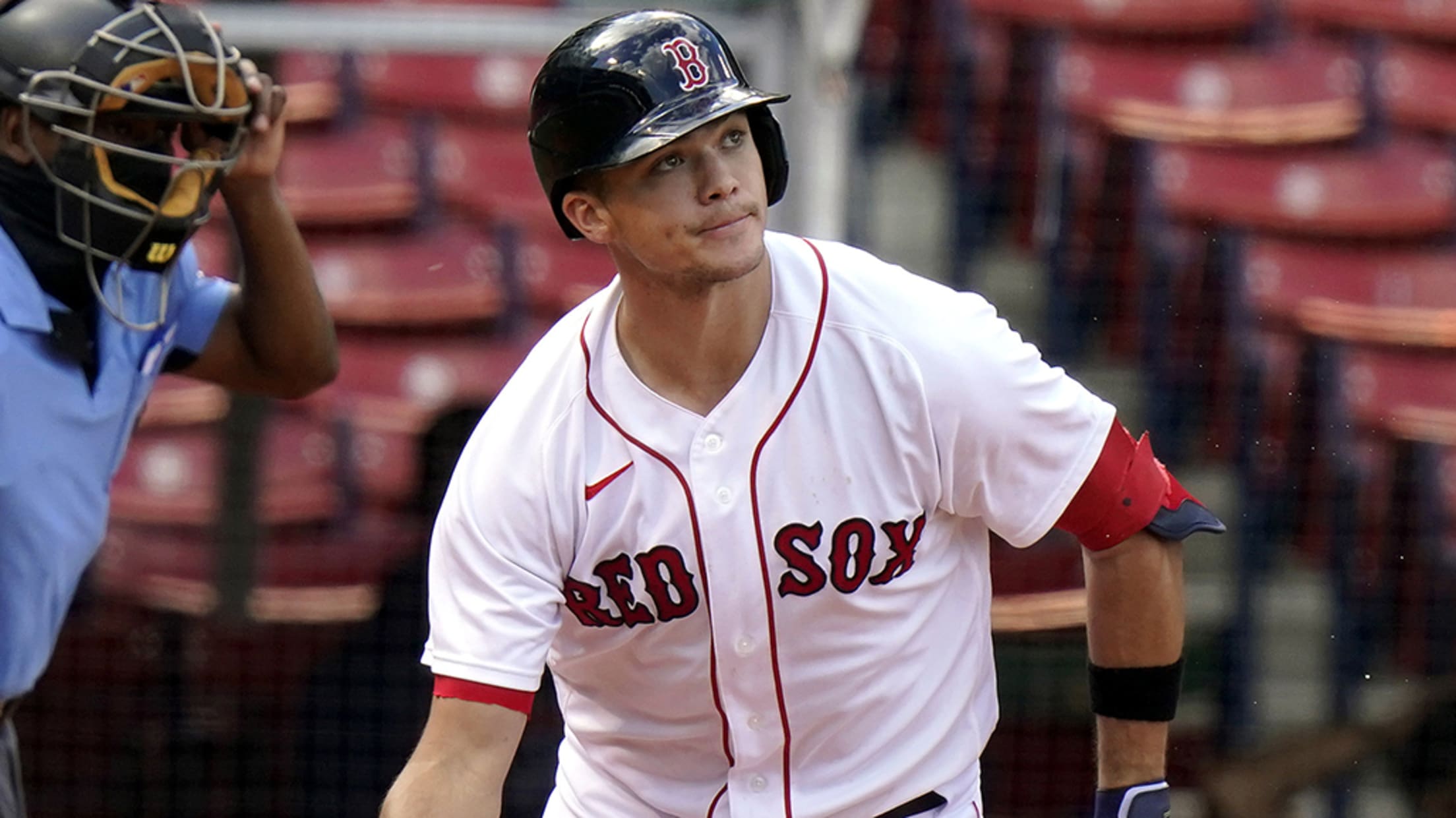 Bobby Dalbec tied for third among Major League rookies with eight homers in 23 games this season. (Steven Senne/AP)
Starting in October and running through the end of the year, MiLB.com's new State of the System series evaluates the strengths and weaknesses of each Major League organization, highlights prospects who've made the biggest strides in 2020 and offers a peek at 2021. It has not been an ideal 2020
Starting in October and running through the end of the year, MiLB.com's new State of the System series evaluates the strengths and weaknesses of each Major League organization, highlights prospects who've made the biggest strides in 2020 and offers a peek at 2021.
It has not been an ideal 2020 on Lansdowne Street by any measure.
The Red Sox finished with a 24-36 record during the truncated regular season, putting them last in the American League standings and giving them the Major Leagues' fourth-worst record. Their .400 winning percentage was the franchise's lowest since a 62-100 campaign in 1965. Before Boston picked up any losses on the field, the organization traded Mookie Betts to the Dodgers for Alex Verdugo, Jeter Downs and Connor Wong. It will take some time to feel the full impact of that trade -- Verdugo, for instance, should be a long-term fit in the Boston outfield -- but it can't help to see Betts lead Los Angeles to the World Series, three months after signing a 12-year extension with his new club.
In essence, this should have been perfect for a shift in fan focus toward the farm system, which slotted in at 27th in MiLB.com's preseason rankings, over the summer. Instead, the lack of a Minor League season made that difficult and forced many of Boston's top prospects to make up for lost at-bats and innings at the club's alternate training site in Pawtucket. As the successful rookie seasons of Tanner Houck and Bobby Dalbec proved, that time at McCoy Stadium wasn't wasted, and there's a chance the baseball world could see the rest of the system trend upwards once it takes on live competition again.
"More than anything, there's been a great opportunity to really focus on development in this environment, even with guys on the precipice of getting to the big leagues," Red Sox vice president of player development Ben Crockett said in late September. "I think it's really allowed players and coaches to be 100 percent development-minded at all times and not be pulled in different directions. [We haven't] needed to be worried about performance or those sorts of things quite as much. [We're] able to look it at for it a little bit longer term."
By allowing those who were already in the pipeline to develop, adding prospects like Downs, Wong, Jeisson Rosario, Hudson Potts and Connor Seabold in 2020 trades and preparing for the fourth overall pick in the 2021 Draft, brighter times at Fenway Park and all stops below might not be far away.
"I think the cupboard is getting full again," Pawtucket manager Billy McMillon said earlier this month.
System strengths: If the last 12 months have revealed anything about the Red Sox system, it's that the farm is most heavily filled with bats, particularly on the infield.
Dalbec took his trademark power to the Majors on Aug. 30 and never looked back. The right-handed slugger homered in his first game and went deep in five straight contests from Sept. 5-10. He finished with eight homers -- only Kyle Lewis and Luis Robert hit more as rookies -- and a .263/.359/.600 line over 23 games, though a 42.4 percent strikeout signaled again that Dalbec's contact issues didn't go away in the bigs. Ranked by MLB Pipeline as the No. 100 overall prospect, the 25-year-old should take over full-time first-base duties going into 2021.
Below him, Downs seems to have solidified his place as the club's second baseman of the future at a crucial time as Jose Peraza, Jonathan Arauz and Christian Arroyo combined for -0.2 WAR at the position. The former Dodgers farmhand got experience at shortstop in Pawtucket, but McMillon believes he'll be best suited for the four long-term. Coming off a 24-24 season in 2019 between Class A Advanced and Double-A, the organization wants to see MLB Pipeline's No. 40 overall prospect become a little more consistent offensively before giving him his first push to the Majors.
The more intriguing development on the infield at the alternate site may have been from No. 71 overall prospect Triston Casas, who moved up despite playing only two games above Class A in 2019. The 20-year-old left-handed slugger didn't look lost in Pawtucket, bringing his trademark power and two-strike approach that sees him spread wide in the box and choke up heavily on the bat. He also saw time at third base after spending all of last year at first. The 2018 26th overall pick was drafted as a third baseman, and if he can maintain some positional flexibility (as Dalbec did), he could only help his ascent to Boston, where the big club already boasts young stars in Xander Bogaerts and Rafael Devers on the dirt.
"Not surprising," Crockett said of Casas. "I think he's continued to impress and rise to every challenge. I think he's an incredibly mature hitter and thoughtful and diligent with his work. That's continued here. What I will say is coming from home and being away from competition -- for him to jump right in and seamlessly transition to live game action and have the consistency he's had has been really impressive. ... In terms of the process, in terms of the competitiveness and the quality of at-bats and approach, I think it's impressive for a young guy to do what he's doing, but based on everything we've known of him, it's probably in line with what we could have expected."
Hudson Potts and Triston Casas both showed off some easy pop in #SimCity yesterday. pic.twitter.com/JGUy1td7gF

— PawSox (@PawSox) September 8, 2020
Areas for growth: It's no secret that you have to go back to Clay Buchholz to find the last starting pitcher who was fully developed in the Boston system, and the club's struggles on the mound mirror that. However, Houck's ascendance, the acquisition of Seabold and the continued development of Bryan Mata and Jay Groome provided some hope.
Mata entered the summer as the Sox pitching prospect most likely to lead a future Major League rotation, thanks to a sinking fastball and plus slider. While he didn't get the chance to show that potential in the Majors, the 21-year-old right-hander left a big impression at the alternate site. That's key for a pitcher who was last seen posting a 5.03 ERA and 1.45 WHIP in 11 starts for Double-A Portland.
"Bryan Mata, I can't say enough of this kid," Pawtucket pitching coach Paul Abbott said earlier this month. "He's as exciting as anybody in baseball. Top-shelf fastball. Top-shelf slider. Curveball's above-average. Excellent changeup, too. It's hard to squeeze in those other pitches when the first two are so dynamic. Young kid that got a little taste of Double-A last year and the [Arizona] Fall League did him well, but this for him got a ton of value out of the situation. His command wasn't consistent enough, and one little tweak in the low-stress environment we were in allowed him to make some adjustments. I think you'll see him next year."
It'll take more than Houck and Mata to save a makeshift pitching staff that ranked 28th with a collective 5.58 ERA in 2020, but their proximities to the rotation provide some hope.
What's changed: Playing the role of sellers at the Trade Deadline, the Sox picked up four new ranked prospects in Rosario (No. 16), Potts (No. 20), Seabold (No. 23) and Jacob Wallace (No. 24). Those four came over in deals involving first baseman Mitch Moreland, outfielder Kevin Pillar and relievers Brandon Workman and Heath Hembree. Of that quartet, only Moreland and Hembree are under team control beyond 2020 and both are on the other side of 30. In other words, Boston beefed up the system without losing any players who would have large roles on the next contender at the Fens. (Again, not counting the Betts trade here since that happened before the season.)
Rosario impressed at the alternate site for his outfield defense but will need his bat to catch up to the glove, especially after he slugged .314 at Class A Advanced Lake Elsinore in 2019. McMillon was impressed by Potts' approach for a 21-year-old who already has a full Double-A season under his belt and went so far as to say the right-handed slugger reminded him of former Red Sox third baseman Will Middlebrooks, who was a top prospect during his days in the Boston system. Abbott noted that Seabold may be working with average stuff -- although his changeup is a "top of the food chain pitch" -- but makes the arsenal work due to deception from the right side and the ease with which he works in the zone. He and fellow former Phillie Nick Pivetta could be rotation options in 2021. Wallace, a former UConn closer who brings plenty of local intrigue, showcases a plus fastball and plus slider but was robbed of his first full season after going in the third round of the 2019 Draft. The right-hander features a high-effort delivery and Boston plans to keep him in the bullpen.
In June, No. 11 prospect Nick Yorke and No. 15 Blaze Jordan were added through the Draft, both as high school hitters. More on Boston's thinking at the time in MiLB.com's 2020 Draft recap. But it was telling that Yorke was a late addition to the 60-man player pool and was included in Pawtucket workouts for his first taste of pro ball. According to McMillon, he singled off Mata in his first at-bat, signaling to his new coaches that perhaps his bat was worth his shock selection at No. 17 overall.
2020 first round pick Nick Yorke has arrived at McCoy. pic.twitter.com/tsv6ohx1MQ

— PawSox (@PawSox) September 17, 2020
Alternate site standout: Dalbec and Houck reached the Majors, but the prospect most talked about around McCoy Stadium this summer was eighth-ranked Jarren Duran, a 70-grade speedster who adjusted at the plate to show a lot more power than he had in his two previous pro seasons.
The 2018 seventh-rounder out of Long Beach State became a must-follow in his first full season when he opened 2019 by hitting .387 with a .998 OPS in 50 games with Class A Advanced Salem. His numbers following a promotion to Portland were much more pedestrian -- .250/.309/.325 with one homer in 82 games. So while Duran finished with a .303 average and 46 steals in his first full campaign, he faced questions about how his offensive game would translate to the upper levels. The solution was to focus on improving his launch angle. After all, Duran hit the ball on the ground 49.7 percent of the time in 2019. The hope was that getting the ball into the gaps more would allow the left-handed hitter to take advantage of his speed with doubles and triples, but Duran developed enough power to send those balls over the wall at McCoy.
That tool sharpening is promising for the Red Sox and could be well-timed with Jackie Bradley Jr. potentially moving on in free agency. The next step will be getting the former college second baseman to improve his outfield defense, and that will continue when Duran heads to Puerto Rico for winter ball.
"He had an unbelievable offensive camp," McMillon said. "Stole a ton of bases. Hit a lot of home runs. Impacted the baseball hard day in and day out. I think he continues to get better in the outfield, and as that continues to get better, I think that's going to help clear the path for him."
Another day, another homer for Jarren Duran. pic.twitter.com/rj89LpWtQm

— PawSox (@PawSox) September 12, 2020
Impact rookies: As mentioned earlier, Dalbec had perhaps the most impactful season by a Red Sox rookie. But Houck's ascendance and success brought just as much hope for the future and perhaps even more relief to those in player development.
Since getting drafted 24th overall out of Missouri in 2017, Houck never quite dominated the Minors and hadn't posted an ERA below 3.24 or WHIP better than 1.30 at any spot in the chain. The Sox moved him to the Pawtucket bullpen in 2019 before sliding him back into a starting role in the AFL and with Team USA. Something clicked in 2020, however, and the right-hander shoved in three Major League starts, giving up one earned run while striking out 21 over 17 innings. Ten of those K's came against the Braves in a six-inning gem on Sept. 26 in his final start of the season.
Throwing from a low arm slot, Houck used his four-seamer, sinker and slider in almost equal measure in the Majors. All six of his hits came on the four-seam fastball, and when batters swung at the slider, they missed the ball completely 47.2 percent of the time -- a whiff rate indicative of a true plus pitch. How big league hitters will adjust to this new version of Houck as they gain experience against him is yet to be seen, but the opening to a career was promising enough to make the former Mizzou ace a prominent part of the Sox rotation next spring.
"He worked on getting his gloveside command better with the four-seamer and getting it a little better carry," Abbott said. "He worked on backfooting that slider better. And then you didn't really see it much up there with him, but his split's going to be a quality pitch, which he didn't really need. We got an opportunity to see him at that level with that caliber of talent at the games we were seeing at the alt site -- that's what carried over to the big league side."
#RedSox No. 10 prospect Tanner Houck is a big leaguer.

5⃣ IP
2⃣ H
0⃣ R
7⃣ K'spic.twitter.com/VXb4tzokHq

— Minor League Baseball (@MiLB) September 16, 2020
Next big thing: Groome is healthy. That's huge since lat and forearm issues and Tommy John surgery limited him to 66 innings since he was drafted 12th overall in 2016, including only four frames in rehab duty last season.
Groome started throwing live batting practice in early August in Pawtucket and was stretched out to five innings in simulated games a month later. All the while, he was touching the mid-90s again and showing signs of a plus curveball that was once his bread and butter. Groome, who is participating in instructional league play this fall, only turned 22 in August and could be on track to regain the Top 100 prospect status he enjoyed before the 2017 and 2018 seasons. Perhaps he could have made a jump in 2020, if not for the pandemic that robbed him of needed Minor League innings.
"When he comes into Spring Training next year, he's going to have a lot of confidence," Abbott said. "He grew a lot. Even though he's not that young anymore, seeing how some of the older guys that have big league time work was immensely valuable to him, to see how they did it. Made some adjustments to his routine and bullpens that are going to accelerate him to the higher levels. He's going to be a tough one to figure out where he starts. Three pitches, smooth delivery, everything's there. Now it's just a matter of facing a real setting of a real season."
Sam Dykstra is a reporter for MiLB.com. Follow and interact with him on Twitter, @SamDykstraMiLB.