State of the System: New York Yankees
Schmidt, Garcia lead arms race for perennial contenders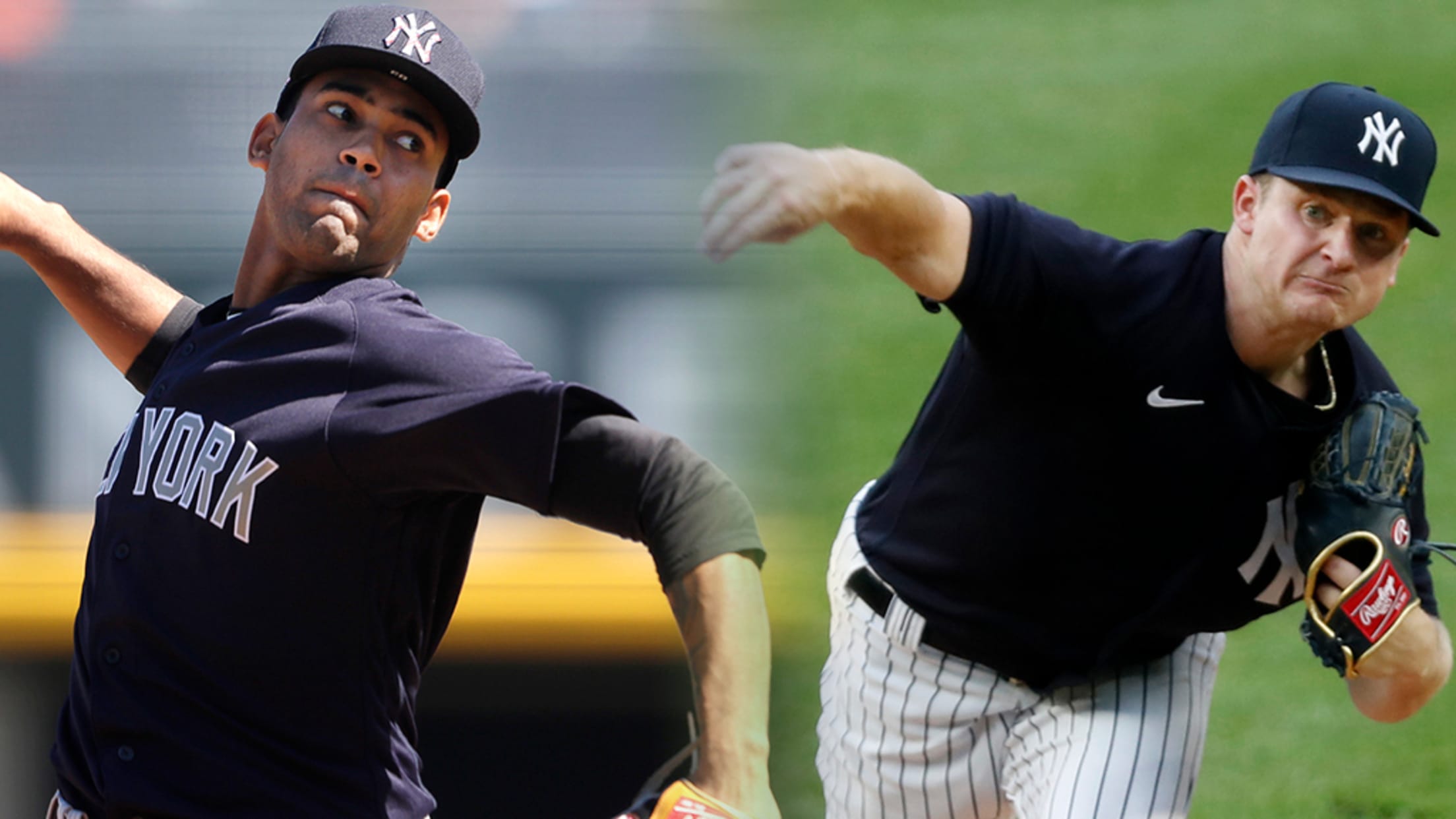 Deivi Garcia and Clarke Schmidt hope to anchor the Bronx Bombers' rotation for years to come. (John Bazemore/AP; New York Yankees)
Starting in October and running through the end of the year, MiLB.com's State of the System series will evaluate the strengths and weaknesses of each Major League organization, highlights prospects who've made the biggest strides in 2020 and offers a peek at 2021.
Starting in October and running through the end of the year, MiLB.com's State of the System series will evaluate the strengths and weaknesses of each Major League organization, highlights prospects who've made the biggest strides in 2020 and offers a peek at 2021.
A year after setting records for players on the injured list and total days accrued there (2,320), the 2020 Yankees again were plagued by the injury bug. And for the second straight year, the organization had an opportunity to flex its depth -- and did just that.
The Bronx Bombers had eight key starters land on the IL for extended stretches, which easily could have been catastrophic in a 60-game sprint. Instead, New York marched to its fourth consecutive playoff berth and an opening-round victory over the Indians before falling to the Rays in the decisive fifth game of the AL Division Series.
What ultimately proved to be the Yankees' chink in the armor was pitching depth. After ace Gerrit Cole, New York struggled to slot in a solidified No. 2 starter. James Paxton suffered a season-ending injury in August, Masahiro Tanaka lacked the form he showcased in previous seasons and and former ace Luis Severino was recovering from Tommy John surgery.
But hope loomed with the emergence of two of the club's top three prospects -- right-handers Clarke Schmidt and Deivi Garcia. Schmidt and Garcia were two of seven youngsters who made their debuts in The Show this year and both flashed the talent that placed them among MLB Pipeline's Top 100 prospects at No. 83 and No. 87, respectively.
Couple this with a Draft class that saw the Yankees fortify their prospect pool, despite owning only three selections, and what's considered the most barren plot on the organization's landscape can quickly become the most fruitful.
System strengths: As the cliché goes: pitching, pitching and more pitching.
There's no question that the pitching-needy Yankees have a plethora of arms up and down their system. Thirteen of their top-30 prospects are hurlers. While many are a year or more away from the Majors, Schmidt and Garcia appear ready to contribute on Opening Day 2021.
After playing his way to Double-A in 2019 and being an integral part of the Thunder's run to the Eastern League crown, Schmidt was promoted from the Yanks' alternate training site and made his Major League debut out of the bullpen on Sept. 4 in Baltimore. After two relief appearances, the second-ranked Yankees prospect made his first start on Sept. 27 at the Stadium against the Marlins and allowed three runs on four hits and a pair of walks while fanning four over four frames.
"Clarke can kind of do whatever he wants with all of his pitches," Yankees director of player development Kevin Reese told MLB.com. "We just educated him with what plays against each batter, where to locate at the next level. You've got to hone in on that, introduce more information and scouting reports. We had to speed that up with him because he went from 20 innings in Double-A to the big leagues."
Clarke Schmidt strikes out Giancarlo Stanton. pic.twitter.com/Nj0XntaBC0

— YES Network (@YESNetwork) July 11, 2020
In total, the 24-year-old yielded five runs on seven hits and five walks while striking out seven over 6 1/3 innings in the Majors.
Another arm who made his big league debut and provided a glimpse into a promising future was No. 15 prospect Miguel Yajure. The righty made three relief appearances this season and posted a 1.29 ERA while displaying the advanced control that caught the organization's attention last year.
Not that far behind are highly touted fireballers Luis Gil, Luis Medinaand Alexander Vizcaino. Gil (No. 5 prospect) and Medina (No. 11) both possess 70-grade heaters, while while Vizcaino (No. 8) has a 65-grade fastball. The trio worked together at the alternate training site in Moosic, Pennsylvania.
Areas for growth: The emergence of Luke Voit at first base and Gio Urshela at third have helped shore up those positions at the top, and that's important because none of the Yankees' top 30 prospects are corner infielders. They've always put a premium on drafting up the middle, and that's glaring with four catchers and six middle infielders on the list. There's always the possibility of one of those middle infielders making a switch, such as fourth-ranked Oswald Peraza, who has the arm and range to play anywhere. As it stands, however, the system is pretty thin at the corners.
Also, any Yankee fan knows the value of a southpaw in the Bronx. With the short porch in right field, the Yankees have always relied on one or two lefties in the rotation to maintain balance and keep left-handed power bats at bay. However, of the 13 arms among New York's top 30 prospects, just one is a southpaw -- T.J. Sikkema at No. 17. And with Paxton a free agent and Jordan Montgomery working to regain his form after rehabbing from Tommy John surgery, Sikkema could provide a solution to this issue.
The 22-year-old impressed in 2019 in the New York-Penn League, sporting a 0.84 ERA and 0.66 WHIP with 13 punchouts and one walk over 10 2/3 innings in four starts.
What changed in 2020: There wasn't a great deal that changed for the Yankees. Injuries again put a chokehold on the club reaching its potential and a shortage of reliable pitching options reared its ugly head.
Still, righties Michael King and Nick Nelson provided bright spots as both shed their prospect status.
King made his big league debut in 2019 and became a mainstay this year. The 25-year-old was 1-2 with a 7.76 ERA and 26 strikeouts over 26 2/3 frames in nine games, including four starts. He was employed mostly as the long man out of the bullpen.
The Yankees only had three picks in the Draft but made the most of them, adding slugging catcher Austin Wells, second baseman Trevor Hauver and right-hander Beck Way. The trio already finds itself among the organization's top prospects, with each possessing the potential to rise quickly through the ranks.
Wells (No. 6) will need to work on his defense, but the lefty swingers 55-grade power and hitting ability are right there. Hauver (No. 26) requires some seasoning, but his advanced strike zone awareness will serve him well as he makes his way, while Way (No. 29) boasts the repertoire to be a starter, but his fastball-changeup combo could put him on the fast track as a dominant reliever. None appeared at the alternate site, however, but all three were expected to participate in the fall instructional league.
"We never draft for need, that's just something that's always been preached to me. Our focus is to always get the best available talent on the board and continue to try to work the middle of the field," Yankees vice president of domestic amateur scouting Damon Oppenheimer said after the Draft. "So we tried to execute that plan by using all the resources we had as well as all the looks we had at guys in the summer, fall and shortened spring, and on top of that mixing in all the data we acquired and then grinding on all the video ... and we were really pleased with the guys we got."
The only other acquisition the Yankees made in 2020 was trading for reliever Addison Russ. Brought over from the Phillies for David Hale at the Trade Deadline, the 2017 19th-rounder has a 2.48 ERA, 200 strikeouts and 44 walks over 152 2/3 frames in 126 appearances across three Minor League seasons.
Alternate site standouts: Among position players, former top prospect Estevan Florial was someone who garnered lots of attention in Moosic.
The team's seventh-ranked prospect reached The Show with above-average grades in power, arm strength, speed and defense, but injuries have limited the center fielder's time in game situations. Many believe nothing suffered more from that than his aggressive approach at the plate. Florial posted a career-worse 33 percent K rate in 2019.
He made up some of those at-bats this summer and showed just what he's capable of with a clean bill of health.
"Alternative camp was good for Estevan for a number of reasons," Reese told MLB.com. "We value makeup and work ethic, so to be around a bunch of veteran guys helped. He got to see some good pitching, more advanced left-handers and right-handers, and he got up close and personal with Dillon Lawson, our hitting coordinator.
"Everyone is aware that he has some swing-and-miss in there. We wanted to see what we could do with his pitch recognition and we were able to put him under the microscope. On the defensive side, he has ability and consistency out there. We were confident he could handle it when we called him up."
The 23-year-old's efforts earned him a promotion to the Bronx, and Florial went 1-for-3 on Aug. 28 against the Mets in his big league debut. It turned out to be his only appearance of the season.
Save that ball.#Yankees No. 7 prospect Estevan Florial singles for his first Major League hit.

🎥 👇 pic.twitter.com/nGXieTjXdE

— Minor League Baseball (@MiLB) August 28, 2020
Impact rookies: No rookie had a greater impact on the Yankees this year than Garcia.
The 21-year-old has been a fast riser through the system since his pro debut in 2016. Having played at three different levels in each of the last two years, the No. 3 Yankees prospect was a 2019 Organization All-Star and Futures Game selection last season after displaying a knack for missing bats -- totaling 165 punchouts over 111 1/3 frames.
"I love everything about him," Class A Advanced Tampa pitching coach Jose Rosado said following the 2019 campaign. "He's a young kid, he likes to compete and he has one of the best confidence levels that I've ever seen from a 19-year-old, which is what's making him what he is right now. He gets the most out of everything he has. He's got four very good pitches that he can throw in any count and can land for a strike at any time. I think this kid, with health, will be able to accomplish great things for the organization."
Garcia honed his skills at the alternate site before putting together a debut to remember in The Show. The 5-foot-9, 163-pounder shut out the Mets for six innings, whiffing six, at Citi Field. He went on to make six regular-season starts, posing a 4.98 ERA and 1.19 WHIP over 34 1/3 innings with a notable 33-6 strikeout-to-walk ratio.
Deivi Garcia, have a debut 👀

6⃣ IP
4⃣ H
0⃣ ER
0⃣ BB
6⃣ K 👇pic.twitter.com/yi0sJd1CO7

— Minor League Baseball (@MiLB) August 31, 2020
"Deivi continued to have a tremendous work ethic and did everything we asked at the alternative site," Reese said. "He worked on improving the command of his secondary pitches. We wanted to make sure he could land that curveball and use it as a chase pitch. He's always had pretty good fastball command.
"We saw him handle different situations so well in the big leagues. He never got shaken."
Nelson also quietly established himself as a weapon in the bullpen in years to come. The 2016 fourth-rounder was a breakout prospect after pitching at three levels each of the previous two seasons, finishing last year in the International League. The 24-year-old made his Major League debut on Aug. 1 and ended up making 11 appearances for the Yankees, allowing one earned run or fewer in 10 of them.
What better way for #Yankees No. 16 prospect Nick Nelson to debut than during the greatest rivalry in sports?pic.twitter.com/qEJd5mS1Mj

— Minor League Baseball (@MiLB) August 2, 2020
Next big thing: This is a little tricky. If we're talking about the actual next big thing in terms of time, you have to turn to Schmidt and Garcia, who will be contributors next season and should solidify their spots in the rotation fairly quickly.
However, if we're talking about the next big thing in terms of hype, there's no question it's No. 48 overall prospect Jasson Dominguez. The outfielder signed out of the Dominican Republic for $5.1 million in 2019 and has yet to appear in a professional game.
Still only 17 years old, Dominguez sports plus grades across all five tools with plus-plus marks for power, speed and arm strength. The 5-foot-10, 190-pounder already has drawn comparisons to Mickey Mantle and Mike Trout, while his athleticism has been likened by some to Bo Jackson. Heady stuff.
Dominguez obliterated a moonshot in his first Yankees at-bat in instructional league play last year and became a social media sensation when videos of him crushing balls with exit velocities topping 115 mph went viral last month. Nicknamed "The Martian" for his out-of-the-world abilities, the switch-hitting prodigy could open 2021 in Class A.
"I've known J.D. since he was 13 and he's been working out two or three times a day since he was a kid," Yankees assistant scouting director Edgar Mateo told MLB.com in November. "He's relentless, just unstoppable, and then he has God-given tools that separate him. He also understands that it's a process and he's a long way from the big leagues. He knows there's a lot to be done before his mission is accomplished, and that's why he works so hard."
Rob Terranova is a contributor to MiLB.com. Follow him on Twitter @RobTnova24.