Prospect Roundup: Games of August 11
Astros' Armenteros unhittable; Jazz reaches base five times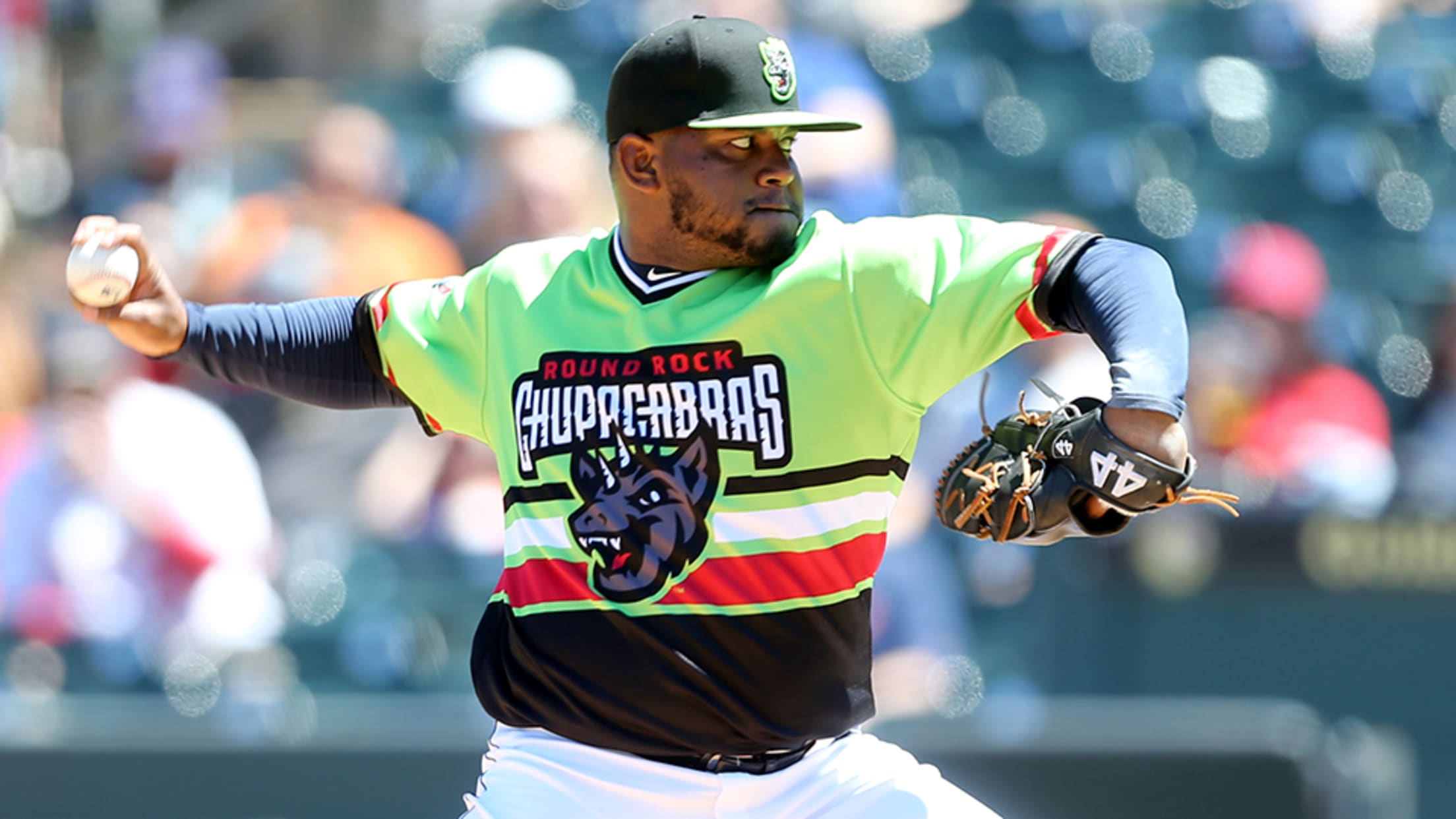 Astros RHP Rogelio Armenteros, Triple-A Round Rock: 6 1/3 IP, 0 R, 0 H, 4 BB, 4 K-- Houston's No. 22 prospect was unhittable in his 16th start for the Express. Armenteros retired 16 of the first 17 batters he faced before issuing back-to-back walks in the sixth. It was first the
Walk-off squeeze bunt gives Memphis a 2-1 series lead over Fresno
Kyle Tucker homers for second straight game; Grizzlies must win final two to take PCL crown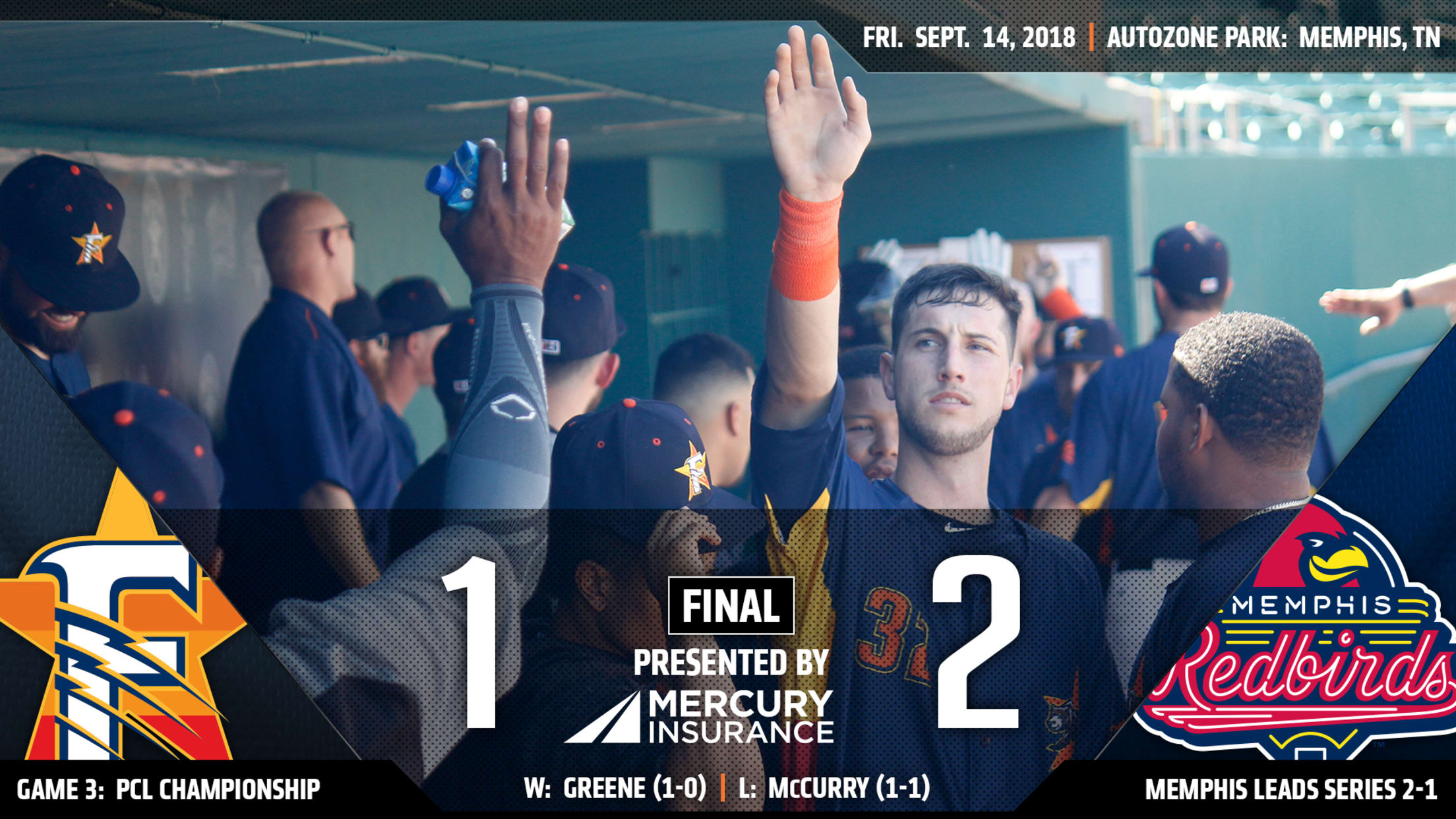 The Memphis Redbirds (American Conference Champions) walked off on the Fresno Grizzlies (Pacific Conference Champions) 2-1 in 11 innings in Game 3 of the PCL Championship Series Friday night from AutoZone Park. With the loss, Fresno must win the final two games of the best-of-five series to win the PCL
El Paso avoids the series sweep with a 2-0 victory over Fresno in game three
Justin Ferrell dominates in Triple-A debut (2.2 IP, 0 H, 0 R, 1 BB, 2 K)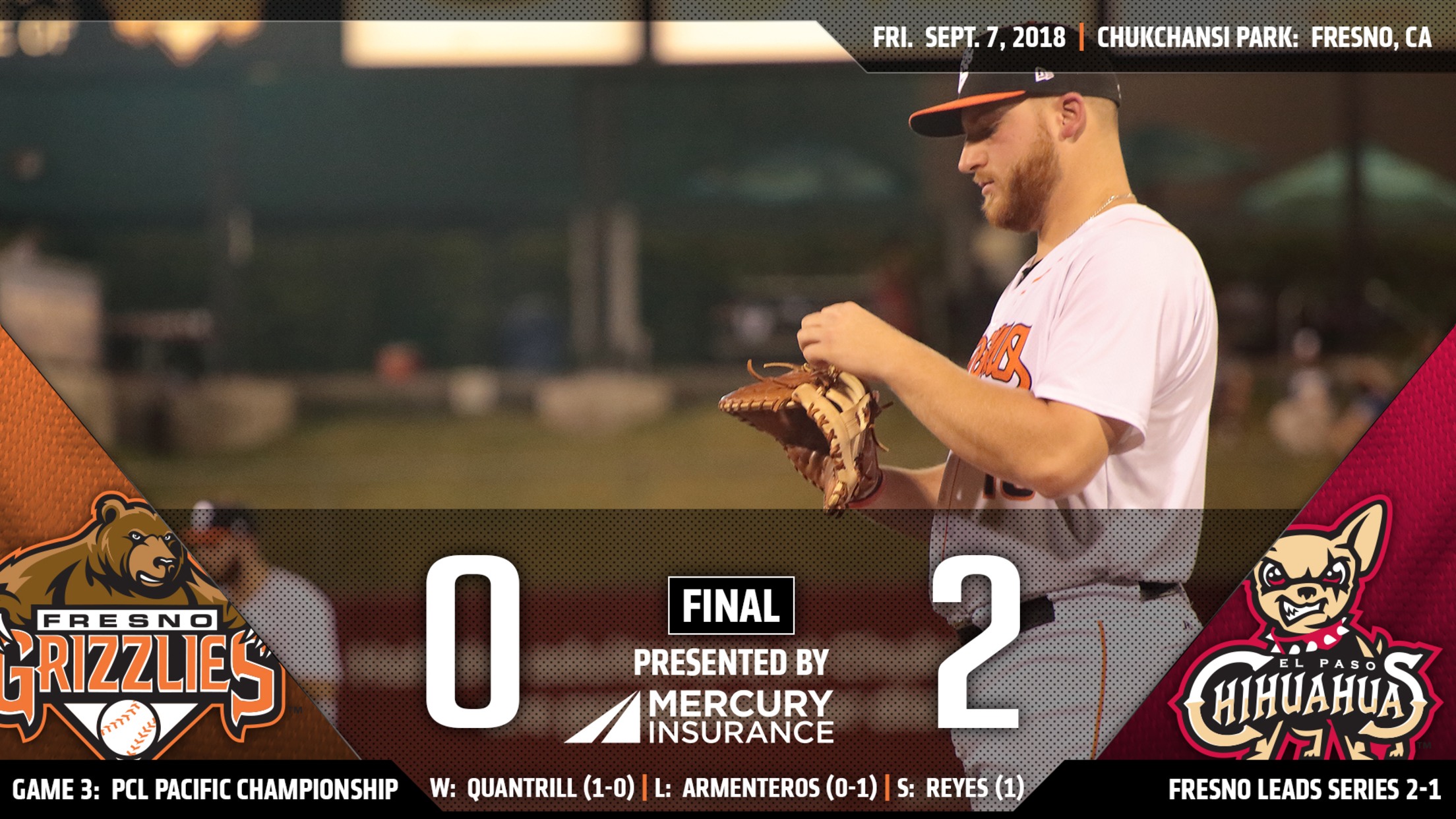 In front of a crowd of 9,902, the El Paso Chihuahuas (1-2) blanked the Fresno Grizzlies (2-1) 2-0 in game three of the PCL Pacific Championship Friday night from Chukchansi Park. With a chance of being swept and eliminated, the Chihuahuas staff buckled down and threw a three-hit shutout.Starter Cal
Fresno smothers Sacramento 9-2 in series opener
J.D. Davis (3-for-4, 3-run HR, BB) continues tear in latest homecoming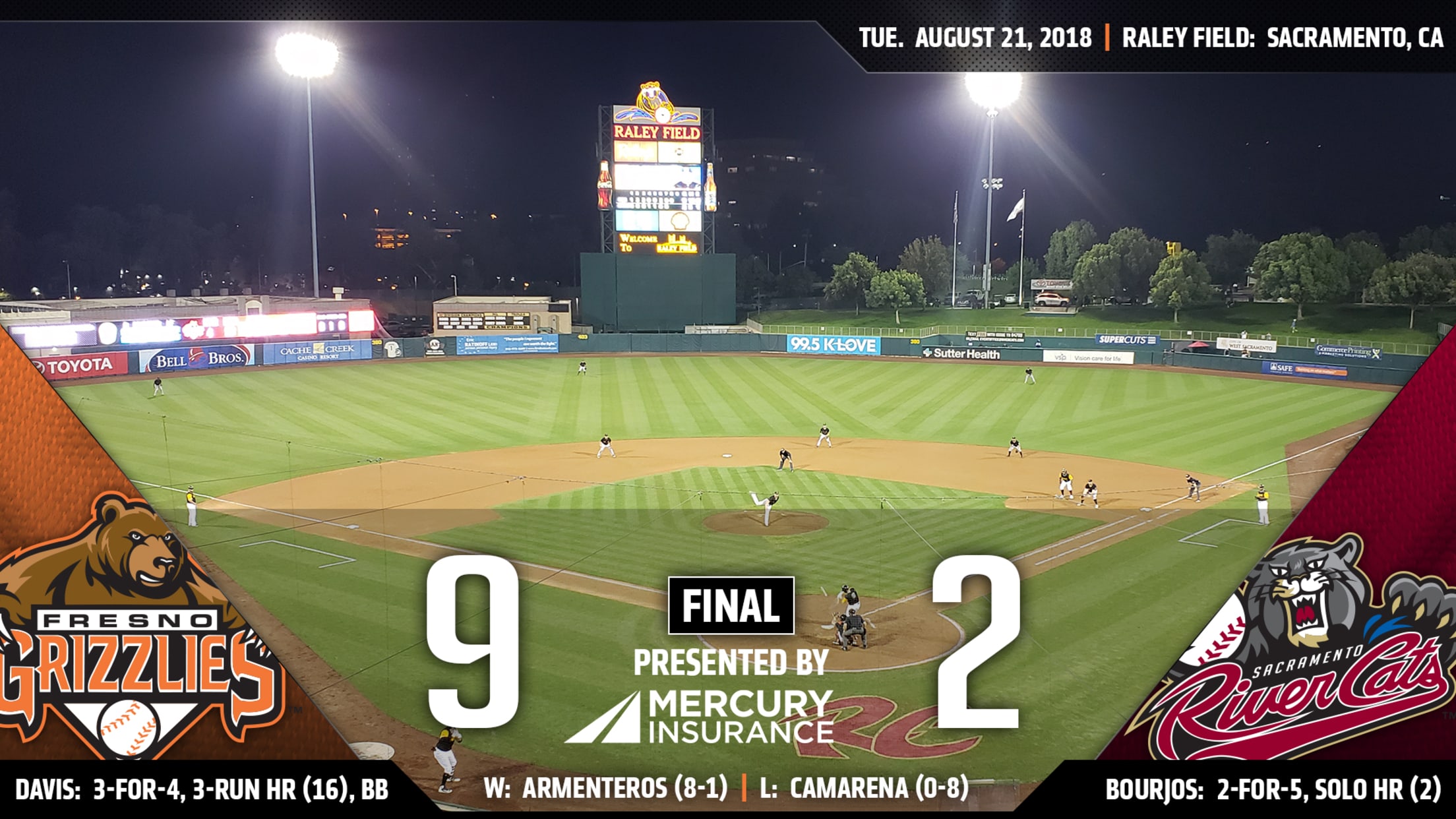 The Fresno Grizzlies (73-54) lowered their magic number to clinch the Pacific Northern Division to six on Tuesday evening, with a 9-2 road win over the Sacramento River Cats (50-77) at Raley Field. Fresno now owns a 23-7 record at Sacramento as a Houston Astros affiliate (since 2015). The Grizzlies
Tanielu and Tucker power Grizzlies past Isotopes 3-2
Nick Tanielu extends hit streak to eight games with go-ahead homer in the 7th; Kyle Tucker goes deep for third consecutive night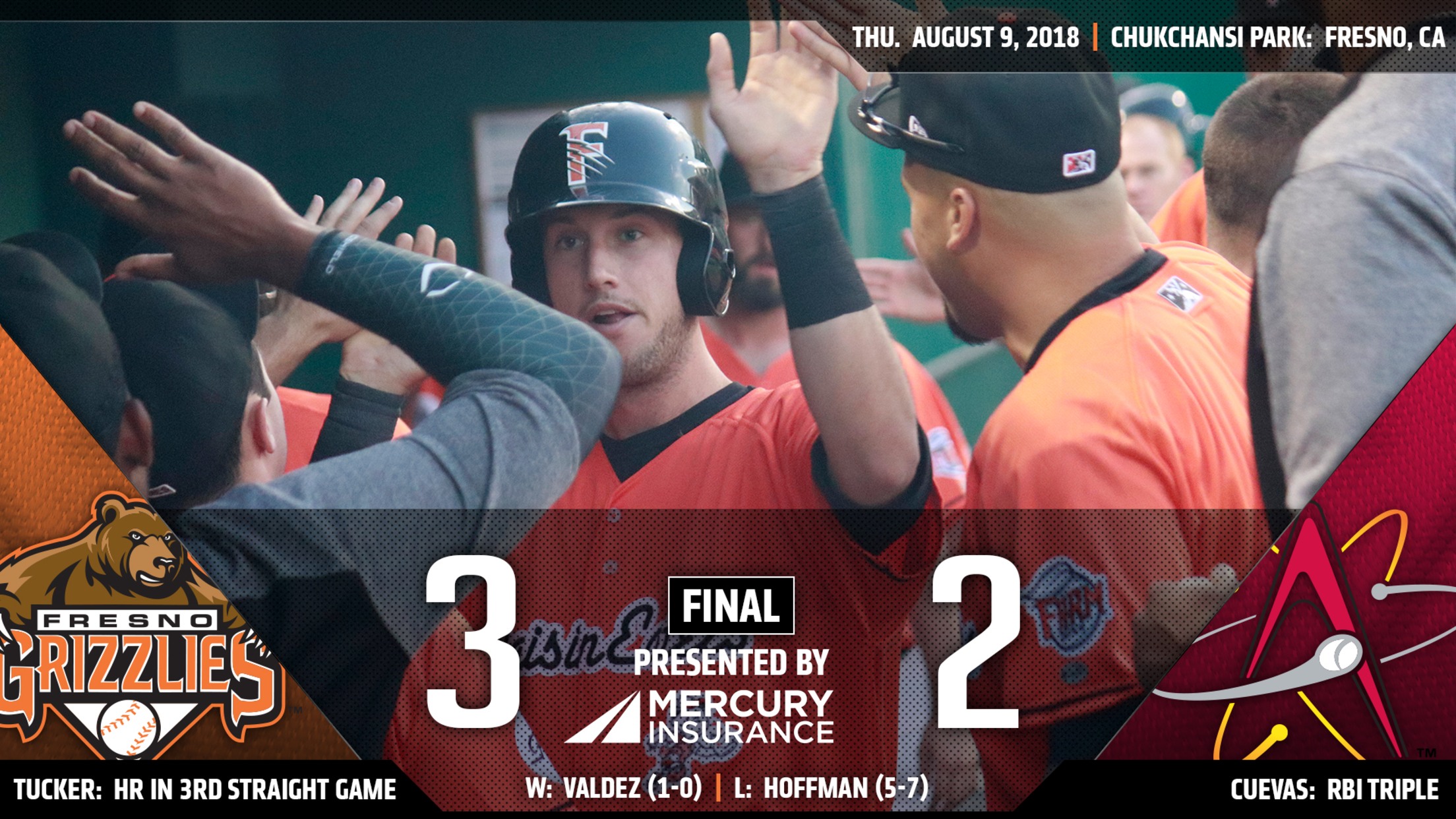 Thanks to a pair of big flies, the Fresno Grizzlies (67-49) scooted past the Albuquerque Isotopes (53-63) 3-2 Thursday night from Chukchansi Park. With the win, Fresno improved to 21-9 in the first game of a series (11-4 at home), 17-20 in one-run affairs (14-9 at home) and 47-27 when
A bunt single awards Nashville with a 2-1 walk-off win over Fresno
Four Grizzlies pitchers strike out 13 batters in the loss, brings season-total to 1,057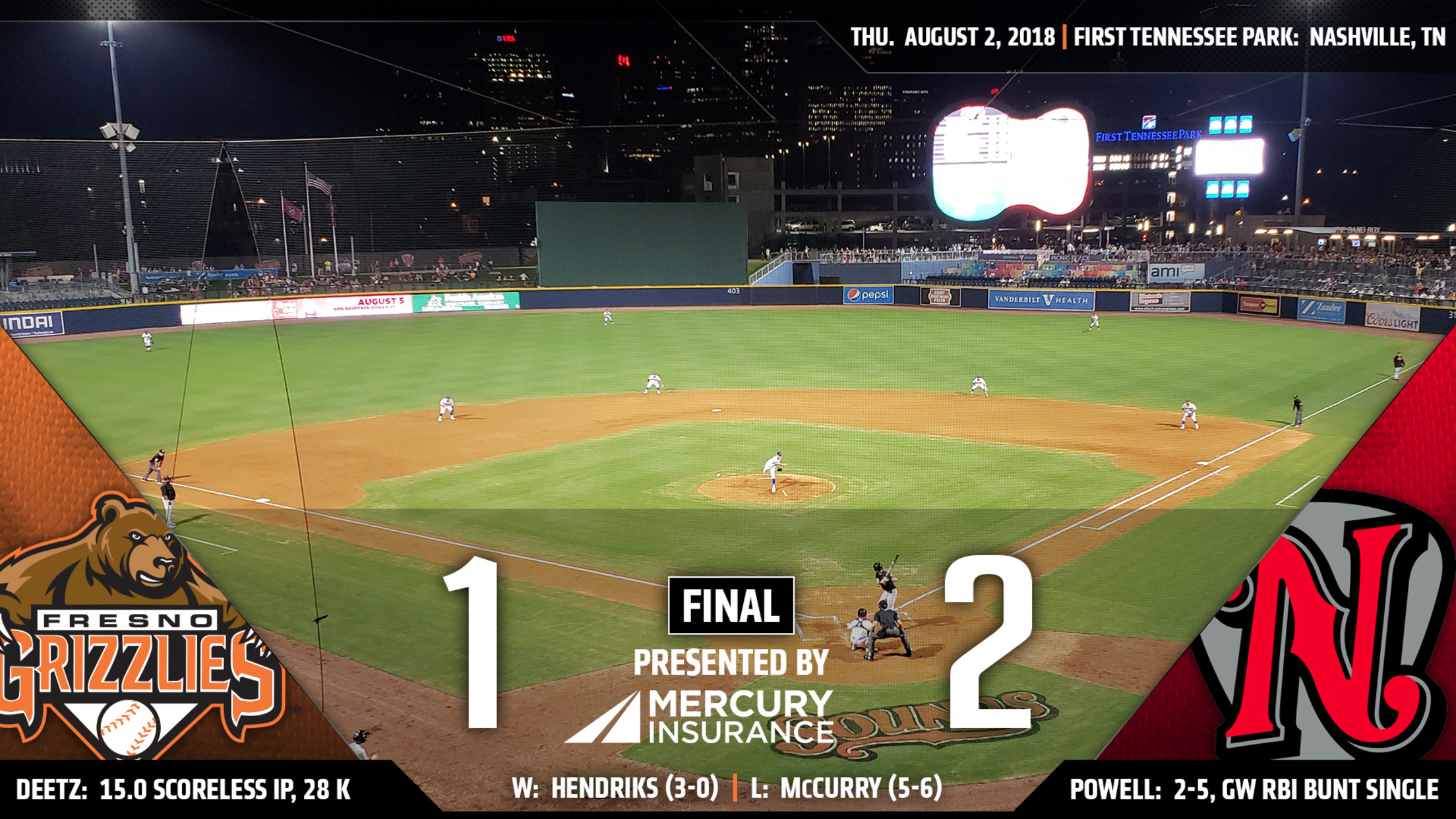 The Nashville Sounds (54-55) beat the Fresno Grizzlies (63-47) 2-1 on a walk-off bunt single Thursday night from First Tennessee Park. With the loss, Fresno dropped their sixth series in 28 chances (no sweeps). They also fell to 48-14 when scoring first (26-10 on the road), 15-19 in one-run affairs
Sacramento's late run dooms Fresno in series opener
Antonio Nunez collects three hits in the 4-3 loss; J.D. Davis drives in a pair of runs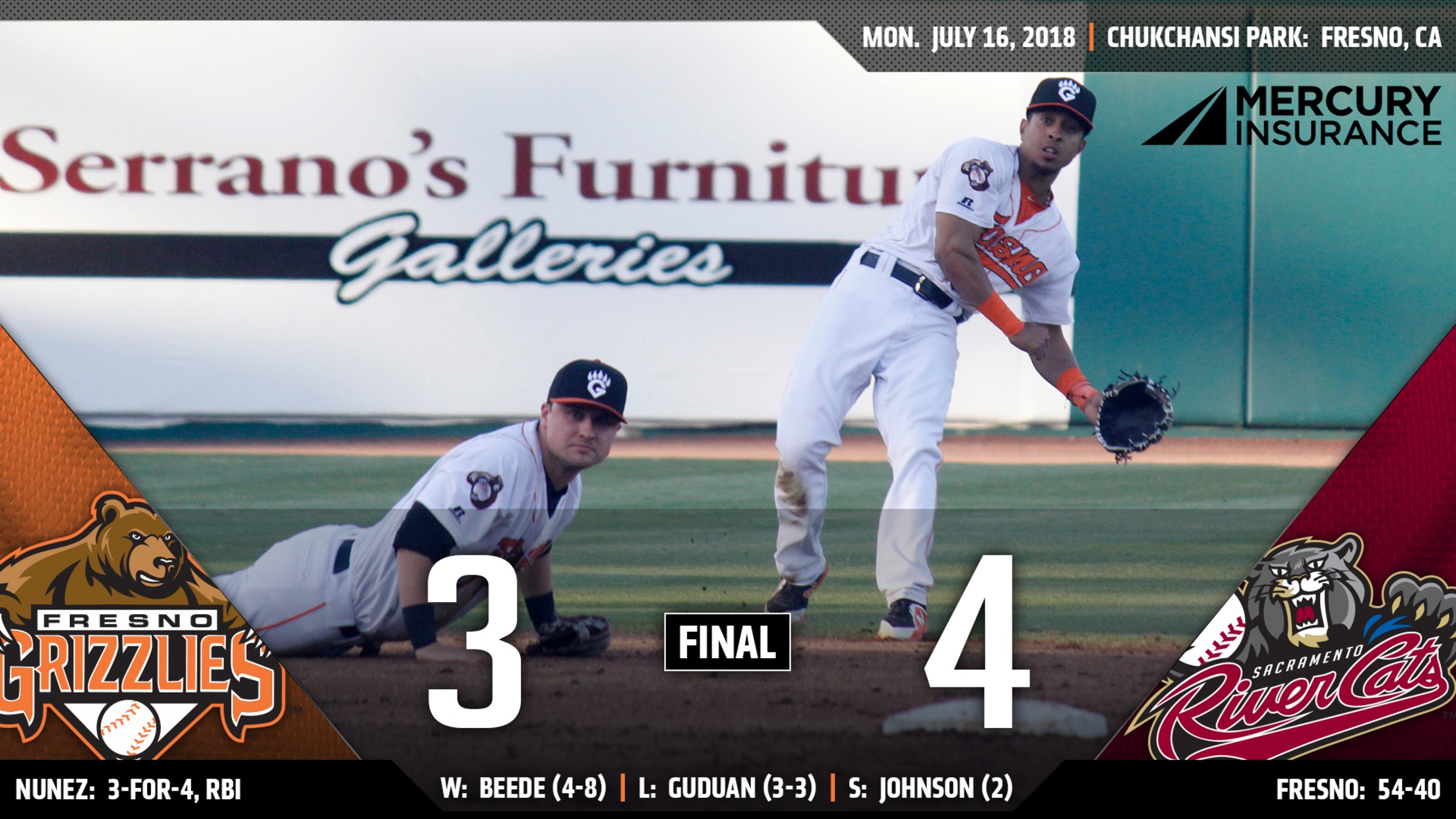 The Sacramento River Cats (41-54) held on to beat the Fresno Grizzlies (54-40) 4-3 Monday night from Chukchansi Park. For only the third time in 25 games since 2017, the Grizzlies dropped a start made by Rogelio Armenteros. He picked up a no-decision after six frames. He allowed three runs
Grizzlies defeat Vegas 8-1 as Rogelio Armenteros improves to 7-0 on the season
Fresno is 22-2 since 2017 in starts made by Armenteros (6 IP, 3 H, 1 ER, 1 BB, 7 K); Derek Fisher homers and drives in four runs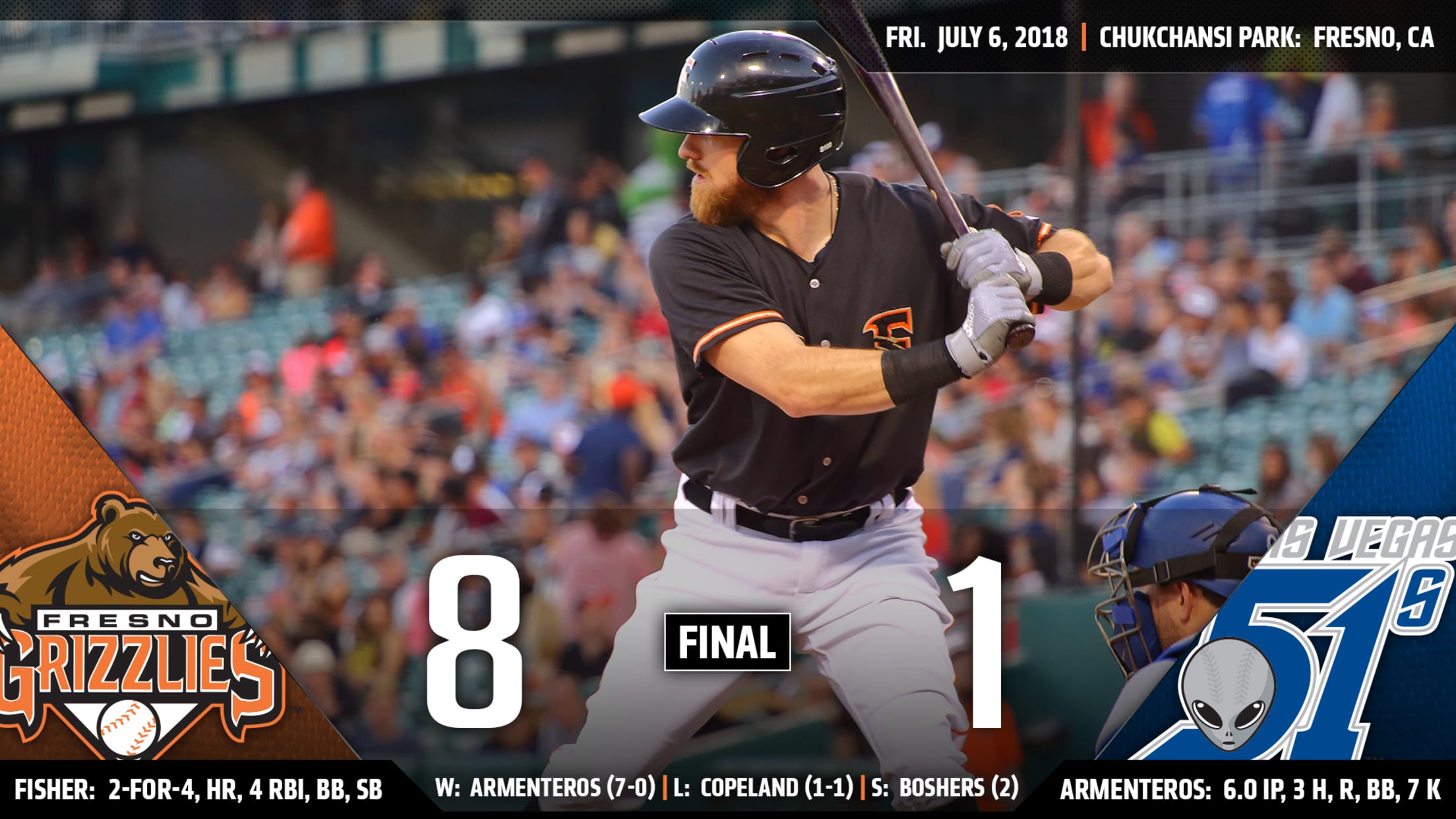 The Fresno Grizzlies (51-36) conquered the Las Vegas 51s (41-47) 8-1 Friday night from Chukchansi Park. Grizzlies starter Rogelio Armenteros (7-0) enjoyed the support en route to the victory. He hurled six innings, giving up three hits, one run (earned), walking one and punching out seven. On the year, Armenteros
Davis leads Grizzlies past River Cats 4-3 Saturday night
J.D. Davis bashes a pair of homers; Fresno improves to 21-2 since 2017 in starts made by Rogelio Armenteros
The Fresno Grizzlies (48-33) clawed past the Sacramento River Cats (36-46) 4-3 Saturday night from Raley Field. With the win, Fresno improved to 6-0 on Saturday road games. Starter Rogelio Armenteros celebrated his 24th birthday by earning his sixth win. He hurled five innings, scattering seven hits, three runs (earned),
Fresno salvages DH and series split with ABQ thanks to Tucker's walk-off
Kyle Tucker slaps walk-off single and extends team-high hit streak to 13 games; Rogelio Armenteros strikes out a season-high nine, Fresno improves to 20-2 in his starts since 2017
In Game 2 of Saturday's doubleheader, the Fresno Grizzlies (46-29) walked-off on the Albuquerque Isotopes (38-37) 2-1 at Chukchansi Park. Kyle Tucker (2-for-4) pushed his team-high hit streak to 13 games, the second longest streak by a Grizzly this season (Tony Kemp, 20, April 23-May 14). During that span, Tucker
Fresno Tacos improve to 3-0 on the road all-time, beat "Round Rock Chupacabras" 6-1
On alter-ego Sunday, Fresno takes first two games in Central Texas by same score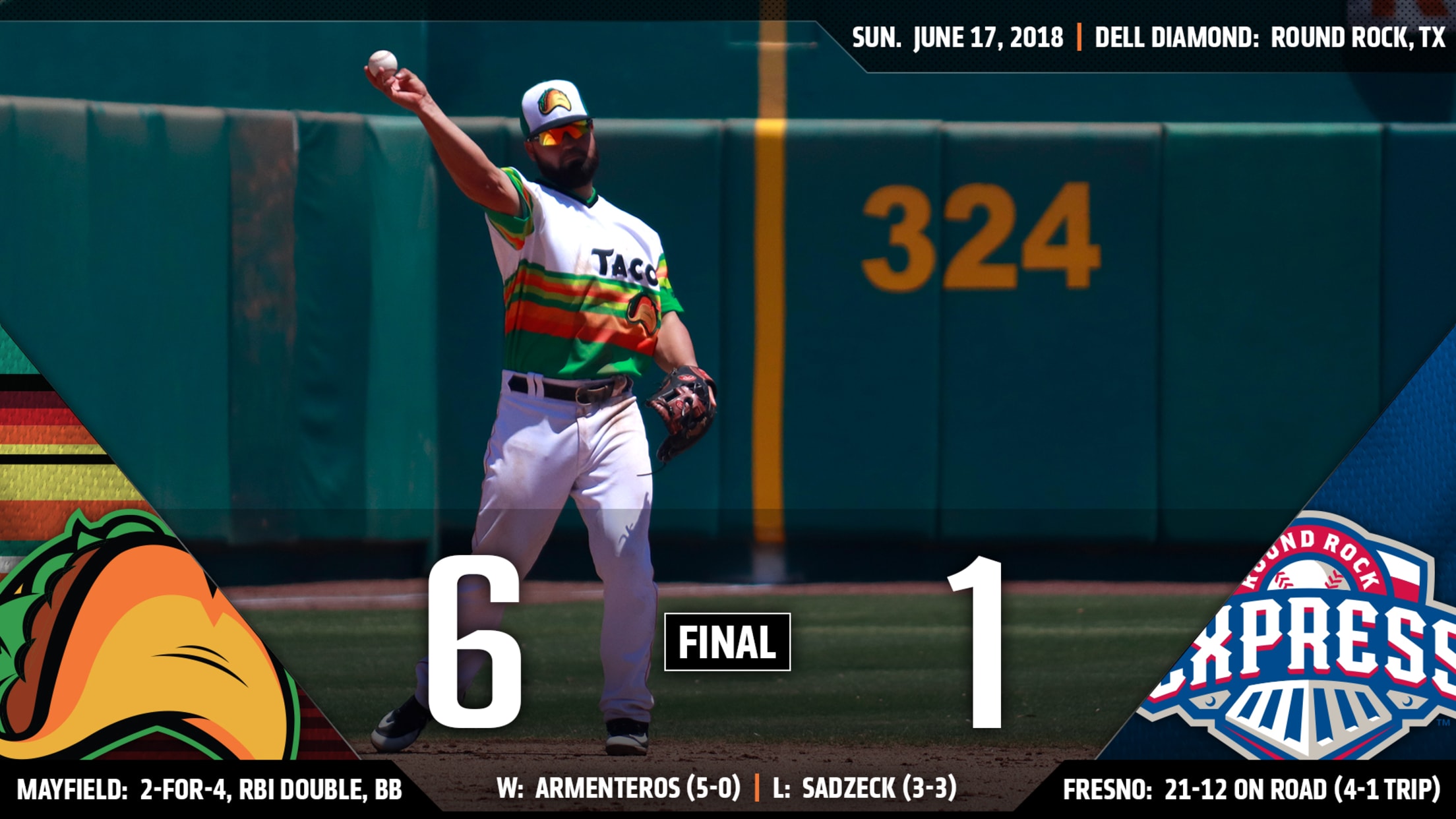 If you like your Minor League Baseball with alter-egos, Sunday in Central Texas was the day for you.The Fresno Tacos, playing a road game for just the third time ever but for the second time in three days, defeated the Round Rock Chupacabras 6-1, remaining undefeated away from Chukchansi Park.
Grizzlies blast five home runs, beat OKC Dodgers 12-8 on Sunday
Fresno hits three consecutive homers for first time since 2009 (Reed, Davis & Fisher), A.J. Reed homers twice (6 RBI) as Grizz improve to 18-2 all-time when Rogelio Armenteros starts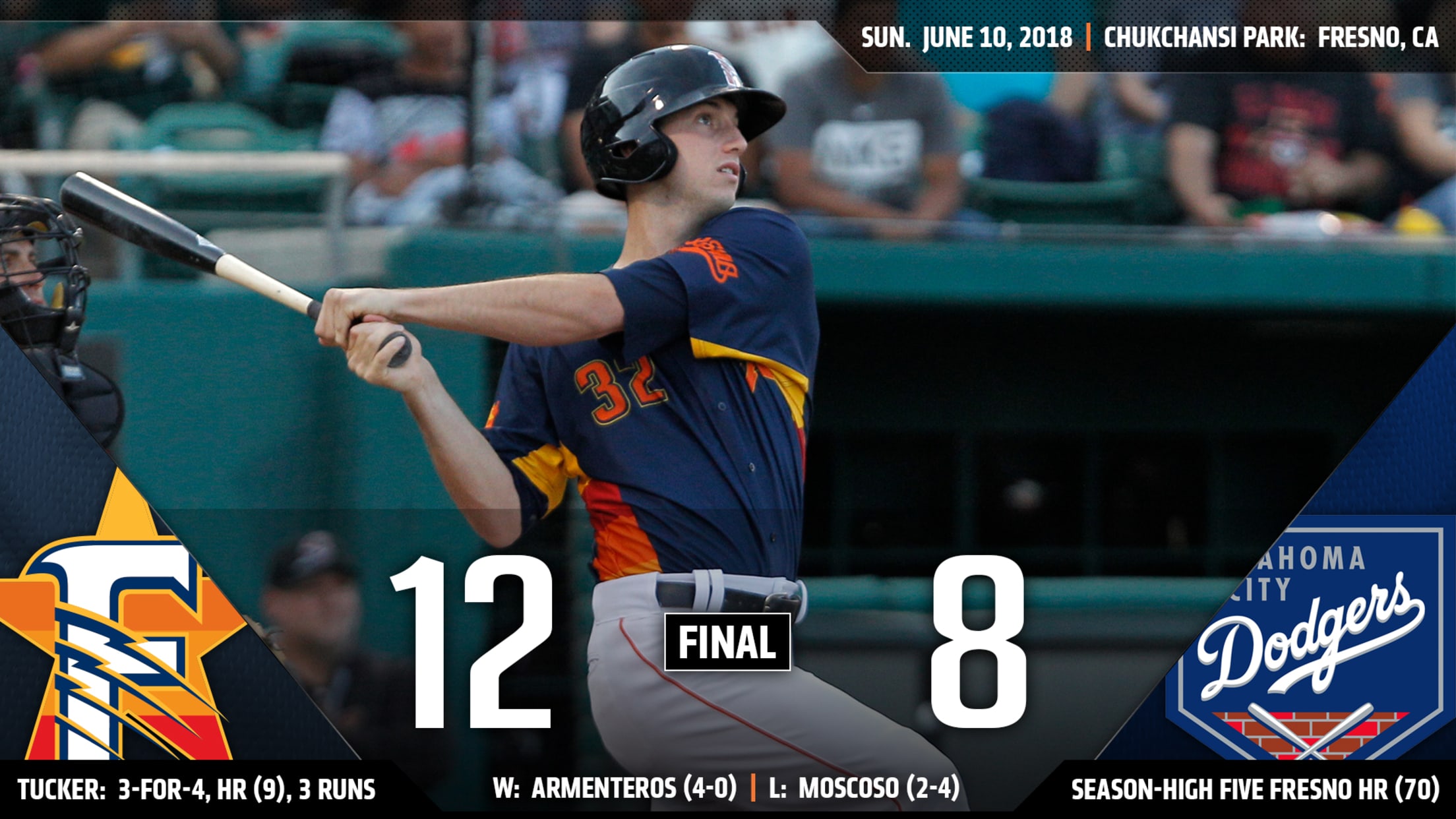 The Fresno Grizzlies (38-25) and the Oklahoma City Dodgers (36-23) continued a wildly entertaining series between first place clubs in front of partisan crowds on Sunday evening at Chukchansi Park, as Fresno pounded out 17 hits and homered five times in a 12-8 victory. It was the 16th time this
Grizzlies ruff up Chihuahuas 11-2 on Monday
Kyle Tucker (3-for-3) reaches base five times, drives in four runs and scores twice; Jon Kemmer (3 RBI) and A.J. Reed (2 RBI) add two doubles apiece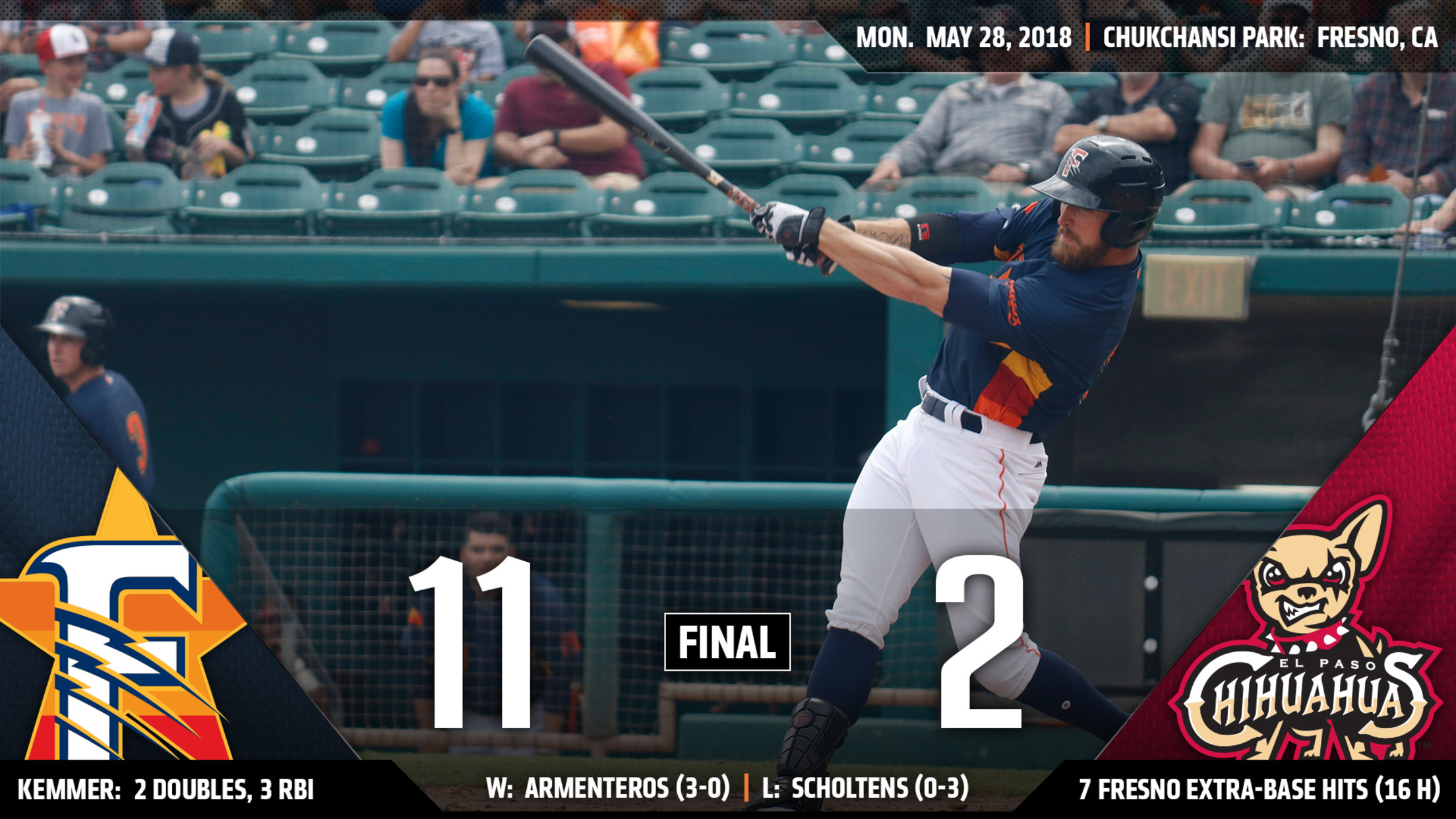 It was an offensive showing for the Fresno Grizzlies (30-22) Monday afternoon from Chukchansi Park, as they crushed the El Paso Chihuahuas (26-26) 11-2. Fresno notched 16 hits in the effort, with seven going for extra-bases. Five Grizzlies picked up multi-hits, including catcher Eduardo de Oleo (3-for-5), who did it
Grizzlies score three in eighth, defeat Aces 4-1
Kyle Tucker's double and Tyler White's homer gives Fresno fourth straight win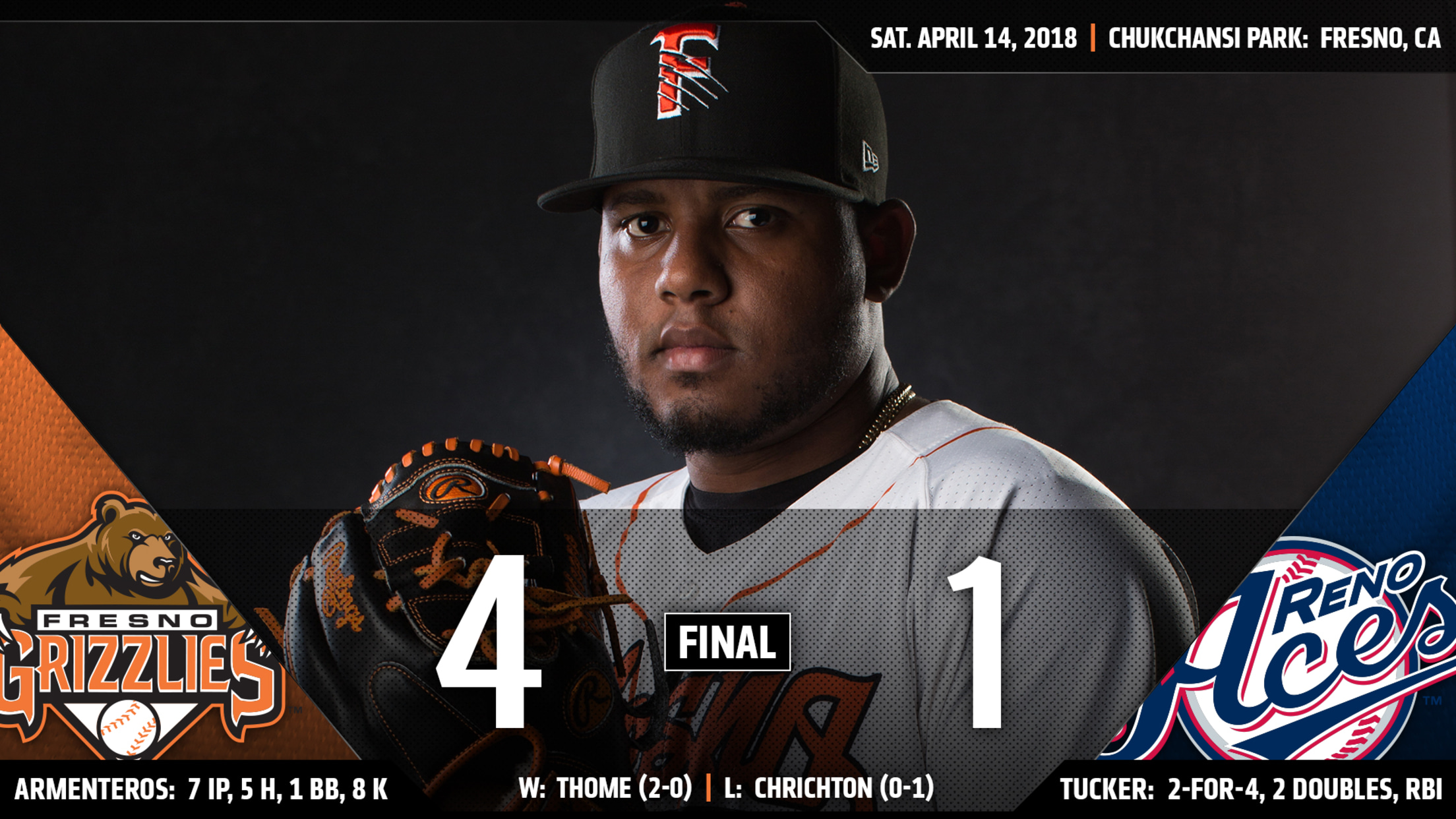 In front of a crowd of 10, 229, The Fresno Grizzlies (7-3) won their fourth straight game, defeating the Reno Aces (4-6) 4-1 Saturday night from Chukchansi Park. Fresno has now won seven of their past eight games. Led by Tyler White (2-for-3), the Grizzlies tallied three runs in the
Astros' Tucker among group invited to Spring Training
Houston bringing Stubbs, Ferguson, Valdez to big league camp next month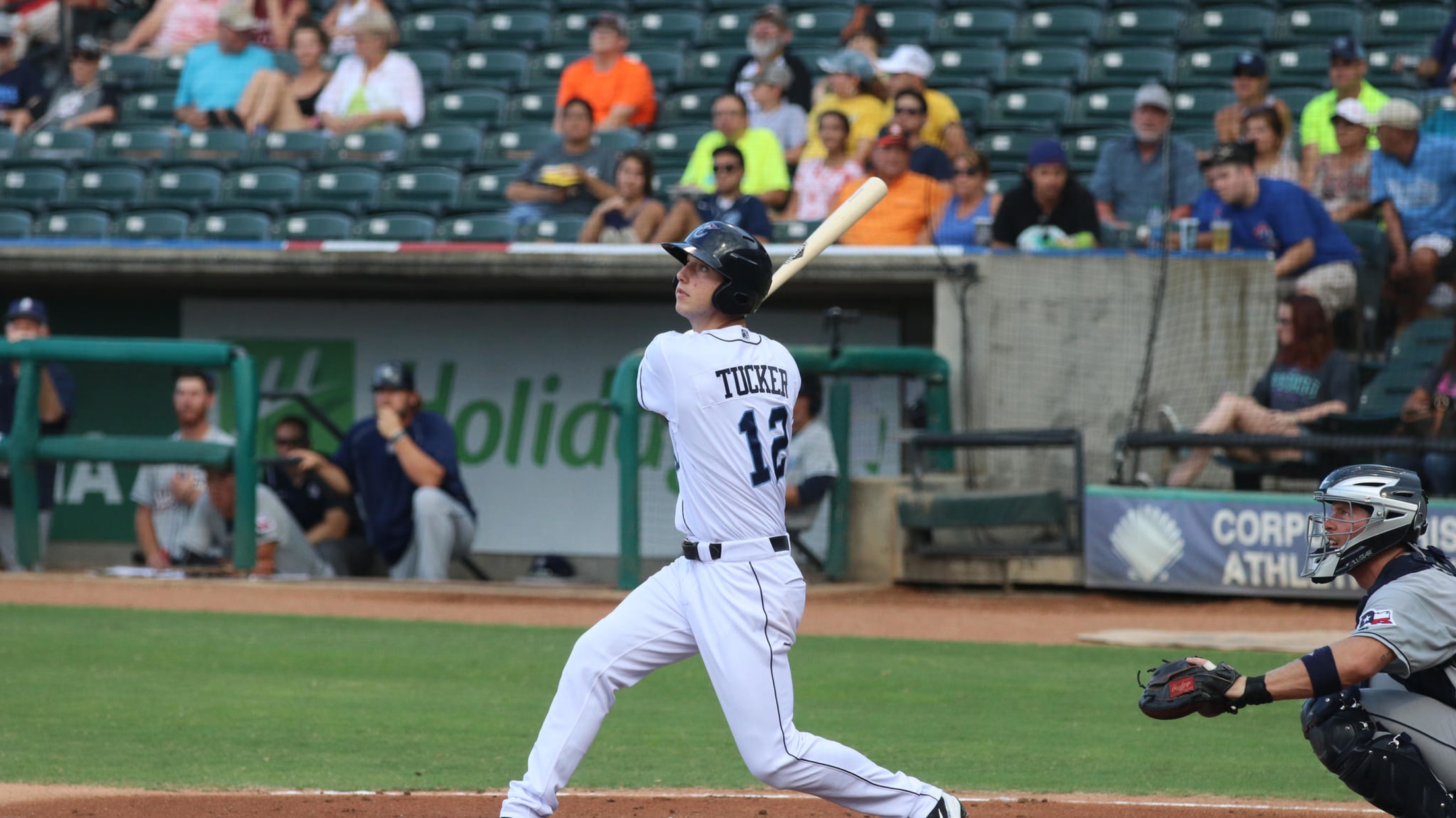 Top Astros prospect Kyle Tucker was among 19 players invited to Houston's Major League Spring Training camp on Thursday.Tucker, a 21-year-old outfielder and reigning Astros Minor League Player of the Year, headlines the group of non-roster invitees headed to Florida next month. Other notables include catcher Garrett Stubbs, lefty Framber
Armenteros almost throws no-hitter ... again
Astros No. 26 prospect loses bid with one out in eighth inning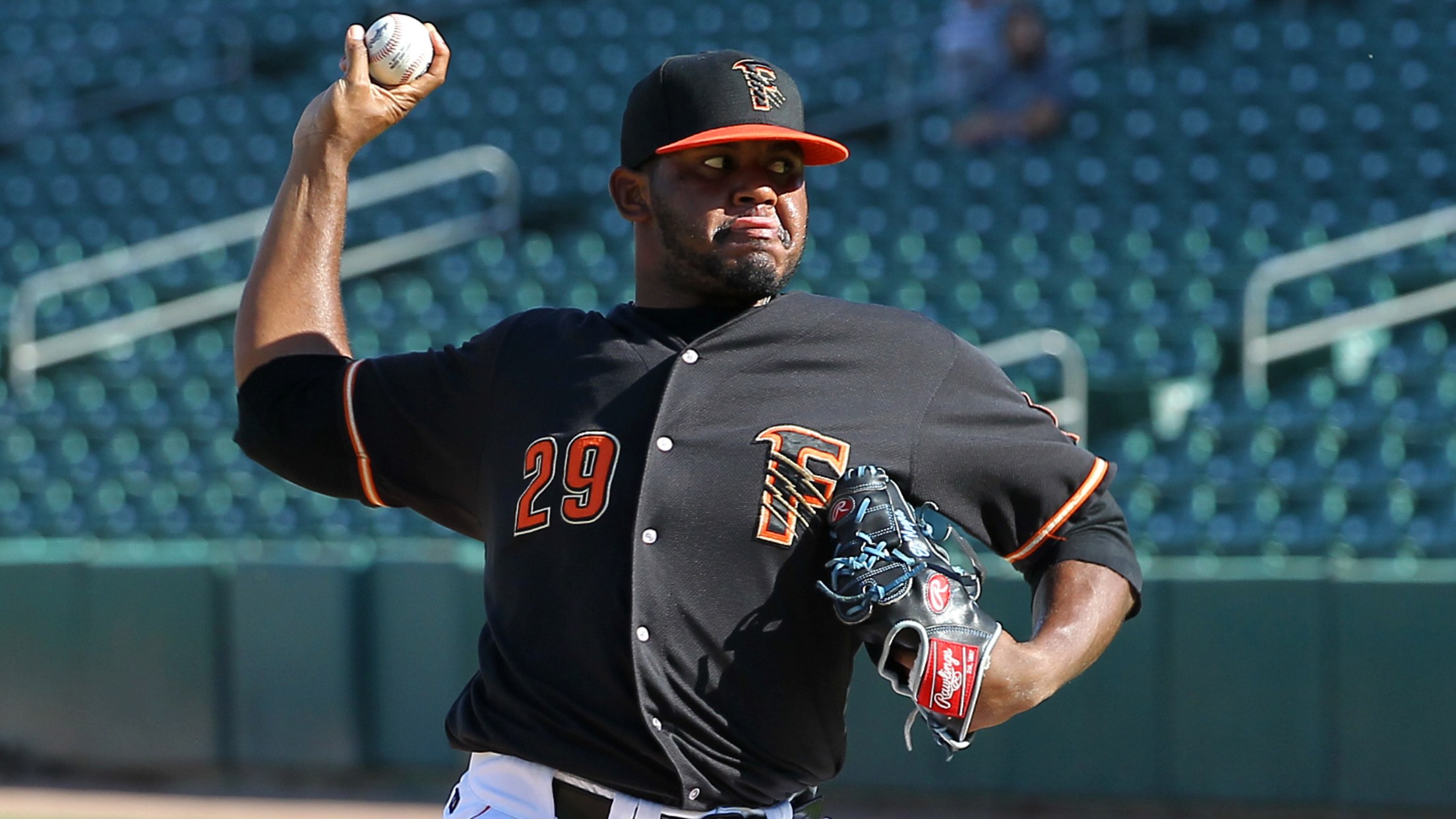 In Rogelio Armenteros' last start, he carried a no-hitter into the seventh inning. On Saturday, he took it a step further.The Astros' 26th-ranked prospect took a no-hit bid into the eighth and struck out eight as Triple-A Fresno blanked Tacoma, 1-0, at Chukchansi Park. 
Grizzlies hold Rainiers to one hit in 1-0 victory
7.1 no-hit innings from Armenteros, Reed records club-leading 94th RBI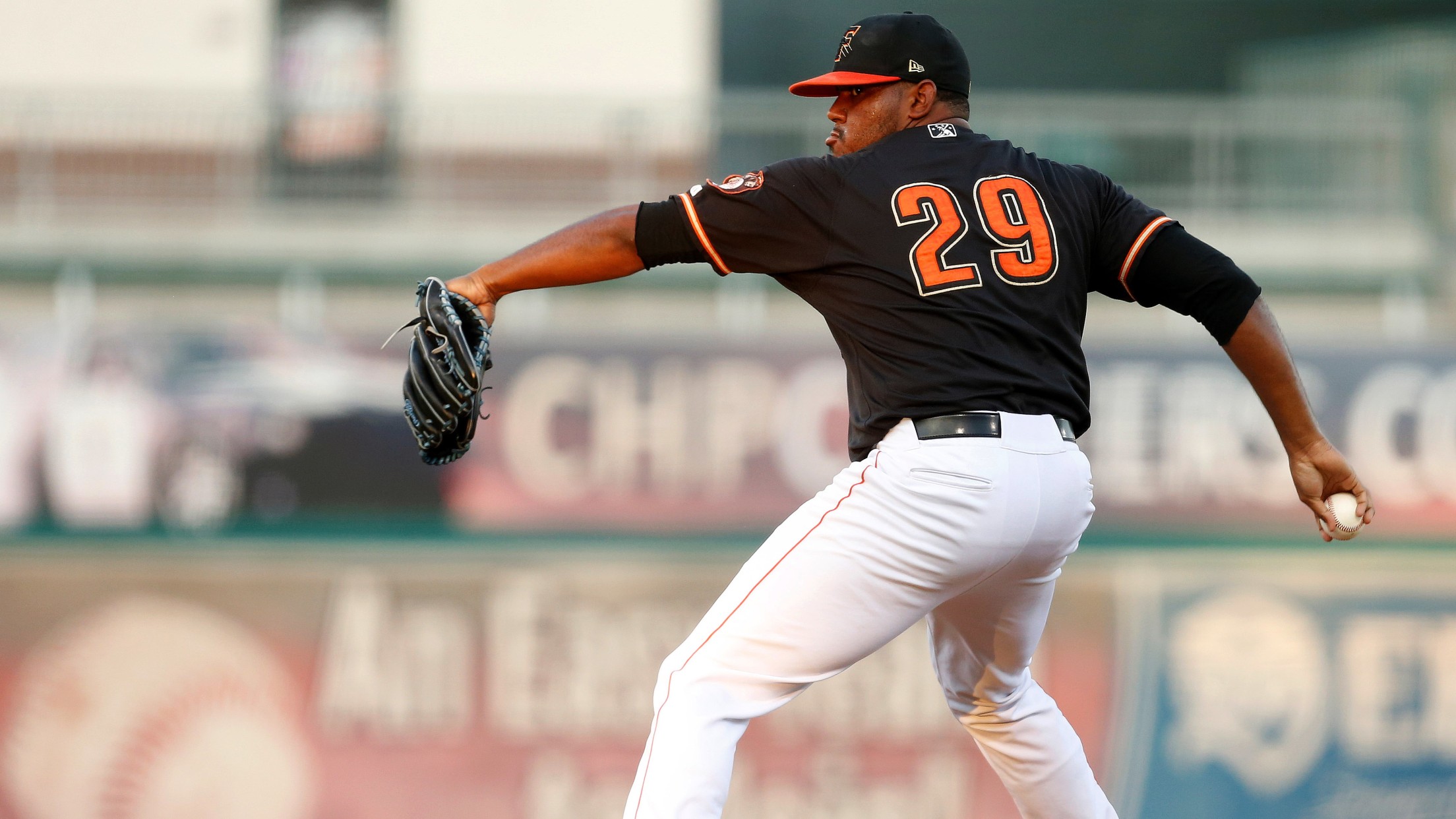 The Fresno Grizzlies (73-60) held the Tacoma Rainiers (65-68) to just one hit in a 1-0 victory on Saturday night at Chukchansi Park. It was the seventh shutout of the season for the Grizzlies and their fifth at home. Fresno is now 18-11 in one-run games, 11-4 at home. Carlos
Armenteros flirts with no-hitter for Grizzlies
Astros No. 26 prospect loses bid with two outs in seventh, fans nine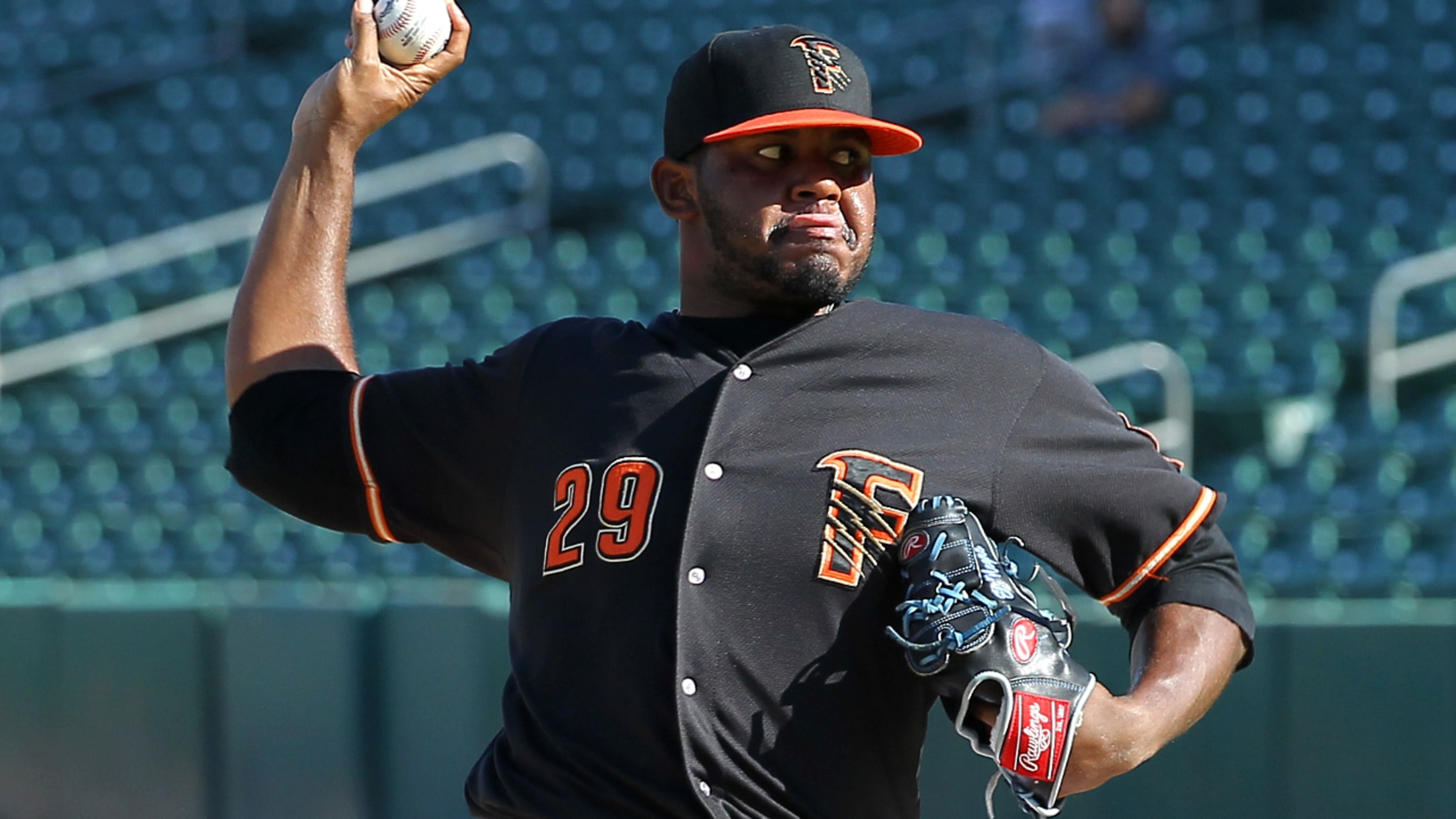 When Rogelio Armenteros arrived at Triple-A, his pitching coach knew he already had the repertoire to be successful. With a plan to accompany it, the right-hander is dominating the Minor Leagues' highest level.The Astros' No. 26 prospect took a no-hitter into the seventh and ended up striking out nine over seven one-hit
Grizzlies avoid sweep with 3-2 walk-off win over Las Vegas
Armenteros strikes out 9 through 6.2 no-hit innings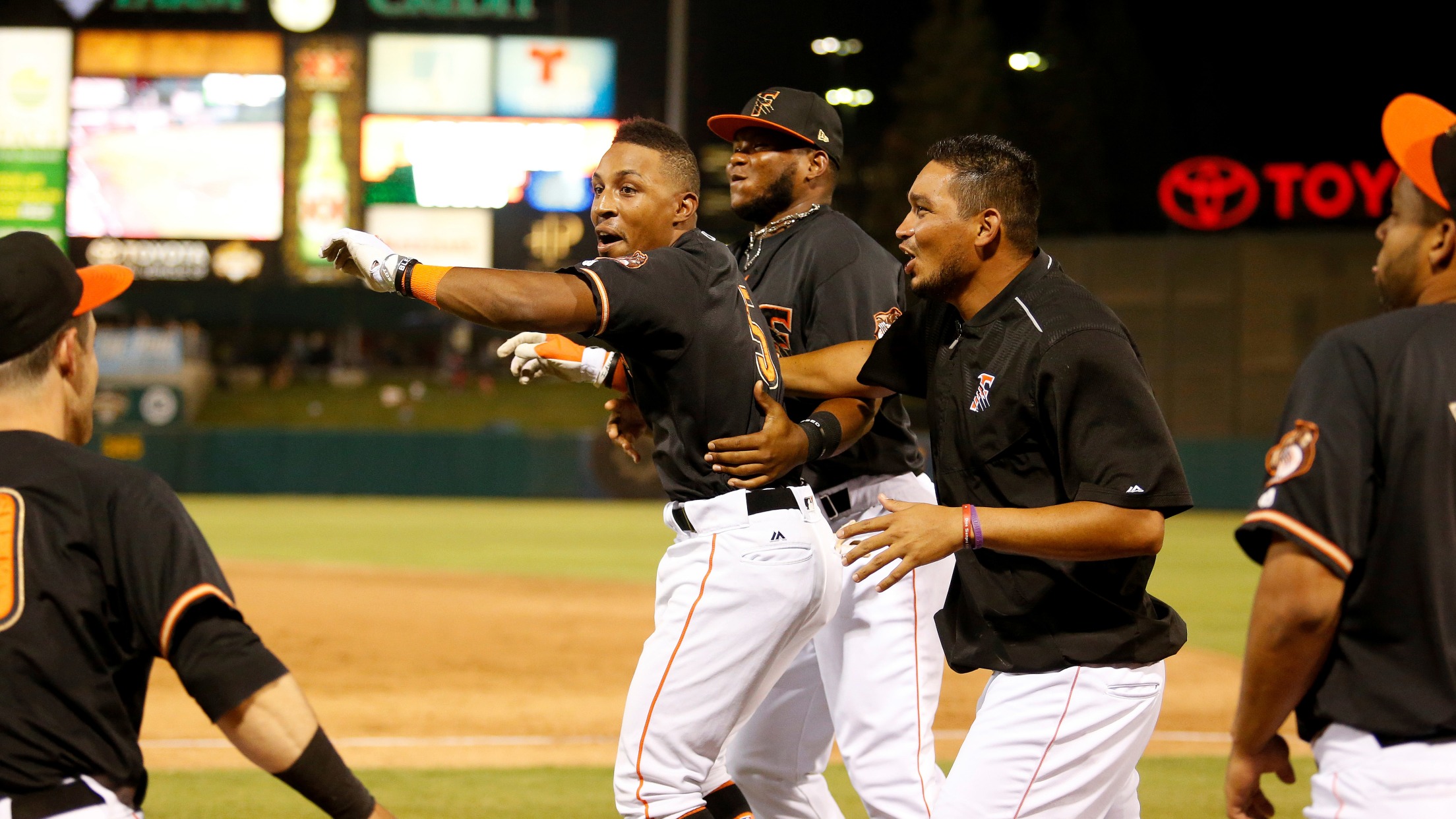 The Fresno Grizzlies (70-56) avoided being swept in the four-game series with a 3-2 win over the Las Vegas 51s (49-77) on Friday night at Chukchansi Park. The Grizzlies improved to 17-11 in one-run games with the walk-off victory that snapped a five-game losing streak.Fresno starter Rogelio Armenteros walked two
Fresno takes series opener from Albuquerque in game one of doubleheader
Season-high 10 strikeouts from Armenteros in 2-1 win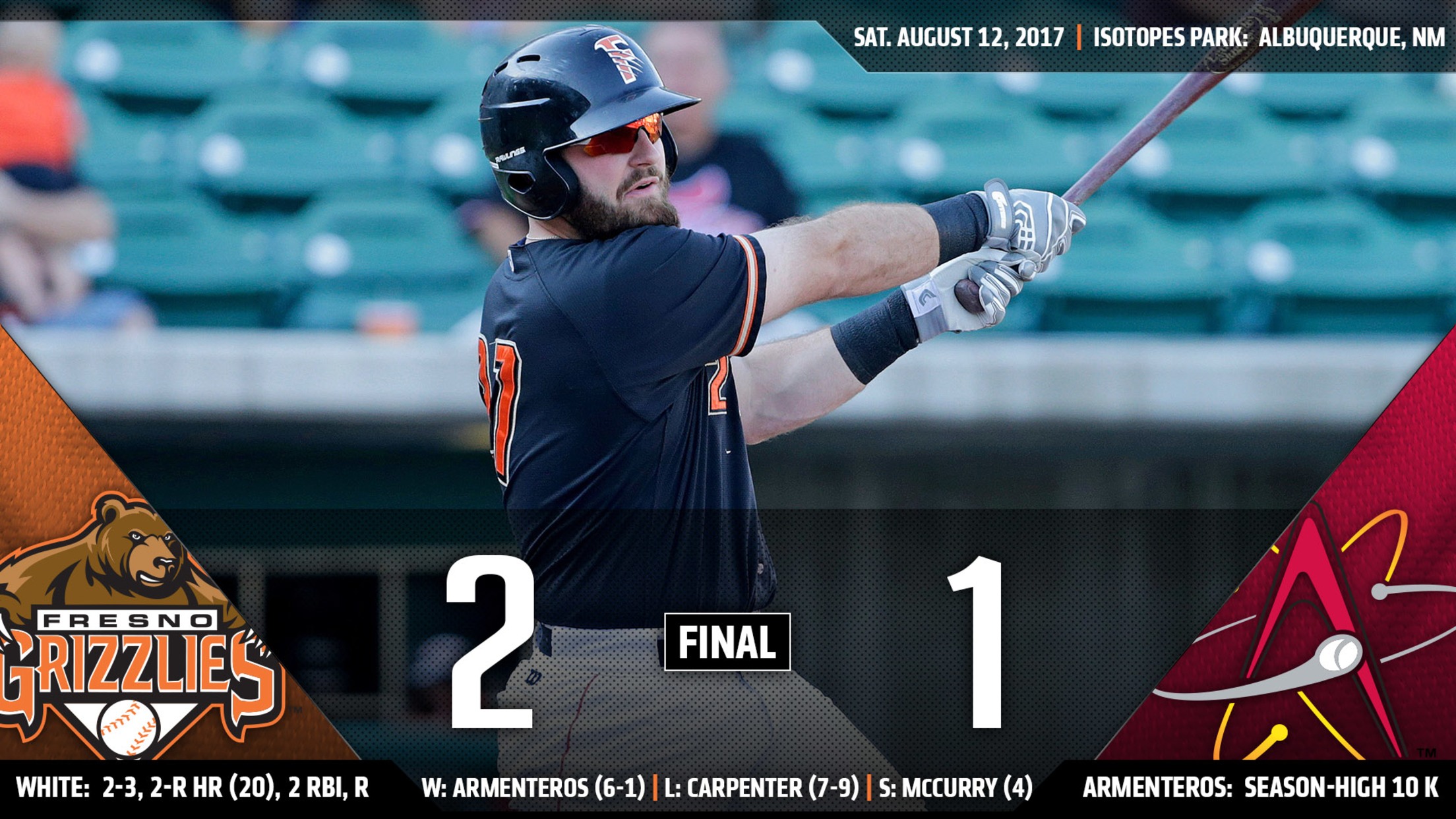 The Fresno Grizzlies opened a four-game series with the Albuquerque Isotopes at Isotopes Park in the first seven inning game of a doubleheader on Saturday. The scheduled series opener on Friday was postponed due to rain. Fresno took a 2-1 victory over Albuquerque in game one.The Grizzlies got on the
Grizzlies drop second straight with 6-1 loss to I-Cubs
Fresno has won 15 of last their last 20 road games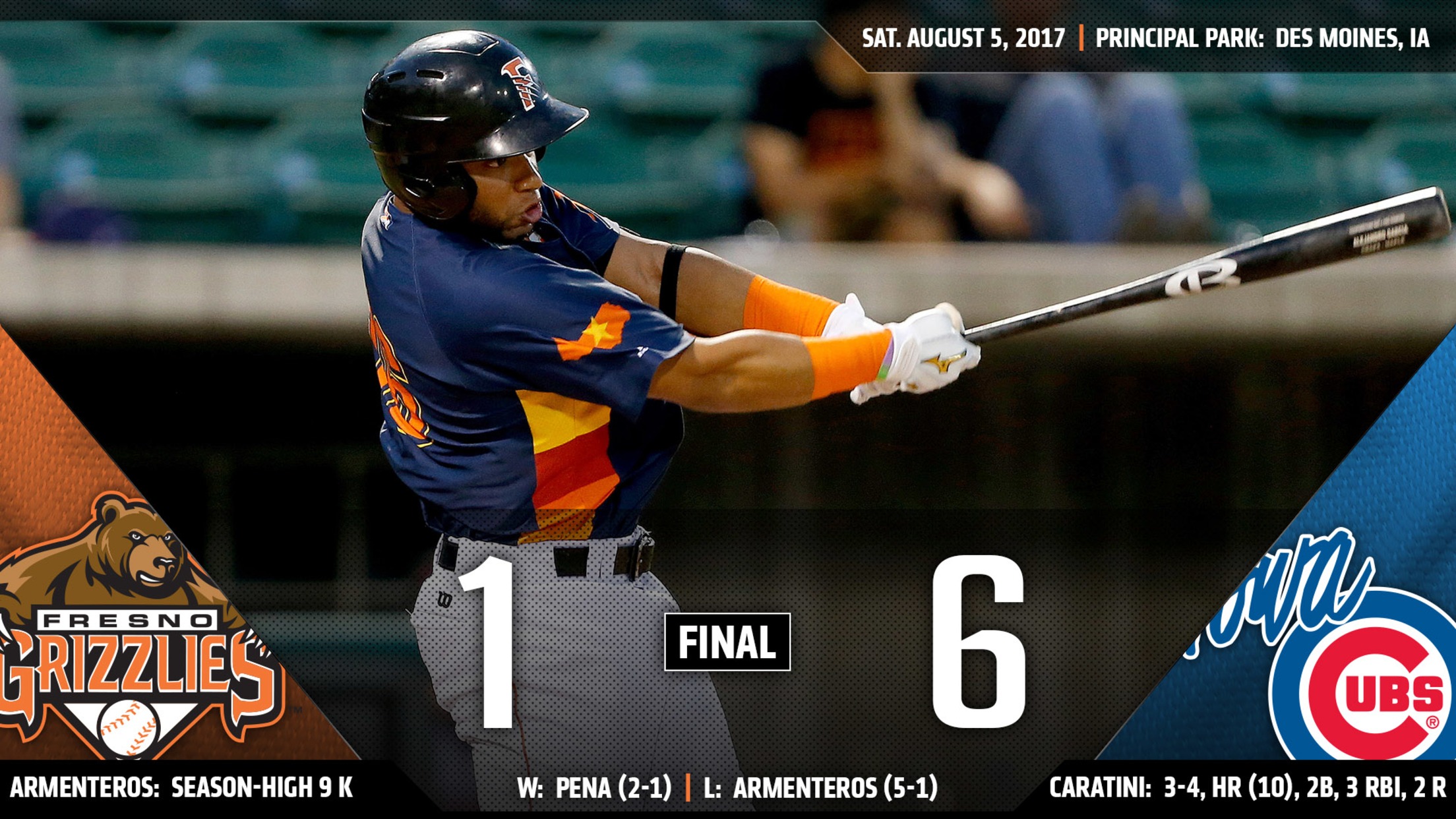 The Fresno Grizzlies (66-47) were held to just four hits in a 6-1 loss to the Iowa Cubs (52-58) on Saturday night. Despite the loss, Fresno has won 15 of their last 20 road games and is 23-9 on the road since they were 12 games back from first place
Fresno blanks Omaha 5-0 in series opener
Grizzlies remain in first place in PAC North with season-high nine strikeouts in 5.2 scoreless IP from Armenteros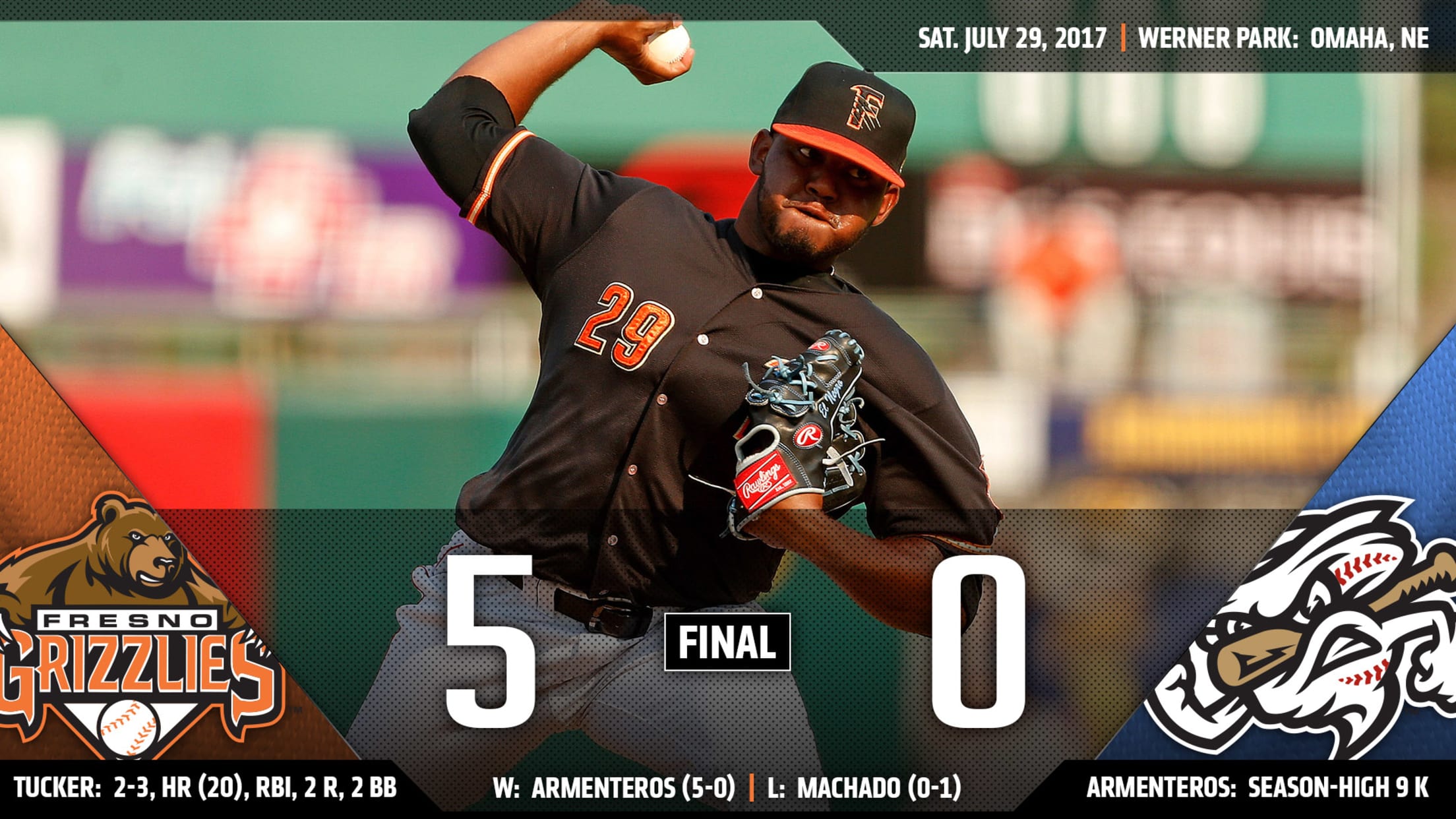 The Fresno Grizzlies (64-43) opened a four-game series against the Omaha Storm Chasers (48-57) on Saturday night at Werner Park, part of an eight-game road trip. The Grizzlies blanked the Storm Chasers 5-0 for their sixth shutout of the season, just the second on the road. Winners of their last
Grizzlies defeat Express, remain tied for first in PAC North Division
Armenteros struck out season-high 8, Davis went 3-for-5 (2 RBI) in 11-8 win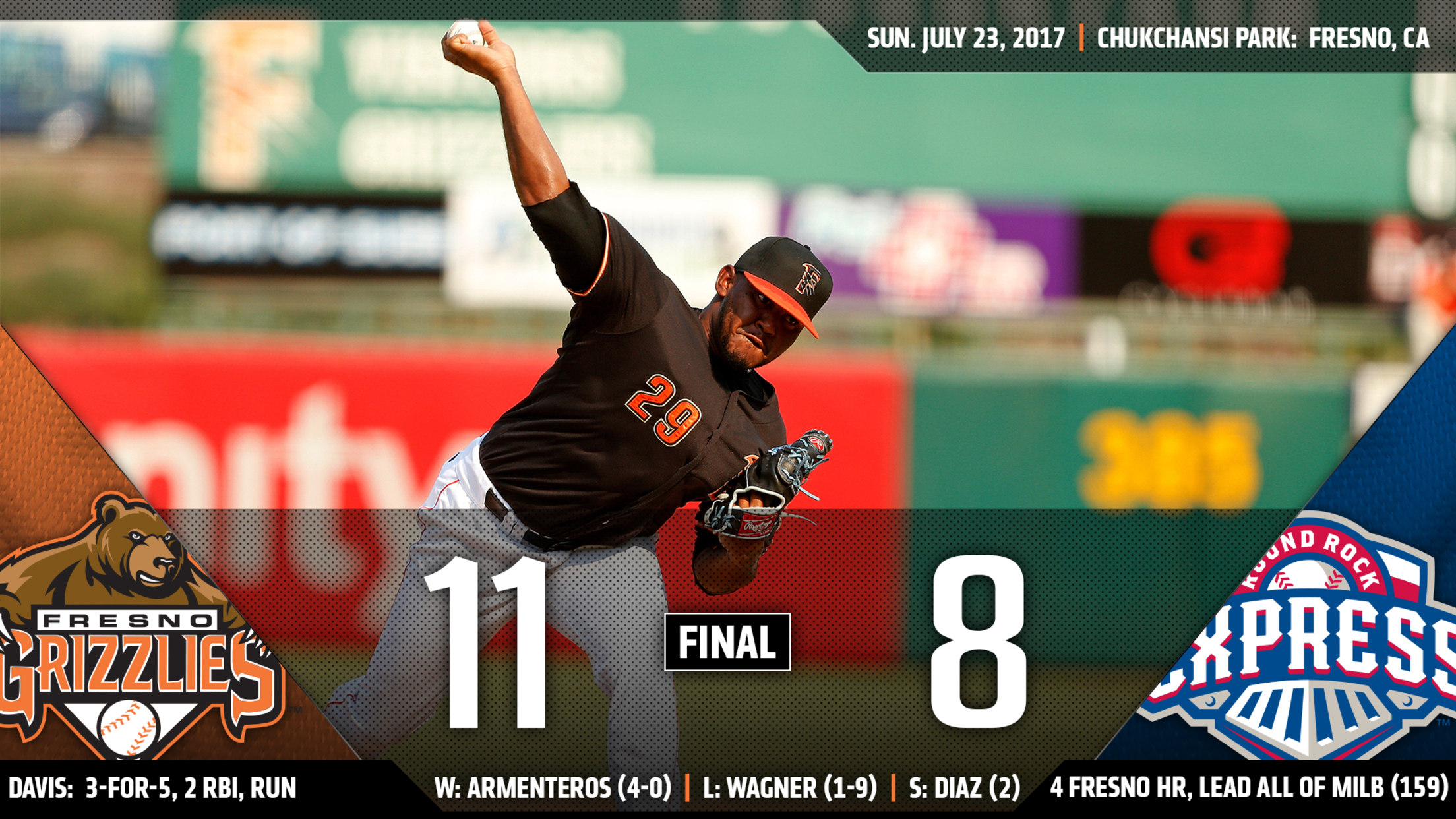 The Fresno Grizzlies (59-42) and the Round Rock Express (45-56) combined for seven home runs on Sunday at Chukchansi Park. Fresno was victorious in an 11-8 final to have won 12 of their last 13 games to remain tied for first with the Reno Aces in the Pacific North Division.
Grizz snap skid with 2-1 win over the Aces
Tucker and Brignac homer in Game 1 of the doubleheader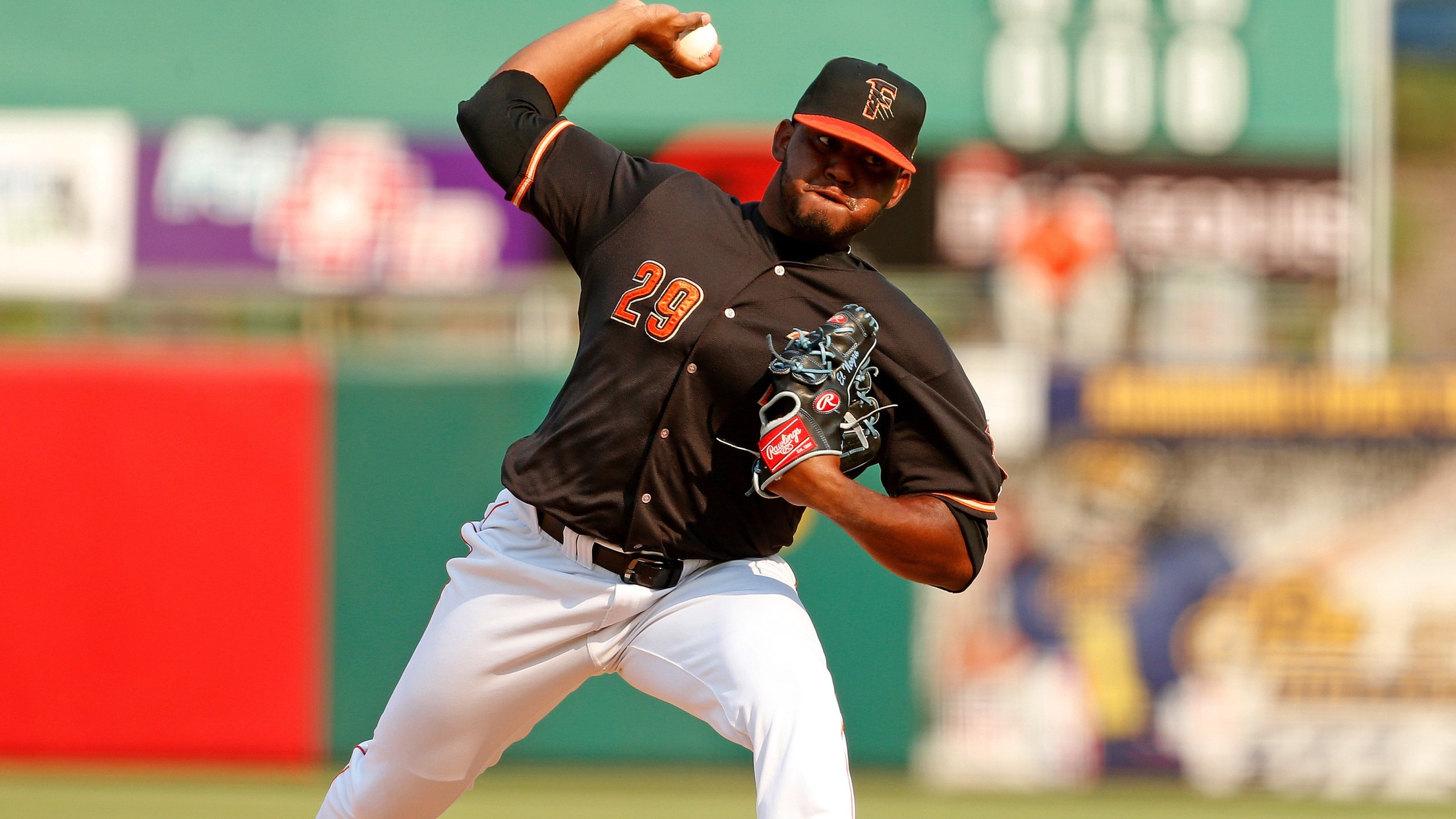 The Fresno Grizzlies took the first game of a doubleheader with the Reno Aces on Saturday 2-1. The win in the seven-inning contest snapped a Fresno three-game losing streak. With a single in the fifth frame, Tony Kemp extended his hit streak to 16 games where he has also hit
Fresno sweeps Sacramento and ties a franchise record with 11th straight victory
6.0 scoreless IP from Armenteros (2 H, 8 K) in Triple-A debut, Stassi homers twice in 4-1 win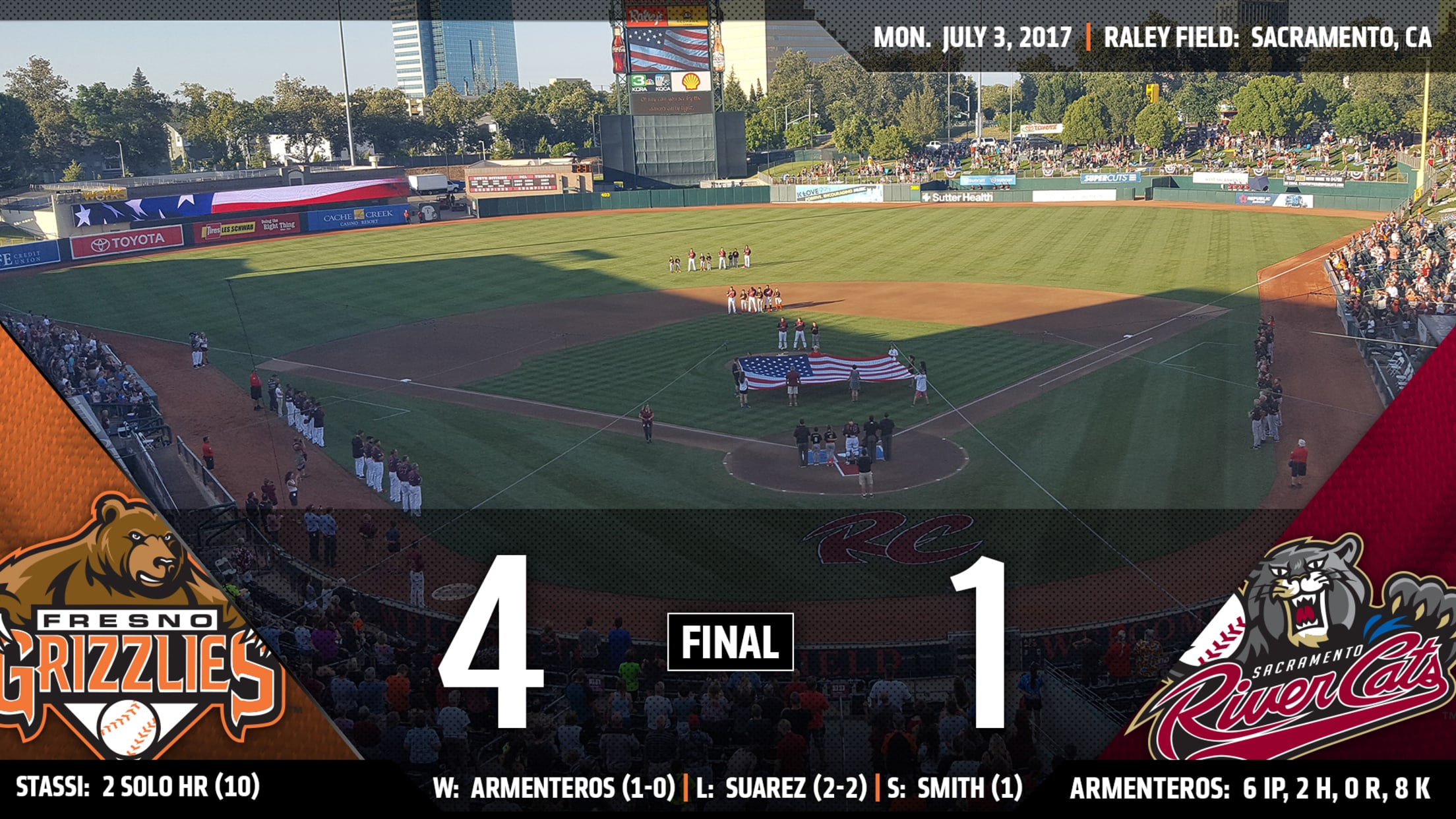 The Fresno Grizzlies (46-38) completed their second consecutive four-game series sweep with a 4-1 win over the Sacramento River Cats (32-50) Monday night at Raley Field. Fresno has tied a franchise record with their 11th straight victory, last accomplished by the 2015 Pacific Coast League and Triple-A Champion Grizzlies. Fresno