The Road to The Show™: Triston McKenzie
Right-hander has Major potential after injury-stunted development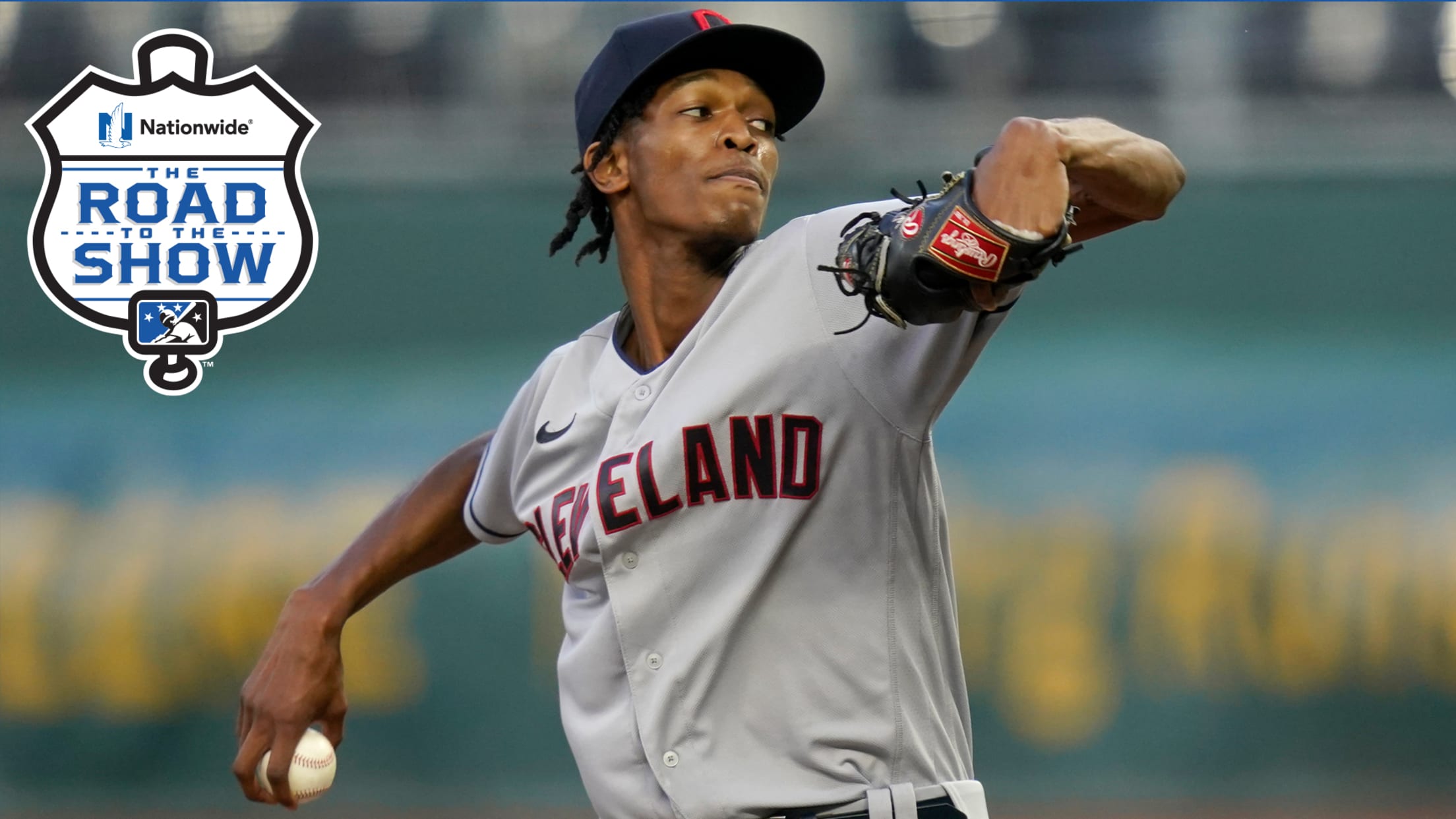 Each week, MiLB.com profiles an elite prospect by chronicling the steps he's taken to reach the brink of realizing his Major League dream. Here's a look at Cleveland Indians right-hander Triston McKenzie. For more player journeys on The Road to The Show, click here. After a professional career that constantly
State of the System: Cleveland Indians
Jones, middle infielders ready to make an impact in Cleveland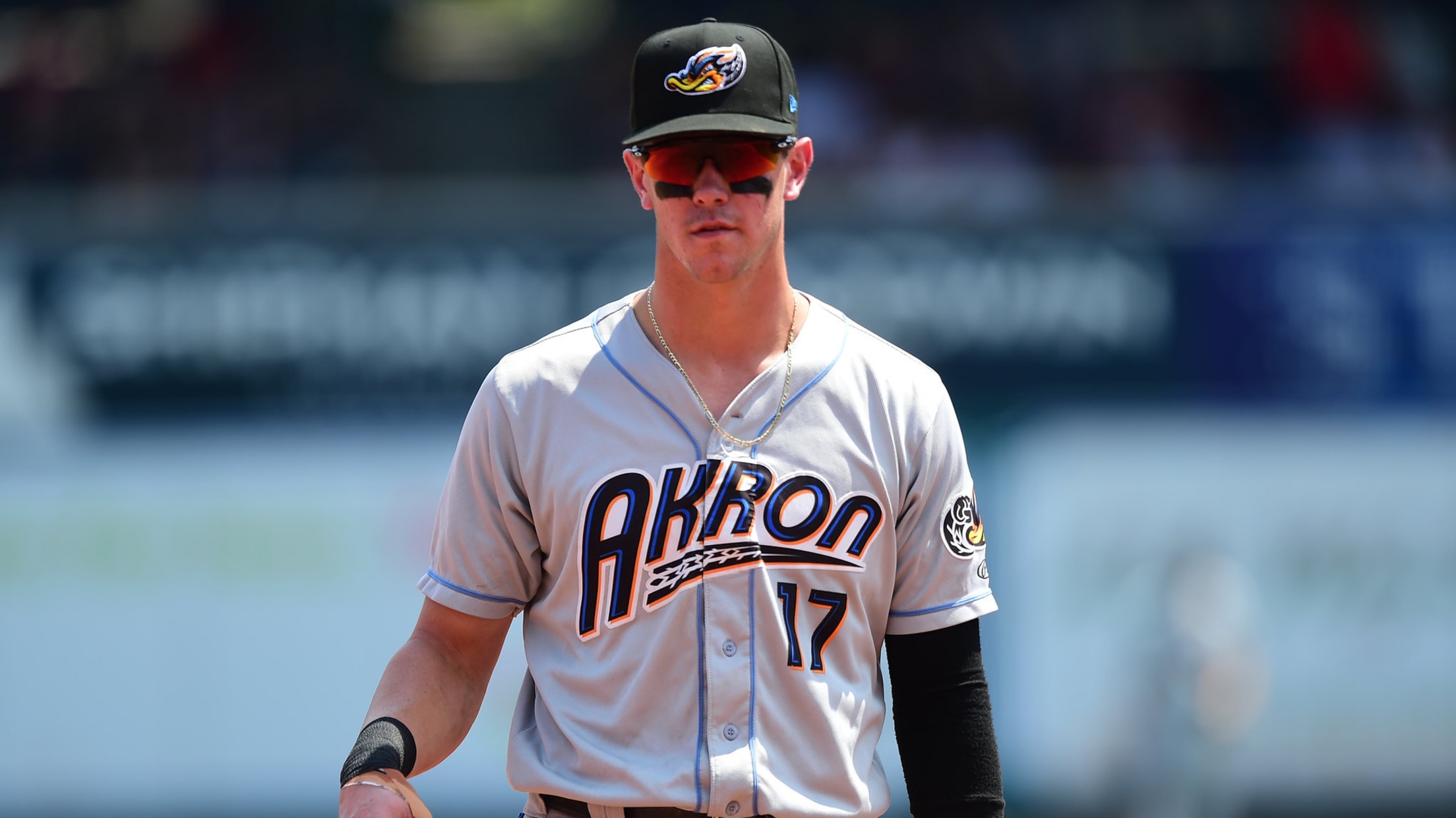 Starting in October and running through the end of the year, MiLB.com's State of the System series evaluates the strengths and weaknesses of each Major League organization, highlighting prospects who've made the biggest strides in 2020 and offering a peek at 2021. After the Indians' three-year playoff streak was snapped
Toolshed: 10 most fun callups of 2020 season
Revisiting quick risers, late bloomers who made way to Majors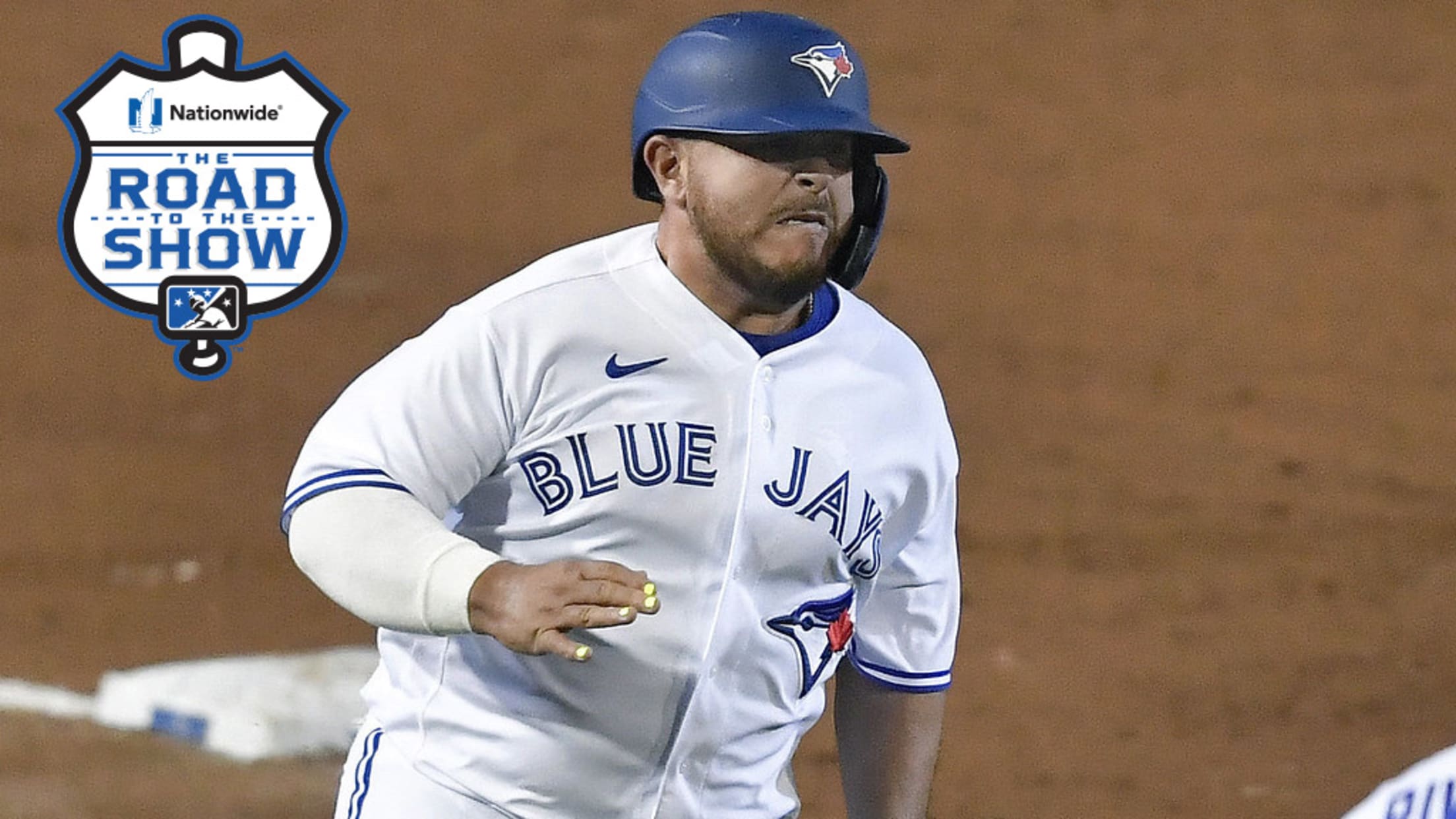 There were 210 Major League debuts (and perhaps still counting) during the 2020 season. This week, Toolshed looks back at the 10 most fun first callups of the 2020 season, listed in chronological order of debut date. To be clear, this isn't focused on how they did in their first
McKenzie posts six zeros on board for Tribe
Club's No. 10 prospect notches first scoreless outing in third start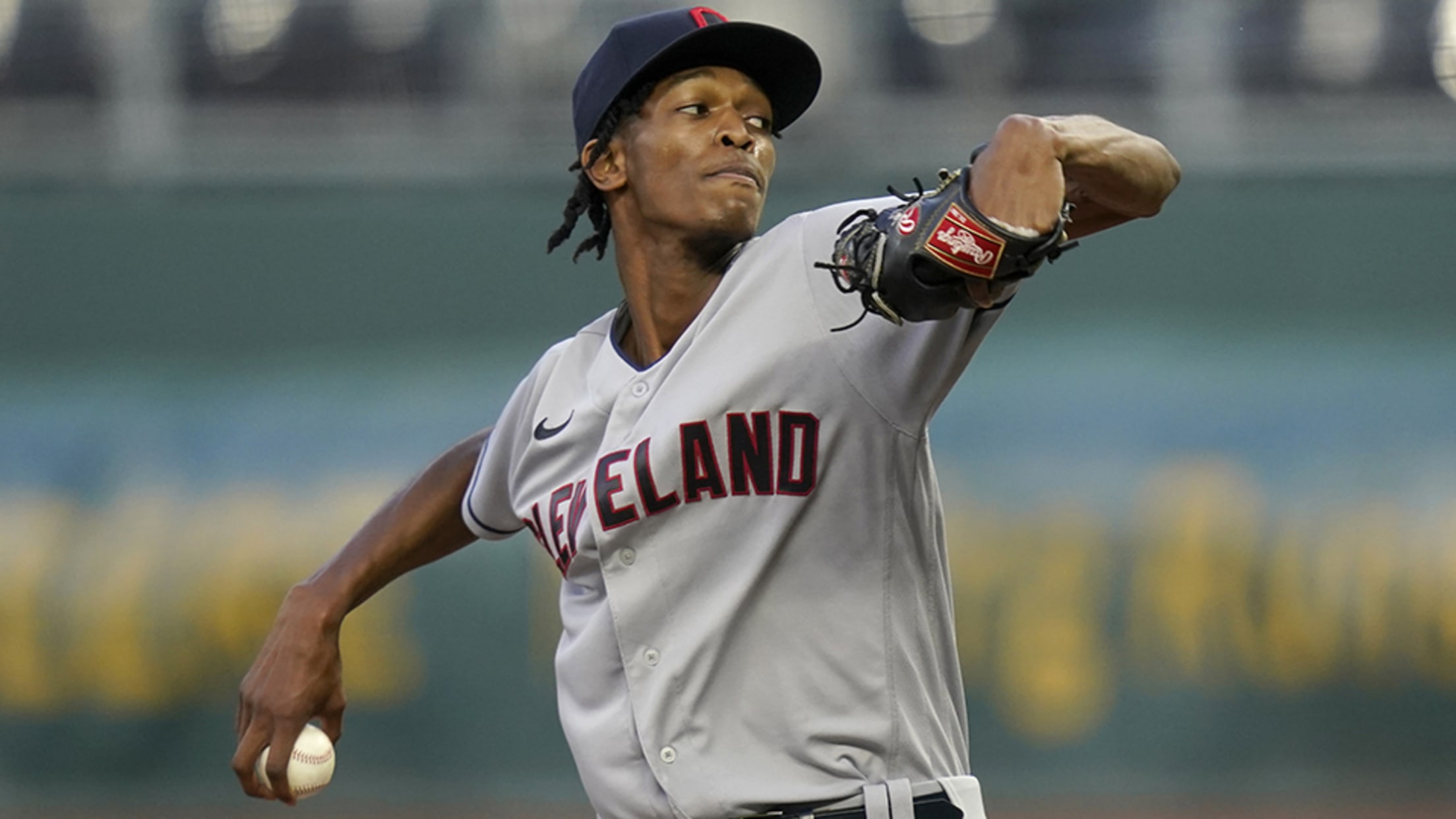 Remember the hype that surrounded Triston McKenzie a few years ago? The No. 42 pick in the 2015 Draft has been living up to it since arriving in The Show late last month. On Wednesday, McKenzie (2-0) posted his first scoreless outing in the Majors, allowing three hits over six
McKenzie shines in debut for Indians
No. 9 prospect strikes out 10, wins first outing in 723 days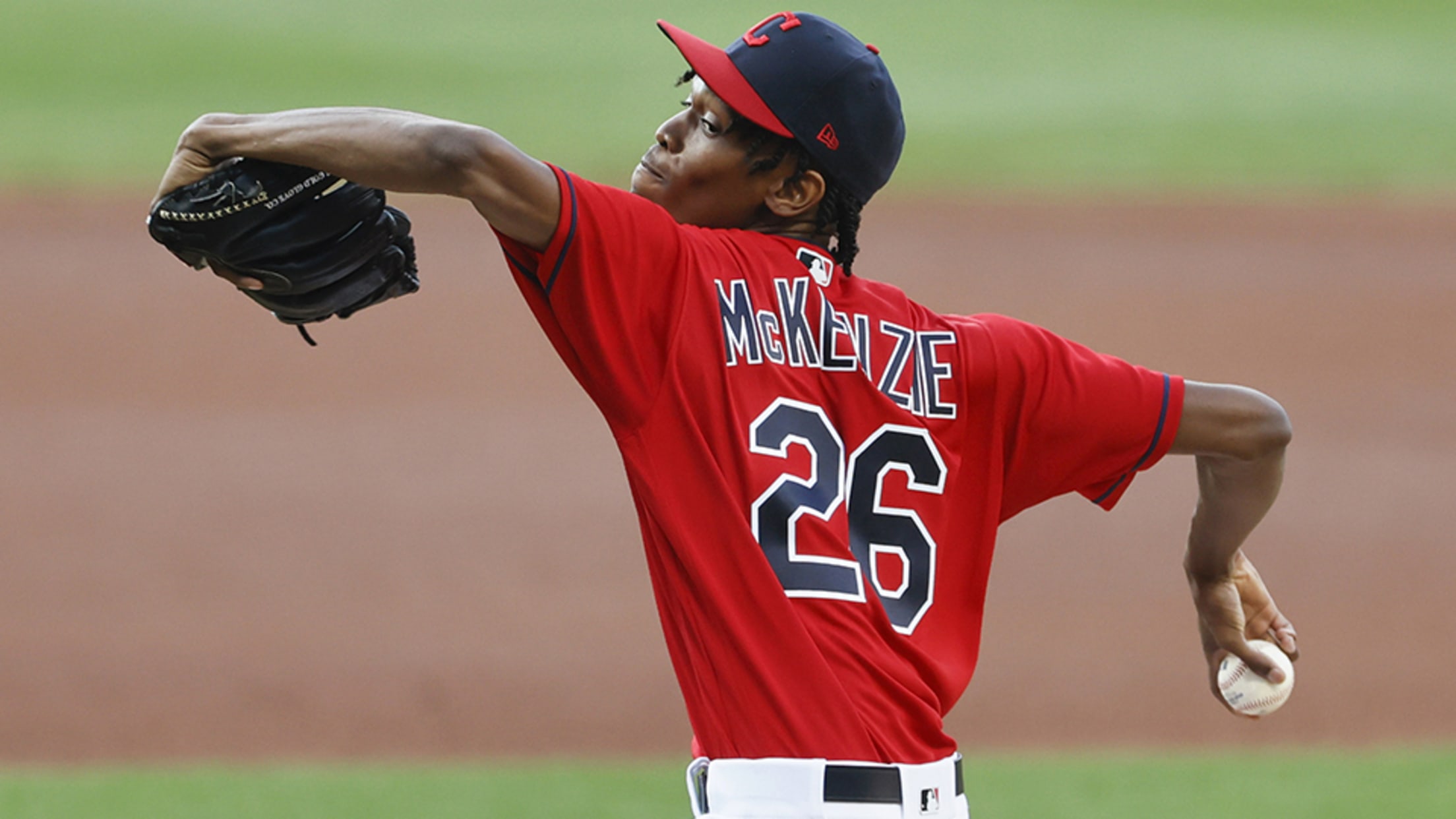 It had been 723 days since Triston McKenzie pitched in a game that counted, but he made it worth the wait. Making his Major League debut, the ninth-ranked Indians prospect allowed a run on two hits and a walk and struck out 10 over six innings to lead Cleveland to
Prospects in the Indians' 2020 player pool
Young bunch will mostly play at alternate site in Lake County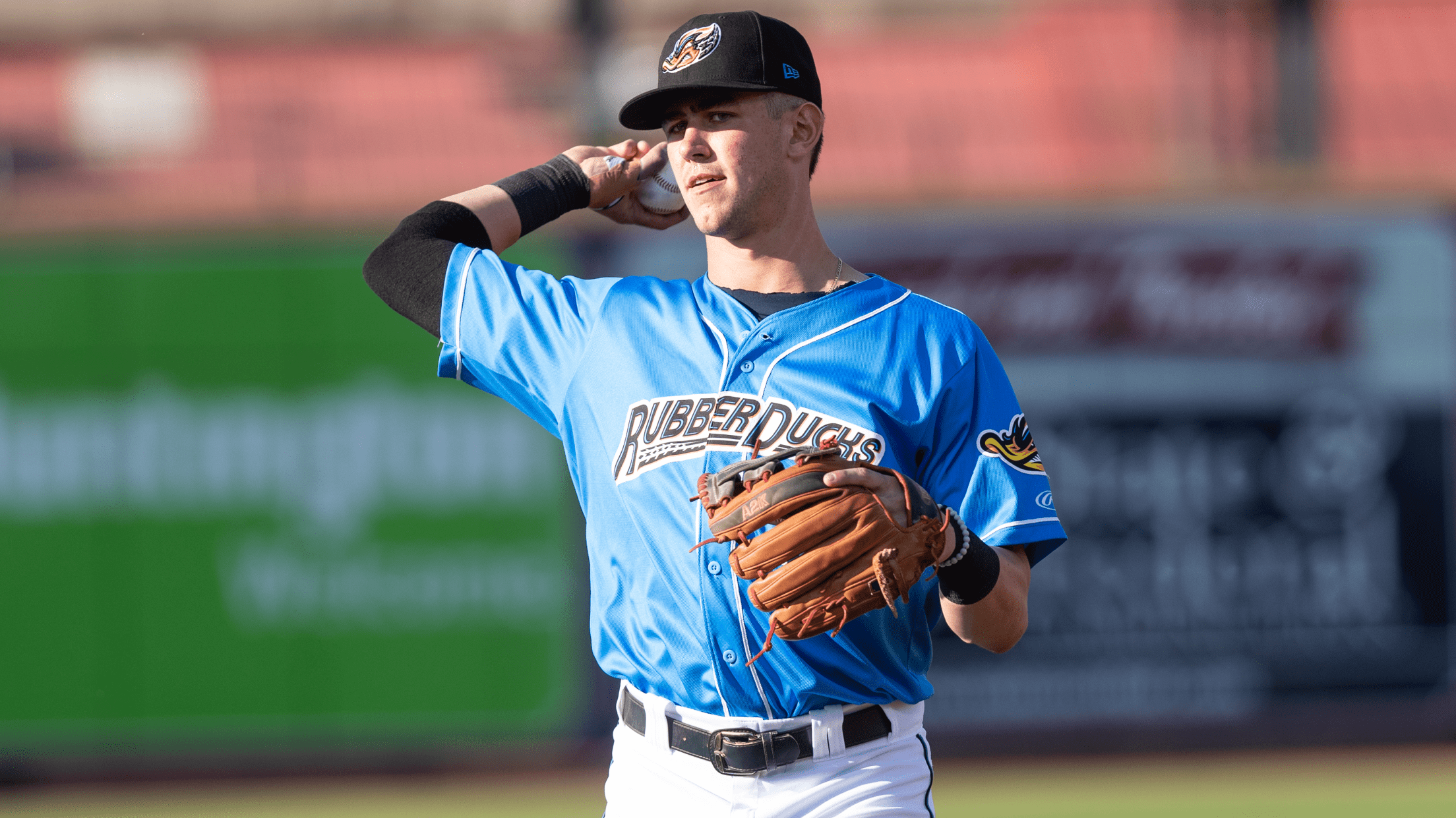 As part of the new rules for the 2020 Major League season, each of the 30 organizations will maintain a 60-man player pool for the duration of the campaign. Some members of the player pool will feature on the active Major League roster while others will work out at an
Ready and waiting: Triston McKenzie
Indians No. 9 prospect fighting through latest test of patience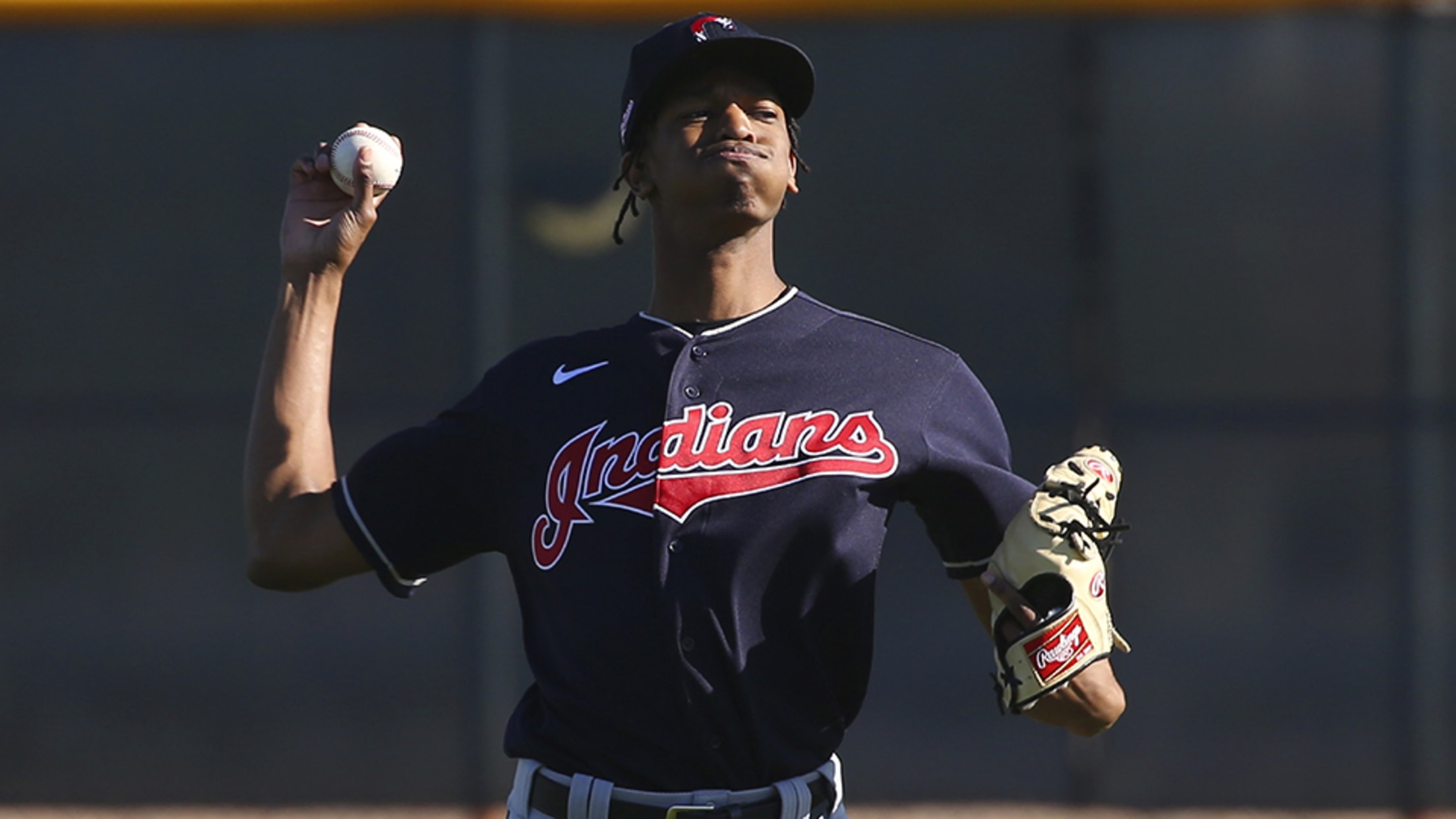 Players at all levels of the Minor Leagues missed significant playing time in 2019 due to injury only to have their return interrupted by the global pandemic. Each week, MiLB.com checks in on an elite prospect's road back from injury. This week, we focus on Cleveland Indians right-hander Triston McKenzie.
McKenzie shut down by Indians
No. 41 overall prospect out indefinitely with upper back strain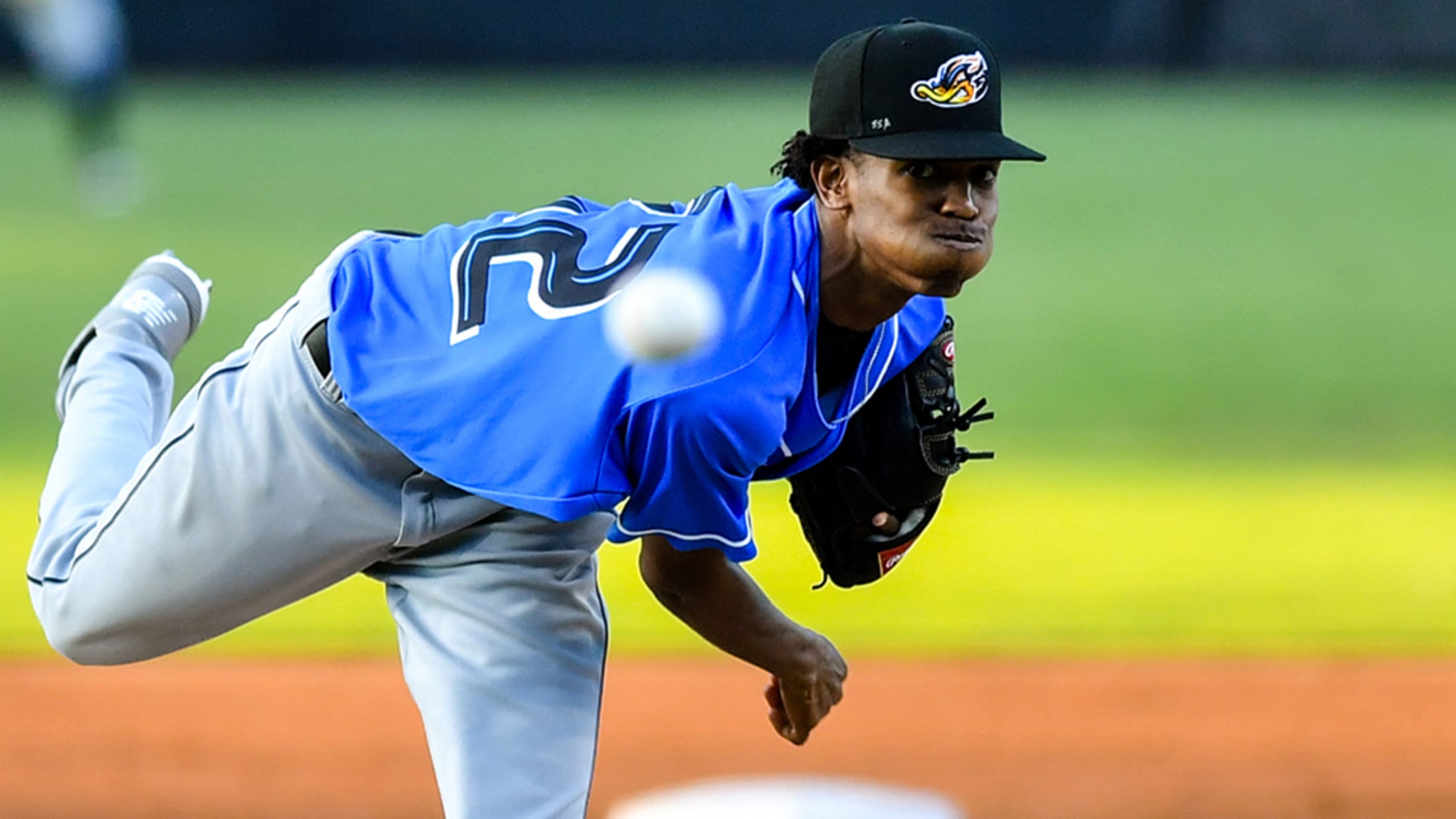 After beginning last season on the injured list, it looks like more of the same for Triston McKenzie.The top Indians prospect has been diagnosed with an upper back strain and has been shut down indefinitely, the team announced Saturday. McKenzie will continue to be evaluated at Minor League Spring Training
Farm system rankings: Pitchers (20-11)
Keller ready to make impact with Bucs; Jays more than big bats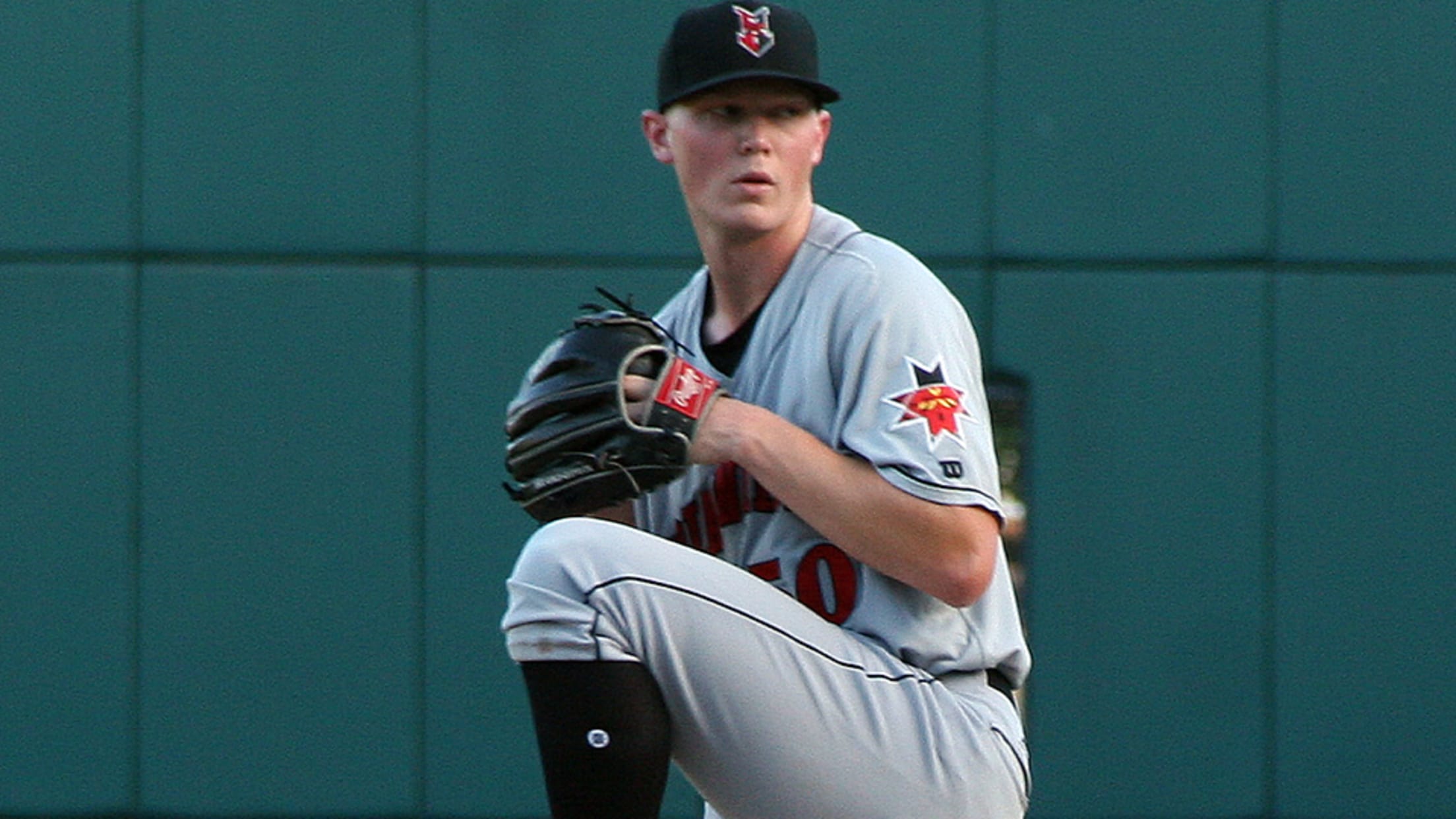 With the 2019 season rapidly approaching, MiLB.com is looking at the state of all 30 farm systems over the next month and ranking them in several different ways. After looking at position player prospects (30-21, 20-11, 10-1), the second installment, broken into three parts, focuses on pitchers and considers the quality and
Eastern League playoff preview
Biggio, Bichette lead Cats vs. Thunder; Ducks take on Curve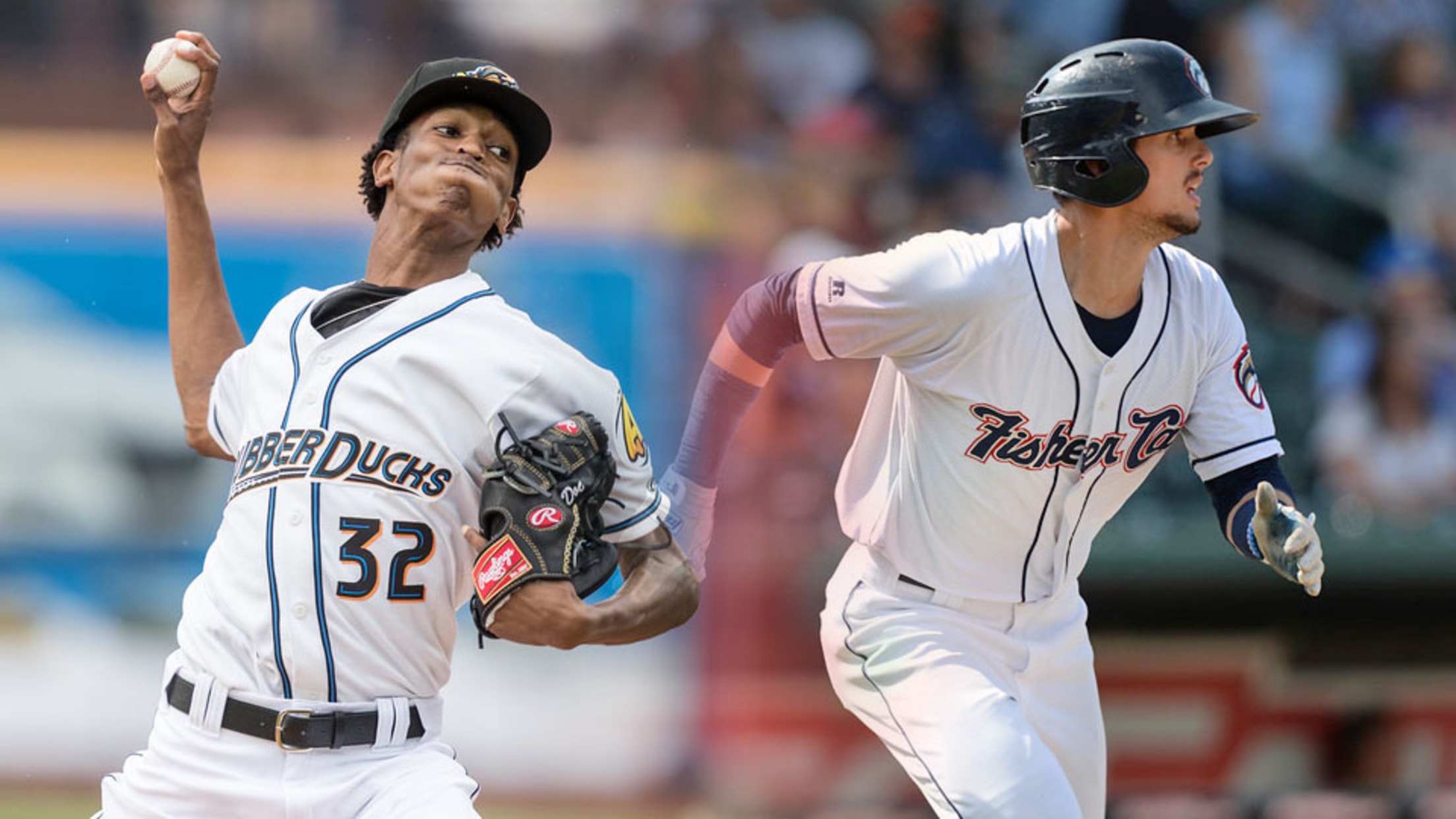 No stranger to the postseason, Trenton has made the most of its trips by reaching the Eastern League Finals in seven of the last 11 seasons. In capturing the Eastern Division for the second straight year, they are three wins away from yet another appearance.Looking to thwart the charging Thunder
Prospect Roundup: Games of Aug. 30
A's Martin enjoys four-hit day; M's White stays hot in Cal League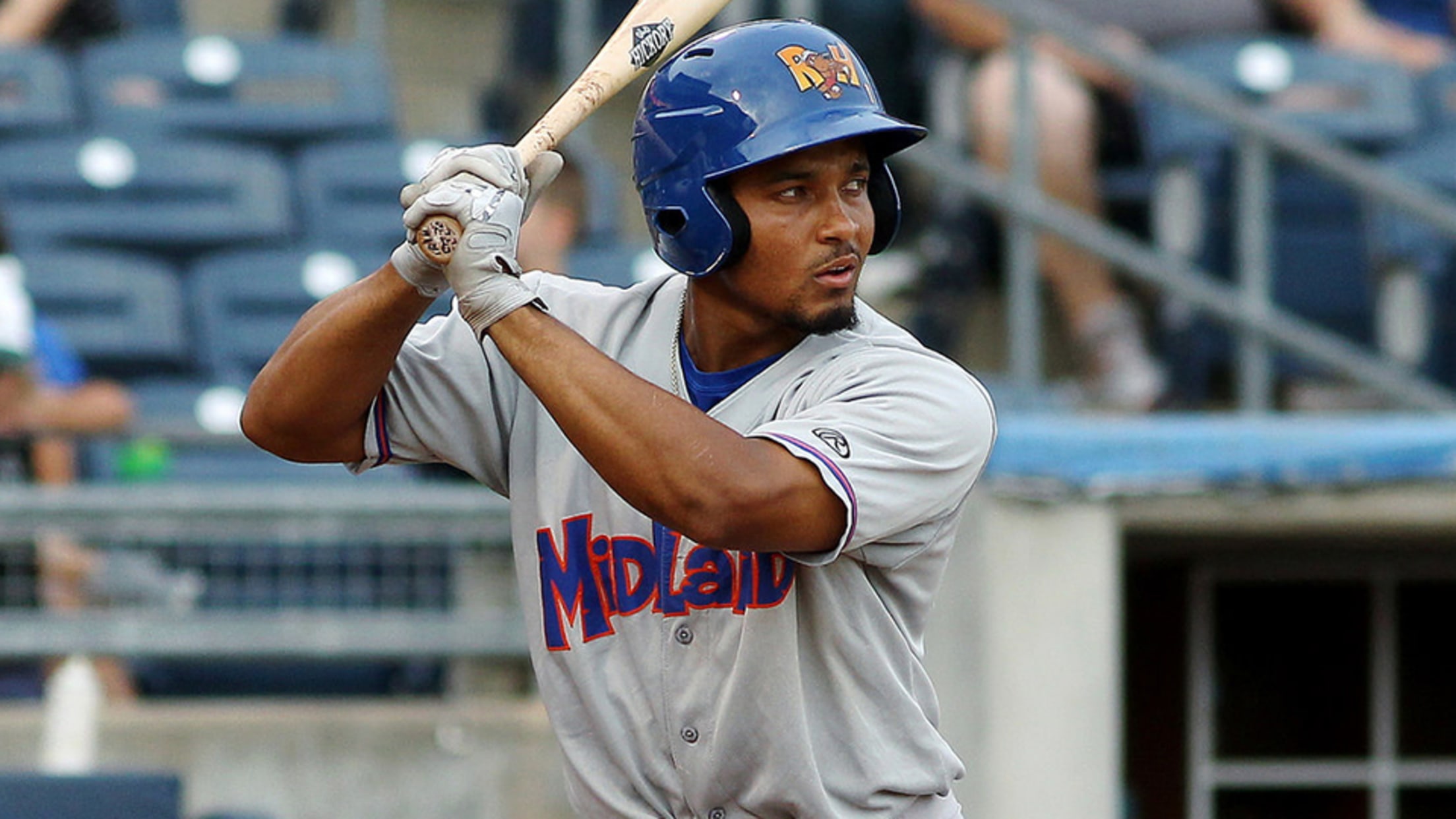 Theme of the dayGearing up for the Fall League:Arizona Fall League rosters were announced Thursday afternoon with top overall prospect Vladimir Guerrero Jr. headlining the batch of Minor Leaguers headed to the Grand Canyon State. Shortly afterward, two players named on those rosters showed why this year's AFL could be
McKenzie closes season on high note
Top Indians prospect throws six shutout frames for RubberDucks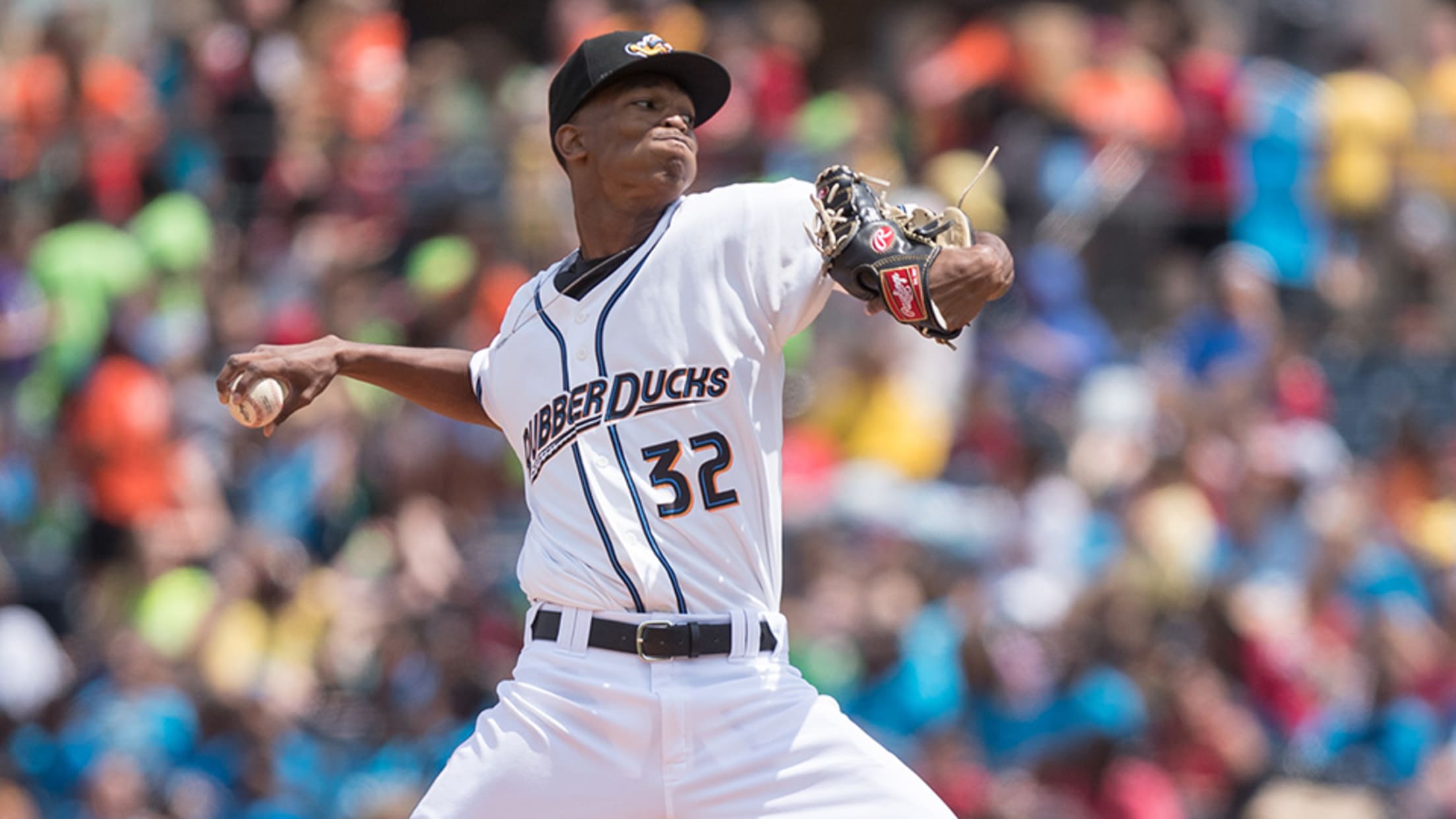 Triston McKenzie's season began with disappointment but wrapped up with a flourish.Cleveland's top-ranked prospect pitched six shutout innings as Double-A Akron fell to Bowie, 4-0, at Canal Park. He scattered four hits and two walks while striking out four."I was told beforehand, that just how it was getting shaped up,
Prospect Roundup: Games of Aug. 5
Kopech keeps on trucking for Charlotte; Bart triples twice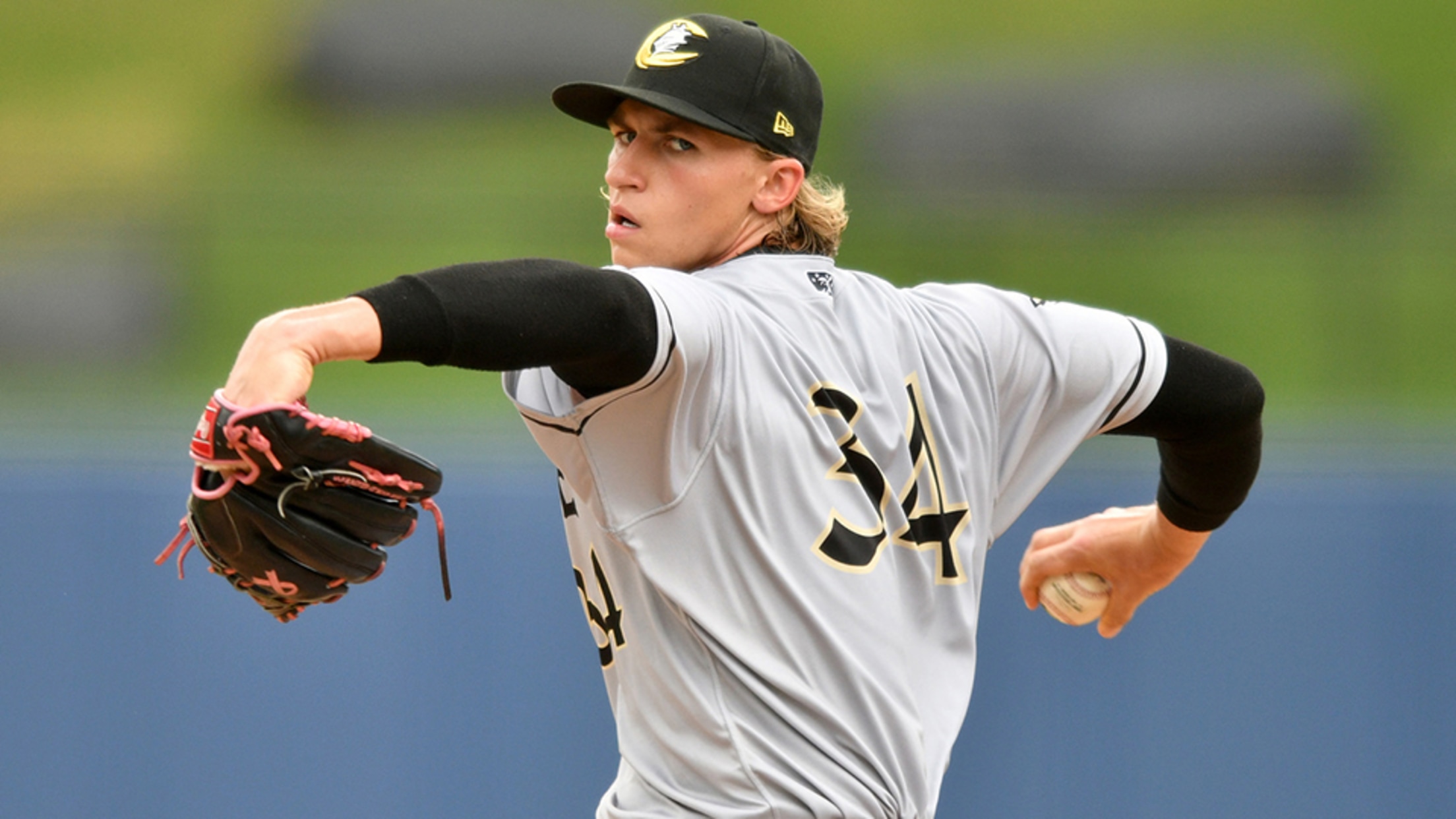 Theme of the dayHits and no hits at Class A: It was a day of extremes in Class A. Marlins prospects Taylor Braley, Jeremy Ovalle and Michael Mertz combined to throw a seven-inning no-hitter for Greensboro -- the Grasshoppers' first no-no since 2012 when Jose Fernandez was on the mound.
Prospect Roundup: Games of July 25
Rangers' Crouse fans 12; Giants' Canario tees off twice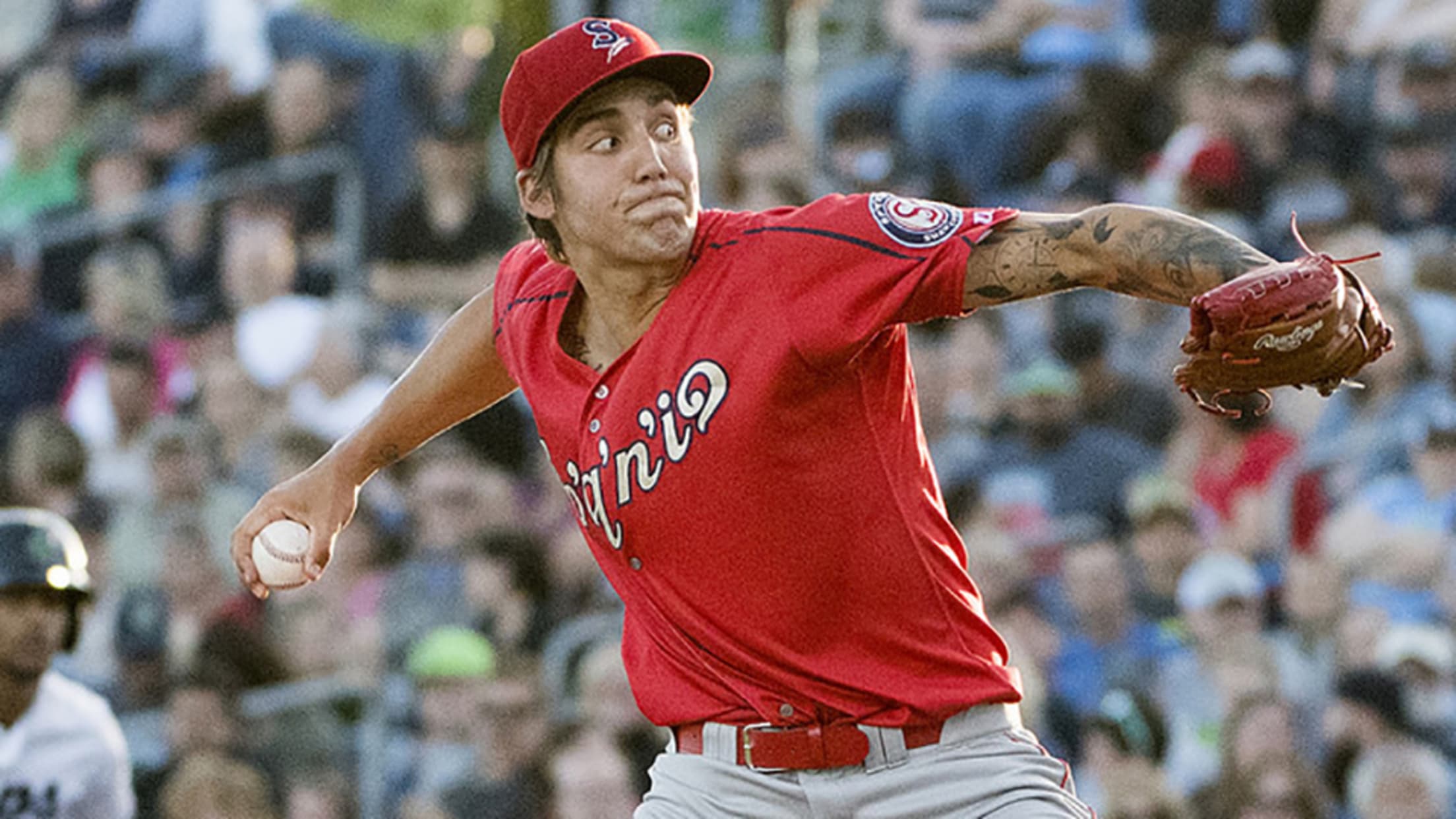 Theme of the dayLong and strong outings: Wednesday was a day for pitching across the Minor League landscape. No. 40 overall prospectDylan Cease was the most dominant of the bunch, retiring the first 20 batters he faced before finishing with 12 strikeouts in a gem for Double-A Birmingham. Padres No.
Prospect Roundup: Games of July 8
Giants' Bart, Orioles' Mountcastle continue to slug Sunday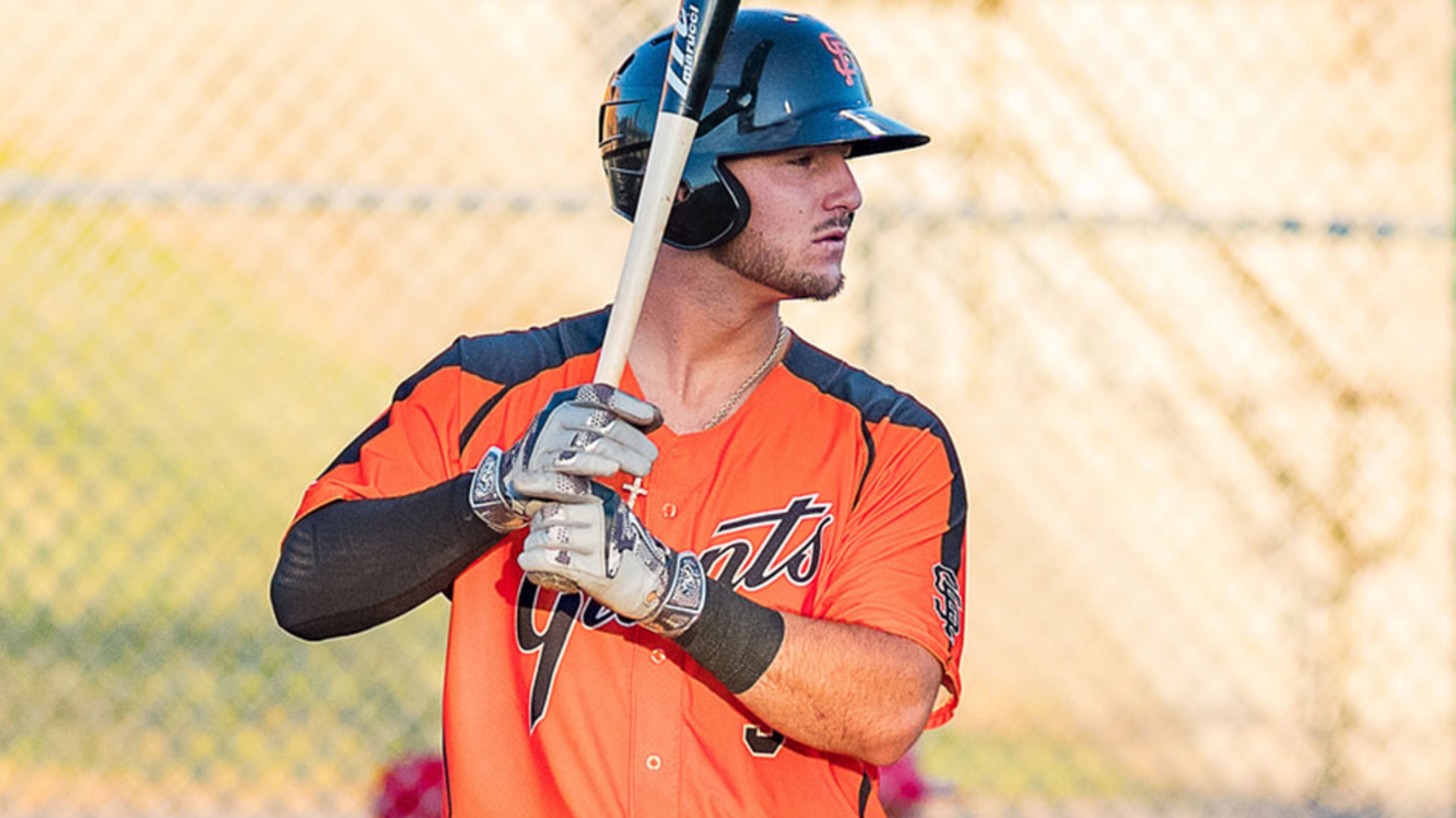 Theme of the dayBeads? Bees. Beads? Bees. Beads? Corpus Christi's not on board: Sunday provided one of the wackiest delays of the 2018 season. A swarm of bees overtook the Double-A Corpus Christi dugout just before first pitch, causing an 85-minute delay. Someone should have told them Triple-A Salt Lake
Head of the Class: Double-A
Blue Jays' Guerrero, Braves' Toussaint stand tall in first half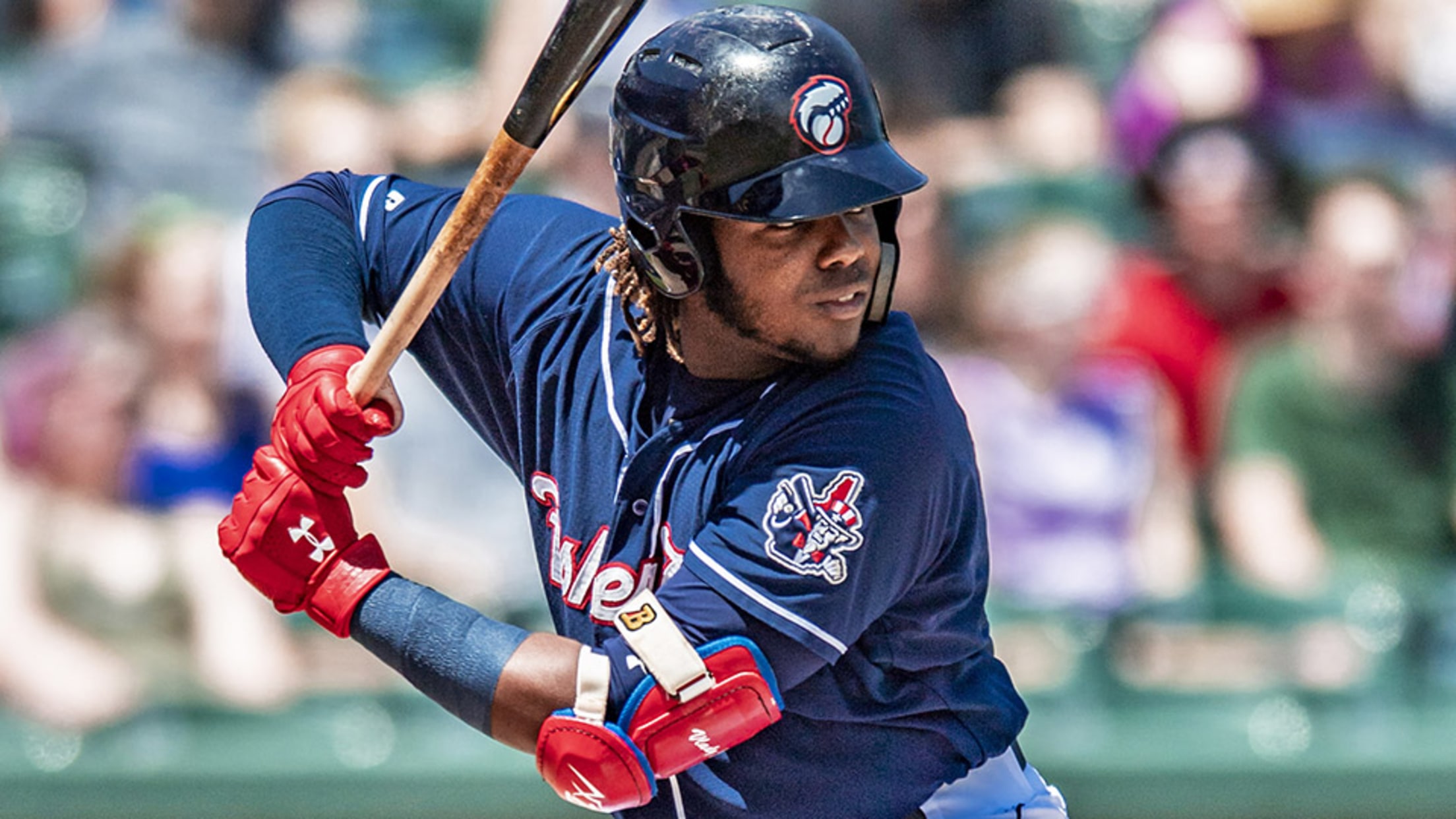 With full-season All-Star Games wrapping up this week, members of the MiLB.com staff look at some of the most notable performers from the first half and predict who could be poised to take off the rest of the way. After looking at the Class A Advanced and Class A levels
McKenzie lights-out in RubberDucks' gem
Indians No. 2 prospect carries no-no into seventh, yields one hit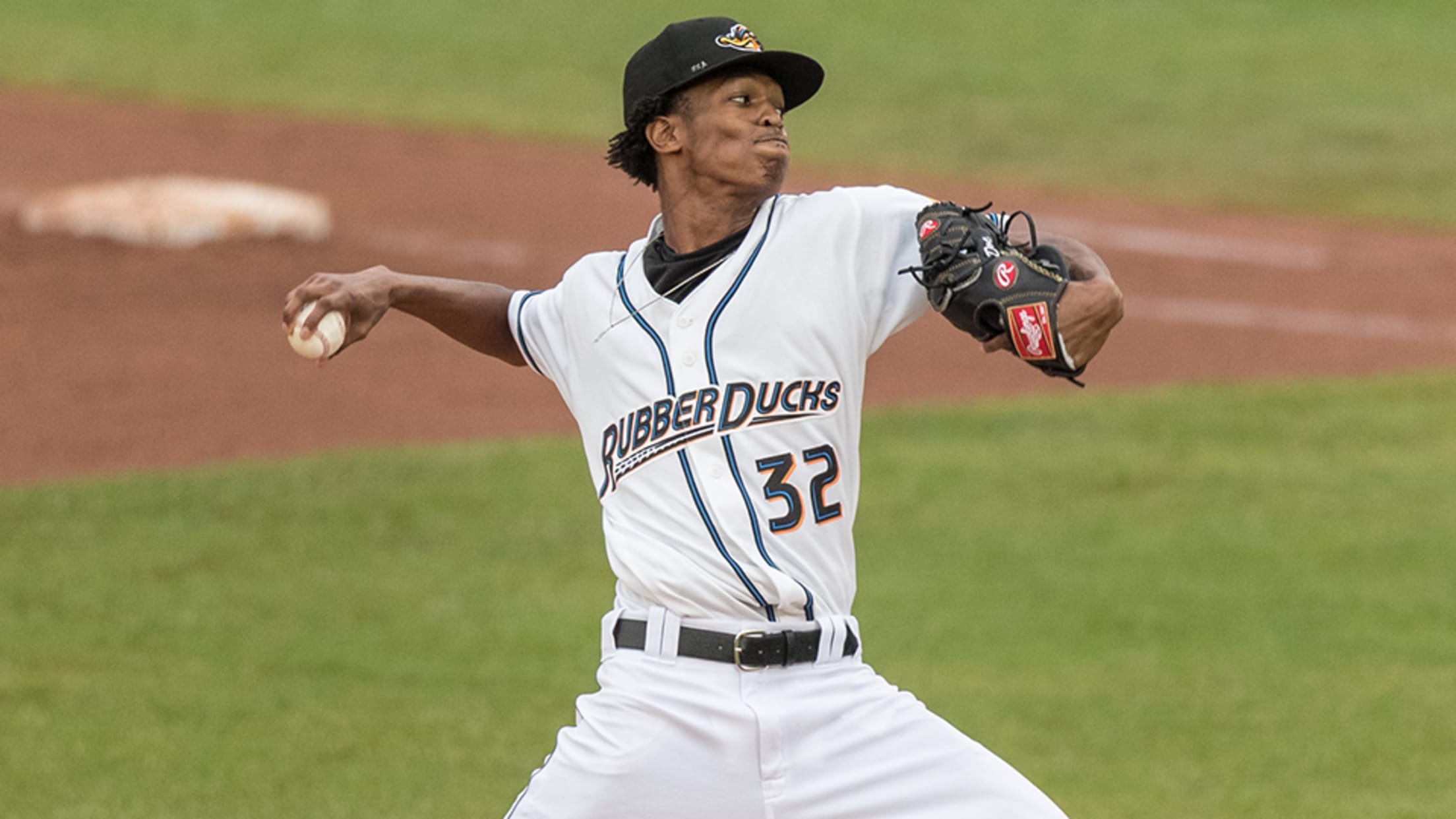 After breaking camp on the disabled list, Triston McKenzie's delayed debut with Double-A Akron came with an abbreviated workload. Judging by the results, he seems ready to be turned loose.The second-ranked Indians prospect carried a no-hitter into the seventh inning before Ke'Bryan Hayes tripled to lead off the frame as
Prospect Roundup: Games of June 28
Lambert polishes Double-A resume; Rooker homers twice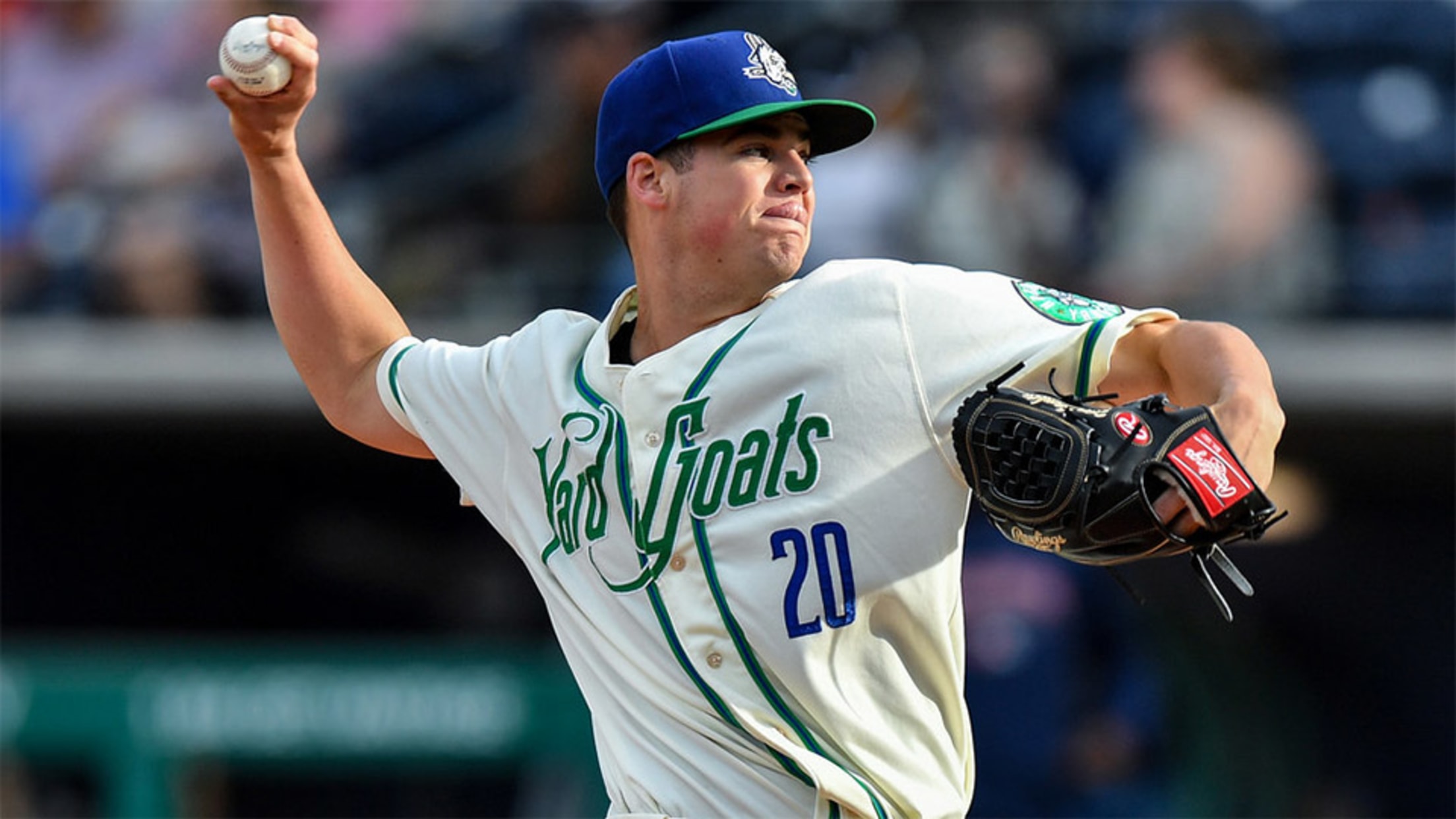 Theme of the dayPowering up at the final level: Several of MLB.com's top-100 prospects blasted Triple-A pitching on Thursday night. Nick Gordon (No. 68 overall) hit his first Triple-A home run for Rochester. Francisco Mejía (No. 16) collected multiple hits in his sixth straight game with Columbus. Kyle Tucker (No.
Prospect Roundup: Games of June 7
De Los Santos keeps rolling toward Philly; Tatis stays hot with homer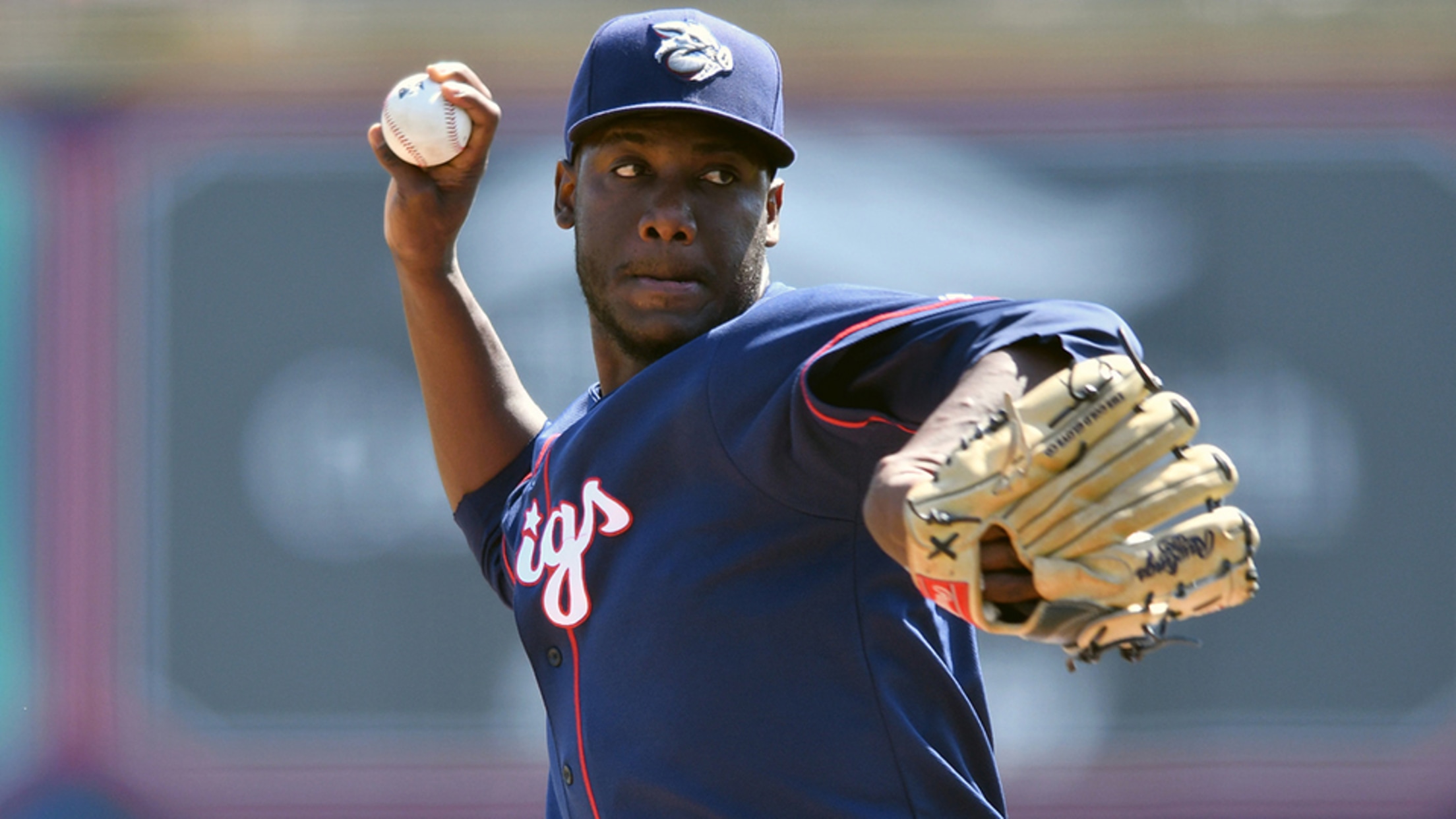 Theme of the dayDon't play the hits -- Thursday was the seventh day of June, but it featured the month's third no-hitter in the form of Paul Balestrieri's gem for Class A Peoria. It also happened to be the second straight day with a no-no in the Midwest League --
McKenzie dazzles in debut, Ducks win 7-4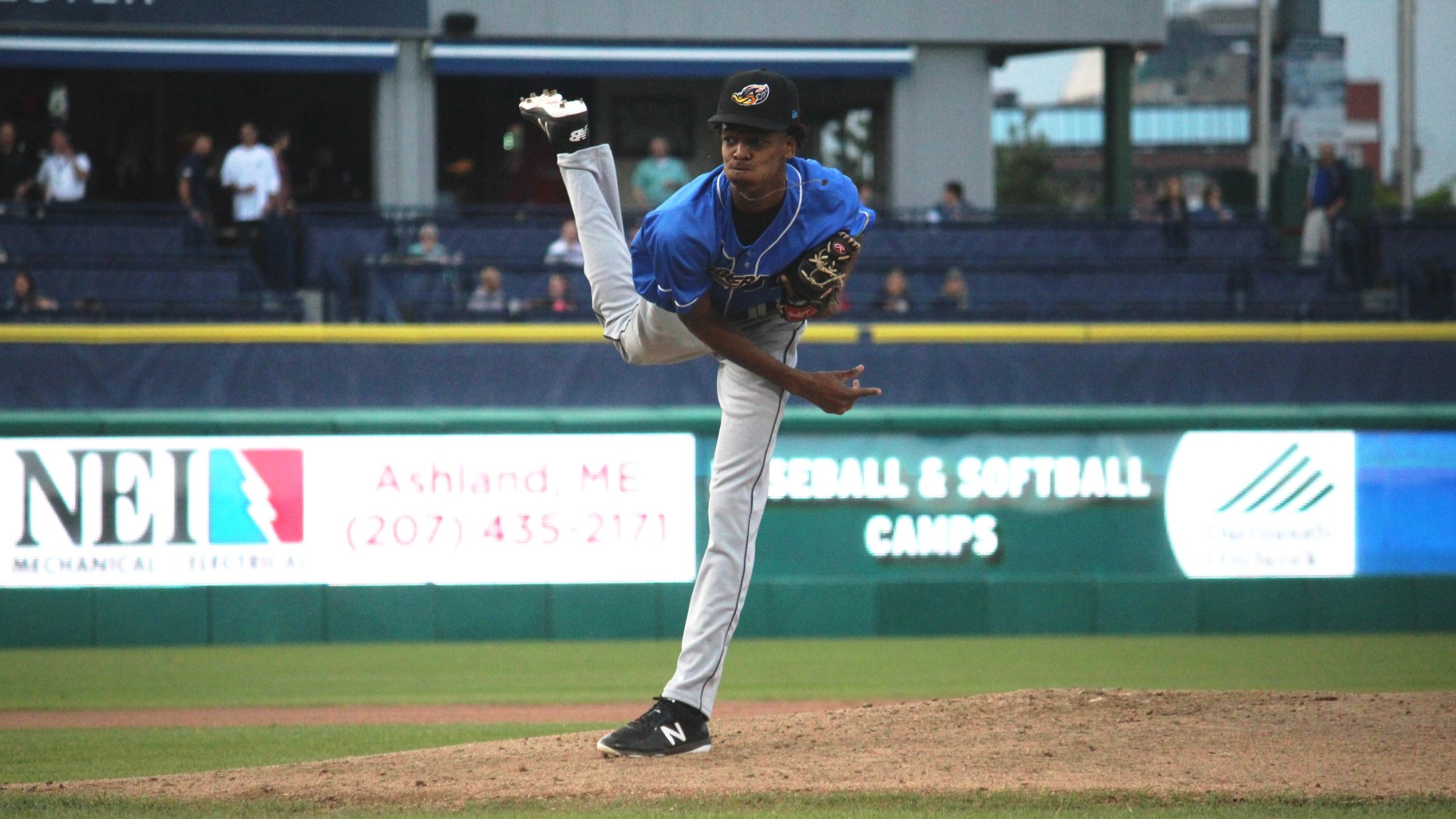 RubberDucks 7 Fisher Cats 4WP: Triston McKenzie (1-0) LP: Jordan Romano (8-1) Save: Mitch Brown (4) SummaryAkron's Triston McKenzie dazzled onlookers in his Double-A debut, and Andrew Calica socked a two-run homer, as the RubberDucks defeated the New Hampshire Fisher Cats, 7-4, Thursday night at Northeast Delta Dental Stadium in Manchester,
McKenzie posts zeros in Double-A debut
Indians No. 2 prospect allows one hit in five scoreless innings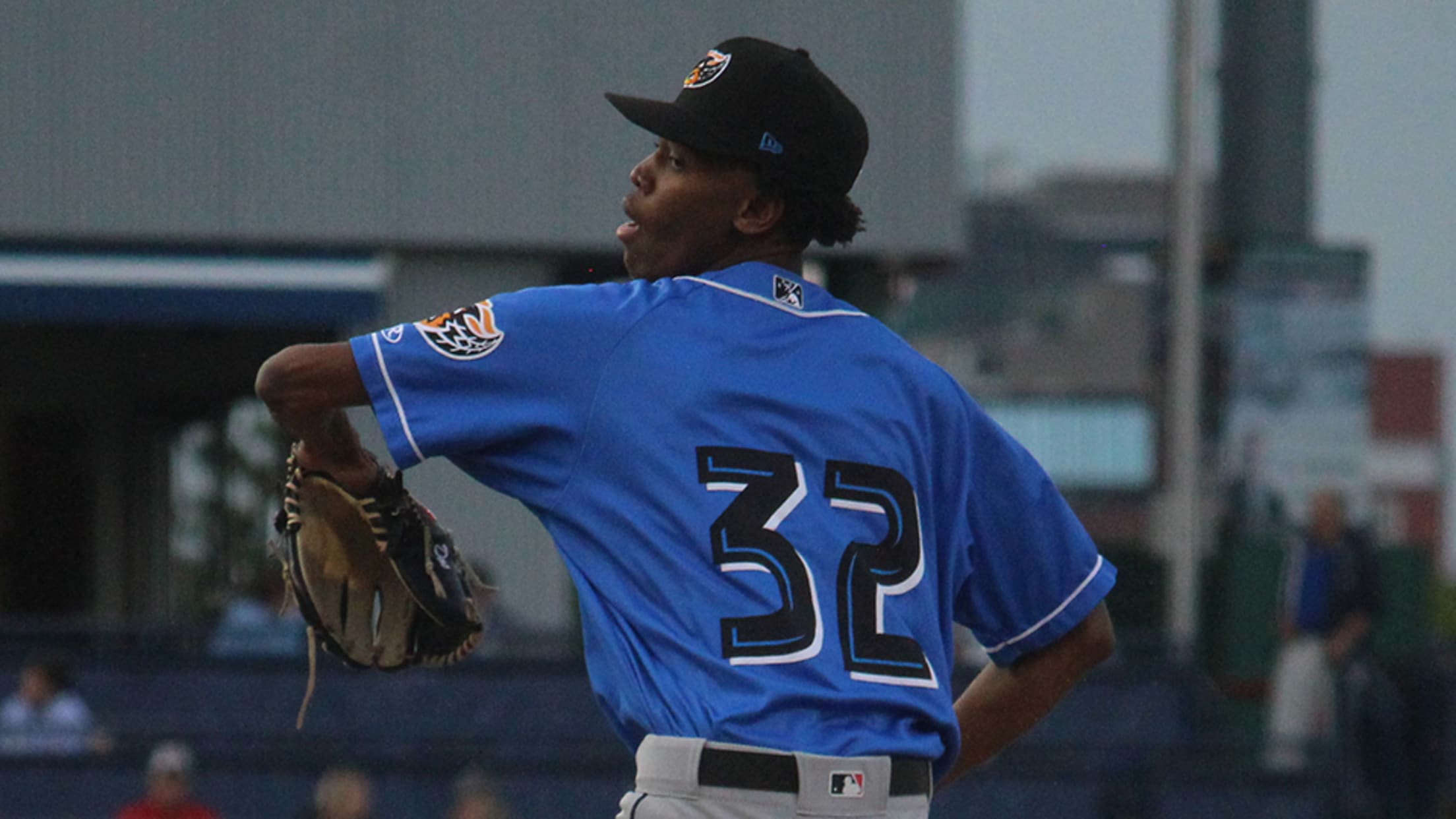 Last year's ascent of Triston McKenzie from talented pitcher to elite prospect had been on indefinite pause after he developed soreness in his right forearm during Spring Training. The wait came to an end Thursday night.The Indians' second-ranked prospect allowed one hit over five scoreless innings in his season and Double-A
Indians Prospect Primer: McKenzie moving up
No. 24 overall prospect ready for upper levels; Mejia eyes Majors
Some players are on the verge of stardom, others are entering a crucial phase of their development and still others are getting their first tastes of full-season ball. With the 2018 season approaching, MiLB.com takes a look at the most intriguing prospects from each MLB organization.Shining star: Triston McKenzie, RHPMcKenzie
Mejia next brick in potential Indians dynasty
Catching prospect heralds new generation of first-place talent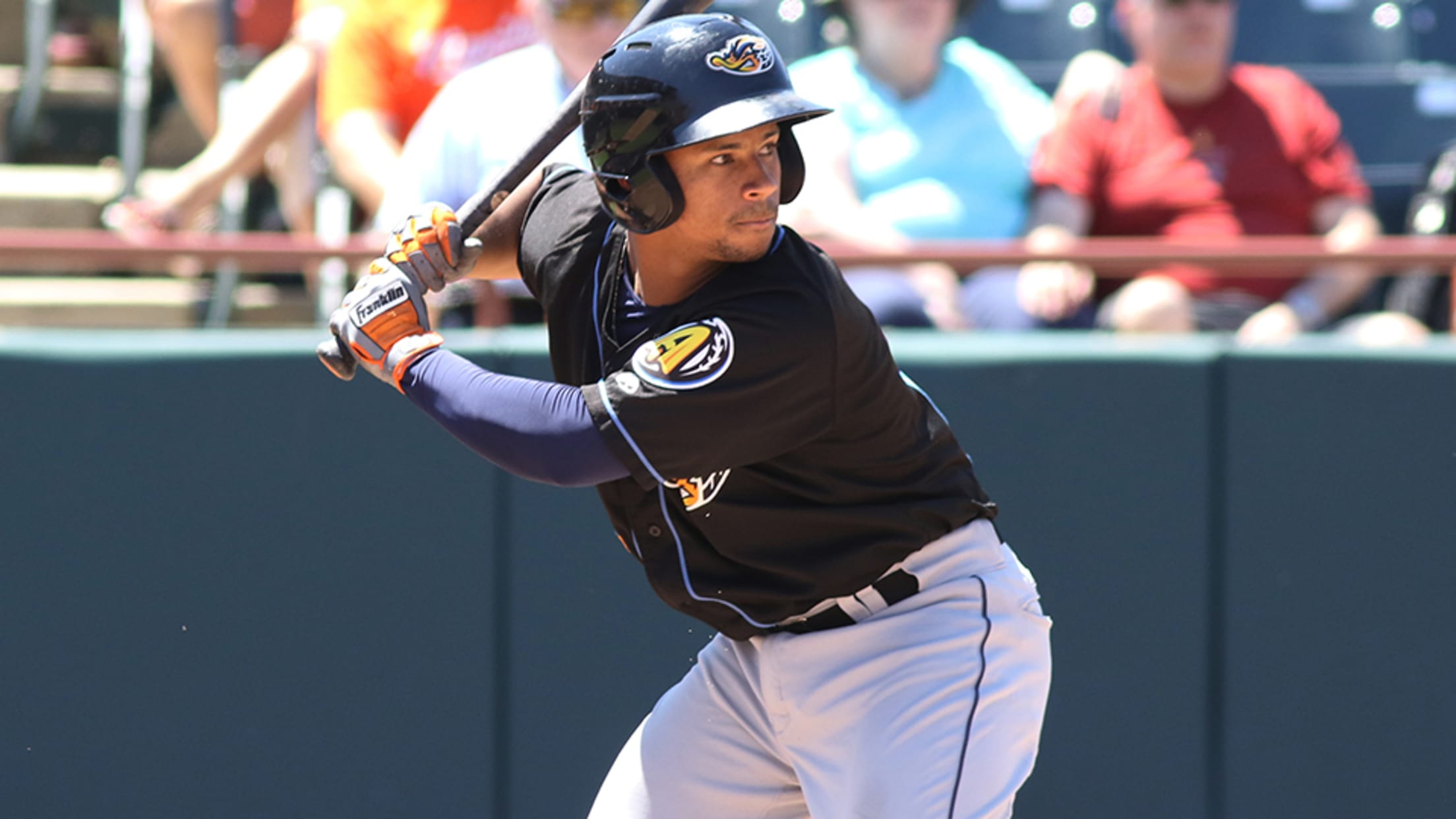 This offseason, MiLB.com is taking a look at the most outstanding campaigns by players in each system across Minor League Baseball and honoring the players -- regardless of age or prospect status -- who had the best seasons in their organization.While compiling an American League-best 102-60 record, complete with a
Toolshed: Players of the 2017 postseason
Bulls' Bauers, Redbirds' O'Neill highlight clutch playoff performers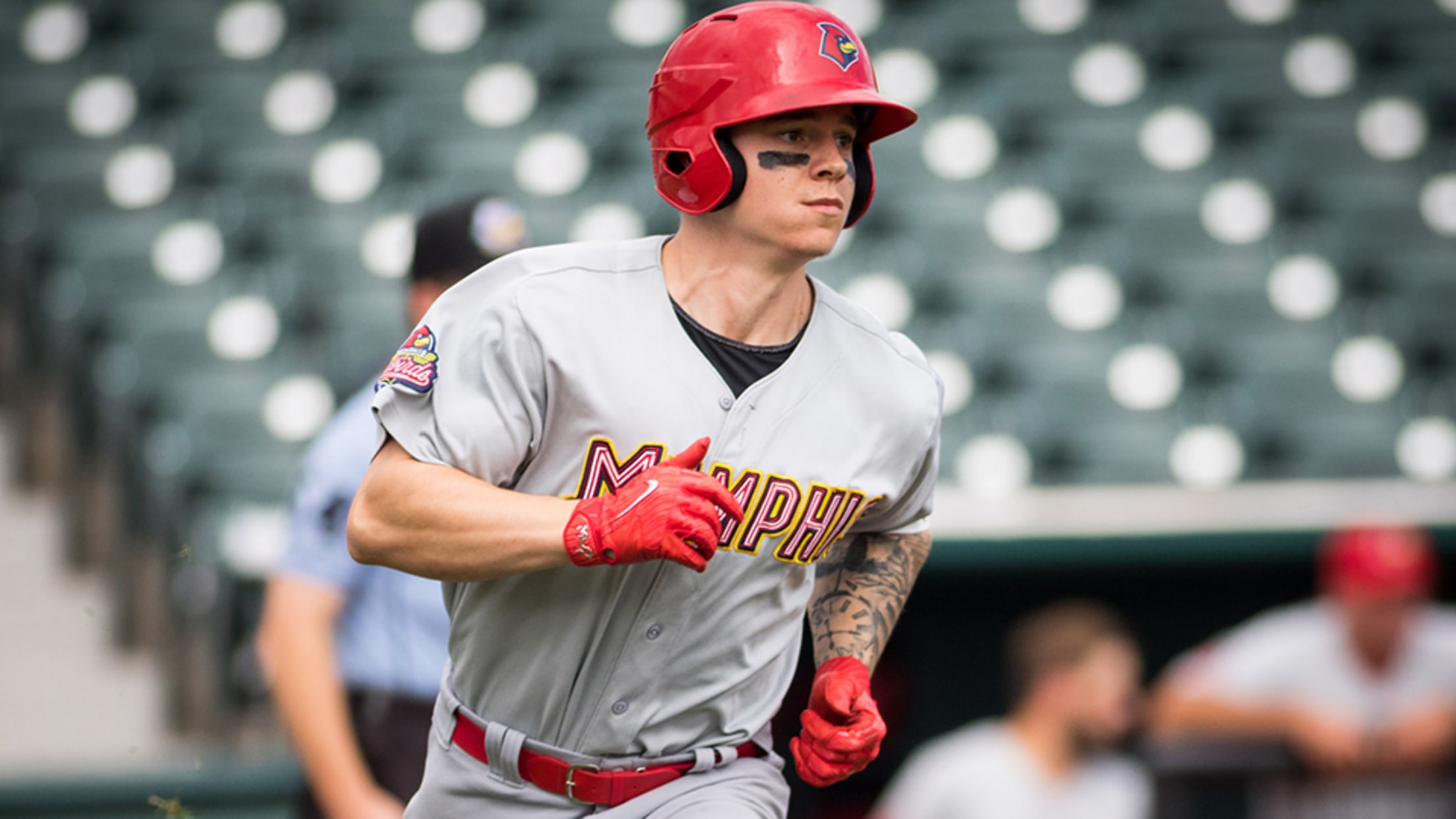 It certainly proved to be an interesting set of Minor League playoffs over the past couple weeks. Hurricane Irma grabbed the biggest headlines by causing the cancellation of the Southern, Carolina and Florida State League Finals, forcing all three circuits to crown co-champions. But that aside, 17 Minor League clubs
Toolshed: Prospects there from the beginning
McKenzie, Gordon among those to win title with their only '17 club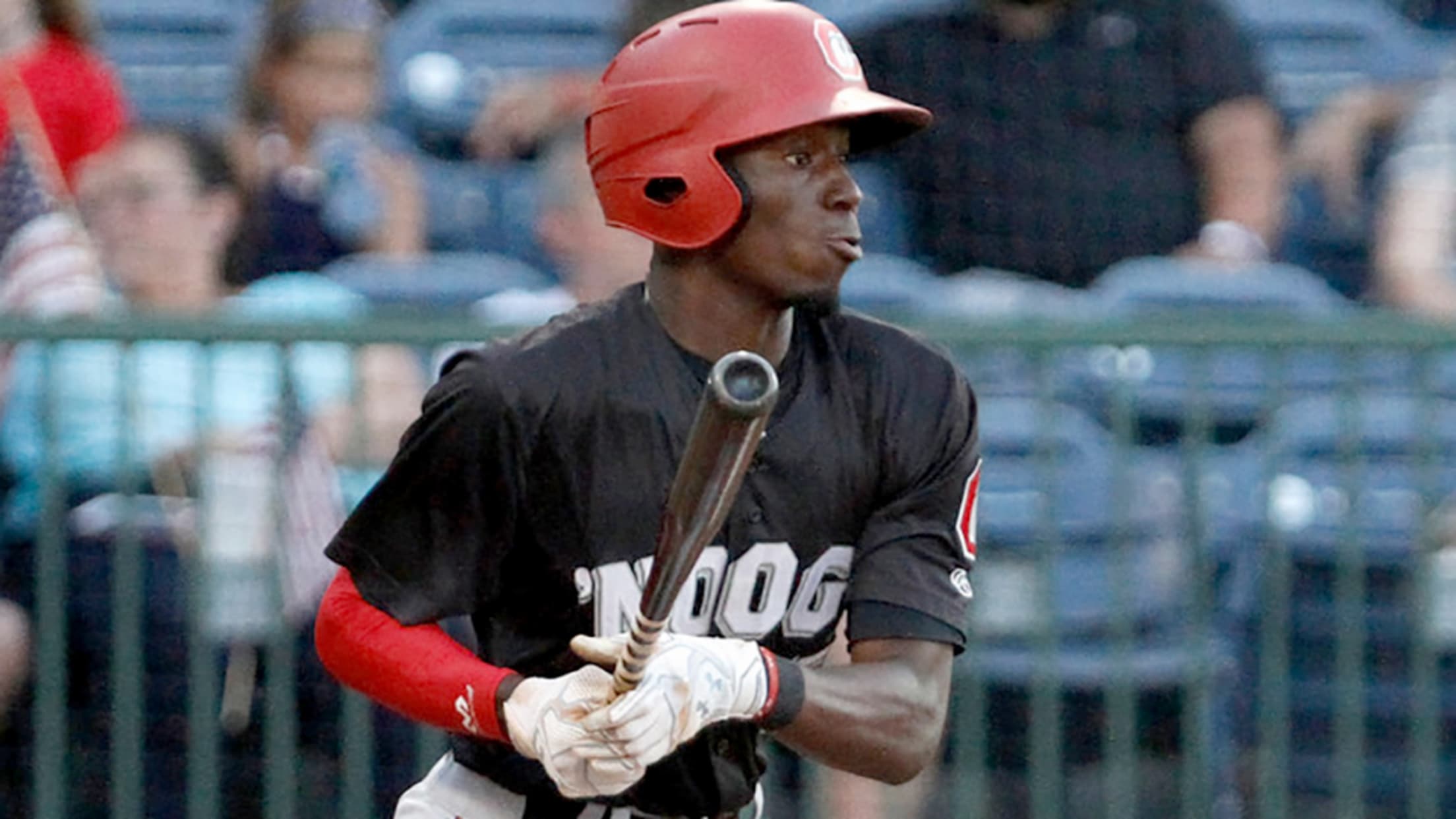 The only constant in the Minor Leagues is change. Hot and cold streaks come and go. Adjustments happen from at-bat to at-bat, inning to inning. First- and second-half performances can vary wildly. Players move up and down the chain, meaning team rosters at the end of a season can be