Toolshed: Previewing the 2020 MLB Draft
Five-round format, Torkelson's Tiger ties should stand out this week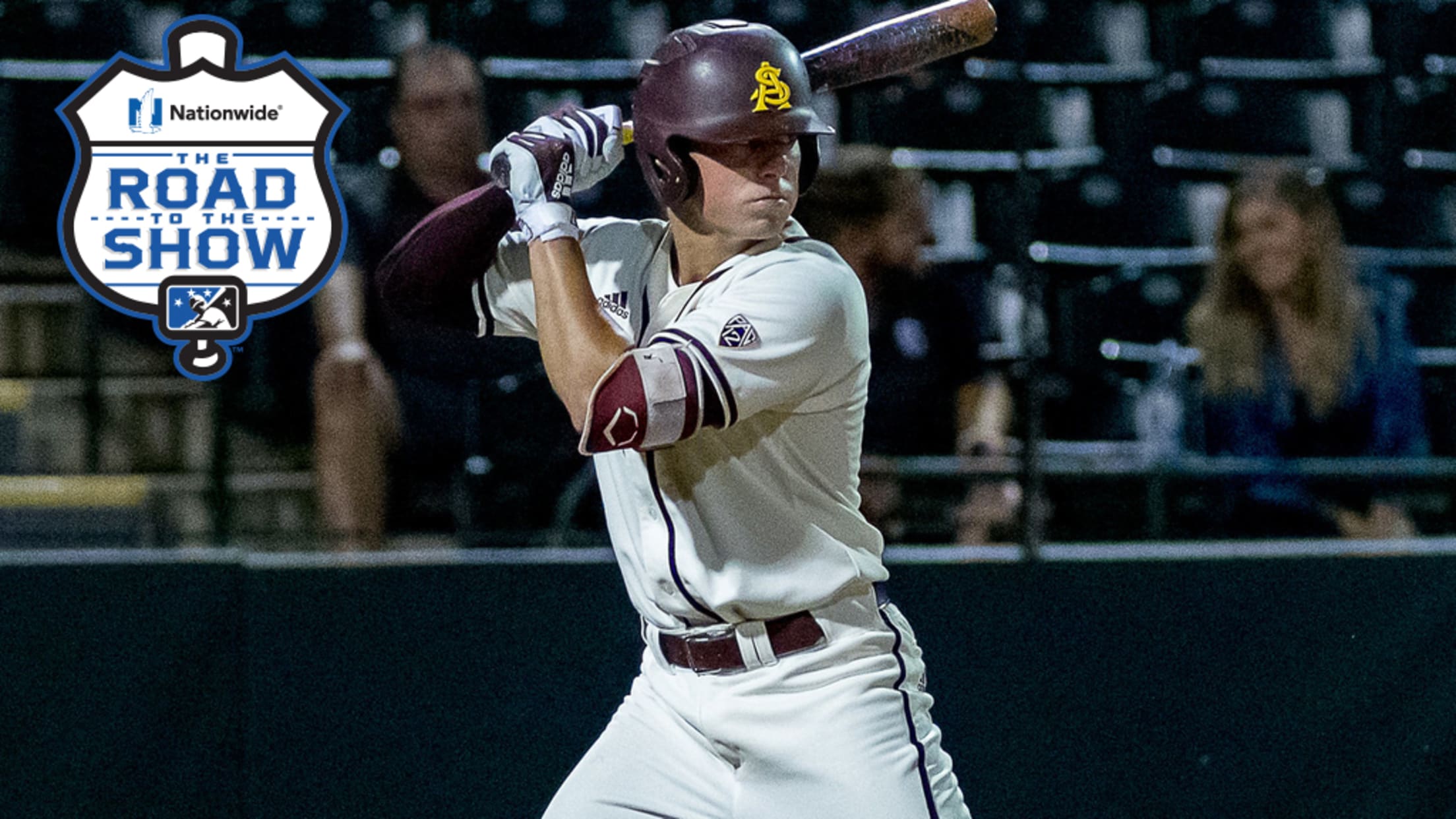 Spencer Torkelson finished with 54 home runs over three seasons with Arizona State. (Freek Bouw/Phrake Photography)
Every Major League Baseball First-Year Player Draft is different. Different Draft order. Different players being drafted. Different signing bonus pools available to clubs and players. This one, well, this one is considerably more different than others. The 2020 Draft will take place June 10-11 with the first round and Competitive
Every Major League Baseball First-Year Player Draft is different. Different Draft order. Different players being drafted. Different signing bonus pools available to clubs and players.
This one, well, this one is considerably more different than others.
The 2020 Draft will take place June 10-11 with the first round and Competitive Balance Round A Wednesday and the other four rounds Thursday. To prepare fans for baseball's big event this week, Toolshed answers some of the Draft's biggest questions.
OK, so what's different really? Sit down. Buckle up. Do whatever you need to get prepared. Here goes.
Since 2013, the First-Year Player Draft has been 40 rounds, making it the most expansive selection process of the four major North American sports. It's a healthy way of adding talent to the 30 farm systems across baseball and keeping the churn of the sport going on the way to the Major Leagues. This year, however, the coronavirus pandemic has put the Majors and Minors on pause, and that halt in play has effects beyond the diamond. As part of a March agreement between Major League Baseball and the players' association regarding the postponement of the season and its financial repercussions, the league could limit the Draft to as few as five rounds in 2020. It subsequently was done.
As part of that five-round structure, the individual slot bonuses have been frozen in place from 2019. So for example, the Tigers have the same $8,415,300 allotted to their pool for the top overall pick this year that the Orioles had for the same selection last year. Also, teams can defer any signing bonus above $100,000 with half of the remainder coming on July 1, 2021 and the other half on July 1, 2022. Any eligible undrafted player can sign for at most $20,000 with any club after the Draft. (Reminder: Draft-eligible players are high-school seniors, junior-college players, four-year college juniors and seniors/anyone 21 or older.) This was put in place to save clubs money in the short term without games at any level of affiliated baseball right now.
What effect will the new system have? In the short term, the amount of prep players added to the mix should significantly reduce. Sure, some big names like Zac Veen, Robert Hassell, Pete Crow-Armstrong and Mick Abel will pop early and eventually sign, but outside of the early rounds, expect some high schoolers to lean heavily on their other options. It'd be a surprise if any significant number sign as undrafted free agents, given the lowered cap on such signings. High schoolers have the chance to go to a four-year college, build up their stock for three more years and potentially get picked higher at a time when bonuses aren't deferred. They also could just move to a junior college and wait out the process for more year, or they could take the Carter Stewart route and explore options for development overseas. The first round won't look much different from a regular year, but the Draft class as a whole will skew toward older players who are running out of the options enjoyed by their younger counterparts.
In the long term, a limited Draft means limited additions to the farm system. Organizations used to adding dozens of talented players to their pipelines through the Draft proper will only be able to bring in a handful. Clubs could get aggressive on the undrafted market, but even those supplemental signings won't go far enough to make up for the losses. The waves of that will be felt three or four years down the line, when rookie classes aren't as big or at least as talented as some of their predecessors. A shorter Draft also takes away the potential for long-term development wins. For example, Tarik Skubal went from the ninth round to Top-100-prospect status in one year's time. In 2020, he wouldn't be drafted, and it's no guarantee he would have signed since he had one year left of eligibility at Seattle University. Success stories like his will be tougher to find.
Who has the biggest pool? Even with a shorter Draft, there is still a system in place that will advantage some teams over others. Despite having the second pick, the Orioles actually have the biggest Draft pool this year at $13,894,300, thanks to their selection at the top Competitive Balance Round A. The Tigers, who own the top overall pick, are second at $13,325,700, followed by the Royals ($12,521,300), Marlins ($12,016,900) and Pirates ($11,154,500). The Astros do not have a first- or second-round pick as penalty for their sign-stealing scheme, and therefore, have the lowest signing pool at $2,202,600. In fact, Houston has only four picks, including its first at No. 72 overall that was picked up as compensation for the free-agent loss of Gerrit Cole. The Red Sox similarly only have four picks after Major League Baseball docked them a second-round pick for their own sign-stealing scandal. Boston's $5,129,900 signing pool ranks 26th of the 30 clubs.
Full 2020 pools and Draft order can be found here.
Is Spencer Torkelson a Tiger already? Technically, no. Basically, yes.
The Arizona State slugger is MLB.com's top Draft prospect for his prodigious power and solid hit tool from the right side. Torkelson hit at least 23 homers and slugged at least .700 in both of his first two springs on campus and was continuing that pace by hitting .340/.598/.780 with six homers in 17 games before his junior campaign came to an early end. It's not often that right-handed-hitting first basemen are taken highly in the Draft. In fact, all three first baseman selected first overall -- Ron Blomberg (1967), Harold Baines (1977) and Adrian Gonzalez (2000) -- were left-handed hitters. But Torkelson's sustained pop makes him as good a bet as anyone in this class to make multiple All-Star teams, even at such an offensively minded position. He would instantly become Detroit's top position-player prospect, supplanting last year's first-rounder Riley Greene, and given his college pedigree, he could likely make Detroit not too far behind the core of the system in Casey Mize, Matt Manning and Skubal -- all of whom already have reached Double-A.
Until his name is called, however, there remains the possibility that Torkelson doesn't go to the Tigers and Detroit instead goes with another member of this year's Big Three in Vanderbilt outfielder/third baseman Austin Martin or Texas A&M left-hander Asa Lacy.
Speaking of which, will there be any surprises among the top three? We'll leave the door slightly more ajar here.
The Orioles seem more likely to pull off something unforeseen at No. 2, given their large pool. Baltimore could sneak in a significantly under-slot deal -- Veen, New Mexico State infielder Nick Gonzales and Arkansas outfielder Herston Kjerstad are three names who continue to pop up in these types of rumors -- and then use the savings to take a dropping talent (i.e. tougher sign) later. In the midst of their rebuild, the Orioles could use all the talent they can get their wings on, so the strategy makes some sense. But Martin or Lacy might be too good to pass up simply to take another lesser talent later. Martin has shown a plus-plus potential with his tool at Vanderbilt, where he batted .368 over his three seasons and struck out only twice over 69 plate appearances in the spring. Lacy shows three plus pitches from the left side in his fastball, slider and changeup, and his curveball also has above-average potential -- all from the left side.
Right now, it seems likeliest that Martin goes to the Orioles at No. 2, leaving the Marlins all too happy to pick up Lacy at No. 3. (Miami will likely snag whichever of the three is left.) But the first big surprise of this Draft could come early.
What are other storylines to follow? We'll move to a quick bullet style for this.
Lacy is in pole position to be the first college arm off the board, but the race to be second could be a close one. Georgia right-hander Emerson Hancock was once seen as the top pitcher in the Draft before an uneven spring caused him to slip. Minnesota right-hander Max Meyer would look like an ace with a plus-plus fastball and plus-plus slider, but his height of 6 feet brings along some worries. Both seem like locks to go in the top 10, but their order might be up to preference for teams like the Blue Jays at No. 5 or the Pirates at No. 7.
Pennsylvania prep right-hander Nick Bitsko was scheduled to be eligible for the 2021 Draft until he decided to graduate early, making him eligible for this year instead. (He turns 18 on June 16.) That would normally require scouts to flock to catch up to him, but the spring season being put on hold put a stop to that. When scouts did view the 6-foot-4 hurler, they saw a mid-90s fastball and plus curveball. That stuff could vault Bitsko comfortably into the first round, but the lack of clear looks could cause him to drop as well. If he does, clubs hoping to sign will contend with his commitment to the University of Virginia and might have to get creative like the Mets did last year with Matthew Allan.
Pay attention to the positions Torkelson and Martin are announced at when their time comes Wednesday. As mentioned, Torkelson is a first baseman, but there's the chance a team could try him in left field to squeeze a little more value out of him. Martin played third base and center field this spring, and there's even a chance he could be a second baseman long-term. A team announcing him at a set position could give everyone a peek at its future plans.
The pick that comes with the most pressure outside the top five might belong to the Red Sox at No. 17. Boston doesn't boast much of a farm system these days, and even the addition of Jeter Downs couldn't get the organization higher than No. 27 in MiLB.com's rankings to start 2020. Without a second-round pick, the Sox might look to swing for the fences with their first-rounder in an attempt to bring as much talent into the pipeline as it can at once. That could come with some risk the other way, but a dropping prep bat or a top talent with some baggage (like Tennessee left-hander Garrett Crochet, who experienced some shoulder issues but possesses killer stuff) could find a home in Boston.
Sam Dykstra is a reporter for MiLB.com. Follow and interact with him on Twitter, @SamDykstraMiLB.