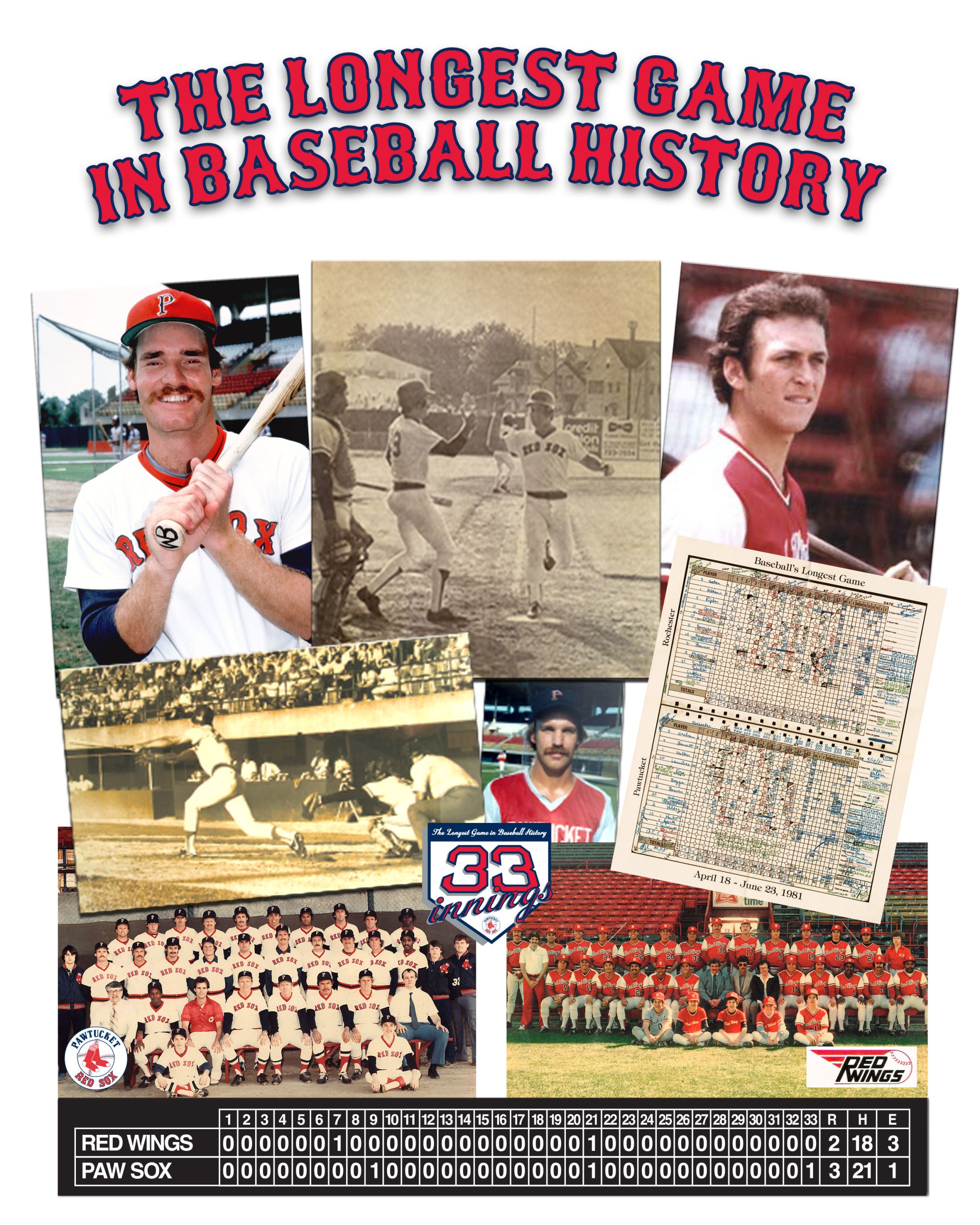 Baseball's famous "Longest Game" between the Rochester Red Wings and the Pawtucket Red Sox lasted a record 33 innings and took more than eight hours over two different days to complete. The game took place in 1981.
It began on a frigid April 18th evening at McCoy Stadium and was halted at 4:09am by order of I.L. President Harold Cooper. On June 23rd, Dave Koza, who entered the game as the best hitter in the contest at 4-for-13, hit a 2-2 curve ball from reliever Cliff Speck into left field to score Marty Barrett and give the Pawtucket Red Sox a 3-2 victory over the Rochester Red Wings. Koza's single came with the bases loaded and none out as the Paw Sox managed to end the contest on their first at-bat in the bottom of the 33rd inning.
"Having the bases loaded was a dream for me," said Koza, who had scored one of the other Pawtucket runs on April 18-19. "I think anyone would have liked to have been in my shoes."
Pawtucket's Bob Ojeda, the team's eighth hurler, gave up a one-out single to Cal Ripken, Jr. in the 33rd but retired Floyd Rayford on a strikeout and John Valle on a soft fly to left and got credit for the win to improve his record to 9-5.
Pawtucket wasted no time against loser Steve Grilli, the fifth Rochester pitcher, who was with Syracuse when the two teams bagan this marathon game. Grilli hit Barrett with his first pitch and Chico Walker followed with a hit-and-run single to center, moving Barrett to third. Grilli walked Russ Laribee intentionally to fill the bases before giving way to Speck, who lasted four pitches.
It took just 18 minutes on June 23rd to finally end the contest. The game, which drew national attention because of the baseball strike and the historical nature of the event, attracted a near sellout crowd of about 5,800 to McCoy Stadium.
PROFESSIONAL RECORDS SET
- MOST PUTOUTS - one team - 99 (Pawtucket)
- MOST PUTOUTS - both teams - 195 TIME - 8:25
- MOST AT BATS - one team - 114 (Pawtucket)
- MOST STRIKE OUTS - one team - 34 (Rochester Batters)
- MOST AT BATS - both teams - 219
- MOST STRIKE OUTS - both teams - 60
- MOST ASSISTS - both teams - 88
- MOST "CHANCES ACCEPTED" - one team - 142(Rochester)
- MOST "CHANCES ACCEPTED" - both teams - 283
- MOST INNINGS - 33 PITCHES THROWN - Rochester 423, Pawtucket 459, Total 882
- MOST AT BATS - Dave Koza, Lee Graham, Chico Walker - 14 (Pawtucket)
- MOST PLATE APPEARANCES - Tom Eaton, Cal Ripken, Dallas Williams - 15 (Rochester)
The Longest Game Quotes Reprinted from The Longest Game by Steve Krasner
"When we walked off the field at 4 o'clock in the morning, it was like, 'You mean we're not done with the game yet?'"
--Pawtucket catcher Rich Gedman
"I wanted 40 innings so nobody could ever tie our beautiful record."
--Pawtucket manager Joe Morgan
"I remember striking out Cal Ripken on a 3-and-2 breaking ball at 4 o'clock in the morning, and I don't think he ever forgave me."
--Pawtucket's Bruce Hurst, who pitched the 27th-32nd innings
"I've been watching for the bunt for 23 innings now."
--Rochester third baseman Cal Ripken Jr., wearily replying to relief pitcher Jim Umbarger's instruction
"Nothing I ever do in life will probably compare to this."
--Pawtucket's Dave Koza, after his historic game-winning hit
"A lot of people were saying , 'Yeah, yeah, we tied it, we tied it!' And then they said, 'Oh, no, what did you do? We could have gone home!"
--Pawtucket's Wade Boggs on his game-tying hit in the 21st inning
"It sank in the next day. Man, we just played 32 innings of baseball. We joked about it. We had smiles on our faces. I was thankful I was a baseball player and on the field that night. As time went by, I appreciated it more."
--Rochester's Dallas Williams