'Ducks Go Hunting in the Rain
R-Phils surrender six homers in 15-2 loss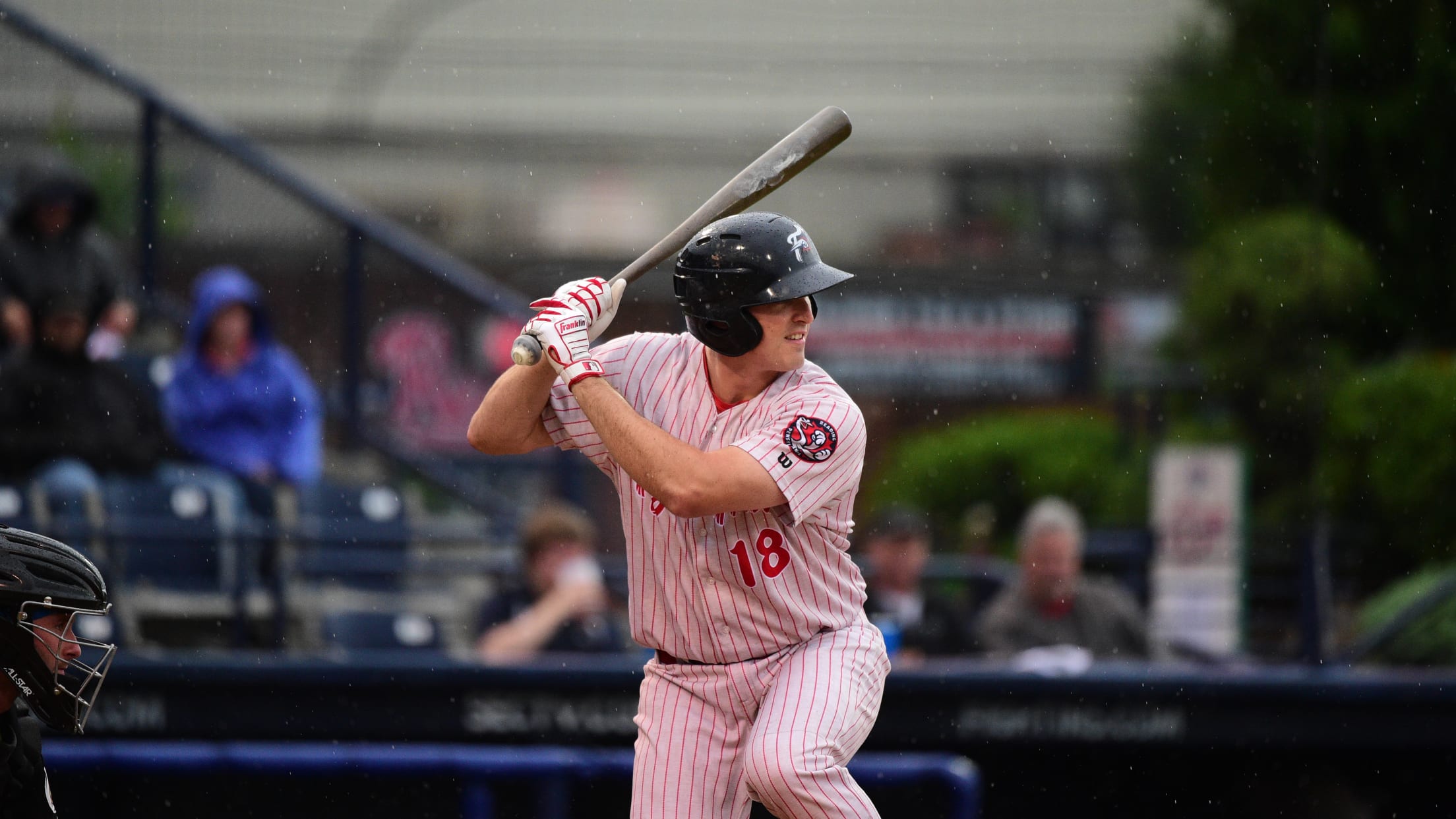 (Photo by Austin Sullivan)
(Reading, PA) - The first two games of the weekend series between the Fightin Phils and RubberDucks have brought the highest of highs and the lowest of lows. On Friday night, the R-Phils rallied with three runs in the bottom of the ninth for their most improbable and thrilling victory
(Reading, PA) - The first two games of the weekend series between the Fightin Phils and RubberDucks have brought the highest of highs and the lowest of lows. On Friday night, the R-Phils rallied with three runs in the bottom of the ninth for their most improbable and thrilling victory over the season's first month of games. In game two, the 'Ducks cranked six homers, getting two from Ka'ai Tom in a 15-2 rout that set up the third and deciding game and the finale of the homestand on Sunday afternoon.
Trouble brewed right away for Ramon Rosso , who was selected as the Phillies Minor League Pitcher of the Month for April and came into the weekend with the second-lowest earned run average in the Eastern League. Two of the first three batters he saw reached, and Connor Marabell jumped on a 3-1 offering for his second home run and a 3-0 lead. Tom led off the second inning with his second dinger of the season, and made it 5-0 with another home in the top of the fourth during Rosso's (2-1) final inning.
Garrett Cleavinger provided the long relief for Reading, surrendering the sixth run for Akron on an infield single from Daniel Johnson , who had gone deep twice in game one. The Fightins lone counterpunch came on a two-run homer from Austin Bossart in the bottom of the fifth. The catcher's first home run of the season was overshadowed by the fact that the Ducks surged ahead 9-0 in the top of the inning on a three-run blast from their catcher Logan Ice .
Wilson Garcia added his second home run of the series to tack on two more runs for an 11-2 lead in the top of the sixth. Marabell brought in his fourth run with a fielder's choice groundout in the eighth, and Nellie Rodríguez shoveled the last bit of dirt with a three-run missile to left to widen the gap to 15-2. For the first time this season, a position player took the mound, with designated hitter Henri Lartigue throwing a scoreless top of the ninth.
By going 1-2 in their last three games, R-Phils pitchers have allowed 13 home runs. Luke Williams had his first three-hit game with a trio of singles, his first since August 28 of last season with High-A Clearwater.
America's Classic Ballpark is proud to be a part of Pennsylvania's Americana Region. Season tickets for the 2019 season are available online at Fightins.com, by phone at 610-370-BALL, and in-person at the Weidenhammer Ticket Office at FirstEnergy Stadium. Follow the Fightin Phils on Twitter at @ReadingFightins, Instagram at @fightins, and like them on Facebook via www.facebook.com/fightins.