Grand Victory for the Fightin Phils
Christian Marrero's eighth inning grand slam lifts the Fightin Phils over the Senators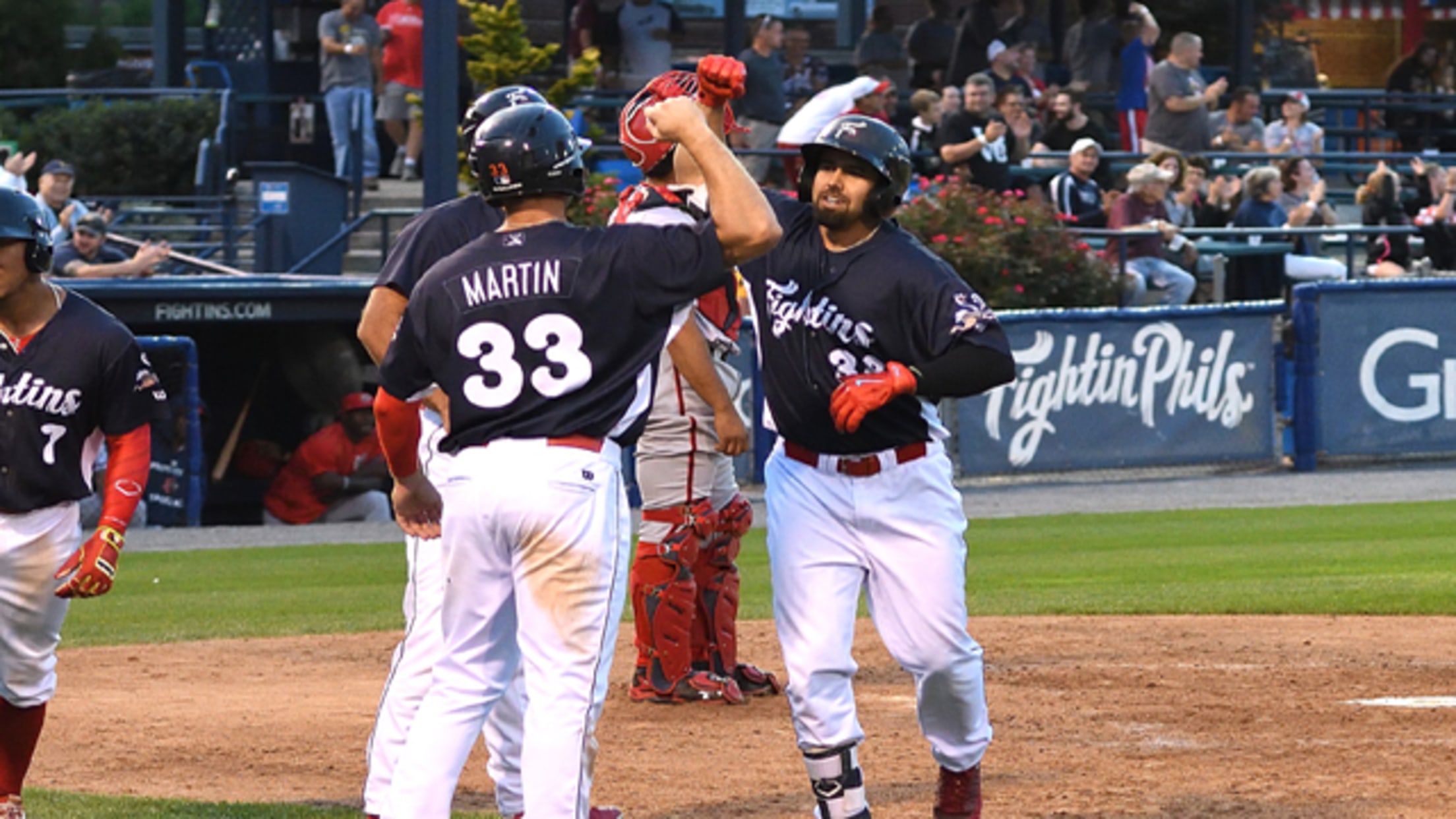 (Photo by George Young Jr)
(Reading, PA) -Needing a win to take the series from the Senators, the Fighitn Phils sent Cole Irvin out for the final game of the four game series with Harrisburg. Trailing by one in the bottom of the eighth, the Fightin Phils loaded the bases for Christian Marerro who cleared
(Reading, PA) -Needing a win to take the series from the Senators, the Fighitn Phils sent Cole Irvin out for the final game of the four game series with Harrisburg. Trailing by one in the bottom of the eighth, the Fightin Phils loaded the bases for Christian Marerro who cleared the wall in left center field putting the Fightin Phils up 7-4 and capping off the come back for the series win.
The Senators got on the scoreboard first against Irvin. Victor Robles led off the game with a double and was brought home on a ground out by José Marmolejos which put the Senators up 1-0. Reading answered in the bottom of the 1st with a run of their own. Mitch Walding singled, advanced to second on an error and raced home on a single by Kyle Martin to tie the game up at one.
The teams continued to trade runs in the second. Harrisburg plated two more on a single by Victor Robles and regained the lead 3-1. The Fightin Phils answered back, rbi doubles by Zach Coppola and Jiandido Tromp evened the score heading into the 3rd.
The teams were kept off the scoreboard for the next 4 innings but Harrisburg took the lead against Tom Windle in the 8th. Marmolejos doubled home Khayyan Norfork and put Harrisburg up 4-3. Down by one, Reading loaded the bases and got a little two out magic for the second time in the game. Andrew Robinson took over for Harrisburg and was met by Christian Marerro who cleared the bases with his second home run in as many days and put the Fightin Phils up 7-4.
Vìctor Arano earned his 9th save of the season, tossing a 1-2-3 9th inning and securing the victory for the Fightin Phils. Reading opens up its final home series of the year on Monday night against New Hampshire at 6:35.
America's Classic Ballpark is proud to be a part of Pennsylvania's Americana Region. Season tickets for the 2018 season are available online at Fightins.com, by phone at 610-370-BALL, and in-person at FirstEnergy Stadium. Follow the Fightin Phils on Twitter at @ReadingFightins and like them on Facebook via www.facebook.com/fightins.