R-Phils Announce Black Friday Weekend Deals
Bargains, Holiday Bundles, & Ticket Packages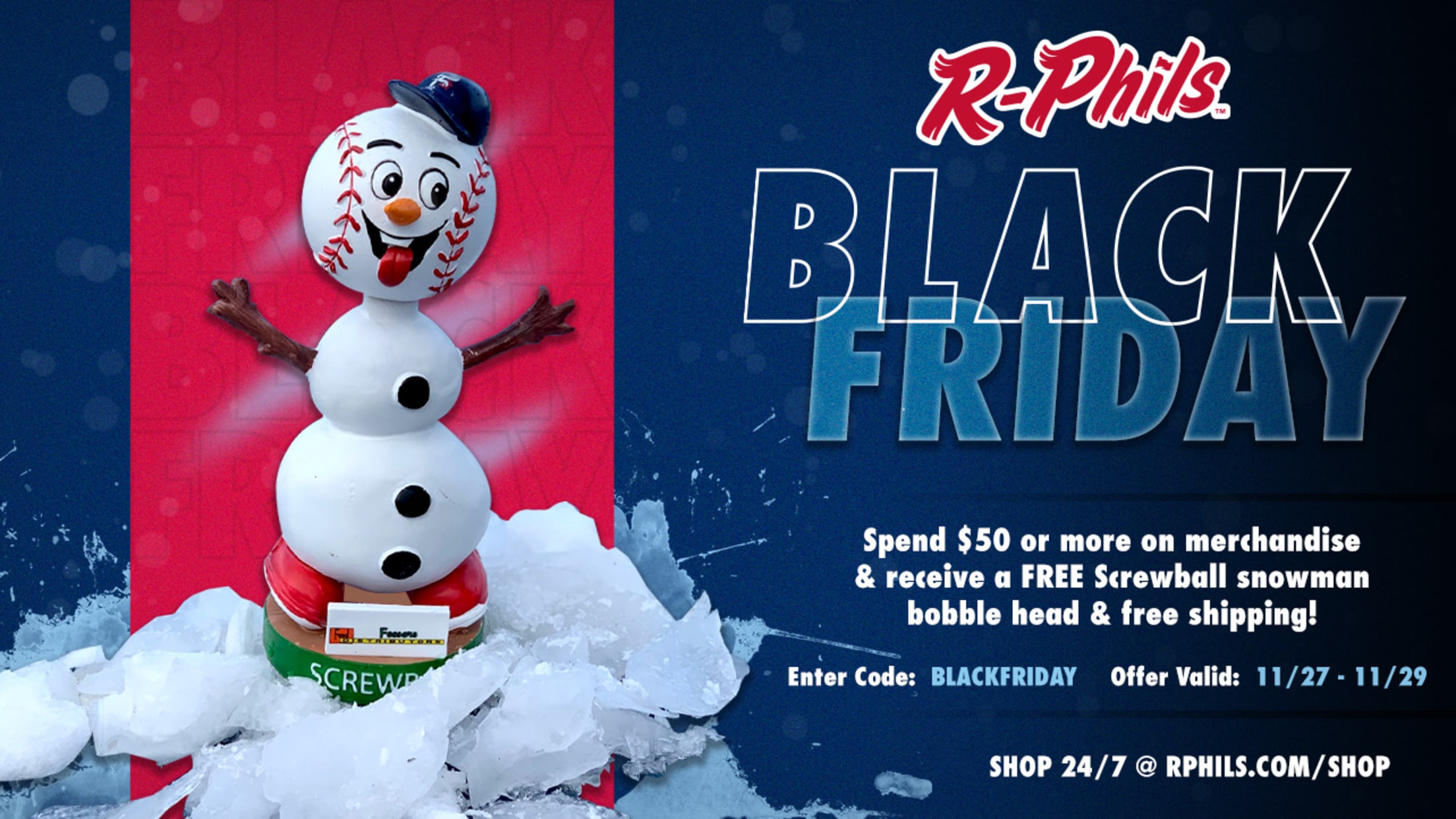 The Reading Fightin Phils are getting in the holiday spirit over at First Energy Stadium! In both the ticket office and the team store, sales will be running throughout the weekend. Celebrate Black Friday, Small Business Saturday, and Cyber Monday with us. Visit rphils.com/shop to capitalize on all these amazing
The Reading Fightin Phils are getting in the holiday spirit over at First Energy Stadium! In both the ticket office and the team store, sales will be running throughout the weekend. Celebrate Black Friday, Small Business Saturday, and Cyber Monday with us. Visit rphils.com/shop to capitalize on all these amazing deals!
There are many special promotions throughout the team store. Check out our special Christmas gear and holiday items. And, don't miss out on our discounted bundles of sweatshirts and hats designed for any type of person in your life, both for adults and youths.
The big deal of the season is your chance to snag one of our exclusive Screwball Snowman bobbleheads! With any purchase of $50 or more, we will throw in the bobble and FREE shipping! Add to your R-Phils collection and stock up on team gear for you or your family.
The Fightins are pleased to showcase all of our themed gear. For something different, look for the Reading Hot Dog, Luchadores, or Back in Black Train collection. The store is offering free personalization on all replica jerseys and unique '47 and Under Armor brand merchandise! The R-Phils mystery box round two is also available for purchase.
The ticket office also has your Christmas gift needs in mind. With two great packages for the 2021 season, everyone will be sure to love what's in store. The General Admission 10 Pack is filled with ten discounted undated general admission tickets that are good for any 2021 regular season home game. It also includes a voucher for two FREE admissions to Opening Night. There is also a special offer of Box Seat Flex Bank tickets. They are discounted vouchers to exchange for Box Seat Tickets to any 2021 regular season home game. (Minimum purchase requirement lowered from 20 to 10). There is also the opportunity to purchase a Flex Bank of 25 or more and receive a voucher to redeem for a Carlos Ruiz Bobblehead. And, don't miss out on the chance to win an autographed baseball just by submitting a reservation form for your group outing.
Let the R-Phils help you with your holiday shopping. Visit the team store or head online to rphils.com/shop.