Solid Pitching, Consistent Hitting Help Braves Beat Drive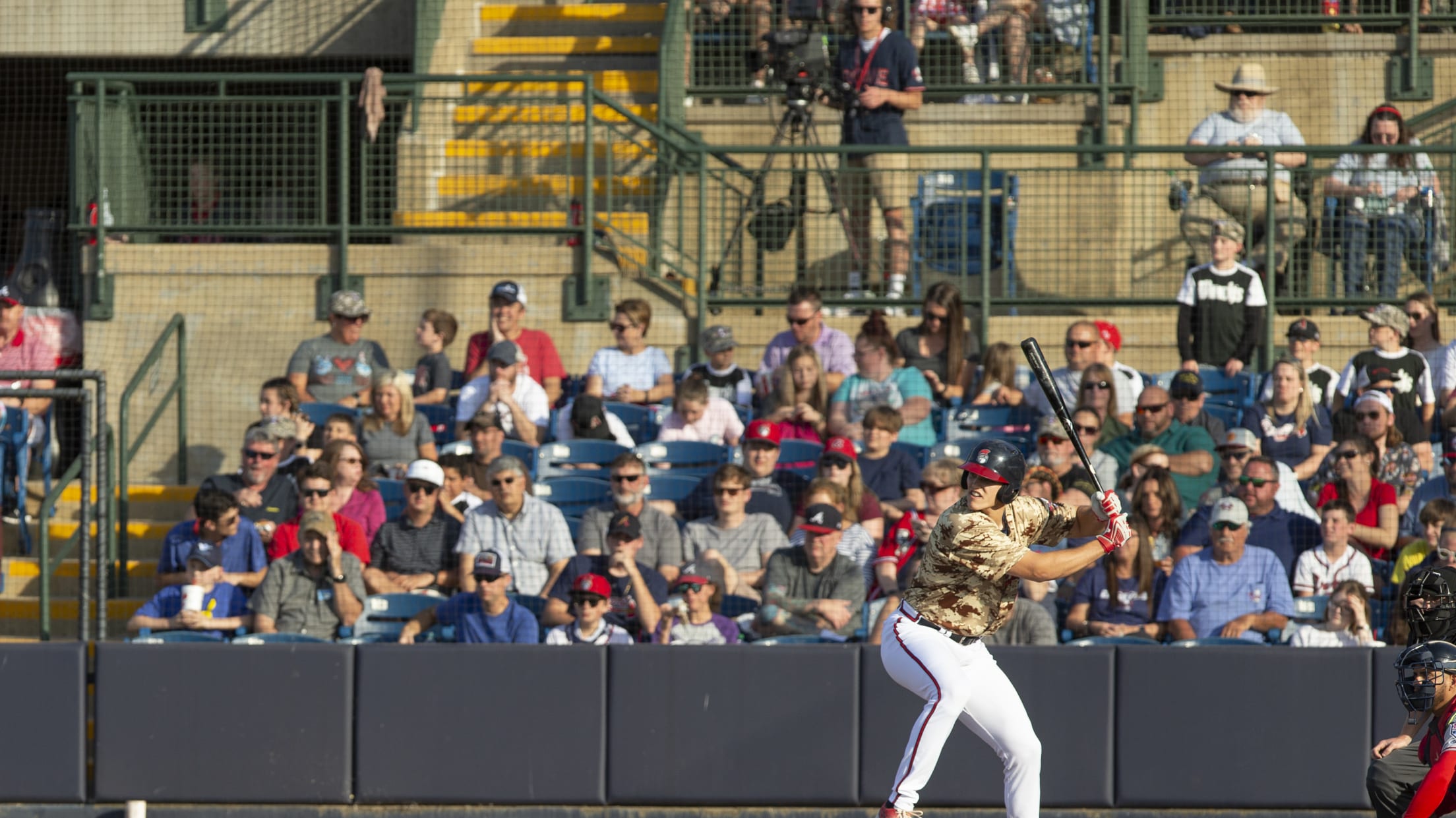 Bryce Ball stares down a pitch in Rome's 6-2 victory against Greenville on May 29, 2021. (Photo courtesy of Mills Fitzner)
A four-run third inning propelled the Rome Braves (13-10) to a 6-2 victory over the Greenville Drive (10-13) on Saturday night. After struggling to find their rhythm for much of this week-long series against Greenville, Rome finally found offensive consistency and generated twelve hits in the four-run win. The scoring
A four-run third inning propelled the Rome Braves (13-10) to a 6-2 victory over the Greenville Drive (10-13) on Saturday night. After struggling to find their rhythm for much of this week-long series against Greenville, Rome finally found offensive consistency and generated twelve hits in the four-run win.
The scoring opened in the bottom of the third when a Garrison Schwartz groundout scored Beau Philip from third base. An RBI single from Michael Harris II and RBI doubles from Cody Milligan and Bryce Ball added three more runs in the inning to give the Braves a 4-0 advantage. Rome added another run in the fifth when Michael Harris reached on a single. Two errors occurred on that same play, allowing Kevin Josephina to work his way around the bases and touch home plate. Although the Drive scored two runs off reliever Coleman Huntley III in the top of the eighth, the R-Braves tallied an insurance run in the following half-inning. Bryce Ball came across on a groundout, increasing the lead to 6-2 which would serve as the final score.
First baseman Bryce Ball recorded his first multi-hit game of 2021 in the victory. Ball finished 2-for-4 with two doubles, one run batted in, and one run scored. The Dallas Baptist product is now hitting .213. Though he has struggled with producing quality at-bats early in the season, a performance like this provides hope that Ball might be figuring out High-A pitching.
Marrick Crouse earned the win and is now 2-0 on the season. The 24-year-old right-hander from Dana Point, Calif., has accumulated a 10.50 ERA in six innings this year but saw his best outing come on Saturday night. Crouse allowed just one walk and one hit in two innings pitched and struck out one Greenville batter.
With their win and an Asheville loss, Rome now finds themselves tied with Bowling Green (13-10) for first place in the High-A East. The Braves will go for the series victory in tomorrow's finale at State Mutual Stadium. The game in Rome will begin at 2 p.m. The daily promotion for Sunday's clash is Family Fun Day, as the ticket package includes four tickets, four hats, four hamburgers, four sodas, and four popcorns ($100 value) for only $50.