Efficient Pitching from McSteen Downs Dash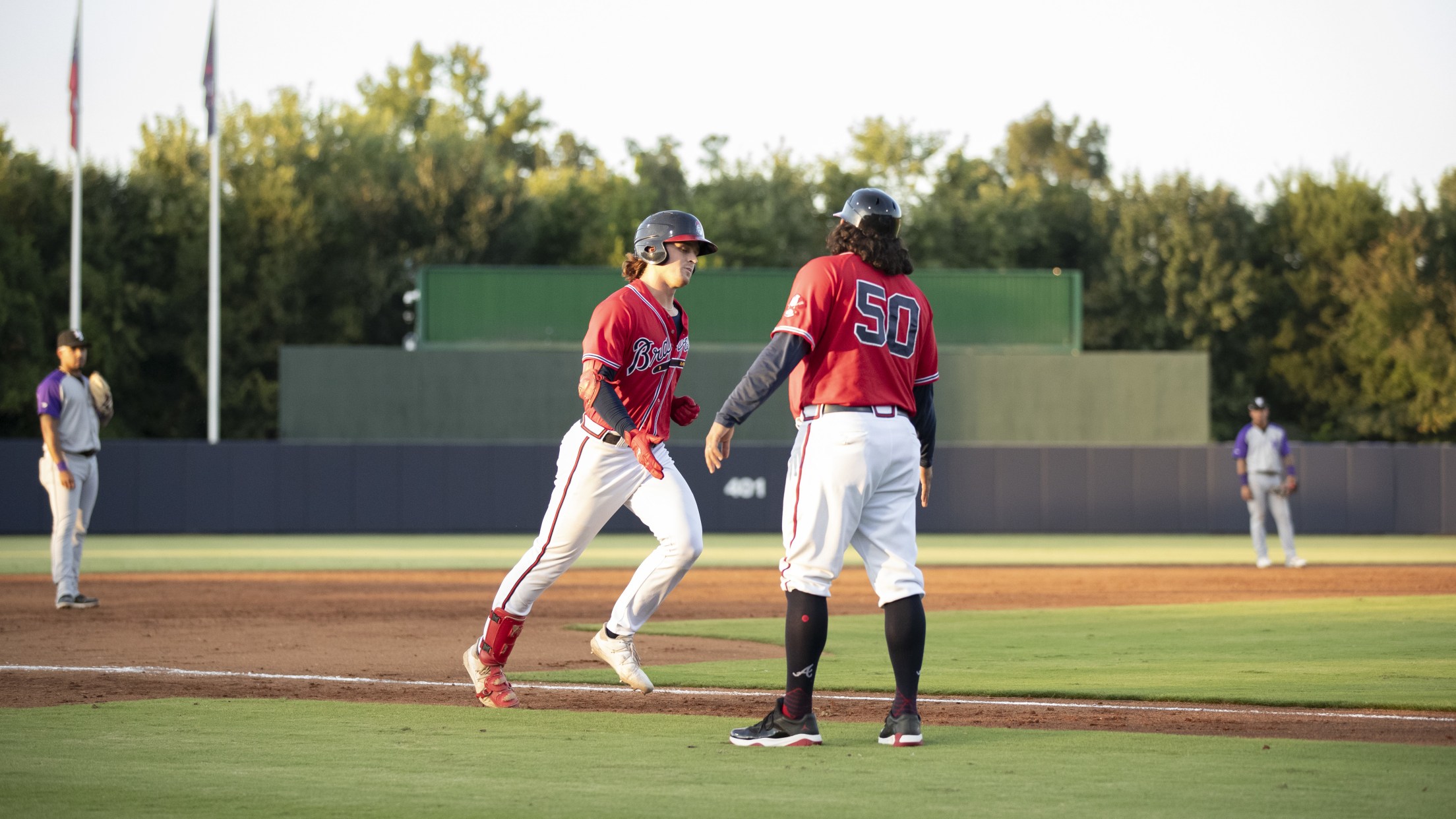 Jesse Franklin V gets a celebratory low-five after smacking his 23rd homer of the season in Rome 7-3 win over the Dash on September 4, 2021. (Jeremy Davis)
The Rome Braves (50-56) defeated the High-A affiliate of the Chicago White Sox, the Winston-Salem Dash (39-67), 7-3 on Saturday at State Mutual Stadium behind a solid start from starting pitcher Jake McSteen and another strong night at the plate. Rome scored the first run in the bottom of the
The Rome Braves (50-56) defeated the High-A affiliate of the Chicago White Sox, the Winston-Salem Dash (39-67), 7-3 on Saturday at State Mutual Stadium behind a solid start from starting pitcher Jake McSteen and another strong night at the plate.
Rome scored the first run in the bottom of the first after Drew Campbell doubled to left to score Cody Milligan.
The Braves later plated three more runs in the home half of the third. Campbell singled and then advanced to second on the throw to score Riley Delgado. Vaughn Grissom then singled to drive in Campbell and Milligan. This made the score 4-0 Braves.
Rome plated two additional runs in the next two innings. In the fourth, Milligan reached base on a fielder's choice and this scored Rusber Estrada. Jesse Franklin V then hit his 23rd home run of the season in the home half of the fifth.
Delgado scored the final run of the game for the Braves in the bottom of the eighth after he singled to score Beau Philip.
The Dash plated all three of their runs in the top of the ninth. After giving up four straight hits that scored the three runs, Emmanuel Ramirez struck out three in a row to end the game.
Franklin V went 2-for-4 and had a home run, and Delgado went 3-for-4 with a run scored and an RBI.
McSteen got the start for Rome and tossed seven innings, gave up four hits, no runs and struck out six.
Up Next
After tonight's game, the Braves are 23 games behind Bowling Green in the High-A East standings and now have a 4-1 lead in the series against the Dash.
Rome will face Winston-Salem in game six of the series on Sunday afternoon at State Mutual Stadium. First pitch is set for 2 p.m. and gates will open at 1 p.m. Sunday's daily promotion is Family Fun Day. Those who purchase the Family Fun Day Pack receive four tickets, four hats, four hamburgers, four sodas, and four popcorns for only $50 when purchased in advance. Day-of purchases for the Family Fun Day Pack are available for $70. For more information or to purchase tickets, please visit RomeBraves.com/Promotions or call the Rome Braves Box Office at 706-378-5144.