River Cats and Giants Offseason Update (12/5-12/19) — Part 2 
6 former River Cats sign with new teams, 2022 award-winner selected in MiLB Rule 5 Draft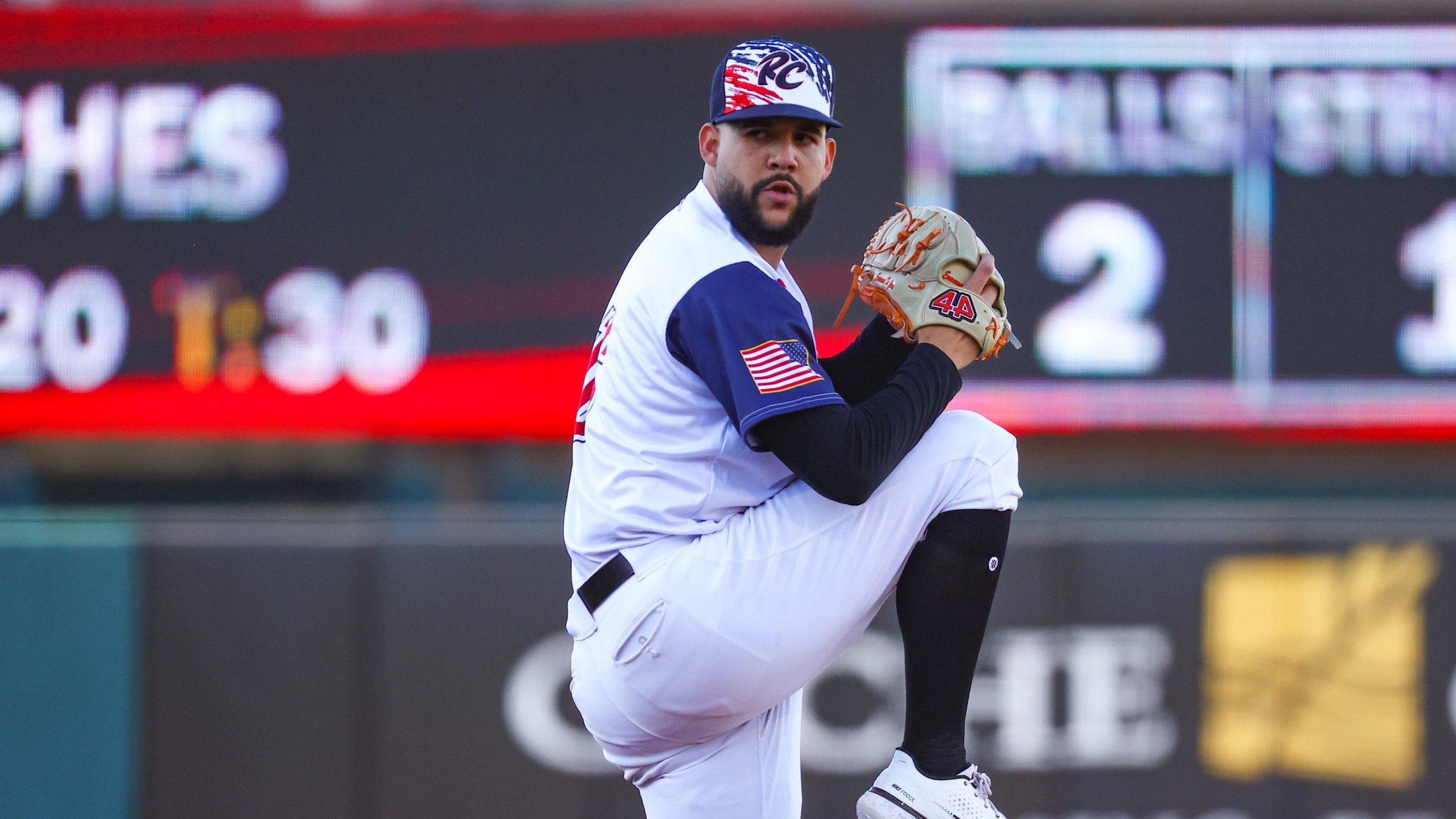 Sacramento lefty Enmanuel De Jesus winds up for a pitch in the River Cats' specialty Fourth of July jerseys. (7/3/22). (Ralph Thompson Photo)
Monday recapped all the additions to the San Francisco Giants organization. Here's a look at where some former River Cats have signed over the past few weeks. Lefty Enmanuel De Jesus, the co-winner of the River Cats' Pitcher of the Year award in 2022, signed a Minor League deal with
Monday recapped all the additions to the San Francisco Giants organization. Here's a look at where some former River Cats have signed over the past few weeks.
Lefty Enmanuel De Jesus, the co-winner of the River Cats' Pitcher of the Year award in 2022, signed a Minor League deal with Miami on Dec. 10.
In his first season in the Giants organization, the 26-year-old was 4-5 with a 4.51 ERA, 118 strikeouts, and a 1.56 WHIP over 101.2 innings for the River Cats.
Another 2022 hurler, righty Norwith Gudino signed an MiLB contract with the Boston Red Sox on Dec. 5.
The 27-year-old, who originally signed with San Francisco in 2014, pitched for Sacramento in 2021 and 2022, going 7-6 with a 7.51 ERA, 107 strikeouts, a 1.50 WHIP, and a .248 opposing batting average in 82.2 innings.
Gudino was the starting pitcher in the River Cats' first nine-inning no-hitter, throwing 4.0 perfect innings vs the Bees on Sept. 3, 2021.
A third 2022 River Cats pitcher, righty Wei-Chieh Huang, left the Giants organization for the Pirates under the MiLB portion of the Rule 5 Draft on Dec. 7. Huang, the River Cats' Most Improved Player award winner of 2022, was 3-2 with a 4.40 ERA, 89 strikeouts, and a 1.37 WHIP in 71.2 innings last season.
Two of the River Cats' catchers from 2022 signed new contracts, with Jhonny Pereda joining the Reds with an MiLB deal on Dec. 6, and Patrick Mazeika going to the Dodgers on Dec. 13.
Mazeika, 29, hit .235 with nine runs, two doubles, two homers, and six RBIs in 13 games for the River Cats.
The 26-year-old Pereda, the River Cats' Best Teammate award winner last season, hit .272 with 23 runs, 10 doubles, four homers, 25 RBIs, and a .750 OPS in 65 games.
Sacramento's leader in saves in 2021, righty Silvino Bracho, also joined the Reds, signing on Dec. 7. The 30-year-old was 1-3 with a 4.14 ERA, 65 strikeouts, and eight saves in 50.0 innings with the River Cats in 2021.
Last season with Worcester (Boston) and Gwinnett (Atlanta), Bracho was 2-4 with a 2.67 ERA, 70 strikeouts, and a 1.05 WHIP in 57.1 innings.
Lasty, veteran lefty Tommy Milone rejoined the Mariners on an MiLB deal on Dec. 10. The 35-year-old pitched parts of 2013 and 2014 with the River Cats. He was 3-1 with a 2.68 ERA, 38 strikeouts, and a 1.02 WHIP in 40.1 innings for Tacoma last season.