Sacramento River Cats All-Time Lineup (A's Edition)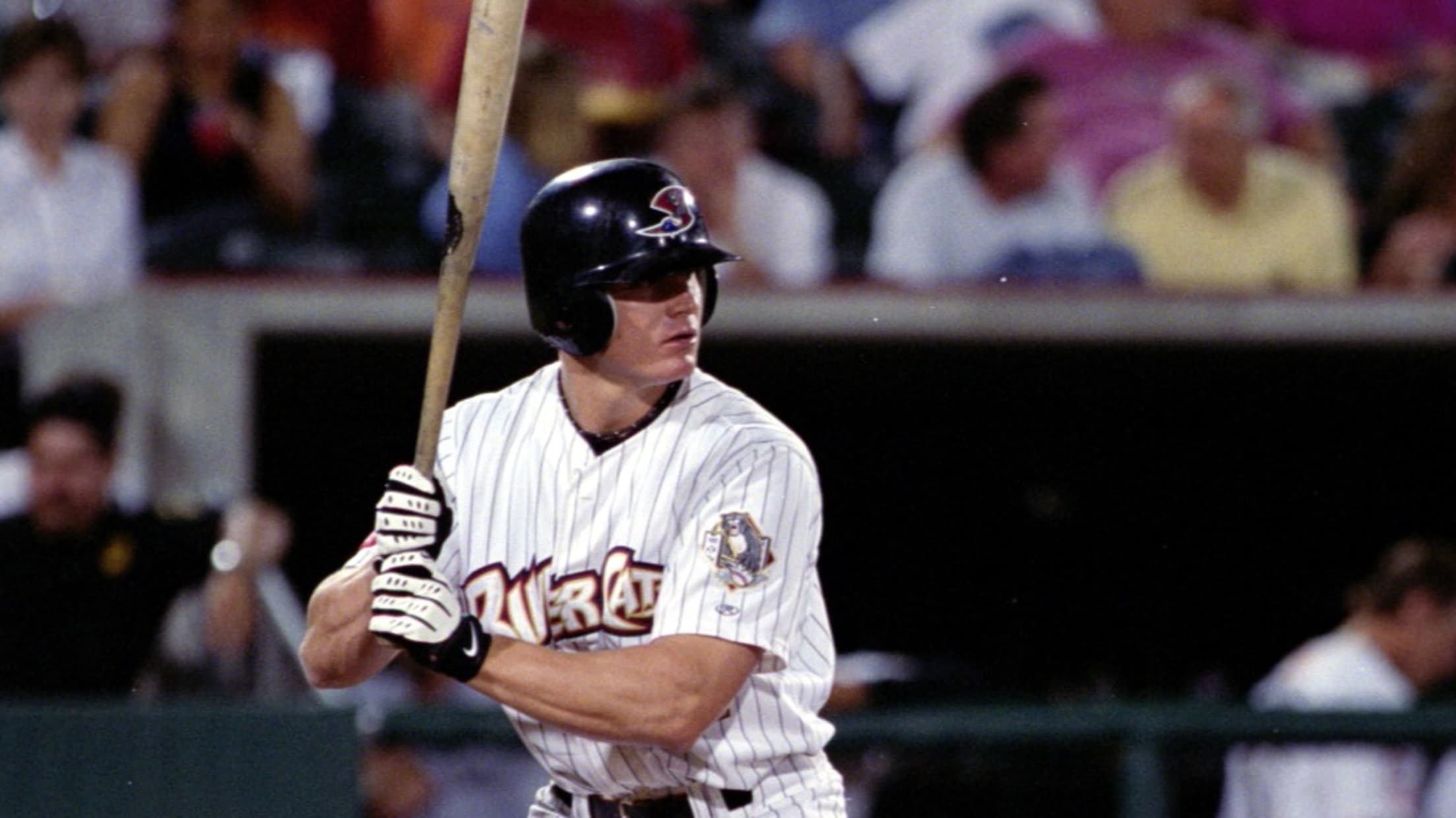 If you had to win one game and the only players you could choose from were former River Cats from the Oakland A's era, who would you pick to be in your lineup? These are our selections.First Base: Chris CarterThe River Cats' all-time leader in home runs was born in
If you had to win one game and the only players you could choose from were former River Cats from the Oakland A's era, who would you pick to be in your lineup? These are our selections.
First Base: Chris Carter
The River Cats' all-time leader in home runs was born in the Bay Area but moved to Las Vegas before high school. After clearing the fence 63 times in nearly two full seasons in High-A Stockton and Double-A Midland, Carter debuted in Sacramento in August of 2009 and would go on to lead the club to three consecutive division titles beginning in 2010. With the Milwaukee Brewers in 2016, Carter lead the National League in games played (160) and home runs (41).
Runner-up: Daric Barton
Why? Though Barton owns some nearly untouchable River Cats all-time records, Carter has the leg up for his major-league play, posting 47 more OPS points thanks to 158 home runs among 270 extra-base hits.
Second Base: Mark Ellis
Drafted by the Royals in 1999, Ellis spent a decade in the A's franchise, including an entire season with the River Cats in 2001. That year, he led the club in doubles and was second in games played and stolen bases. The next year, during his debut major league season, he would finish 8th in American League Rookie-of-the-Year voting. Twelve years later, he had amassed more than 1,400 major-league games and nearly as many hits while playing for four different teams.
Runner-up: Jose Ortiz
Why? Barton is to all-time records as Ortiz is to season records, as it would shock many if someone eclipsed Ortiz's 182 hits and .351 batting average from the River Cats' inaugural season. But Ortiz never found the big-league groove that Ellis did as the former Florida Gator racked up almost 1,500 games in the majors.
Shortstop: Bobby Crosby
The 2004 American League Rookie of the Year was the 25th overall pick by the A's in 2001 out of Long Beach State University. Crosby finished inside the Pacific Coast League top-10 for hits, doubles, and home runs in 2003 before becoming a fixture in Oakland's lineup for the remainder of the decade. He pursued coaching after his playing career ended, and was recently named manager of the Single-A Stockton Ports for the 2020 season.
Runner-up: Eric Sogard
Why? Definitely a close one, as both had similar big-league careers. Crosby gets the nod for winning AL ROY and his standout 2003 season in Sacramento.
Third Base: Josh Donaldson
The 2015 American League MVP got his start as a catcher in the Oakland A's system, debuting for the River Cats in April of 2010. He received his first call-up while the A's were facing the Blue Jays in Toronto, where he would wind up capturing that MVP title five years down the road. An owner of more than 200 major league home runs, Donaldson is 8th all-time in River Cats homers (48) and 10th in RBI (182).
Runner-up: Mark Bellhorn
Why? Nothing against the 2004 World Series champion, but Donaldson is an easy call here.
Catcher: Stephen Vogt
The Central California native was the first player drafted out of Azusa Pacific University in 22 years and to this day is the program's most storied major leaguer. Vogt joined the A's organization from Tampa Bay in 2013 and made an immediate impact on the River Cats as he compiled a .945 OPS in 75 games. He quickly became a staple on the A's squad and would go on to earn back-to-back All-Star selections in 2015 and 2016.
Runner-up: Kurt Suzuki
Why? Though Suzuki has appeared in more than twice as many major-league games, Vogt was an impossible out for the River Cats in 2013, has two All-Star selections to Suzuki's one, and has the upper hand offensively with a 29-point advantage in the OPS department.
Left Field: Eric Byrnes
The Bay Area native crushed 20 home runs in 2001 to finish second on the club and lead the River Cats to their second consecutive division title. Byrnes is sixth all-time in River Cats history with 42 stolen bases, and would go on to enjoy an 11-year major league career playing for five different teams. His big-league tenure was highlighted by a 2007 campaign for the Arizona Diamondbacks in which he finished 11th place in National League MVP voting.
Runner-up: Shane Peterson
Why? "Byrnesy" and his absolute grit on the field complimented his .759 career OPS in nearly 1,000 major-league games. Though not really a tough decision, River Cats fans will certainly never forget Peterson's stellar outfield defense and 347 games (3rd all-time) of consistently above-average offense.
Center Field: Nick Swisher
Swisher's breakout 2004 season in Sacramento earned him his first major league call-up as he joined the Oakland A's in September. Though he wasn't with the River Cats for their successful 2004 PCL Championship run, his 28 doubles and 29 homers that year pushed the club to their fourth division crown in five seasons. Swisher's 12 years in the bigs saw him hit 20 or more homers in nine straight seasons, including an All-Star campaign for the New York Yankees in 2010.
Runner-up: Jai Miller
Why? If this was Best Athlete, Miller would run away with this one. Sorry pun haters. Miller left baseball and walked on at the University of Alabama as a running back in 2013. But Swisher clearly takes this one, though some of you might not remember him as a centerfielder.
Right Field: Michael Taylor
One of the most prolific offensive powers in River Cats history, Taylor was a graduate of Stanford before being selected by the Philadelphia Phillies in the 2007 draft. He reached as high as 29 on Baseball America's Top-100 prospect list and in 2009 was part of the blockbuster deal that sent Roy Halliday to the Phillies from Toronto. Taylor is the Sacramento's all-time leader in RBI, and is second in games, runs, hits, doubles, and steals.
Runner-up: Matt Watson
Why? Both Taylor and Watson had similarly disappointing major-league stints, but Taylor's consistent offensive prowess in a River Cats uniform gives him the go-ahead here.
Designated Hitter: Graham Koonce
Though Koonce's big-league time lasted just eight plate appearances, he enjoyed 12 seasons in the minor leagues playing in more than 1,300 games and clubbing 198 home runs with an .840 OPS. He was an integral part of the River Cats' 2003 and 2004 PCL Championship squads. He was especially clutch in the latter of their two titles when Koonce launched three homers and drove in nine runs as the River Cats won six consecutive postseason games following a loss to Portland in the playoff opener.
Runner-up: Dan Johnson
Why? The nearly undrafted Koonce who got his start in Independent ball sparked the River Cats in back-to-back PCL championships. Johnson was remarkably more successful at the big-league level, but the underdog story and that legendary 2003 season (34 HR, 113 RBI) win out.
Starting Pitcher: Barry Zito
A Cy Young Award winner, three-time All-Star, and 2012 World Series champion, Zito spent just one season in a Sacramento uniform before going on to become one of the best left-handed starting pitchers of the decade. He held the opposition to just 64 hits in 92.2 innings during his debut season, finishing sixth in American League Rookie-of-the-Year voting. Zito was a workhorse for the A's during seven seasons in Oakland, surpassing the 200-inning mark six of seven times. He signed a historic free agent contract with the San Francisco Giants before the 2007 season, and was a key member of the 2012 Championship team
Runner-up: Dallas Braden
Why? Probably the easiest pick on this list, but that's no fault of Braden's. We'll never forget his 17-strikeout performance in 2007 and his perfect Mother's Day masterpiece three years later.
Closer: Huston Street
The Athletics' first-round selection out of the University of Texas in 2004, Street vaulted through the farm system registering just 26 innings in the minors before breaking camp in the show to start the 2005 season. He would save 23 games for the A's that year while posting a 1.72 ERA and a .194 opposing batting average, which all culminated in winning American League Rookie of the Year while beating out rival New York's Robinson Cano. Street would go on to rack up 324 major-league saves (19th all-time) spread over 13 seasons, including 41 split between the Padres and Angels in 2014 - one of two All-Star campaigns.
Runner-up: Brad Ziegler
Why? Street narrowly takes this one with his AL ROY accolade and top-20 all-time saves status, though aside from that, Ziegler was nearly just as effective as a late-inning reliever as both righties posted sub-3.00 ERAs spanned over 700-ish major-league innings.