Schmitt lines 1st HR, Brinson robs grand slam, Marciano makes history as River Cats win final night game of 2022 
River Cats 6, Aviators 3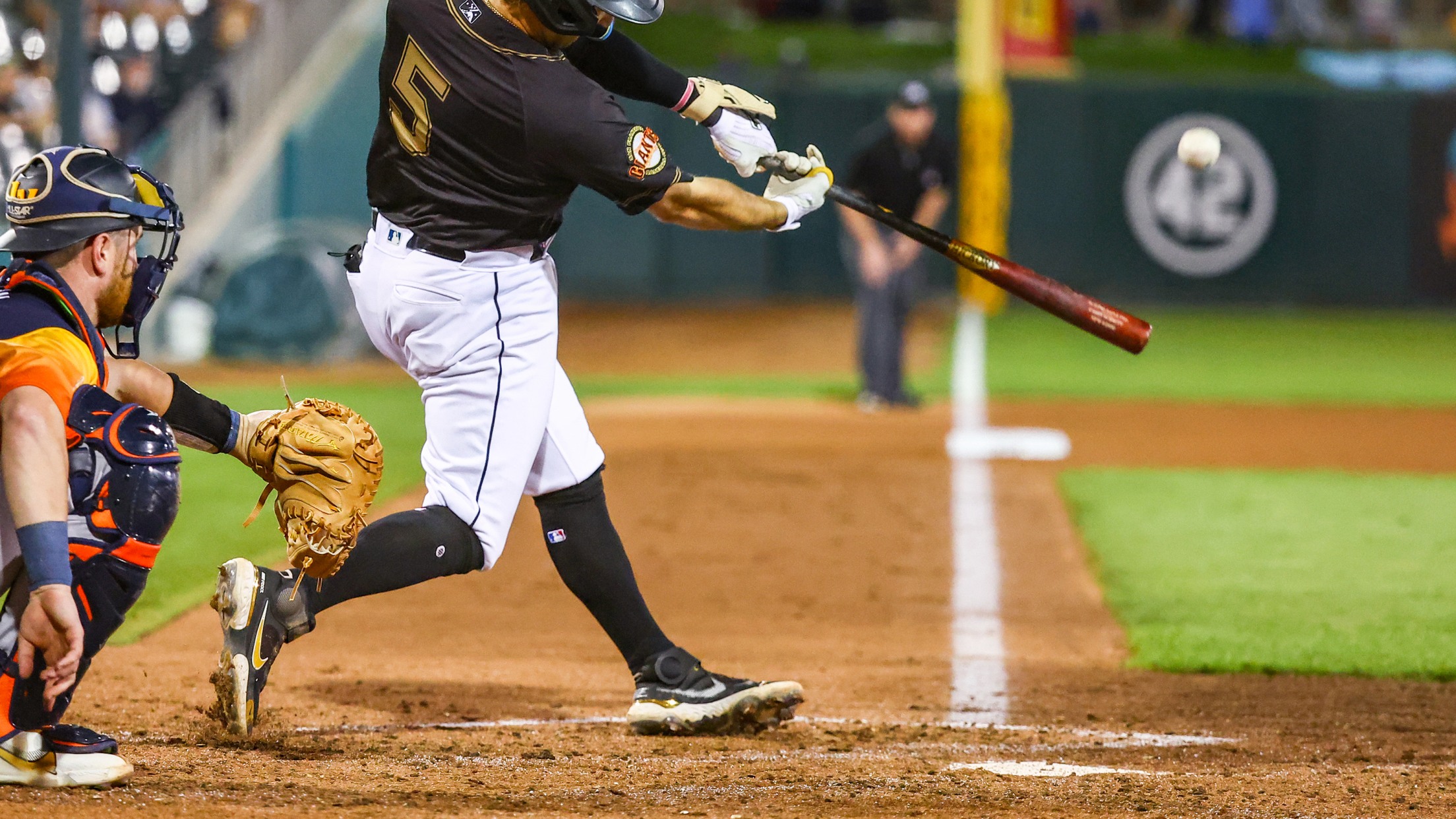 Sacramento third baseman Casey Schmitt, the Giants' No. 6 prospect on MLB Pipeline, clubs his first Triple-A home run (9/27/22). (Ralph Thompson Photo)
West Sacramento, Calif. — A memorable homer by third baseman Casey Schmitt, and a game-altering catch by center fielder Lewis Brinson lifted the Sacramento River Cats (64-83) to an exciting 6-3 victory over the Las Vegas Aviators (71-78) on Tuesday. Right fielder Bryce Johnson broke the scoreless tie in the
West Sacramento, Calif. — A memorable homer by third baseman Casey Schmitt, and a game-altering catch by center fielder Lewis Brinson lifted the Sacramento River Cats (64-83) to an exciting 6-3 victory over the Las Vegas Aviators (71-78) on Tuesday.
Right fielder Bryce Johnson broke the scoreless tie in the third with a two-run single to left field. He promptly stole his 31st bag of the season, and 61st as a River Cat, to surpass outfielder Michael Taylor (2010-2014) for second most in franchise history.
The Aviators quickly threatened against righty Ronnie Williams, loading the bases with no outs. After a strikeout, Las Vegas left fielder Cody Thomas lined a would-be grand slam, but Brinson beautifully scaled the wall and brought it back to save three runs and hold the score at 2-1.
The River Cats responded in the bottom of the fourth when Schmitt hit his first Triple-A homer, a two-run shot off righty Brian Howard (372 feet, 93.6 MPH exit velocity).
A clutch two-run double by left fielder Heliot Ramos made it 6-2 in the fifth. The 23-year-old has nine RBIs in his last four games.
Left-hander Joey Marciano broke the River Cats' franchise record for most games pitched in a season (56), set by lefty Ron Flores (2004) and righty Tyler Rogers (2017), striking out two in the ninth to earn his ninth save of the year.
Sacramento righty Wei-Chieh Huang (2-2, 4.73) will try to close out the season with a series win on Wednesday. He'll take on Las Vegas righty Jeff Criswell (0-0, 3.86) at 12:05 p.m. (PT). Listen to Johnny Doskow call the game online at rivercats.com or on the MiLB First Pitch app.
Additional Notes
Cal Baseball fans received a treat as Sacramento righty Trevor Hildenberger pitched to fellow UC Berkeley alum, catcher Andrew Knapp.
Williams had a solid finale to his 2022, striking out five while allowing one run on five hits and two walks over 4.0 innings.