Stratton brilliant for River Cats in win
Strikes out season-high nine as Sacramento takes series finale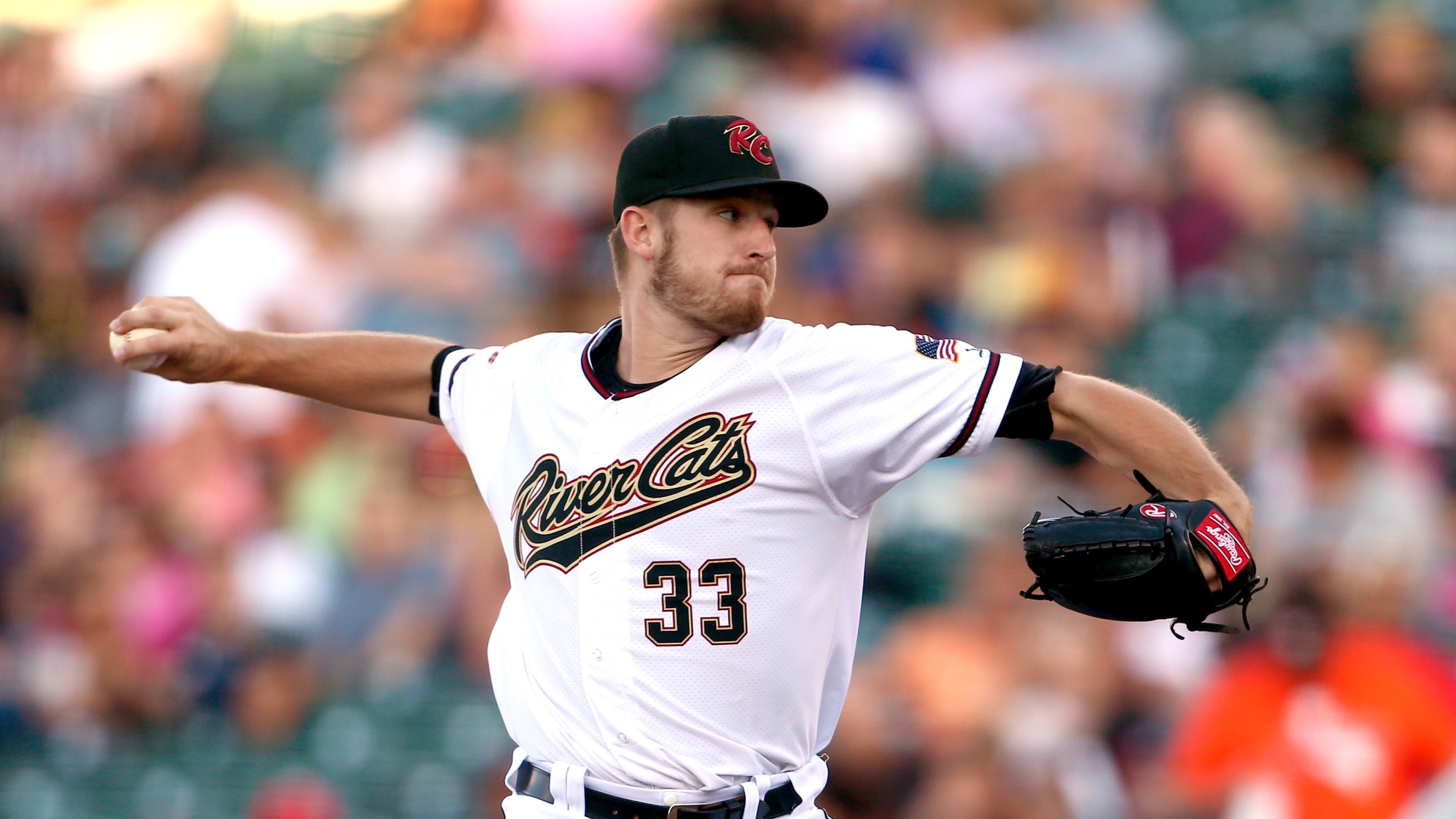 (Ralph Thompson Anysportphoto.com)
Chris Stratton was brilliant Tuesday night at Raley Field, leading the Sacramento River Cats (28-42) to a 4-1 victory over the Albuquerque Isotopes (35-36)
Chris Stratton was brilliant Tuesday night at Raley Field, leading the Sacramento River Cats (28-42) to a 4-1 victory over the Albuquerque Isotopes (35-36)
Stratton was locked in from the start tonight, allowing just two hits over his first seven innings. After a leadoff single in the third, the right-hander retired the next 18 Isotopes hitters he faced. His lone blemish came in the ninth inning when he allowed a solo home run to break up the shutout and was relieved for Steven Okert who earned his fourth save.
The outing was the best by a Sacramento starter this season. He went a team-high eight innings while striking out nine, also a team-high. Stratton did not walk a batter and threw 103 pitches (76 strikes) tonight. He has now won three of his last four starts.
Sacramento has an off day tomorrow before hitting the road to take on the Fresno Grizzlies on Thursday. First pitch is set for 7:05 p.m. (PT) and the game can be heard live online at rivercats.com and on the air on ESPN 1320.
Postgame Notes
Quote of the night: "I'm feeling great. When you get that lead you want to press the accelerator. Federowicz did a great job behind the plate. I was just going out there trying to keep putting up zeros."- Chris Stratton on his start tonight.
Sensational Stratton: Chris Stratton is now 2-0 with a 1.20 ERA in two starts (15 IP, 2 ER) against Albuquerque…after tonight's start, Stratton trimmed his home ERA from 7.97 to 6.04 and earned his first win at Raley Field…the three hits tonight tied a season-low for the Isotopes who own the second best team batting average in the PCL (.292).
Whiff: River Cats starters combined to strike out 31 batters in 23 innings this series...Andrew Suarez and Joan Gregorio each struck out eight, Tyler Beede struck out five, and Chris Stratton struck out nine…combined for a 12.1 K/9 in this series.
5-6-7: The back half of the River Cats lineup provided the offense tonight, combining for all five Sacramento hits…also drove in three of the team's four runs…both Tim Federowicz and Jae-Gyun Hwang had mutli-hit nights.
You're Outta Here! …Again: Second baseman Orlando Calixte was ejected in the bottom of the eighth inning for arguing balls and strikes…Tim Federowicz and manager Dave Brundage were both ejected in the eighth inning of last night's game for the same reason…was Calixte's first ejection this season and the team's eighth.
***
The Sacramento River Cats are the Triple-A affiliate of the three-time World Champion San Francisco Giants. The team plays at Raley Field in West Sacramento, consistently voted one of the top ballparks in America. River Cats Season Tickets, Mini-Plans, and Flex Plans can be purchased for the 2017 season by calling the River Cats Ticket Hotline at (916) 371-HITS (4487). For more information about the River Cats, visit www.rivercats.com. For information on other events at Raley Field, visit www.raleyfield.com.