Honoring a Legend: Bombard's number retired
Former Red Barons skipper honored on May 31 at PNC Field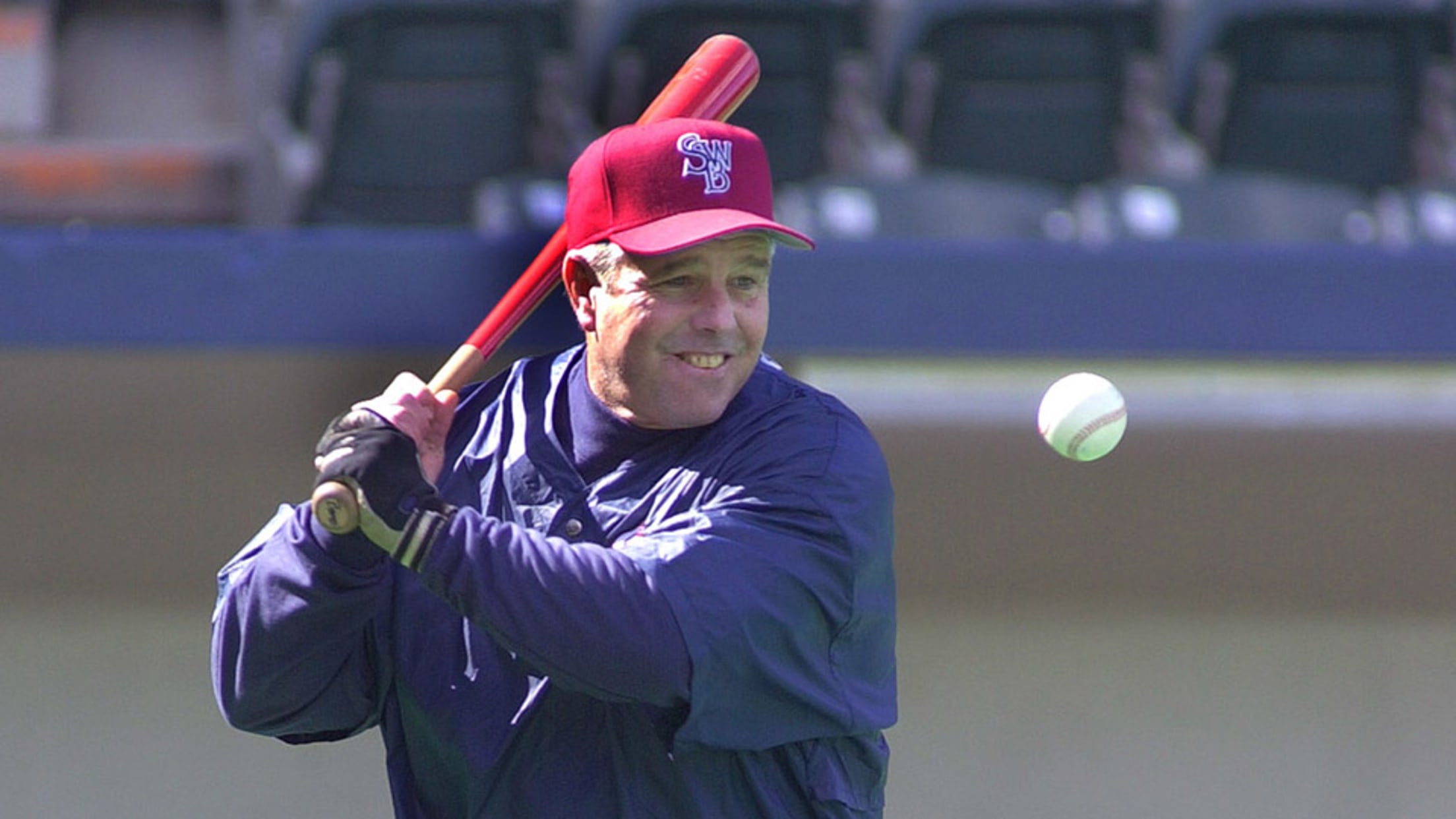 Marc Bombard was the Scranton/Wilkes-Barre Red Barons manager for eight seasons.During that time, from 1997-2004, Bombard won a then-franchise-record 474 victories, led the Red Barons to four straight postseason appearances from 1999-2002, a 91 win season, an International League Manager of the Year honor and Sports Weekly Minor League Manager
Marc Bombard was the Scranton/Wilkes-Barre Red Barons manager for eight seasons.

During that time, from 1997-2004, Bombard won a then-franchise-record 474 victories, led the Red Barons to four straight postseason appearances from 1999-2002, a 91 win season, an International League Manager of the Year honor and Sports Weekly Minor League Manager of the Year honor. For his efforts with the Red Barons and managing both the Buffalo Bisons (1992) and Charlotte Knights (2007-08), Bombard was inducted to the International League Hall of Fame in January 2015.
But as special as that induction was - Bombard called it "a great honor" back in 2015 - what's in store for the former Red Barons skipper on May 31 doesn't compare.

As part of Red Barons Reunion Weekend, Bombard will see his No. 13 jersey retired and his number plastered as a banner on the left-center field wall at PNC Field.

"It's a great honor to be in some hall of fames, but it might be a different level when you're getting your number retired. That's the way I look at it," Bombard said. "You don't disregard the Hall of Fame honors. They're great. But this is special.

"I couldn't believe it happened and not only be a part of it. It doesn't happen every day, so I'm very honored. Very much appreciative of it."

Bombard is right.

Seeing your number retired doesn't happen every day. Especially at PNC Field.

When May 31 rolls around, Bombard's No. 13 will be just the fourth number to be retired by the organization, with one of them being Jackie Robinson's No. 42. The other two are former Red Barons infielder Greg Legg's No. 14 and former Scranton/Wilkes-Barre Yankees and RailRiders manager Dave Miley's No. 11.

For Bombard, he'll be joining rarified air.

"Next to those people, I mean, my gosh. What more could you ask for?" Bombard said. "It's quite an honor."

During his eight seasons as the Red Barons skipper, Bombard collected hundreds of memories.

While most of his teams were successful, it isn't necessarily the wins and playoff appearances that stand out. It was the relationships Bombard made with his players.

Seeing his players make the bigs, that especially is something Bombard will never forget.

"There were some good years for the most part, those eight years." Bombard said. "Reaching the playoffs and mainly seeing a lot of those guys going to the big leagues. It's not you. They get themselves to the big leagues. But still, you feel a little bit inside of you that makes you feel happy. Whether you're managing or a coach, when those guys get an opportunity to go up and play in the big leagues, that's a good feeling for you."

Bombard managed three future big-league managers during his time with the Red Barons: AJ Hinch, Torey Lovullo and Eric Wedge.

Hinch, the current manager of the Houston Astros, played for Bombard in 2004 and 2005, while Lovullo, the current manager of the Arizona Diamondbacks, played for the Red Barons in 1999. Wedge, who was a big-league manager for 10 years, was a member of the Red Barons for one season in 1997.

"You look back and those guys are playing and all of the sudden they're in the front office or managing," Bombard said. "I think AJ was named Manager of the Year. Torey's got a lot of recognition too. You always look back on that and say, 'Boy, that was great.' Having those kinds of guys in your club makes it a lot easier. That's for darn sure."

Then there were the stars that Bombard managed. Chase Utley, Ryan Howard and Pat Burrell, just to name a few.

For each one of the future big-name Philadelphia Phillies Bombard managed while with the Red Barons, there's a different story that sticks out with each.

The one thing Bombard will always remember about Utley, who was a Red Baron for three seasons in 2002-04, was his old-school approach to the game.

"Well, I mean, they don't come down the interstate too often like Ut," Bombard said. "He practiced the way he played. He gave me 100 percent. He was kind of an old-school type player. A Scott Rolen type. He always stayed humble, never forgot where he came from. It's unfortunate he was hurt. I think he would have had a shot at the Hall of Fame if he played without injury.

"If you had 25 guys like Utley, you wouldn't have to manage. I wouldn't have a job. That's how special a player he was. You knew what you were going to get every day. No questions asked.

From the first moment Bombard saw Howard, he knew the towering first baseman was going to be special.

Even though their time together was limited, with Howard playing just 90 games with Scranton/Wilkes-Barre between 2004 and 2005, Bombard knew big things were to come when he got to the majors.

"You watch him take batting practice at the complex - the first time I saw him, I said, 'Holy cow,'" Bombard said. "The guy was hitting them out of the park to left field, left-center. (Longtime Phillies skipper) Charlie Manuel made a statement, he thought he was the greatest opposite-field hitter in Major League history: Ryan Howard. It was unbelievable. Then he started shooting them in the big leagues. When he was in Triple-A, he had a lot of line drive hits, but then I guess he changed a little bit."

While Pat Burrell's name might not be in the same ilk as Howard or Utley, the outfielder still won a World Series with the Phillies and made some memories in the Red Barons outfield during the 1999 and 2000 seasons.

But the one thing that stands out in Bombard's time with the outfielder was Burrell's hatred of losing.

"Pat just, just his presence in the box. A tremendous threat, tremendous power," Bombard said. "He's another guy, you put him in the lineup, and you know what you're getting. He wasn't 100 percent a lot of times health-wise, but he gave you what he had. You didn't have to worry about it.

"Just like Utley, they hated to lose. They hated to lose. It's nice when you get a combination like that - you have some ability and you have a pretty good head on your shoulders."

While Bombard got his fair share of opportunities to manage special players, he was able to manage one special team in particular, too.

Bombard's most successful season with the Red Barons came in 2002, when he won a franchise record 91 wins. While his deepest playoff run came in 2000, when the Red Barons finished 85-46 and went to the Governors' Cup Finals, it was the 2002 season that stands alone.

That 91 win season is still a record and has only been tied once by the 2016 national championship Scranton/Wilkes-Barre RailRiders squad.

"You have a lot of luck in Triple-A," Bombard said. "If the big-league club is struggling or they get a lot of injuries, that's a tough thing in Triple-A to keep up. You never know from one day to the next. You might have a nice team and then all of a sudden there's three or four guys gone, and you have to adjust and continue to go.

"I think that year, we continued to stay intact. We had some leadership on the club. Nick Punto, I think he was our shortstop. He was one of the players, I'm trying to recall. Jason Michaels, he was on that club. We had really good chemistry and the big club didn't have to, I think, pull a lot of players from us that year. So, we were kind of fortunate in that sense."

There isn't a better example of what Triple-A ball clubs have to deal with on a daily basis when it comes to its parent club pulling players due to injury than what the RailRiders have had to endure this season. And Bombard has seen it firsthand as a member of the New York Yankees organization.

The former Red Barons skipper is a consultant for the Yankees these days and has been stationed at spring training and extended spring training in Tampa, Fla., the past few months.

Bombard's seen the likes of Didi Gregorius, Giancarlo Stanton, Aaron Hicks and Troy Tulowitzki come and go.

"In retrospect, the Yankees, a credit to them and their system, these guys that have gone up there, they've held their own," Bombard said. "Right now, they're still above water. They've done a great job - Thairo Estrada, and I can go on and on and on. They've filled the gap. Every organization - the Yankees have some good players in their organization just like the Phillies did."

Bombard joined the Yankees organization in 2015 as the manager of the Rookie-Level Gulf Coast League Yankees 2. In three seasons as manager of Yankees 2, Bombard registered an 82-92 record.

After spending the majority of his 29-year minor league managing career in the upper levels, mostly managing Triple-A squads, Bombard got a fresh look at Minor League Baseball in the Gulf Coast League.

Now a consultant for the Yankees, having their Minor League complex just 10 minutes away from his home is a plus.
"In Triple-A, you spend your time with, I don't want to say older guys, but guys with experience at the Triple-A level," Bombard said. "You come down here and you're working with these kids from scratch. You know what you're going to get from them. They're going to give you 110 percent every day and it's fun to work with them and fun to see them improve from day-to-day. It's like a breath of fresh air sometimes. Not that you get stale in Triple-A with the older guys. It's just nice. It's been fun down here."

But as Bombard prepares for his speech on May 31, one he promises to be memorable; the former Red Barons skipper can't help but look back on his fond memories in the Phillies organization.

After managing Scranton/Wilkes-Barre for eight seasons, Bombard became Philadelphia's first base coach for two seasons, starting in 2005.

"They were always good to me and my family, that's the first thing," Bombard said. "Just the rapport with my players, the staff that we had. We had a lot of turnover in those eight years from a staff viewpoint. There were a lot of different pitching coaches, hitting coaches, but we had a lot of quality individuals and if one guy left, another guy stepped right in. We didn't miss a beat."