Final Road Series Preview: Somerset At New Hampshire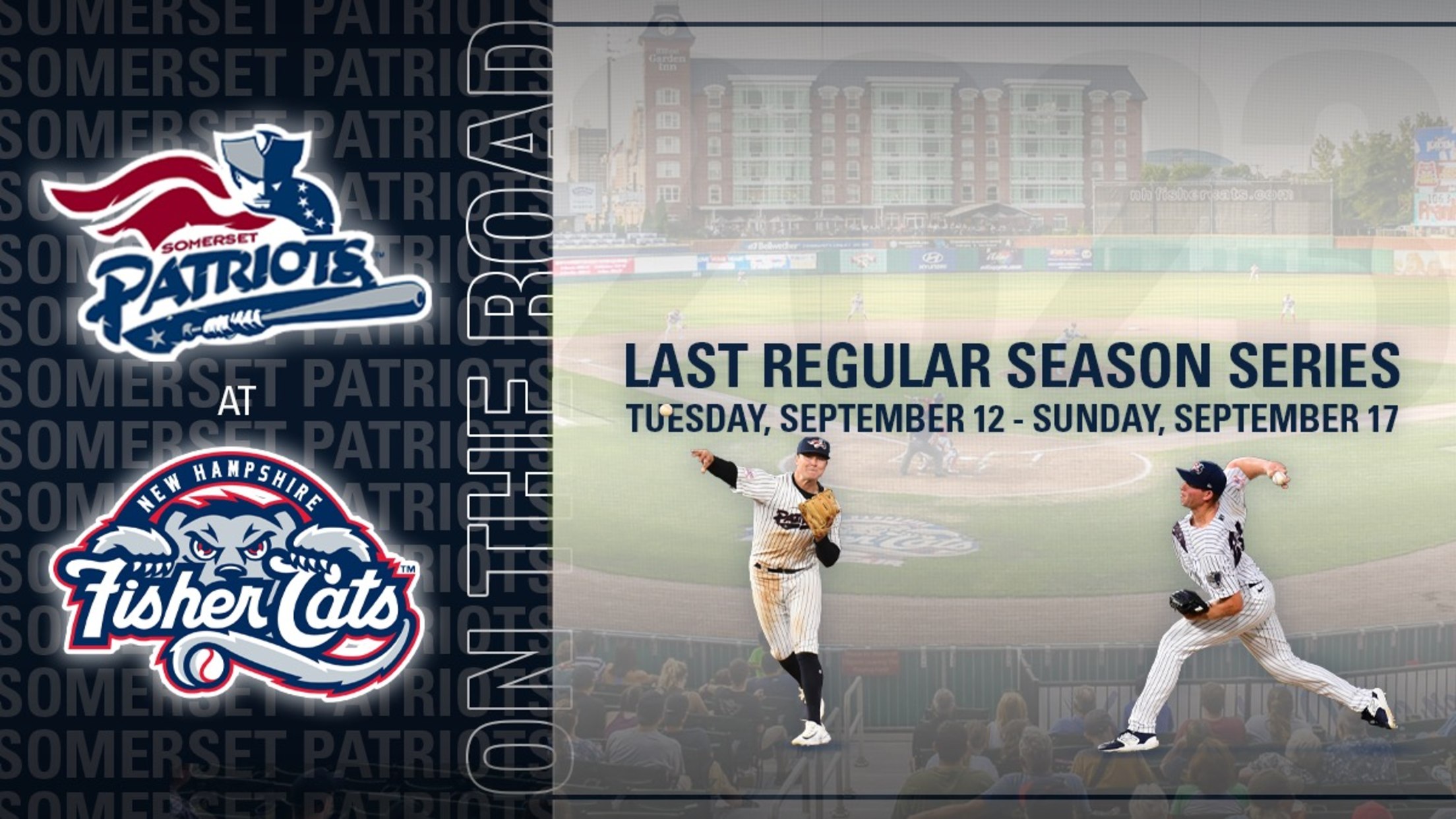 Bridgewater, New Jersey – After a long and grueling 23 weeks, Somerset has finally reached the finish line with their final six regular season games on tap this week in New Hampshire before the Eastern League playoffs begin next week. There is some clarity on that front now, as the
Bridgewater, New Jersey – After a long and grueling 23 weeks, Somerset has finally reached the finish line with their final six regular season games on tap this week in New Hampshire before the Eastern League playoffs begin next week. There is some clarity on that front now, as the Rumble Ponies have now clinched a postseason berth and will meet Somerset beginning September 19 on the road in Binghamton for the opener of the best-of-three Divisional Series.
Playoffs. Mets vs. Yankees. Both teams' No. 1 prospects!

🎟️ | https://t.co/FBNgV7DW6h pic.twitter.com/UCfyGdHtnJ

— Somerset Patriots (@SOMPatriots) September 12, 2023
The Patriots rounded out their final homestand of the season last week by splitting a six-game series with Erie. The club's 42-27 mark at TD Bank Ballpark is tied for the best in the EL with Richmond and finished just one shy of the 43 they posted last season, their best mark since becoming the Yankees Double-A affiliate in 2021.
Before the pomp and circumstance of the playoffs get underway, the Patriots will look to finish out the regular season strong – their 37-26 second half record is still leading the division and their 79-52 overall record is the best in the EL. Somerset has met the Fisher Cats in two previous series this season and they've actually matched up very well with each other, splitting all 12 contests thus far 6-6.
Shortstop Trey Sweeney and infielder TJ Rumfield were both activated from the injured list last week just in time to inject some much-needed offense into the Patriots lineup ahead of the playoffs. Sweeney, the organization's ninth ranked prospect on MLB Pipeline, recorded a hit and a walk in his final two games of the Erie series while Rumfield has hit safely in four straight and has driven in two runs, including a walk-off winner in extra innings last Wednesday.
Top prospect Spencer Jones swiped his 40th base of the season on Saturday night and has a chance to add to that milestone total in his first full pro-season over the final six in New Hampshire this week. Jones met the Somerset media last week for the first time since being promoted on August 27. You can read Jones thoughts and reaction to reaching Double-A and the grind of his first season HERE!
Catcher Ben Rice continues to mash Eastern League pitching, recording multi-hit games in four of the five games against Erie last week (11-for-22) with a home run and 4 RBI. The 24-year-old Dartmouth product has now recorded 19 multi-hit efforts in just 43 games since being promoted to Somerset on July 18. Rice's 15 homers, 45 RBI, .674 slugging percentage, 1.078 OPS, 61 hits, 28 extra-base hits and 120 total bases are the best overall marks in the EL since his arrival.
Right-hander Richard Fitts recorded his team-best 10th win of the season (one shy of the EL lead) on Sunday with five strong frames against Erie. The 23-year-old Auburn-product ranks in the top-three of the EL in wins, games started, innings pitched, ERA, strikeouts, WHIP and batting average against in his first season at the Double-A level.
New Hampshire will play out the string sitting just a half game from the bottom of the Northeast Division at 26-34 in the second half and a 61-67 overall mark on the season. The Blue Jays affiliate is coming off a winning 12 game road trip after pulling out a 7-6 win over Bowie on Sunday. The organization's top-prospect, Ricky Tiedemann, should make his final start of the campaign after a strong showing in the EL despite missing two plus months of action earlier in the year. The 21-year-old southpaw has struck out 72 batters in just 38 frames with a .227 batting average against. The 91st overall selection in the 2021 draft has yet to surrender a run in two September outings.
The Blue Jays drafted outfielder Alan Roden with their third-round draft selection out of Creighton just last summer and he has already reached Double-A after a strong first half. Ranked as Toronto's seventh best prospect on MLB Pipeline, Roden was promoted to New Hampshire back on July 17 and all he has done since then is slash .325/.439/.487 with six homers and drive home 26 runs in 41 games since.
Series Probable Pitching Matchups:
Tue: RHP Matt Sauer (4-4, 3.79 ERA) vs. RHP CJ Van Eyk (0-0, 3.86 ERA)
Wed: RHP Blane Abeyta (8-7, 5.58 ERA) vs. RHP Chad Dallas (7-3, 4.19 ERA)
Thu: RHP Yoendrys Gomez (0-3, 3.69 ERA) vs. RHP Luis Quiñones (4-4, 4.98 ERA)
Fri: RHP Zach Messinger (0-0, 0.00 ERA) vs. LHP Ricky Tiedemann (0-4, 4.50 ERA)
Sat: RHP Richard Fitts (10-5, 3.58 ERA) vs. RHP Michael Dominguez (1-0, 3.82 ERA)
Sun: RHP Matt Sauer (4-4, 3.79 ERA) vs. RHP CJ Van Eyk (0-0, 3.86 ERA)
Matt Kardos | SomersetPatriots.com Beat Writer
Matt Kardos has covered the Yankees minor league system for over a decade and will spend his 11th season on the beat covering the Patriots for SomersetPatriots.com. Throughout his career, Matt has contributed to MLB.com, YES Network and Pinstriped Prospects. When he's not at the ballpark, Matt enjoys traveling with his wife Kimberly, watching Jets football and collecting sports cards.