Gonzalez homers in five-RBI night as Hens top Cubs
Reigning Triple-A East Player of the Week excels in 8-4 victory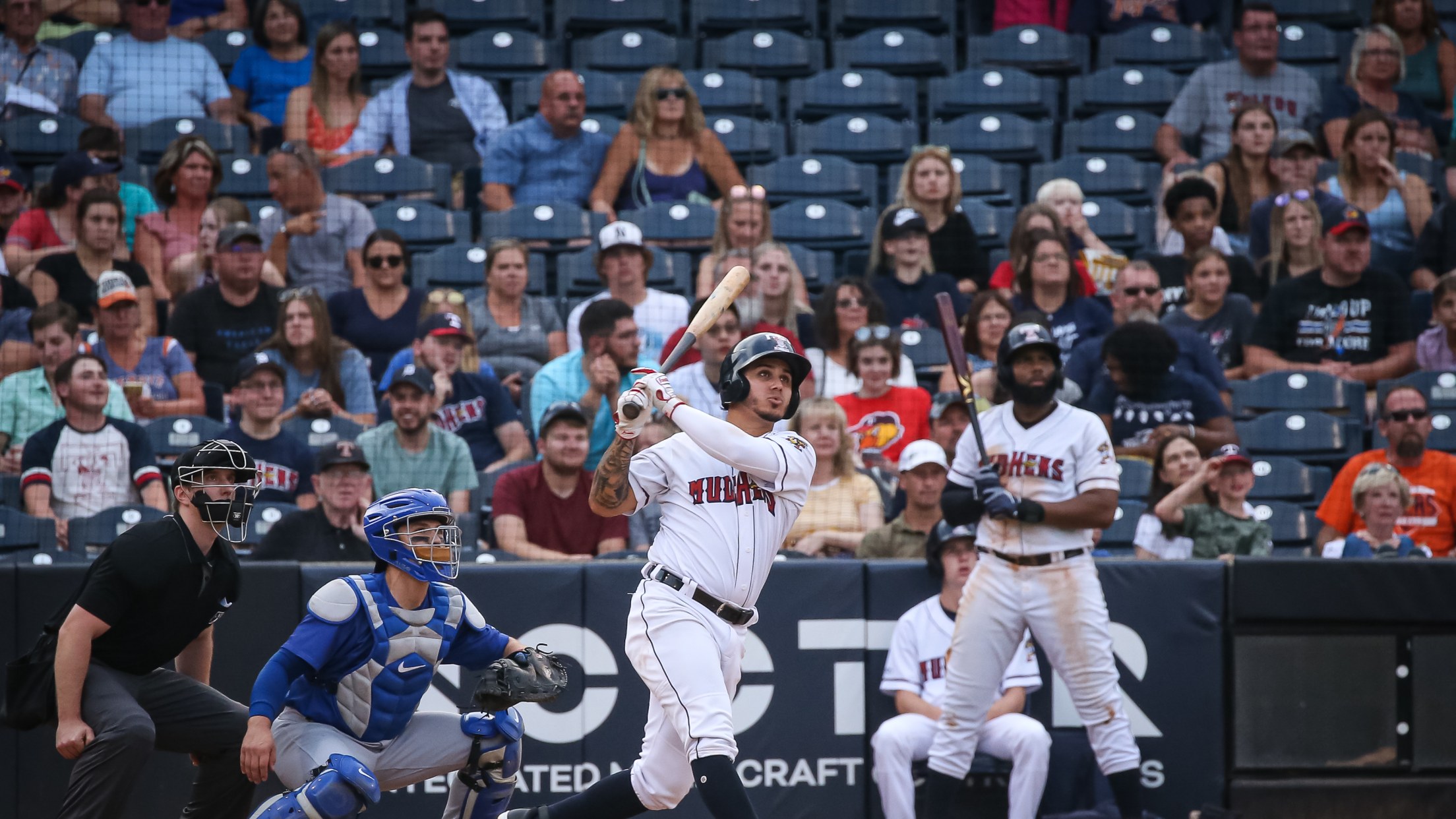 TOLEDO, Ohio – Yariel Gonzalez slugged a three-run homer and matched a season-high with five RBI as the Toledo Mud Hens clinched an 8-4 victory over the Iowa Cubs on Wednesday at Fifth Third Field. Gonzalez, who was named Triple-A East Player of the Week for July 5-11, finished 3-for-3
TOLEDO, Ohio – Yariel Gonzalez slugged a three-run homer and matched a season-high with five RBI as the Toledo Mud Hens clinched an 8-4 victory over the Iowa Cubs on Wednesday at Fifth Third Field.
Gonzalez, who was named Triple-A East Player of the Week for July 5-11, finished 3-for-3 with a home run, a pair of singles, a sacrifice fly and two runs. In all, Gonzalez is 11-for-20 with a double, three homers, 12 RBI, four walks, a sacrifice fly and five runs over his last six starts.
Victor Reyes ended the night 2-for-5 with a double, a stolen base and a run, while Grayson Greiner went 1-for-4 with a two-run double. Meanwhile, Renato Núñez was 1-for-2 with a double, a walk, a HBP and two runs, as Aderlin Rodríguez finished 1-for-2 with an RBI double, a walk, a HBP and a run.
On the mound, Ricardo Pinto tallied his fifth win in his last six Triple-A starts, recording three strikeouts in five innings of work while surrendering two earned runs on seven hits, a pair of walks and two HBP. From there, Alex Lange surrendered an unearned run in two innings of relief, Miguel Del Pozo conceded a run on two hits in the eighth inning and Locke St. John struck out all three batters he faced in the final frame.
The Mud Hens (34-26) got off to another fast start against the Cubs (24-35), as Reyes started the bottom of the first inning by slicing a double off the wall in left-center. Kody Clemens and Núñez drew back-to-back walks later in the frame to load the bases for Gonzalez, who lifted a sacrifice fly to left deep enough to plate Reyes and stake the hosts to a 1-0 advantage.
Toledo padded its lead with five runs in the home half of the third. Clemens walked and Núñez was struck by a pitch, before Gonzalez lined a three-run shot to right-center for his 13th home run of the campaign. The line kept moving as Rodríguez and Christin Stewart followed by picking up consecutive walks, with both runners touching home when Greiner lined a double into the left-field corner.
Iowa got on the board in the top of the fourth, but the Mud Hens restored their six-run lead in the bottom of the same inning. Núñez lined a two-out double toward the left-field corner, and scored when Gonzalez singled into right-center.
The Cubs scored once in the fifth and seventh innings, but the Mud Hens tacked on another run in the bottom of the seventh stanza to make it an 8-3 ballgame. Gonzalez lined a base hit into right-center, and scored all the way from first when Rodríguez sent a double all the way to the center-field fence. The visitors wrapped up the scoring in the eighth, as Trent Giambrone lifted a sacrifice fly to center that knocked in Abiatal Avelino.
What's Next:
The Mud Hens look for their third straight win against the Cubs when the two teams meet on Thursday at Fifth Third Field. First pitch is set for 7:05 p.m.
Hens Notes:
• Yariel Gonzalez also tallied a three-run homer and five RBI in Toledo's 8-2 win over Columbus on May 19. He leads the Mud Hens with 41 RBI and 11 multi-RBI outings.
• The Mud Hens have won seven of their last eight home games, and own a 20-6 record at Fifth Third Field since May 19.
• Toledo is 16-4 at home against the Midwest Division this season, with three of those defeats coming against Columbus.
• The Mud Hens have a 9-2 record on Wednesdays this season, and are undefeated at home on Thursdays and Sundays through four home stands.