2020 Minor League Baseball season canceled
A message from the Mud Hens to our fans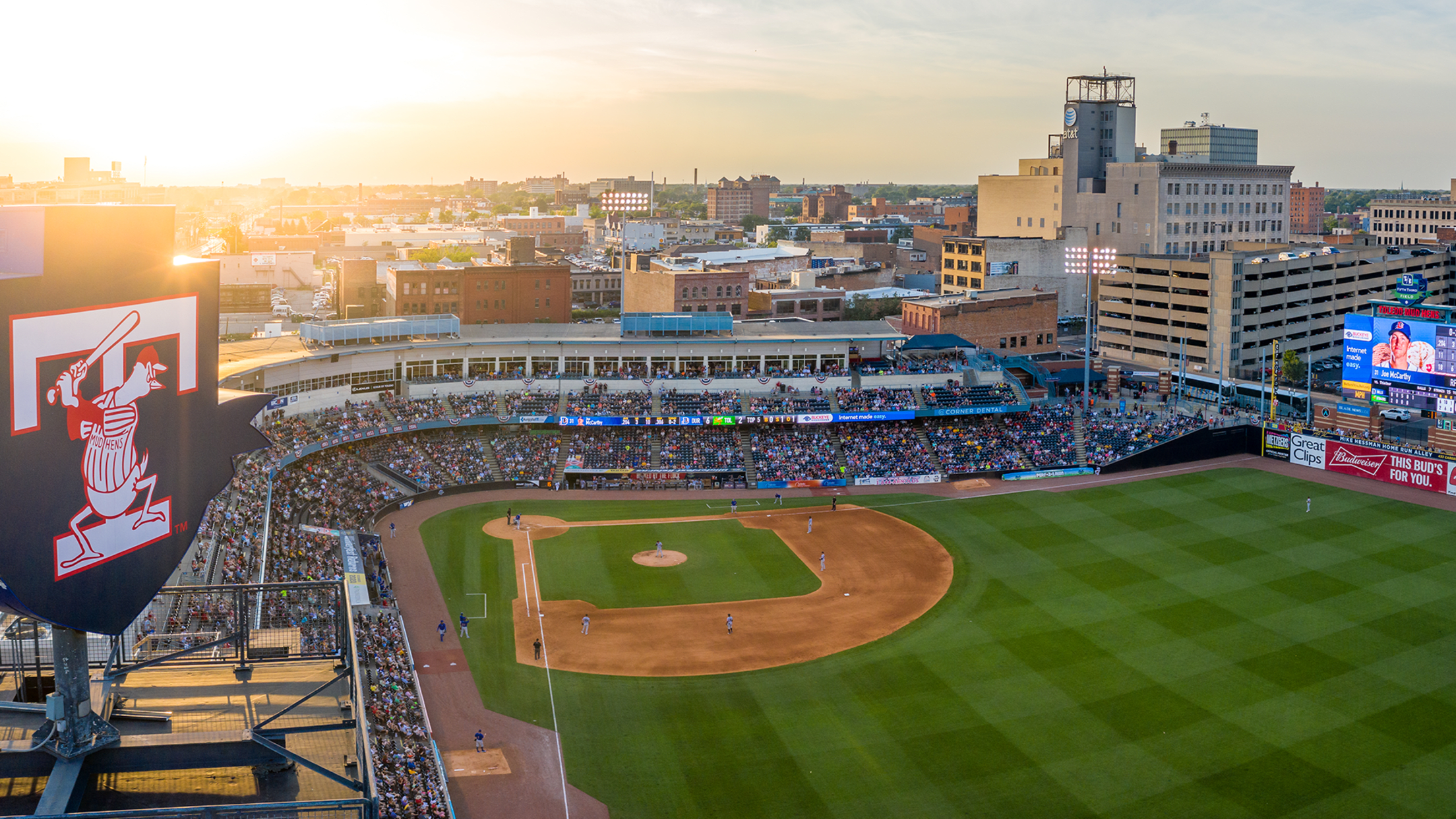 Mud Hens fans, Tom Hanks once said, "There's no crying in baseball," but today we feel like shedding a few tears. Major League Baseball has announced the 2020 Minor League Baseball season will not be played due to the COVID-19 pandemic. To say we are saddened by this development is
Mud Hens fans,
Tom Hanks once said, "There's no crying in baseball," but today we feel like shedding a few tears. Major League Baseball has announced the 2020 Minor League Baseball season will not be played due to the COVID-19 pandemic. To say we are saddened by this development is an understatement, but we know this determination did not come lightly.
We couldn't wait for the 2020 season, the schedule was great, we were projected to have some of the top prospects in baseball, and Fifth Third Field was to welcome its 10 millionth guest. Until today we were prepping for a shortened season.
We miss baseball. The sights and sounds and smells, but most of all we miss you. We miss your enthusiasm and excitement. We miss getting stopped on the concourse to hear stories of your children meeting Muddy and Muddonna, throwing out a first pitch and getting caught on the kiss cam. Incredible nights out at the ballpark are created by you.
This is a difficult time for our organization and your support is needed now more than ever. We look forward to welcoming you back to Fifth Third Field this summer, even without a Mud Hens season.
The Detroit Tigers announced that the team's alternate training location for their 'taxi squad' this upcoming season will be Fifth Third Field. Following the completion of spring training in late July, a pool of their players will begin working out at the ballpark. Our hope is that fans will be able to come Fifth Third Field to watch the workouts and intrasquad scrimmages. We will share those plans with you as soon as they become finalized.
International League President Randy Mobley says the focus will now turn to planning and preparing to welcome fans and sponsors back into our fabulous ballparks next April and he encourages fans to stay connected with their team.
"During what will now become an extended off-season from Triple-A Baseball, I encourage fans to stay in tune with activities planned by their local team," says Mobley. "Teams in Minor League Baseball are known for their creativity and that is now and will continue to be demonstrated in ways never before explored."
Our team is also working on a schedule of events that you can safely attend with your friends and family. And while we may not be able to high five and hug, we know you will still go home with some incredible memories. We invite you to visit our website and follow our social channels for any upcoming event and team announcements. We hope to share those plans as early as next week.
Thank you for being the best fans in Minor League Baseball!
Go Hens,
Joe Napoli
Erik Ibsen
Message from Minor League Baseball:
Major League Baseball™ (MLB™) has informed Minor League Baseball™ (MiLB™) that it will not be providing its affiliated Minor League teams with players for the 2020 season. As a result, there will not be a Minor League Baseball season in 2020.
"These are unprecedented times for our country and our organization as this is the first time in our history that we've had a summer without Minor League Baseball played," said Minor League Baseball President & CEO Pat O'Conner. "While this is a sad day for many, this announcement removes the uncertainty surrounding the 2020 season and allows our teams to begin planning for an exciting 2021 season of affordable family entertainment."
Minor League Baseball, which began as the National Association of Professional Baseball Leagues, was founded on Sept. 5, 1901.
Please see below for answers to some frequently asked questions.
Ticket Questions
Single Game Tickets
Fans who purchased single tickets to any game will be able to exchange these tickets for a future Mud Hens game once the 2021 season is announced. At that time, fans can contact the box office (419-725-4367) to trade them in. Fans who purchased ticket packages or experience add-ons will receive an email with information on how to redeem it.
Group Tickets
Fans who booked a group outing or picnic will be contacted directly by their Group Consultant about rescheduling the event to a later date in the season.
Flock Members
Flock Members, your Game Plan Consultant will be in contact to discuss your individual plans. Always know you can reach out to your consultant with any additional questions regarding the status of your game plan. They enjoy hearing from you.
Sponsors
The Mud Hens corporate partner team will continue to personally update partners and work with all of our partners on the best course of action for each individual partner. Such actions could include prorated partnership amounts based upon an abbreviated schedule, additional assets to provide full value, and agreement carryovers to the 2021 season.
Fifth Third Field
At this time, Fifth Third Field is closed to all visitors and non-essential employees. We look forward to the day when the smell of hot dogs and the shout of 'play ball!' are in the air.
Is the Mud Hens box office open?
Yes, the box office is open Monday through Friday from 10 a.m. to 5 p.m. You can call with any questions at 419-725-4367.
Is the Swamp Shop open?
New 2020 Mud Hens fanwear is online. We invite our fans to visit our online store here to shop for their favorite team apparel. The ballpark store will re-open at a later date.
When will the Detroit Tigers players arrive in Toledo?
The Tigers spring training is scheduled to begin July 1 in Detroit with Opening Day slated for July 23 or 24. The arrival of players in Toledo is expected to be in conjunction with the beginning of the Major League season.
Can I come watch the Tigers' workout and scrimmages?
We are currently working with the Detroit Tigers, ProMedica, the Toledo-Lucas County Health Department, and the State of Ohio to finalize a plan that will allow fans to watch workouts and scrimmages.
How can I stay connected with the Mud Hens?
We will continue to update this page with new information and policies. These updates will also be posted on our Facebook and Twitter channels. We encourage you to follow those channels to get the most up-to-date information and reach out with any questions you might have. If you have questions, please reach out to the Mud Hens at 419-725-4367 or through Facebook and Twitter.