Torkelson, Greene, Kreidler debut as Hens top Tribe
All three prospects tallied an RBI in Toledo's 7-1 victory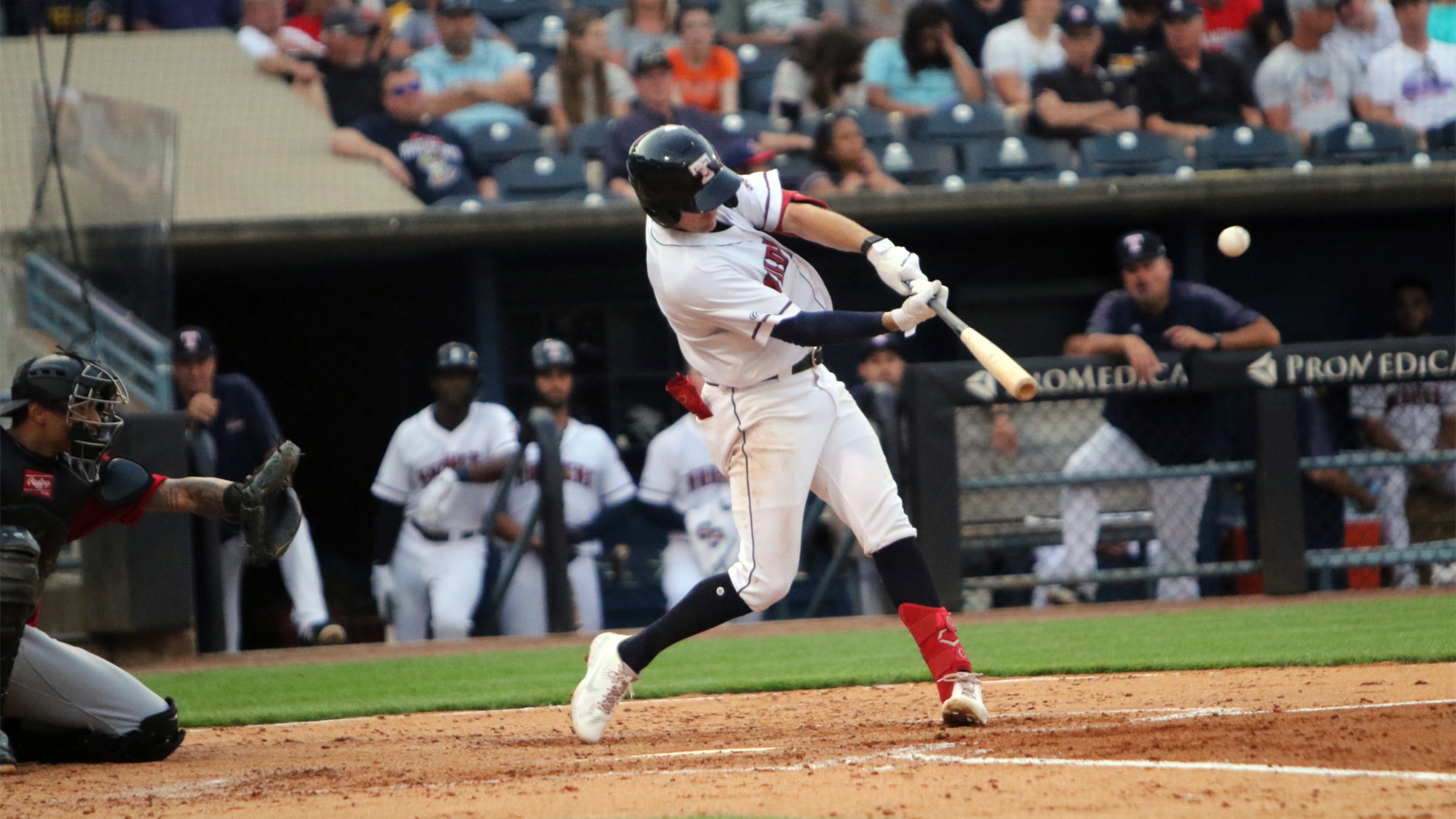 TOLEDO, Ohio – Spencer Torkelson, Riley Greene and Ryan Kreidler all recorded an RBI in their Triple-A debuts as the Toledo Mud Hens cruised to a 7-1 victory over the Indianapolis Indians on Tuesday at Fifth Third Field. The result means the Mud Hens (50-40) can reclaim first place in
TOLEDO, Ohio – Spencer Torkelson, Riley Greene and Ryan Kreidler all recorded an RBI in their Triple-A debuts as the Toledo Mud Hens cruised to a 7-1 victory over the Indianapolis Indians on Tuesday at Fifth Third Field.
The result means the Mud Hens (50-40) can reclaim first place in the Midwest Division standings if Omaha drops its series opener against Columbus later tonight.
Kreidler finished 1-for-2 with a solo homer, two walks and a pair of runs. Meanwhile, Greene ended the night 1-for-3 with a RBI single and two walks, as Torkelson went 0-for-4 with a sacrifice fly.
Additionally, Juan Centeno was 3-for-3 with a two-RBI double, a walk and a run, while Kody Clemens finished 3-for-5 with a trio of singles and a run. Isaac Paredes reached base four times, going 1-for-2 with an RBI single and three walks.
José Ureña started the game and tossed one perfect inning to begin his rehab assignment with Toledo. From there, Ricardo Pinto was credited with his eighth win of the season after hurling six innings of relief, surrendering an earned run on five hits and a walk while notching five strikeouts. Nivaldo Rodríguez and Bryan Garcia each hurled a scoreless frame to wrap up the contest.
The Mud Hens capitalized on wild pitching throughout the night, beginning when Daz Cameron, Greene and Isaac Paredes drew three consecutive walks to load the bases with nobody out in the bottom of the first. Batting in the cleanup spot, Torkelson marked his first Triple-A plate appearance with a sacrifice fly to center that plated Cameron and gave the hosts a 1-0 lead.
Toledo was granted more free passes an inning later, as Kreidler and Centeno both walked on four pitches to put men on first and second with one down. Two batters later, Greene tallied his first Triple-A hit by dropping a single into shallow left-center that scored Kreidler to make it a 2-0 ballgame.
The Mud Hens added to their lead with a pair of runs in the home half of the fourth. Kreidler smashed a 2-2 pitch over the wall to left-center to lead off the frame and open up a 3-0 cushion. Later in the inning, Centeno grounded a base hit through the left side, advanced to second when Greene picked up a walk and scored Toledo's fourth run when Paredes lined a single into left.
Indianapolis (43-47) recorded its only run of the game in the top of the fifth stanza. Bligh Madris drew a leadoff walk and moved up to second on a wild pitch, eventually coming home when Hunter Owen ripped a base hit into center to cut the deficit to 4-1.
The Mud Hens put the game beyond any doubt with three more runs in the bottom of the seventh. Clemens walked to begin the frame and was joined on the basepaths when Rodríguez and Jones drew back-to-back HBP with nobody down. Clemens proceeded to score on a wild pitch before Centeno pulled a two-out, two-run double off the top of the right-field wall to extend the lead to 7-1.
What's Next:
The Mud Hens return to Fifth Third Field on Wednesday as they continue a six-game series against the Indians. Matthew Boyd is slated to make a rehab start for Toledo, with first pitch scheduled for 7:05 p.m.
Hens Notes:
• Spencer Torkelson became the first No. 1 overall selection to play for the Mud Hens since Matt Anderson, who made 81 appearances (nine starts) over parts of three seasons with Toledo (1999, 2003-04). Incidentally, Tuesday marked Anderson's 45th birthday.
• Ricardo Pinto tied Drew Hutchison for the team lead with his eighth win of the season.
• The Mud Hens have won three consecutive head-to-head meetings against Indianapolis, and five of six overall since July 24.
• The Mud Hens are 29-14 this season within the friendly confines of Fifth Third Field.