Berti getting on base for Baby Cakes
Veteran infielder ranks among PCL's on-base leaders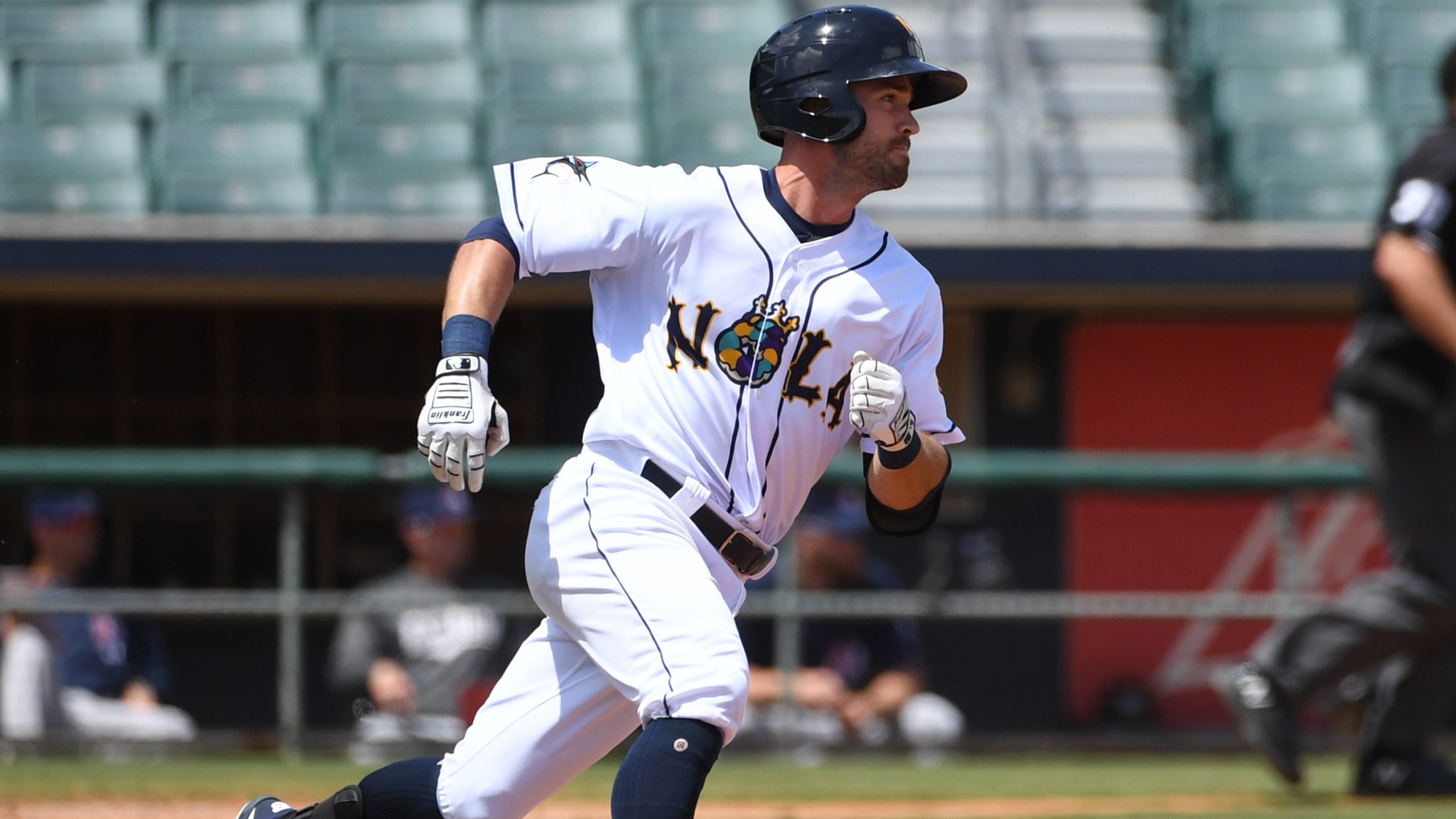 Jon Berti's .286 batting average, 29 years of age and placement in the lower third of the New Orleans Baby Cakes lineup gets him overlooked. The utility player, with his 5-foot 10-inch, skinny frame, will not be confused for a top prospect or slugger anytime soon.But, through the first two
Jon Berti's .286 batting average, 29 years of age and placement in the lower third of the New Orleans Baby Cakes lineup gets him overlooked. The utility player, with his 5-foot 10-inch, skinny frame, will not be confused for a top prospect or slugger anytime soon.
But, through the first two weeks of the season, Berti has been an on-base machine. With a second-inning single in Thursday's contest against Iowa, Berti reached in his 13th consecutive game, a streak tied for third in the Pacific Coast League this season, behind El Paso teammates Ty France and Jose Pirela. More impressive, Berti has only played in 13 games this year, meaning he's reached every time manager Keith Johnson has written his name into the lineup.
"I didn't know that," Berti said, chuckling. "I had an idea. Obviously, I've been getting on base quite a bit but it didn't register that it had been every game."
Prior to Thursday, Berti had walked in eight straight, including three games of two walks. He's earned a free pass in 10 games, buoying his on-base percentage up to .490, ranked fifth in the PCL. With eight of his 10 hits coming by way of singles, Berti is finding himself on first base almost once every two plate appearances.
In the modern game of baseball, in which slugging percentage and the feast-or-famine approach of striking out or lifting the ball in the air is emphasized, Berti's value standing on first base might be less than what it was even a decade ago. But Berti has a way around that.
After seven seasons in the minors, Berti broke through to the Toronto Blue Jays for the first time last year, giving the public access to advanced Statcast data. In his four-game big league stint, his top sprint speed was clocked at 30.8 feet per second. His average speed, 29.2, ranked 38th in MLB, but was held down by some data coming on uncompetitive runs, like advancing on a walk, in his small sample size.
In simple terms, Berti is fast. But advanced metrics are not needed to prove that: he has stolen at least 20 bases every year in the minors, and became the Australian Baseball League's stolen base king in 2013-14 with 31, a record that stood until 2018. When you have that skillset, a single or a walk can become the equivalent of a double very quickly.
And with the Baby Cakes, he has a manager willing to give him the green light. Johnson, in his first year at the helm, promised an aggressive baserunning scheme bordering on chaotic, acknowledging there will even be times when the team is running into an almost surefire out, at least in the early going.
"I'm a firm believer that failure is the price of success. If you're never willing to go out there and fail at something or embrace failure, then you're never going to find out how good you are. I believe that's the same thing in baserunning," Johnson said. "I think over the course of the year, there's going to be times when guys are going to get thrown out, but there's going to be times when we're going to end up with second and third on a single to center field."
It's an approach that Berti, maybe more than most of his teammates, can get on board with. And he does.
"I love it," Berti said "I already have that kind of aggressive - I would like to say smart, too - mentality on the bases. But when your manager echoes that, it's a good feeling for me."
Berti, with four stolen bases already, is also among the league leaders in that category. He's playing into Johnson's gameplan, and giving him a not-so-obvious weapon in the bottom of the order.
So Berti, who earned All-Star recognition in four straight seasons before battling concussion issues in the next three, has found himself in a position where his ability can be not just utilized, but maximized.