Downes Go Salem, Blewett Goes the Distance
Downes Homers Twice, Blewett Spins Complete Game Shutout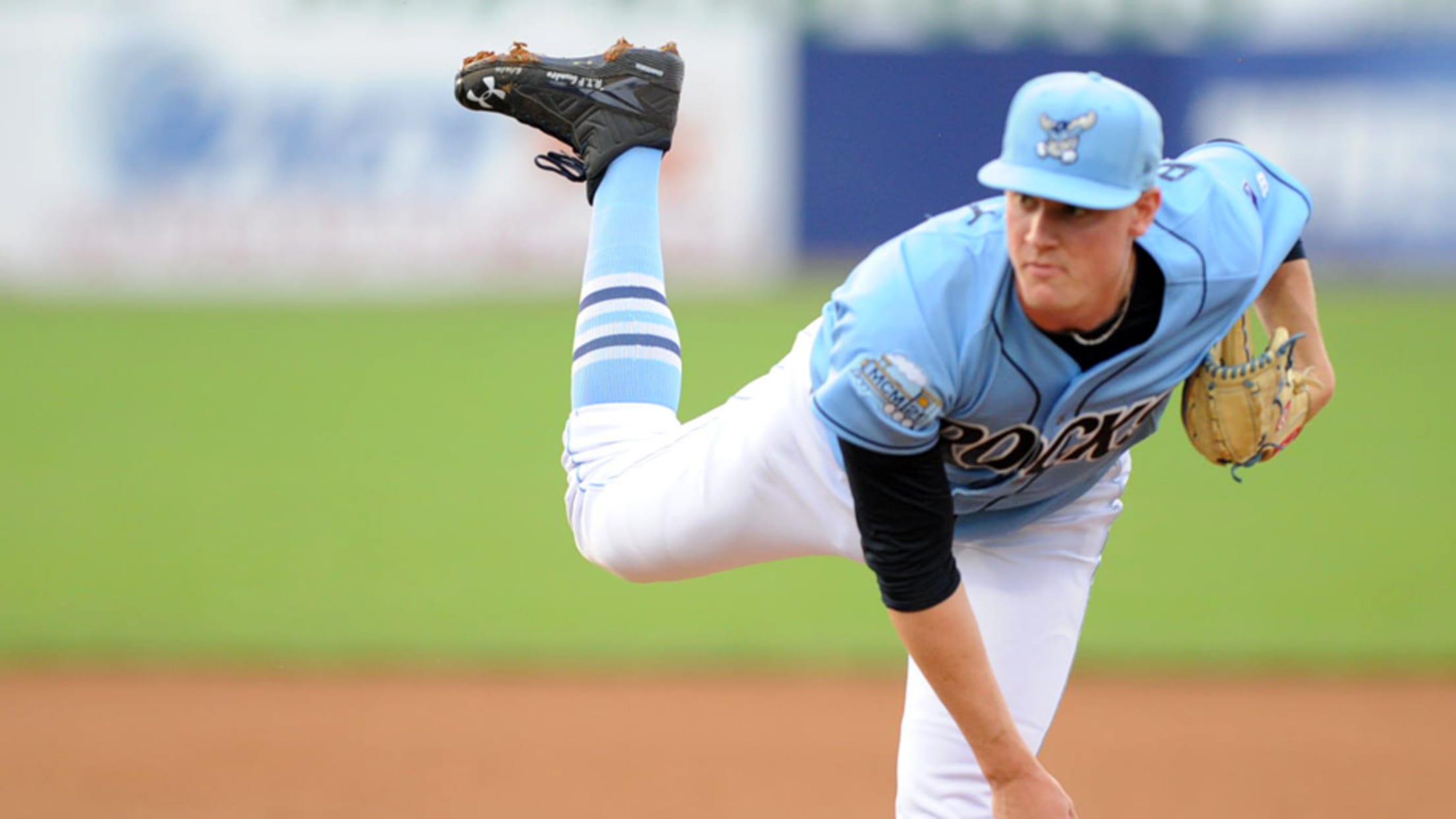 RHP Scott Blewett trucked through seven innings of work and only surrendered an earned run on six hits in Friday's contest (Brad Glazier)
Wilmington, DE -  For the second straight game, the Wilmington Blue Rocks (43-38 / 4-7) starting pitching dominated the Salem Red Sox (46-34 / 6-5) in a 2-0 win Sunday night at Frawley Stadium. Rocks' starter Scott Blewett spun a complete game shutout and allowed just four hits while Brandon
Wilmington, DE - For the second straight game, the Wilmington Blue Rocks (43-38 / 4-7) starting pitching dominated the Salem Red Sox (46-34 / 6-5) in a 2-0 win Sunday night at Frawley Stadium. Rocks' starter Scott Blewett spun a complete game shutout and allowed just four hits while Brandon Downes provided the offense with a pair of solo home runs in the win. It was the first nine-inning, complete game shutout for a Blue Rocks pitcher since August 26, 2003 and first-career, nine-inning shutout for Blewett. With his pair of homers, Downes has clubbed eight long balls in just 19 games this season after missing the bulk of the campaign due to injuries.


In the bottom of the first inning, Downes cranked a two-out, solo homer over the left field wall off Salem's starter Roniel Raudes to give the Blue Crew the early lead. After that, a pitching duel commenced between the pair of top-ten prospects for each respective organization. Blewett cruised through the next four innings of work, allowing just two runners to reach scoring position.
In the bottom of the sixth, it was Downes again getting the Rocks on the board. With one out, the outfielder crushed his second solo homer of the game to double up the Wilmington lead, 2-0. Downes joined Chase Vallot as the only other Blue Rock to hit multiple home runs in a game this season.
With the two runs being enough support for Blewett, the tall righty went on to finish the final three innings of the complete game, allowing just three baserunners over that span. The right-handed hurler induced a ground out to shortstop to strand a runner at second base to end the game.
Wilmington concludes the four-game series with Salem on Monday, July 3 with first pitch slated for 6:35 p.m. at Frawley Stadium. RHP Jared Ruxer (4-2, 3.12 ERA makes the start for the Blue Rocks while LHP Dedgar Jimenez (8-3, 3.71 ERA) climbs the hill for the Red Sox. Fans can listen to the game as Matt Janus and Cory Nidoh will have the call on 89.7 WGLS-FM.
PEBBLES OF KNOWLEDGE:
Brandon Downes continues to mash at the plate and added two more home runs to remarkably up his total to eight home runs on the season despite playing in just 19 games this season. He is now second on the team and trails team-leader Chase Vallot who has 10 on the season. Last season, Downes led the Rocks with 12 home runs. The two-homer game is the second in his career, with his first coming back on May 2 when he was with Low-A Lexington. Downes also has tallied 14 extra-base hits in that span, with four doubles and two triples to add to eight homers. Downes went on the disabled list in April with a broken hamate bone. After returning for five games, he went back on the disabled list with a bum hip in the last week of the first half. Since he returned from his second stint on the disabled list, he is hitting .423 (11-for-26) with three doubles and four home runs.
The nine-inning, complete game shutout for Blewett marks the first of his career and first for the Blue Rocks since Zach McClellan tossed one on August 26, 2003 at Myrtle Beach. The Rocks had only one pitcher on the staff who recorded a complete game and that was Colin Rodgers who suffered a loss in a doubleheader start in which he worked all six innings at Lynchburg on June 13. Blewett allowed four hits, did not walk a batter, struck out four and needed just 111 pitches to earn the wire to wire victory. In his last three starts against Salem, the righty has dominated, going 2-0 with a sterling 0.86 ERA with 26 strikeouts.
So far in the series, the Rocks starting pitching has been very strong. Between the arms of A.J. Puckett, Andres Machado and Blewett, the Rocks are 2-1 and have allowed just four earned runs in 22 innings of work against Salem this series. The Rocks are in position to take the four-game series with a win on Monday night, which will bring the club within two games of .500.
With the win, the Rocks have now won back-to-back games against Salem after dropping their previous three to their familiar foe. The Blue Rocks pull within a game of .500 in the head-to-head matchup with an 8-9 record to Salem. The Rocks have taken 7 of the last 11 games against the Red Sox after dropping five of the first six to start the season.
THEY SAID IT: Jamie Quirk
"Very special night for Scott Blewett (on Sunday). He will never forget his first complete game shutout. You don't see that often in the minor leagues. Usually pitches get you or whatever but it was his game. He doesn't know it, but if one other guy got on I was going to go get him just because it was a 2-0 game and I was not going to let anything happen where he would get the loss. That other guy never got on base. He did a great job, no walks. What I liked is only four strikeouts but that's more efficient. Sometimes when you get a lot of strikeouts, your pitches add up to early. He made them put it in play, got after them, made them swing the bat. It's his first complete game shutout and he will remember that the rest of his life.
"It's a learning process. Every pitcher is infatuated with strikeouts but strikeouts can be a detriment to how far you go in the game. He instigated contact, he pitched ahead and he got them defensive. They were putting the ball in play but very weakly. They were defensive swings because he was ahead in the count. That's how you get complete games. It's not all about the strikeouts and that's what he learned today. Keep the ball in the ballpark, you don't have to strike everyone out, make them put the ball in play, make quality pitches that they have to swing at and they are defensive swings.
"Brandon Downes is in a very good place right now. Obviously, we all know he missed a lot of time with his two injuries. He is playing catch up right now. His swing is really good, it's under control. The second home run he hit (Sunday night), that thing was a bomb. Just an easy swing. He has got stupid power. We saw it last year and we've seen it in his minor league career. What you don't see from Downes is swings-and-misses. That is a very good sign. He is seeing the ball well, he is under control, he is swinging at pitches he should get and he is laying off on other pitches. He is in a good place. In a perfect world, if he wasn't hurt, he probably wouldn't be here right now. Due to his injuries he is here and he is just going to keep doing his thing and see how it all plays out.
"It's very good to see (Downes' mental toughness rebounding from injuries). Not only that but he sees a lot of his peers have moved up. Anderson Miller, Elier Hernandez , guys have moved up and he is here because of injuries, but he is not letting that affect him. He knows he has to be productive on the field. Now that he is healthy, he is going to do his thing. There is nothing you can do about lost time, you just have to play good and see what happens."
Scott Blewett, Pitcher
"From the get go (on Sunday), (the key) was establishing the fastball. If you saw the bullpen before (Sunday's) game it wasn't so pretty, probably the worst bullpen I've had coming into a game. My secondary stuff in the bullpen was good enough where I thought alright, this could keep me in it. From those eight (warmup) pitches to start the first inning, I got that fastball working down, got used to the game mound and went from there attacking with the fastball, then the secondary stuff from there.
"My last start in Frederick didn't go as planned. It was one of those times where I had to go out and compete. I had my swing and miss stuff then. I realized I was working deep into games and had to be more efficient. (Sunday) the game plan was get ahead as fast as we can. If we can get some quick outs, that was the key. Going that far into the game and getting those quick outs, that was huge.
"Actually no (on feeling fatigued late in game). To be honest, I felt better in the seventh, eighth and ninth than I did in the beginning. I was a little uncomfortable at first but once I got that confidence rolling, everything seemed to fall into place.
"(Salem's) lineup from beginning to end is pretty solid. They have a couple new guys in there that I'm not too familiar with. Their big hitters are good ones; first baseman Josh Ockimey and catcher Austin Rei. Both two really good hitters and I knew I had to get ahead of them. My game plan all along was get the ball down and away from them, hopefully let the secondary stuff play when ahead.
"It was my first complete-game shutout. Last year I had two seven-inning complete-games. The nine inning complete game, that's the big one, that's the important one. It was a lot of fun.
"It's an honor. (On tossing first nine-inning complete game for Blue Rocks since 2003.) Hopefully Jared Ruxer can go out and do it (Monday). The entire year, everything has been pretty contagious. Andres Machado last night was unbelievable with 14 strikeouts in seven innings, was very efficient with it. We are all competing against each other but we are a family and we want to go out and win ball games. Hopefully Ruxer can keep it rolling tomorrow (Monday) and we can get on a win streak here."