Six Blue Rocks Named Carolina League All Stars
First-Half Champs Rank Second in Division Behind Frederick for Most Representatives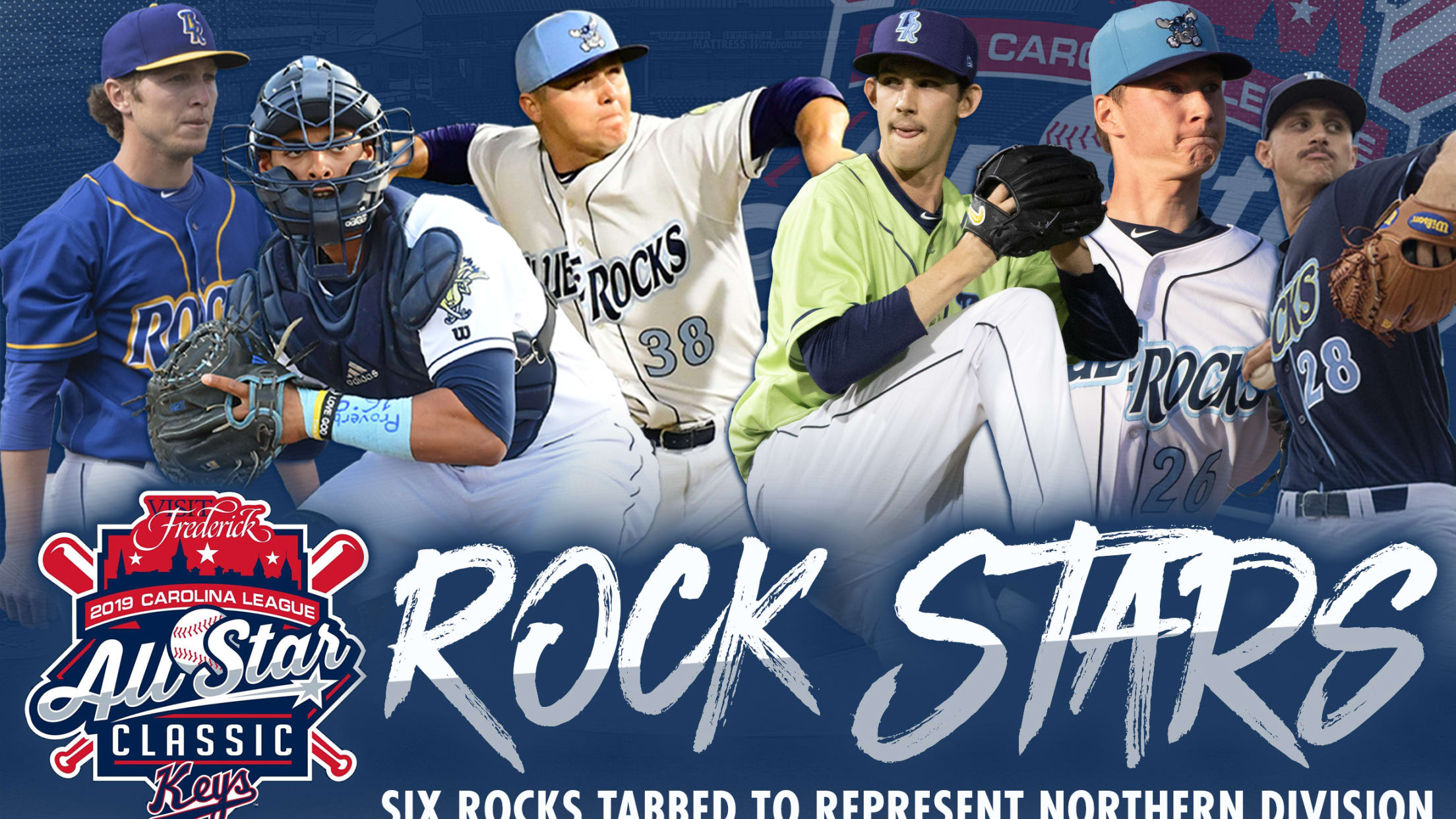 Six Wilmington Blue Rocks were named to the 2019 Carolina League All-Star Classic
Wilmington, DE- The first-half CL North champion Wilmington Blue Rocks had six players named Carolina League All Stars by the league office on Tuesday. Pitchers Brady Singer , Daniel Lynch , Jackson Kowar , Tyler Zuber and Tad Ratliff  along with catcher MJ Melendez  will represent the CL North on June 18 at
Wilmington, DE- The first-half CL North champion Wilmington Blue Rocks had six players named Carolina League All Stars by the league office on Tuesday. Pitchers Brady Singer , Daniel Lynch , Jackson Kowar , Tyler Zuber and Tad Ratliff along with catcher MJ Melendez will represent the CL North on June 18 at Frederick's Nymeo Field. The All Stars were chosen via vote by Carolina League managers, general managers and media.
Singer will not participate because the top-ranked prospect in the Kansas City system, according to MLB.com, was promoted to Double-A Northwest Arkansas in late-May. Before departing the Riverfront he posted the best ERA in the Carolina League (1.87), while fanning 53 and walking only 13 over 57.1 frames. Singer captured four of his final five decisions as a Blue Rock.
Two fellow first rounders from the 2018 Draft were also selected as All Stars. Lynch's 3.09 ERA ranks fourth in the Carolina League. The lefty was Wilmington's Opening Day starter and pitched like it, not allowing a run over three consecutive starts at one point, the longest scoreless string by a Wilmington hurler all season. He has 52 strikeouts and only 15 walks in 55.1 innings pitched. Kowar got the start in the game the Blue Rocks won to clinch a CL North first-half crown. The righty ranks top-seven in the Carolina League in strikeouts (60), WHIP (1.27) and innings pitched (67.0).
"We were awfully excited coming into this season with our pitching and our team in general," said Blue Rocks manager Scott Thorman. "We have a lot of very highly touted young prospects and they have delivered. Our pitching staff was excellent, one of the best in the league. Our starting pitching in particular was off the charts.
"These guys came and performed as advertised and they really helped this team in a lot of ways. With their professionalism, with their ability, with the way they go about their business, it's been a great mix and a lot of fun to watch."
Ratliff and Zuber will represent the Wilmington relief corps, which seems fitting, since the duo have split the closing duties all season. They are a combined 23-of-27 on save tires. Ratliff leads the Carolina League with 13 saves, while Zuber is second in the loop with 10. Ratliff has not allowed an earned run in 10 of his last 11 appearances, while Zuber's 1.37 ERA is the best on the team.
"Those guys have been extremely consistent so we've known what we were going to get from them every time we called them out of the 'pen," Thorman said. "It's very rare anytime in baseball, but especially in High-A ball to get that type of consistency. They're competitors, they've got excellent stuff and they have that electricity around them that our team feeds off of. Every guy knows when they're in the game, we've got a chance to win and the guys feel that excitement and then they go out and get it done. It's incredible the amount of one and two run games this team has won over the course of this first half, and those bullpen guys deserve a lot of the credit for it."
Melendez is the only position player from the Rocks to be recognized. The 20-year-old got off to a slow start in his first season with Wilmington, but surged down the stretch of the campaign's opening half. He leads the team and ranks 10th in the CL with 10 doubles, while his four homers rank second among Blue Rocks. He also has Wilmington's only grand slam of the season.
"MJ has a presence and he's a game changer when he's in the lineup," Thorman said. "Behind the plate, at the plate, he's always a threat. His power numbers rank up there with just about anybody on our team. Admittedly, he's not performing as well as he'd like to at the plate, but he's still having a very solid campaign. Behind the plate he changes the game. His game-calling, his receiving, his aggressive ability to throw players out. I mean he can get us out of a tough inning just by a back pick and we're off the field back at the plate ready to score runs. He is a game changer and he's a winner, he's proven that he's got the ability to make a difference and help win baseball games. So, he's a very deserving young man to go to the All-Star Game."
Wilmington continues its seven-game homestand on Tuesday with a doubleheader against Lynchburg. First pitch is slated for 5:05 p.m. and tickets are available at BlueRocks.com. Fans who cannot make it to the ballpark can catch all the action with the Voice of the Blue Rocks, Cory Nidoh on 89.7 WGLS-FM.