Albuquerque Splits Twinbill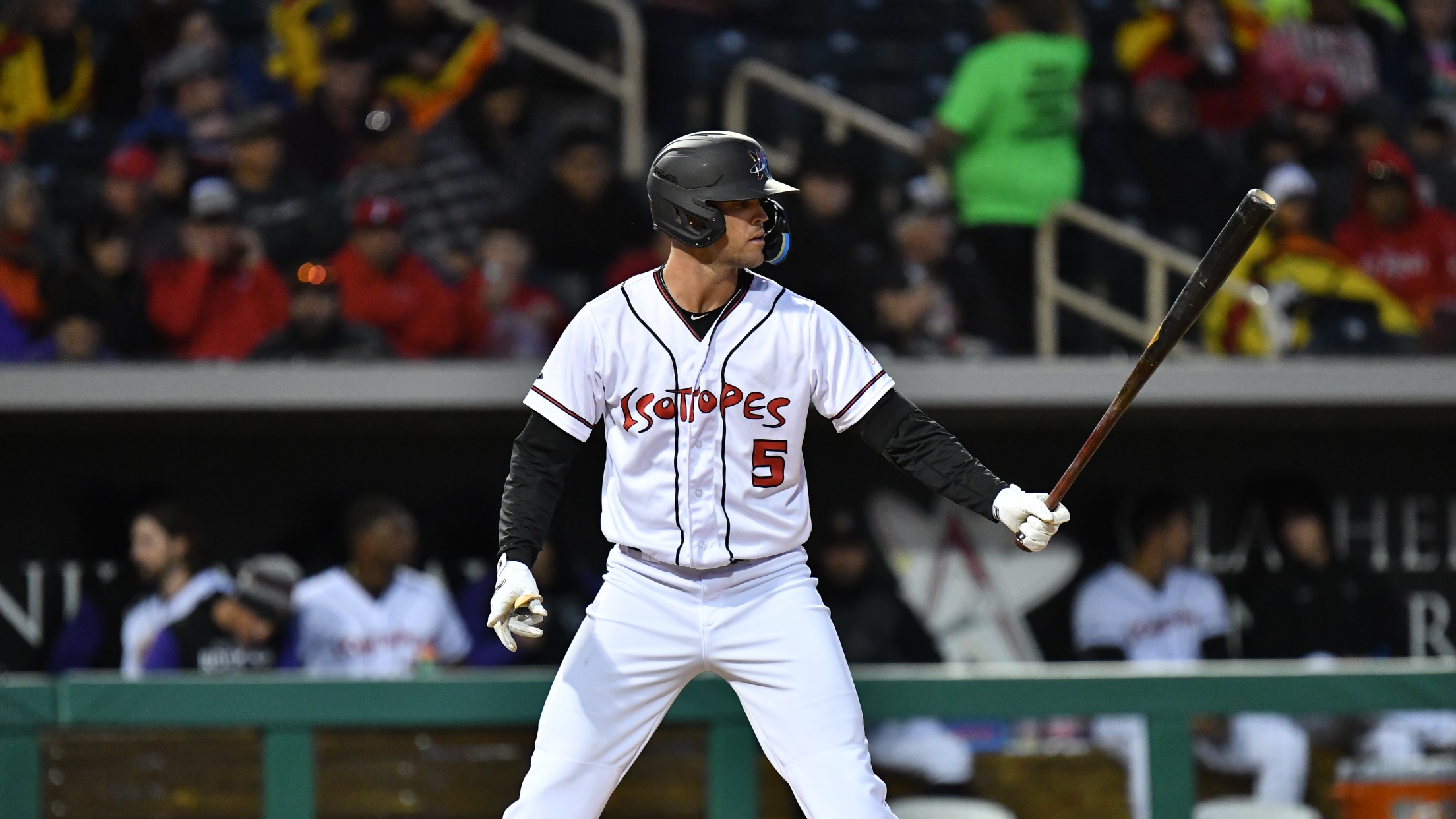 Oklahoma City, OK – Albuquerque's offense got started early in Game 1 and held on for a 5-4 win while the Dodgers' bats brought the heat in Game 2 for a 12-3 triumph to split the doubleheader Thursday at Chickasaw Bricktown Ballpark. Game 1: The Isotopes scored five runs over
Oklahoma City, OK – Albuquerque's offense got started early in Game 1 and held on for a 5-4 win while the Dodgers' bats brought the heat in Game 2 for a 12-3 triumph to split the doubleheader Thursday at Chickasaw Bricktown Ballpark.
*Game 1: *The Isotopes scored five runs over the first three frames to take a five-run lead for the second-straight game while the bullpen held down the Dodgers' bats to win, 5-4, in back-to-back games.
Albuquerque's offense swatted seven hits, one double and a homer. Kyle Holder led the way, going 2-for-3 with two RBI and one double. Sean Bouchard tallied his fourth homer of the year, a solo shot. Coco Montes and Brian Serven each registered one RBI.
Bouchard smoked a 2-2 pitch over the wall in center for a solo shot to open the scoring in the first.
In the following inning, the Topes added three runs, pushing their lead to 4-0. Trejo led off the frame with a single then got to second on a Pérez walk. Two batters later Serven grounded an RBI single to left. After a wild pitch, Holder laced a two-run double to the right-center field gap.
Albuquerque scored in its third-straight inning when Montes lined a sac fly to center field, giving the Topes a 5-0 lead.
The Dodgers plated their first runs in the fourth with a three-run homer by Kevin Pillar.
Zach Neal started for the topes and did not factor into the decision. He tossed 4.1 innings and surrendered four runs, three earned, on nine hits and one homer. Lucas Gilbreath picked up his first win of the season after completing the fifth inning. Chad Smith secured his PCL-leading fifth save of the season.
Game 2: The Dodgers got to Topes starter Frank Duncan in the first inning, allowing a Ryan Noda grand slam which knocked out Duncan, then the home team added five more in the second to take Game 2, 12-3.
Albuquerque cut the deficit to 4-3 in the top of the second with a homer of their own, a solo shot by Peterson, and a two-run single by Lopes.
But Oklahoma City got all those runs back plus insurance with a five-run frame in the second on RBI singles by Jason Martin and Omar Estevez and a two-run double by Andy Burns, taking a 9-3 lead. They added three more runs in the fifth inning.
The Topes offense managed eight hits and one homer. D.J. Peterson swatted his third clout of the season while Wynton Bernard *and *LJ Hatch each tallied two-hit games. Tim Lopes drove in the other two runs.
Duncan lasted just 0.1 inning and relented four runs on three hits, one walk and one homer with one strikeout.
Topes Scope: - Bouchard has three homers in his last five games.
-Serven has tallied an RBI in seven-straight games.
-Holder now has four multi-hit efforts on the year (High: three hits, 4/24 @ Round Rock).
-The Topes have won the first two games of a road series for the first time since August 15-16, 2019, at Las Vegas.
-With the Game 1 win, the Topes have won two-straight at OKC for the first time since August 18-19, 2016.
-The Topes haven't swept a doubleheader on the road since April 27, 2019, at Salt Lake.
-Montes' four-game hit streak to begin his Triple-A career ended in Game 1 after going 0-for-2 with a sac fly.
-Montero's seven-game hitting streak at the Triple-A level ended in Game 1 after going 0-for-4.
-Neal's three-start streak of completing at least 5.0 innings ended.
-Smith now leads the Pacific Coast League with five saves.
-Duncan has completed just 0.1 inning twice over his six starts.
-The Topes have scored all 13 of their runs over the first four innings in the first three games of the six-game set.
-In Game 1 Isotopes pitching allowed a three-run clout to Kevin Pillar and two homers in Game 2. They've surrendered a dinger in 23 of 27 contests.
-Noda's grand slam is the second given up this season by the Isotopes (Alex Blandino – April 30, Sacramento).
*On Deck: *Game four is set for 6:00 pm MT Friday at Chickasaw Bricktown Ballpark. Dillon Overton will take the bump for the Topes while Ryan Pepiot will start for the Dodgers.
# # #