Isotopes Win in the 10th, Split Series with Skeeters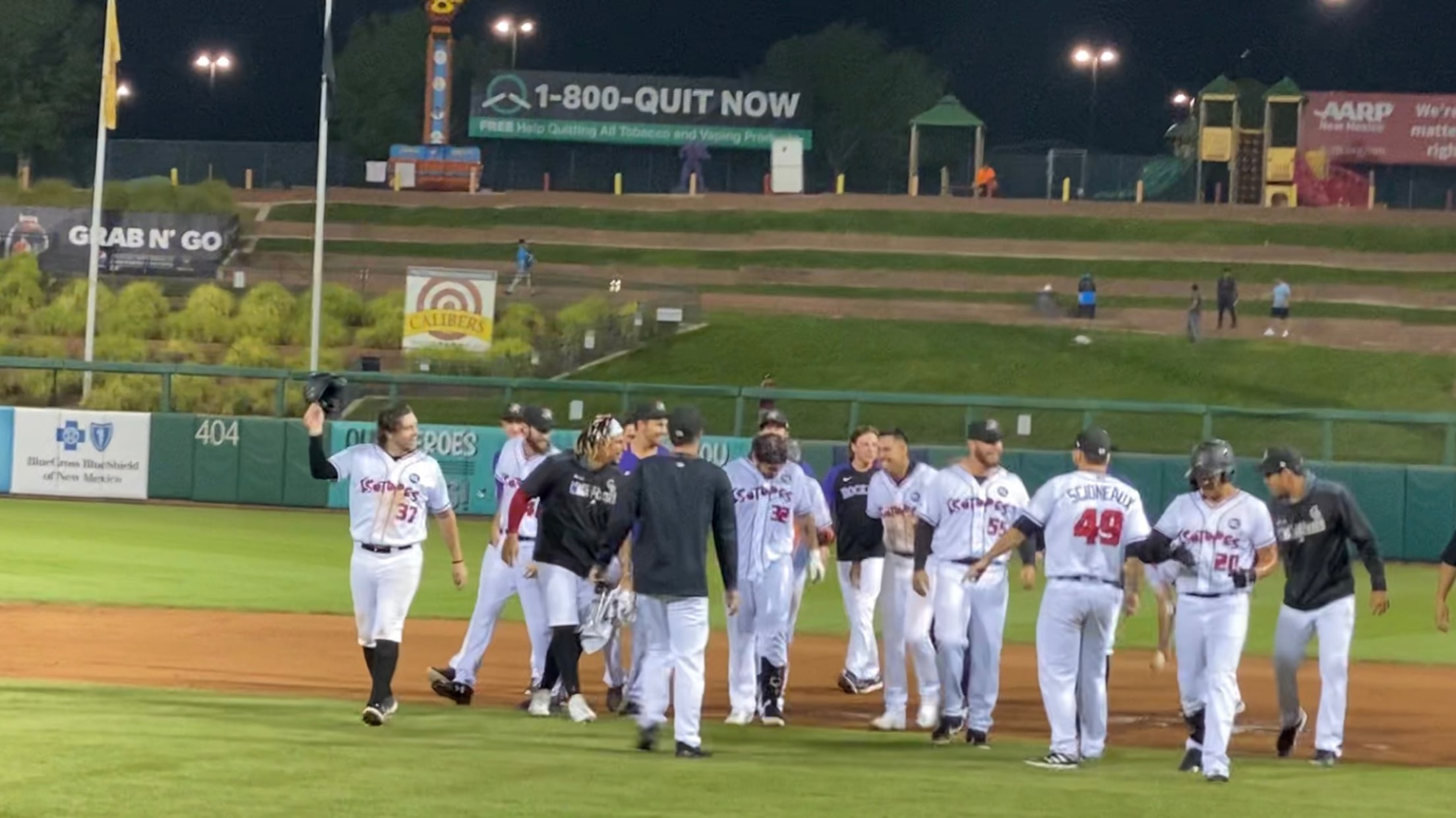 Isotopes 7 (27-38), Skeeters 6 (37-28) – Rio Grande Credit Union Field at Isotopes Park AT THE DISH: Despite only having one hit, Nick Longhi provided the biggest knock of the game for the Isotopes, a walk-off single in the bottom of the 10th, scoring Wynton Bernard … Five Isotopes
Isotopes 7 (27-38), Skeeters 6 (37-28) – Rio Grande Credit Union Field at Isotopes Park
AT THE DISH: Despite only having one hit, Nick Longhi provided the biggest knock of the game for the Isotopes, a walk-off single in the bottom of the 10th, scoring Wynton Bernard … Five Isotopes recorded a multi-hit game with Alan Trejo and Brian Serven finishing the night with three hits apiece. Trejo was a triple-shy of the cycle and connected on his fifth home run of the season with the Isotopes and fourth during the month of July … Taylor Motter also registered a home run, his 16th of the campaign. Motter finished the game 2-for-3 with three runs scored and two walks … Rio Ruiz and Danny Edgeworth finished the game with two hits each.
TOEING THE RUBBER: Albuquerque starter Frank Duncan allowed three runs over his 5.2 innings on the mound, striking out seven and walking none. He did not get a decision … Reigning Triple-A West Pitcher of the Week Ian Clarkin did now allow a run during his 1.1 innings of work … Tate Scioneaux tossed a scoreless eighth inning before Logan Cozart allowed three runs to score in the ninth, ultimately sending the game to extra innings … Jake Bird rebounded from Monday's contest nicely, stranding the bonus runner at second base in the top of the 10th and earning the win.
TOPES TIDBITS: Tuesday's victory was the fourth walk-off win of the season for the Isotopes … Tuesday also marked the 12th consecutive game the Isotopes have gone without committing an error, the longest stretch since Albuquerque went errorless in 13 straight in June 2016.
ON DECK:After a league-wide off day on Wednesday, the Isotopes will begin a six-game series with their division rival El Paso Chihuahuas. Ryan Castellani (2-6, 7.31) will get the start in the series opener on Thursday.