2021 Brooklyn Cyclones season tickets
We are currently planning for a 120-game season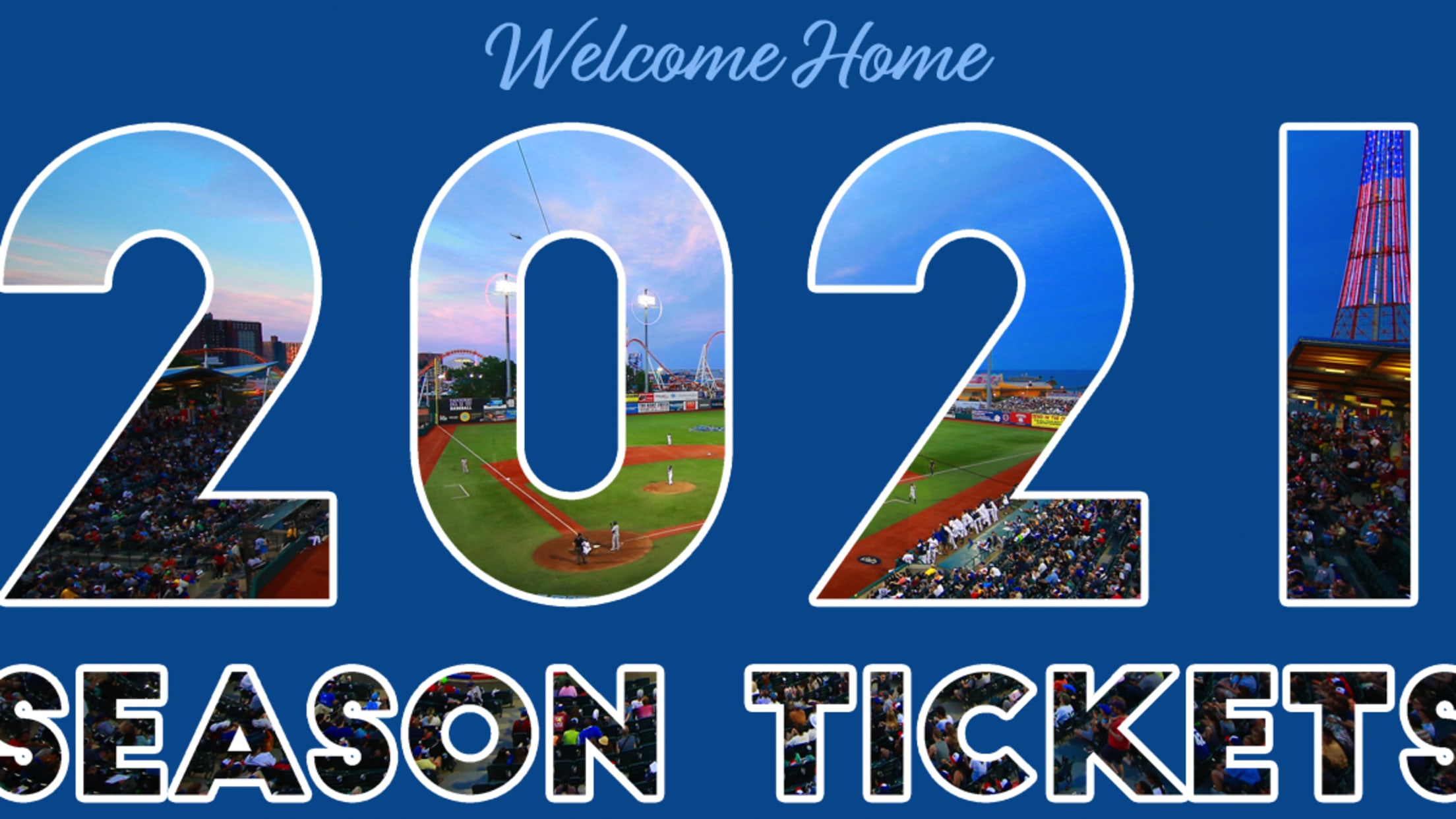 Season Ticket Update (February 17th) - Football season is behind us and spring training is on deck, with Major League players reporting to Florida and Arizona this week. It's a small step, but an important one, as we all wait patiently (okay, not always so patiently) for the return of
*Season Ticket Update (February 17th) - *Football season is behind us and spring training is on deck, with Major League players reporting to Florida and Arizona this week. It's a small step, but an important one, as we all wait patiently (okay, not always so patiently) for the return of Brooklyn Cyclones baseball.
While there are still may questions to be answered, we are starting to get a little more clarity in terms of what our season will look like. At this point we are currently planning for a 120-game season, which means season tickets would be $600 for the season, with 60 home games. Anyone who pays in full by March 19th will receive 20 free parking passes for the 2021 campaign - a value of $140 based on regular parking fees.
The start of the season will now be in early May. This is due to Major League Baseball's health and safety protocols for the 2021 season, which limit the number of players allowed in camp at the same time as the major leaguers. So as the big leaguers break camp for Opening Day, April 1st, the minor leaguers will head to camp and get ready for the MiLB season.
We are expecting to have limited and socially distanced capacity when our season begins, but as we get more clarity on what the fan experience at the ballpark will look like, we will be sure to share. We also expect to put partial season plans on sale in the coming weeks, but for the time being the only way to guarantee seats for the 2021 season is through full season tickets. With the limited capacity in mind, if you do not contact us in regards to your intention to renew your season seats by March 1st, we will release your seats for partial season plans to use.
If you would like to renew your tickets, or purchase a new season plan, please text us at 718 - 37 - BKLYN and we will be happy to help.
*January 3, 2021 -- *We hope you and your loved ones are safe and healthy heading into the New Year. It's been a long time since we were able to get together and enjoy some Cyclones baseball, but hopefully 2021 will lead to life returning back to normal for all of us.
While there hasn't been much to report on the field for the Cyclones, there certainly has been a lot of activity away from the diamond. As it was recently reported, the Cyclones will no longer be part of the short-season New York-Penn League and will be a member of the newly formed Mid-Atlantic League for the 2021 season. This league will be considered High-A, two steps above the level of play that the Cyclones have been involved with previously. This also means more games with an expected 140-game season, typically starting in April and running through early September.
While some of our traditional rivals will not be present in Mid-Atlantic League, we will still take on a few familiar faces in the Hudson Valley Renegades (New York Yankees) and Aberdeen IronBirds (Baltimore Orioles). As well as new opponents like the Jersey Shore BlueClaws (Philadelphia Phillies) and Wilmington Blue Rocks (Washington Nationals).
We also have some exciting changes in the front office as the Brooklyn Cyclones were part of the recent sale of the New York Mets and will welcome new owners for the first time in franchise history. We are thrilled to still be a part of the New York Mets family, now under the guidance of Steve Cohen, as we enter this new and exciting chapter of Mets baseball.
As of now, we are planning for a 140-game season – with 70 home games – starting in April. That is obviously subject to change, but that's what we are planning for now. Realistically, with the expectation of significantly reduced capacity, having a season ticket package for the 2021 season is the best way to ensure that when we have games, you will have access. The cost for season tickets will be just $10 a game for a total of $700. No matter how many games end up being scheduled for our 2021 campaign, we will keep the $10 per game price point. For example, if we have a 124-game season, with 62 home games, your ticket package will be $620.
The first payment of $175 per seat is due by January 29th. If you are carrying over your balance from 2020, plus bonus credit, just let us know that is your preference and we will proceed from there. Additional payments will be divided into equal installments due February 26th and March 19th.
Your seat location may be different for the 2021 season due to COVID protocols and social distancing, but we hope you view this as a small inconvenience, as we do everything we can to safely welcome fans back to Coney Island this season.
Obviously, we are well aware that the start date, schedule, and number of games, are subject to change based on the guidance of Major League Baseball. We also will not know what guidelines will be put in place by the New York State Department of Health in reference to social distance guidelines and overall capacity. We hope to get clarity on all of these issues, as well as our safety and health protocols, as the weather warms up and Opening Day creeps closer.
Right now, there are probably a lot more questions than answers. We understand that. What we have learned from this whole experience is that we need to be able to prepare, and then adjust. The information above, is based on a season that starts in April and goes on for 140 games. We will obviously be prepared to adjust if the start date gets pushed back or any number of other scenarios.
While some things will obviously look different in 2021, we are working to make sure that Brooklyn Cyclones season plans remain the best value in all of New York City sports. Here's a look at some of the additional perks to your season membership, subject to change based on health protocols for the 2021 season:
• Private Access – Season Ticket Holders will have access to a Members Only Entrance / screening area for ballpark entry as well as a STH Lounge with discounted food as drink as permitted by health and safety protocols.
• Discounted Parking – General Parking will be $8 for the General Public but STH will have the ability to purchase reduced rate books at 10 for $40, 20 for $70, 40 for $120.
• Eat & Greet – Access to a Members Only BBQ with a chance to take batting practice on the field.
• Unused Ticket Policy – Exchange tickets for any game you can't make it to FREE OF CHARGE for any Tuesday – Friday game (based on availability).
• STH Gifts / Promo Items – There will be a special 20 years cap available exclusively to STH as well as six guaranteed giveaway items, including a replica 2001 and 2019 championship ring.
• Put a Ring On It – Those who pay in full by March 19th will be entered into a drawing to win the same 2019 championship ring that the Cyclones players and coaches received.
We will be posting our full game schedule and additional perks for those who join us for the 2021 campaign as season members in the weeks ahead. We just wanted to reach out to you, our most loyal fans, and let you know Cyclones baseball may look like in 2021 and as we get more information we will be sure to share it.