Sports Trivia Night | 7/30
Teams of 4 Battle on the Concourse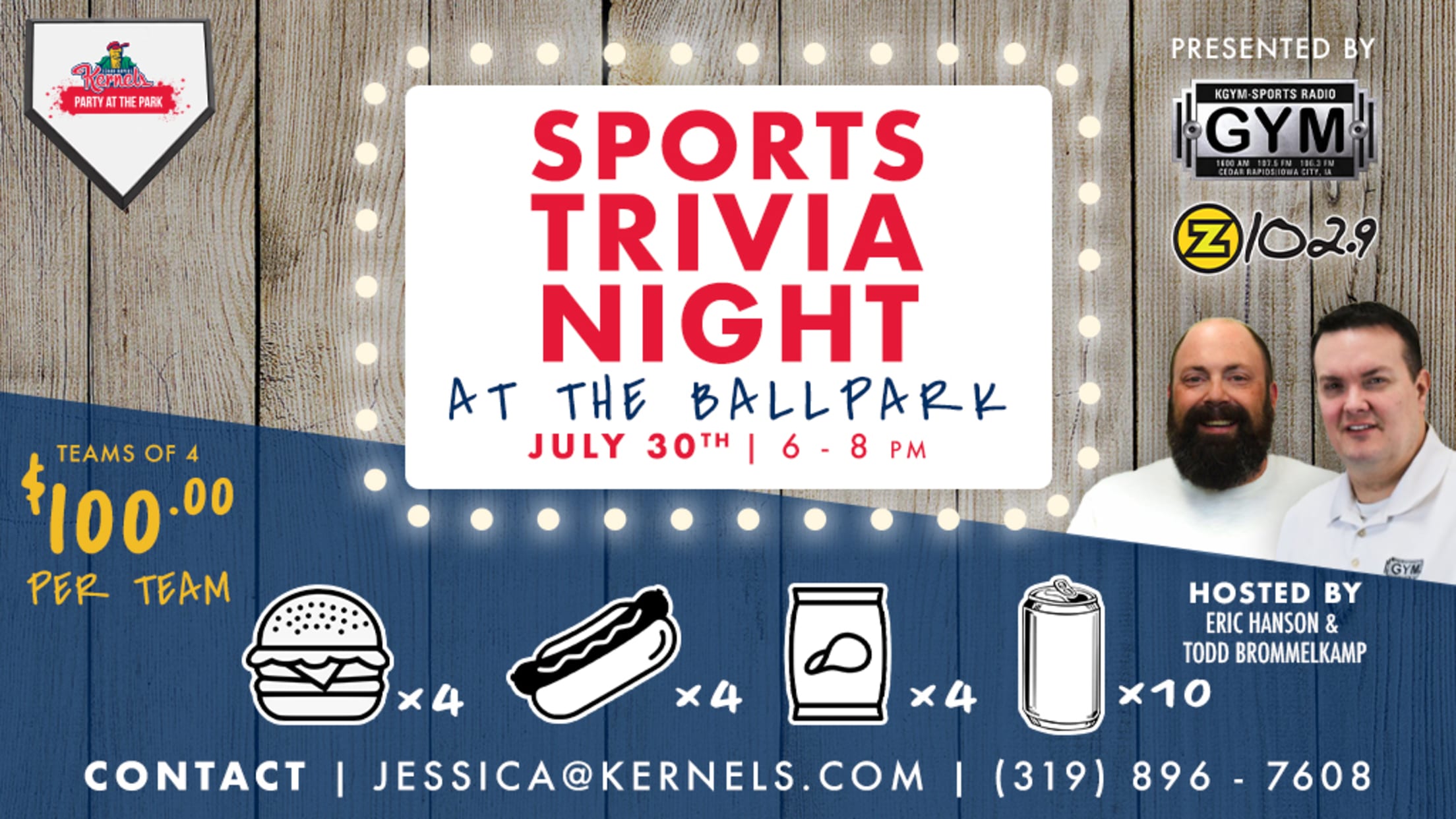 Sports Trivia Night at the Ballpark sponsored by KZIA & KGYM SOLD OUT July 30th | 6-8 PM Categories: Baseball, Football, State of Iowa Sports, Olympics, NFL, MiLB, Mascots, Records, Scandals, MVP's, HOF, and more Hosts: Todd Brommelkamp & Eric Hanson The Kernels will be hosting Sports Trivia Night at
Sports Trivia Night at the Ballpark sponsored by KZIA & KGYM
SOLD OUT
July 30th | 6-8 PM
Categories: Baseball, Football, State of Iowa Sports, Olympics, NFL, MiLB, Mascots, Records, Scandals, MVP's, HOF, and more
Hosts: Todd Brommelkamp & Eric Hanson
The Kernels will be hosting Sports Trivia Night at the Ballpark on July 30th at Veterans Memorial Stadium! Get your team together and play in a safe environment on the concourse. The Kernels have gone the extra mile to ensure the stadium is extremely safe for our fans, employees, and anyone else who enters the ballpark. Each team package includes admission, drinks, and food for the entire squad. Read the information below for a full run-down of what Sports Trivia Night will be like!
TRIVIA RULES & PROCEDURES
This is a 21+ event.
Each team will consist of 4 people.
Phones will not be permitted.
Door prizes will be given out!
The Kernels will provide pens and answer sheets.
There will be 10 games of trivia with 10 questions each
each team will have 30 seconds to answer each question
each team will have 2 minutes at end of each round to finish any unanswered questions
TRIVIA NIGHT PACKAGE
Deadline to reserve your team is Tuesday, July 28th
Each team of four will cost $100 ($25 / person)
All teams receive:
4 brats
4 cheeseburgers
4 bags of chips
Bucket of 10 beers (soda and water are also available)
If you are interested in reserving a team for Sports Trivia Night at the Ballpark, please contact Jessica Fergesen at (319)896-7608 or [email protected]!