RiverDogs Announce Ongoing Participation in MiLB's "Copa de la Diversión" Program in 2020
Team will partner with Berkeley County School District for "Festival de Lectura"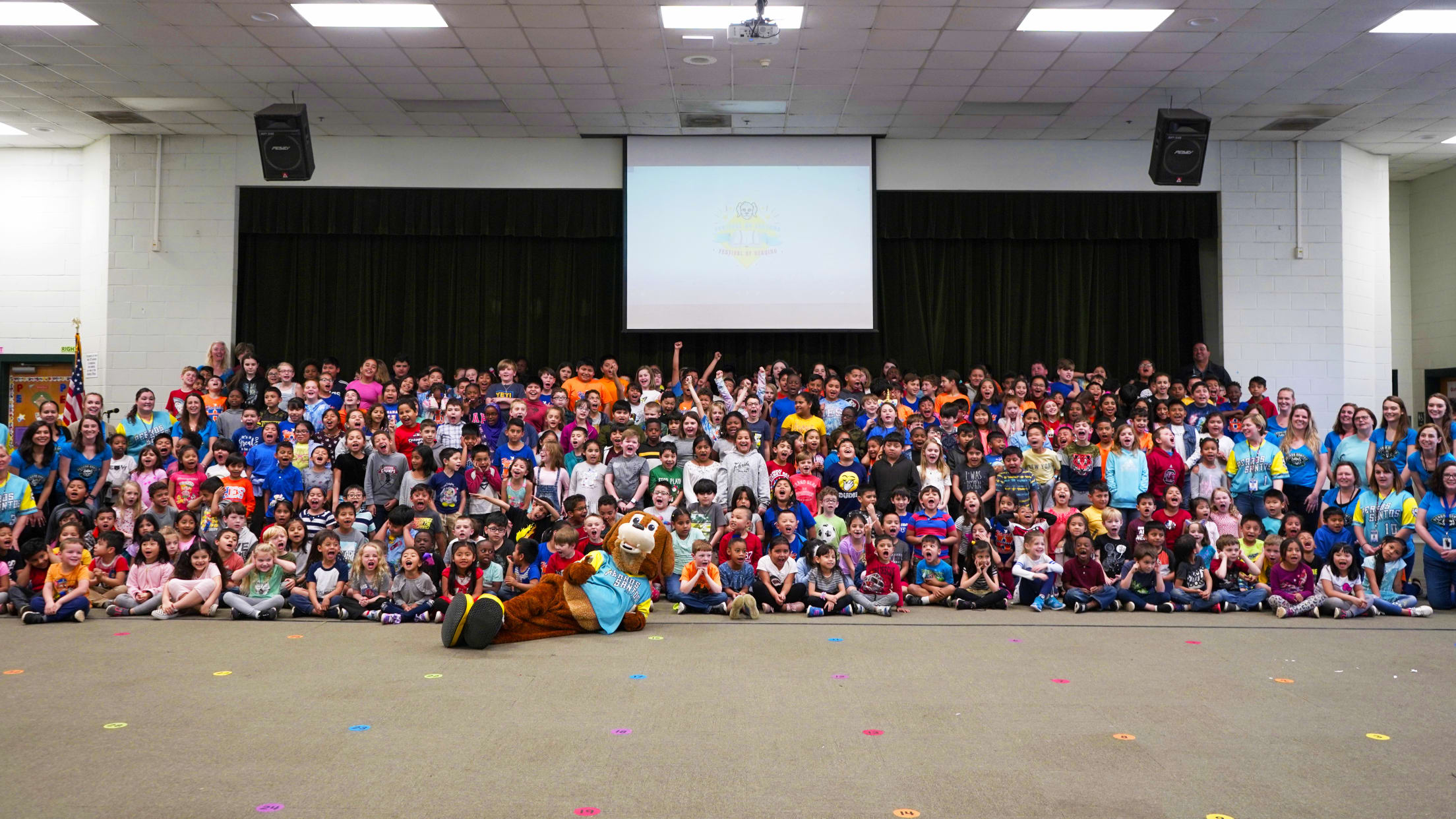 The Charleston RiverDogs will take part in Minor League Baseball's "Copa de la Diversión" program for a second straight season, the club announced in a press conference attended by hundreds of children at Hanahan Elementary School on Thursday morning. In addition, the team will continue to partner with the Berkeley
The Charleston RiverDogs will take part in Minor League Baseball's "Copa de la Diversión" program for a second straight season, the club announced in a press conference attended by hundreds of children at Hanahan Elementary School on Thursday morning. In addition, the team will continue to partner with the Berkeley County School District for "Festival de Lectura", a joint literacy program for local students.
The RiverDogs will once again wear special "Perros Santos" uniforms featuring a Día de los Muertos color palette during four games throughout the 2020 campaign: Saturday, May 30, Sunday, May 31, Thursday, July 16 and Tuesday, August 11.
"After a successful debut in 2019, we are extremely excited to continue our participation in both "Copa de la Diversión" and "Festival de Lectura" this season," said RiverDogs President and General Manager Dave Echols. "The opportunity to connect on a greater level with our LatinX fans, while also promoting literacy among local students is something we look forward to again."
"Festival de Lectura" presented in conjunction with MUSC Health, is a program that centers around encouraging and incentivizing literacy in a fun and interactive program among English Language learners in the Berkeley County School District. It is the first such program in Minor League Baseball. The program will reward students who meet designated reading goals, as determined by both the club and school district, as part of a celebration game on May 30. Starting April 6, kindergarten through fifth grade students from Hanahan Elementary, Goose Creek Elementary, College Park Elementary and Mt. Holly Elementary will start the seven-week, baseball-themed program. Due to the popularity of the program in 2019, the number of students participating is expected to double in 2020.
RiverDogs manager Luis Dorante spoke at the press conference on Thursday and read a book to the children in both Spanish and English. During the season, players will visit each of the schools to read books to the children.
"We are excited that the RiverDogs have again partnered with us to make learning fun," said BCSD Superintendent Dr. Eddie Ingram. "We have over 42 languages and 3 dialects spoken by our students, so we appreciate any effort to improve literacy efforts with English learners in our communities. Our communities are becoming more diverse each day. We're looking forward to celebrating the accomplishments of these students with the RiverDogs as they reach all of the goals set out before them."
During each of the four "Perros Santos" games this season, there will be special music, Spanish-speaking public address announcers and food specials. In addition, on May 31, the first 500 children in attendance will receive a Perros Santos mask.
"Copa de la Diversión," or "Fun Cup," is a season-long event series specifically designed to embrace the culture and values that resonate most with participating teams' local U.S. Hispanic/Latino communities. In 2020, 92 teams will transform their brands to join in Copa's mission.
RiverDogs season tickets, partial season plans, and group tickets, including options to the Segra Club at Riley Park, are now available for the 2020 campaign at riverdogs.com/tickets or by contacting the RiverDogs front office at 843-577-3647 (DOGS). The RiverDogs begin their home schedule on April 9 when they host the Kannapolis Cannon Ballers at The Joe. A full schedule and list of game times for the 2020 season is available at riverdogs.com.