Continuation of Dragons Team Preview: Shortstops
Continuation of Dragons Team Preview: Shortstops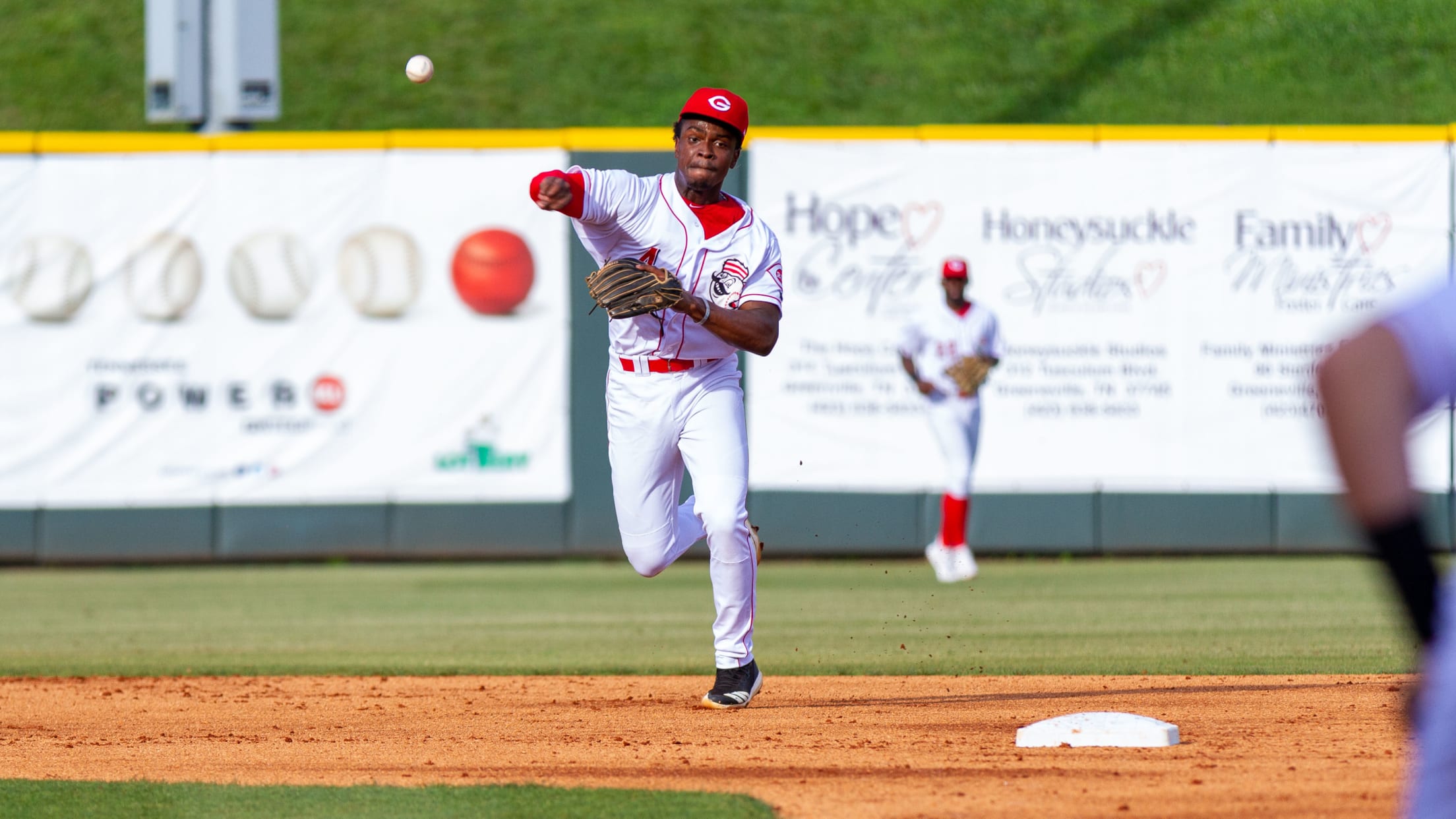 Ivan Johnson with the Greeneville Reds in 2019 (Doug Gray--RedsMinorLeagues.com)
"While there continue to be many unknown factors, the Dragons organization is working hard each day to be prepared for the eventual start of our season."—Robert Murphy, President & General Manager, Dayton Dragons As we move through these difficult times, the Dragons will continue to offer articles, videos, and photos
"While there continue to be many unknown factors, the Dragons organization is working hard each day to be prepared for the eventual start of our season."—Robert Murphy, President & General Manager, Dayton Dragons
As we move through these difficult times, the Dragons will continue to offer articles, videos, and photos on our team website and our social media platforms in an effort to provide fans with interesting content. We have received requests to continue our 2020 Dragons team preview and will do so now. Of course, the timeline of our season is unknown at this point, but when play resumes, the players in these previews will compete for roster positions with the Dayton Dragons. Stay safe, everyone.
The Shortstops
This is part four of a nine-part series previewing the 2020 Dragons. Players listed here are candidates for positions on the 25-man Dragons season-opening roster.
This preview is an unofficial projection of possible roster candidates. Minor League rosters have not been assigned.
There is a complete listing of all Reds Minor League players here at this link at RedsMinorLeagues.com: https://redsminorleagues.com/2020/02/17/cincinnati-reds-minor-league-spring-training-roster-2020/
Click links on each name for career stats and player information.
Candidates: Ivan Johnson, Quincy McAfee, Claudio Finol
*Player, Age, B/T, Ht., Wt. *
Ivan Johnson, 21, S/R, 6'0", 190
Quincy McAfee, 22, R/R, 5'11", 185
Claudio Finol, 19, L/R, 5'11", 170
Ivan Johnson came out of Kennesaw Mountain High School in suburban Atlanta, where he was a sophomore teammate of former Dragon Tyler Stephenson during Stephenson's senior year in 2015. While Stephenson entered professional baseball right out of high school, Johnson enrolled at the University of Georgia and then transferred after one season. Johnson spent the 2019 baseball campaign at Chipola College, a powerhouse junior college program in Florida that went all the way to the national Junior College World Series with Johnson as their best hitter. Johnson played in 57 games at Chipola last spring and batted .381 with nine home runs, a .587 slugging percentage, 14 stolen bases, nearly as many walks as strikeouts, and an OPS of 1.078.
The Reds drafted Johnson in the fourth round out of Chipola last June. He was assigned to Greeneville and played in 46 games. The switch-hitter batted .255 with six home runs, 11 stolen bases, and a .415 slugging percentage. He started 33 games at shortstop and another 11 at second base.
Baseball America ranks Johnson as the #23 prospect in the Reds organization. The publication says that Johnson has the ability to become a major league starting infielder. They credit his solid all-around skillset, his above average speed, and his ability to play both shortstop and second base.
Quincy McAfee was a starting middle infielder at Pepperdine for three seasons, beginning with his freshman year in 2017. The Dragons all-star shortstop in 2013, Zach Vincej, played the same position at Pepperdine five years before McAfee arrived on campus. During his time at Pepperdine, McAfee's conference rivals included 2019 Dragons catcher Jay Schuyler (University of San Diego) and possible Dragons 2020 catcher James Free (University of the Pacific). All three players were stars in the West Coast Conference. McAfee batted .310 in 2019 at Pepperdine, connecting on a pair of home runs with a .433 slugging percentage.
The Reds drafted McAfee in the 26th round last June and assigned him to Billings, where he was a key contributor to the Mustangs run to the Pioneer League playoffs. After a slow start, he caught fire in August and finished at .291 in 60 games, adding one home run. He was hitting just .214 after his first 37 games, but starting on August 9, he hit .405 over the rest of the season in 23 games. He started 29 games at shortstop, 20 at second base, and six more at third base.
McAfee had a huge prep career at Southlake High School in Houston, Texas. He hit .537 as a senior and was selected as the Texas 6A (largest schools) All-State shortstop and the Houston-area 6A Player of the Year.
Claudio Finol served as the Dragons utility infielder in 2019 for the month of April before heading back to extended spring training and then to Billings. He returned to the Dragons at the start of July and finished the year in Dayton. He played in 53 games for the Dragons, batting .218 with one home run. He started 30 games at second base, and 10 games each at shortstop and third base. In eight games at Billings, he batted .226. In 2018, Finol hit .294 without a home run in 49 games with Greeneville.
Finol is a native of Venezuela who signed as a free agent with the Reds in 2016. His ability to play well at three different infield positions provides value as a utility man.
Next up: Third Basemen
###