Reedy River Rivalry Presented by ScanSource Returns March 3rd
First pitch at 3:00 PM; Reedy River Rivalry Tailgate Party kicks off the day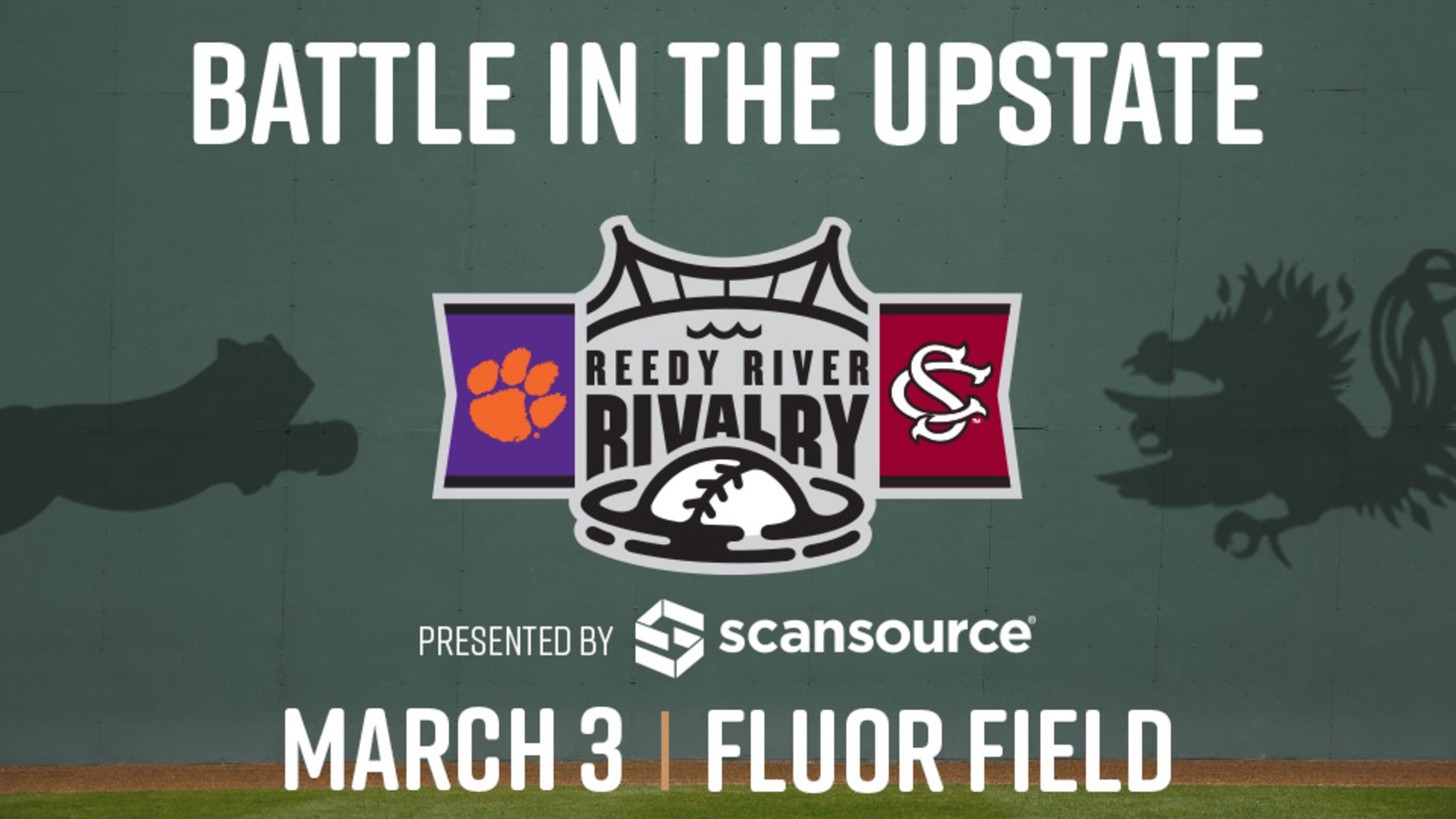 The premier rivalry in college baseball returns to Fluor Field and Downtown Greenville on Saturday, March 3rd, as the Clemson Tigers and the South Carolina Gamecocks square off in the Reedy River Rivalry presented by ScanSource at 3:00 PM. The festivities of the day begin with the Tailgate Party on
The premier rivalry in college baseball returns to Fluor Field and Downtown Greenville on Saturday, March 3rd, as the Clemson Tigers and the South Carolina Gamecocks square off in the Reedy River Rivalry presented by ScanSource at 3:00 PM. The festivities of the day begin with the Tailgate Party on Main Street. Here are all the details you need to know for the big game.
ATTENDANCE RECORDS
The Reedy River Rivalry has produced some of the largest attendances in the previous twelve seasons at Fluor Field.
MATCHUP
South Carolina Gamecocks vs. Clemson Tigers, 3:00 PM; Gates open at 1:30 PM
-South Carolina is the designated visiting team, and Clemson is the designated home team
-Clemson has won two consecutive contests between the teams at Fluor Field, and they also won the matchup in Greenville in 2013. South Carolina has won four of the previous matchups between the teams at Fluor Field (2010, 2011, 2014, 2015).
-Clemson plays two additional games at Fluor Field in 2016 (vs. Michigan State on March 7th at 7:00 PM; vs. Furman on March 27th at 6:00 PM). South Carolina has one additional game at Fluor Field this year (vs. Furman on April 24th at 7:00 PM)
PROBABLE PITCHERS
Clemson: RH Brooks Crawford
South Carolina: RH Cody Morris
PLAYERS TO WATCH
Clemson: Junior 1B/OF Seth Beer, Junior IF Grayson Byrd, Sophomore SS Logan Davidson, Junior RHP Ryley Gilliam, Senior C Chris Williams
South Carolina: Senior 3B Jonah Bride, Sophomore OF Carlos Cortes, Junior RHP Adam Hill, Junior OF T.J. Hopkins, Junior IF/OF Jacob Olson
TAILGATE PARTY
The Drive will host the Reedy River Rivalry Tailgate Party on Main Street all day long, and the fun begins at 12:00 PM. Clemson and South Carolina will have tables and fun interactive displays on hand, and there will be food and drinks, live music, and fun for fans of all ages! Stay tuned for more information about the party.
TICKETS
Tickets can only be purchased through the ticket offices of Clemson University and the University of South Carolina.
FLUOR FIELD BAG POLICY
Fans will be permitted to bring in one clear bag no larger than 12" by x 6" x 12" OR a one-gallon clear freezer bag (Ziploc or similar). In addition, fans may carry a small clutch bag or purse no larger than 6.5" x 4.5", with or without a strap. CLICK HERE for more information about Fluor Field's bag policy.
PARKING/TROLLEY SERVICE
Ample parking is available at County Square, located on University Ridge off Church Street, just a few blocks from Fluor Field. Trolley service will be available from County Square and will run continuously throughout the day.
MERCHANDISE
Reedy River Rivalry and Greenville Drive merchandise will be available for purchase the day of the game at the Main Street Team Store, the team store on the third base side of the concourse, the merchandise kiosk just inside the Field Street gate, and a merchandise stand on Main Street during the tailgate party. Merchandise is also available for pre-order by CLICKING HERE. Choose the "in store pickup" option at online checkout to pick your shirt up on Saturday.
[Empty Body]