Vote in the Greatest Drive Alum Bracket
Head to @GreenvilleDrive on Twitter and Instagram to cast your vote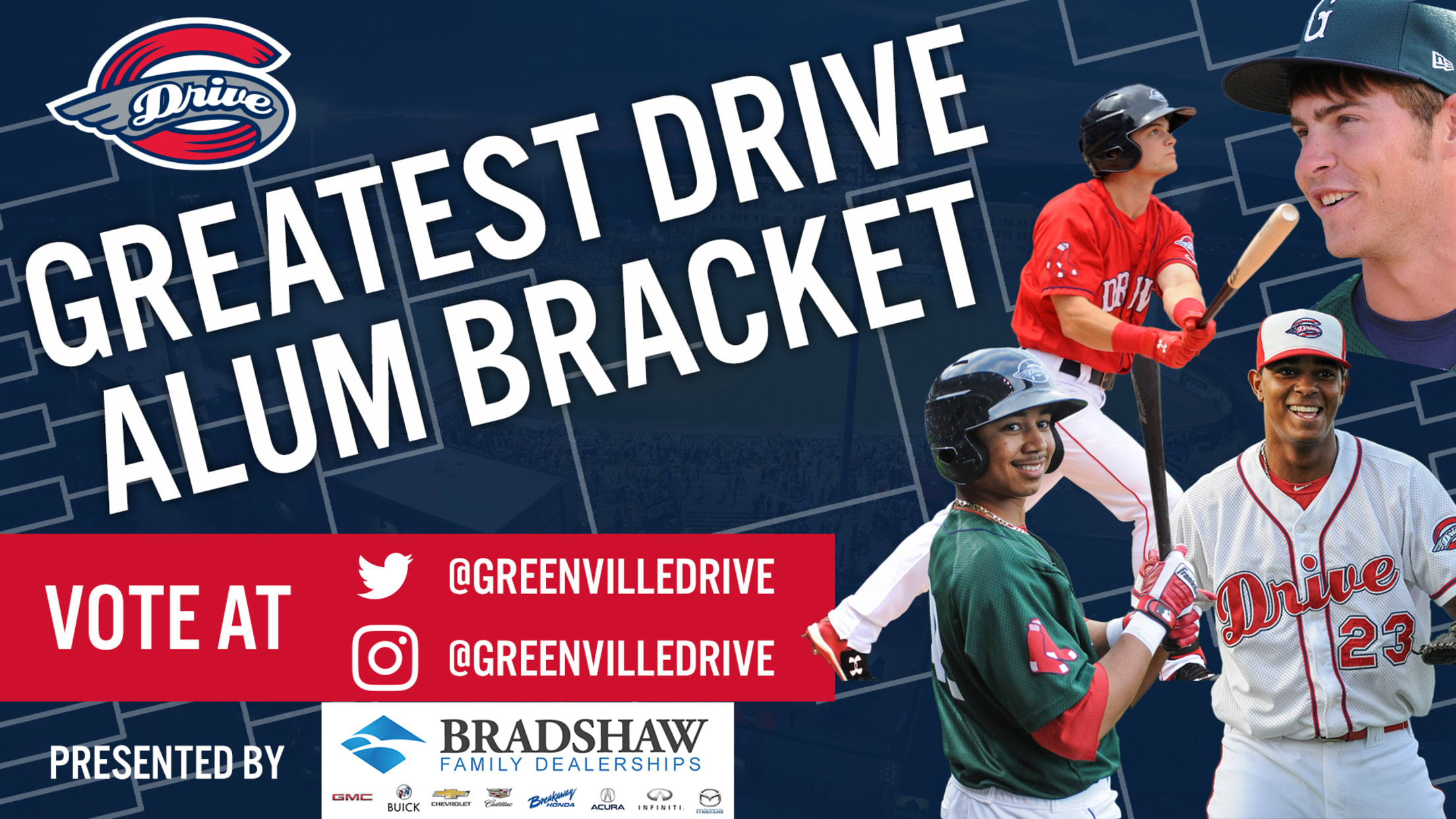 In honor of the Greenville Drive's 15th Anniversary season, the Drive are letting you, the fans, determine who is the Greatest Drive Alum in Franchise History. The March Madness-style bracket competition, presented by Bradshaw Family Dealerships, will take place on the Drive's social media channels, @GreenvilleDrive, on both Twitter and
In honor of the Greenville Drive's 15th Anniversary season, the Drive are letting you, the fans, determine who is the Greatest Drive Alum in Franchise History. The March Madness-style bracket competition, presented by Bradshaw Family Dealerships, will take place on the Drive's social media channels, @GreenvilleDrive, on both Twitter and Instagram.
The 64-person bracket features Drive alums that have reached the Big Leagues. The four regions represent three-year periods in Drive history, starting with Drive OGs (2006-08) and No. 1 seed Josh Reddick. The next region is What A Squad (2009-11) with No. 1 seed Xander Bogaerts, followed by MVP, MVP, MVP (2012-14) with No. 1 seed Mookie Betts. Rounding out the bracket is Next Gen (2015-17) with No. 1 seed Andrew Benintendi.
Voting will begin on Tuesday, March 24 with Drive OGs in the round of 64 and continue until we have crowned the Greatest Drive Alum in Franchise History. Check out all of the players in the field below, view the bracket here and be sure head over to @GreenvilleDrive on Twitter and Instagram to cast your votes.
Drive OGs (2006-2008)
Josh Reddick (OF, 2007-08)
Clay Buchholz (P, 2006)
Daniel Bard (P, 2007-08)
Felix Doubront (P, 2007-08)
Jose Alvarez (P, 2008)
Ryan Kalish (OF, 2008)
Michael Bowden (P, 2006)
Nick Hagadone (P, 2008)
Luis Exposito (C, 2007-08)
Lars Anderson (1B, 2007)
Che-Hsuan Lin (OF, 2008)
Kristopher Negron (INF, 2007-08)
Dustin Richardson (P, 2007)
Argenis Diaz (SS, 2007)
Aaron Bates (1B, 2006)
Miguel Socolovich (P, 2007)
What A Squad (2009-2011)
Xander Bogaerts (SS, 2011)
Anthony Rizzo (1B, 2009)
Jackie Bradley Jr. (OF, 2011)
Christian Vazquez (C, 2010-11)
Ryan Pressley (P, 2010)
Travis Shaw (1B, 2011)
Brandon Workman (P, 2011)
Hunter Strickland (P, 2009)
Chris Martin (P, 2011)
Will Middlebrooks (3B, 2009)
Ryan Lavarnway (C, 2009)
Tim Federowicz (C, 2009)
Casey Kelly (P/SS, 2009)
Stephen Fife (P, 2009)
Carson Blair (C, 2011)
Anthony Ranaudo (P, 2011)
MVP, MVP, MVP (2012-2014)
Mookie Betts (2B, 2013)
Matt Barnes (P, 2012)
Brian Johnson (P, 2013)
Manuel Margot (OF, 2014)
Noe Ramirez (P, 2012)
JB Wendelken (P, 2013)
Tzu-Wei Lin (2B, 2014)
Frankie Montas (P, 2013)
Blake Swihart (C, 2012)
Jason Garcia (P, 2012-2014)
Austin Maddox (P, 2013)
Madison Younginer (P, 2012-13)
Carlos Asuaje (INF, 2014)
Pat Light (P, 2013-14)
Jonathan Aro (P, 2014)
Mike Miller (INF, 2013)
Next Gen (2015-2017)
Andrew Benintendi (OF, 2015)
Rafael Devers (3B, 2015)
Yoan Moncada (2B, 2015)
Michael Chavis (3B, 2015)
Bobby Poyner (P, 2016)
Ty Buttrey (2015)
Jalen Beeks (P, 2015)
Michael Kopech (P, 2015)
Darwinzon Hernandez (P, 2017)
Shaun Anderson (P, 2017)
Ben Taylor (P, 2015)
Mike Shawaryn (P, 2017)
Javier Guerra (SS, 2015)
Mauricio Dubon (2B, 2015)
Aaron Wilkerson (P, 2015)
Stephen Nogosek (P, 2017)