Sean Kazmar Jr., Atlanta Braves' Triple-A Hits King, Calls it a Career
Kazmar tallied 657 hits in 750 games with Gwinnett as part of his 17 professional seasons
On an overcast Sunday at Coolray Field, in the last inning of the Gwinnett Stripers' final game of the season, Sean Kazmar Jr. stepped to the plate for his 6,316th professional at-bat. The fans gathered that gray October day might already have sensed the finality for Kazmar, who received a
On an overcast Sunday at Coolray Field, in the last inning of the Gwinnett Stripers' final game of the season, Sean Kazmar Jr. stepped to the plate for his 6,316th professional at-bat.
The fans gathered that gray October day might already have sensed the finality for Kazmar, who received a team-led tribute at the beginning of the game. His teammates bucked tradition of taking the field together, pausing on the warning track instead as the 37-year-old infielder raced out alone to second base to stand for the National Anthem.
Three at-bats and five defensive chances produced no further indication that anything was out of the ordinary. But now in the bottom of the ninth inning, Kazmar himself finally acknowledged what was happening. He tipped his helmet to the applause of both the Gwinnett and Jacksonville dugouts, briefly wiped his eyes, and dug his cleats into the right-handed batter's box.
Three pitches later he was down on strikes and headed back to the bench, albeit to the cheers from a crowd and the adoration of teammates aware of the bittersweet history that had taken place – the final swings of Kazmar's 17-year professional career.
"It was amazing," said Kazmar. "It kind of went by fast. I was in and out of the box pretty quick. I was telling my wife later on, I said that it was probably the toughest at-bat I've ever had. Obviously, my eyes were a little watery, not wanting to make excuses. I thought it was super professional of the other team to give me that moment as well. And to the fans, I could hear them. It was an honor to be on that field for the amount of time that I was."
After 1,775 professional games – 750 in a Gwinnett uniform – Kazmar has decided to call it a career.
Though only 22 of those games were spent under the bright lights of the Major Leagues, he can still stake his claim to impressive baseball history. Kazmar tallied more hits than any other Triple-A player in Atlanta Braves annals, notching 675 with the G-Braves and Stripers from 2013-21. He stands as Gwinnett's all-time leader in games, hits, runs (308), RBIs (296), and total bases (973), unlikely to be challenged for those marks any time soon.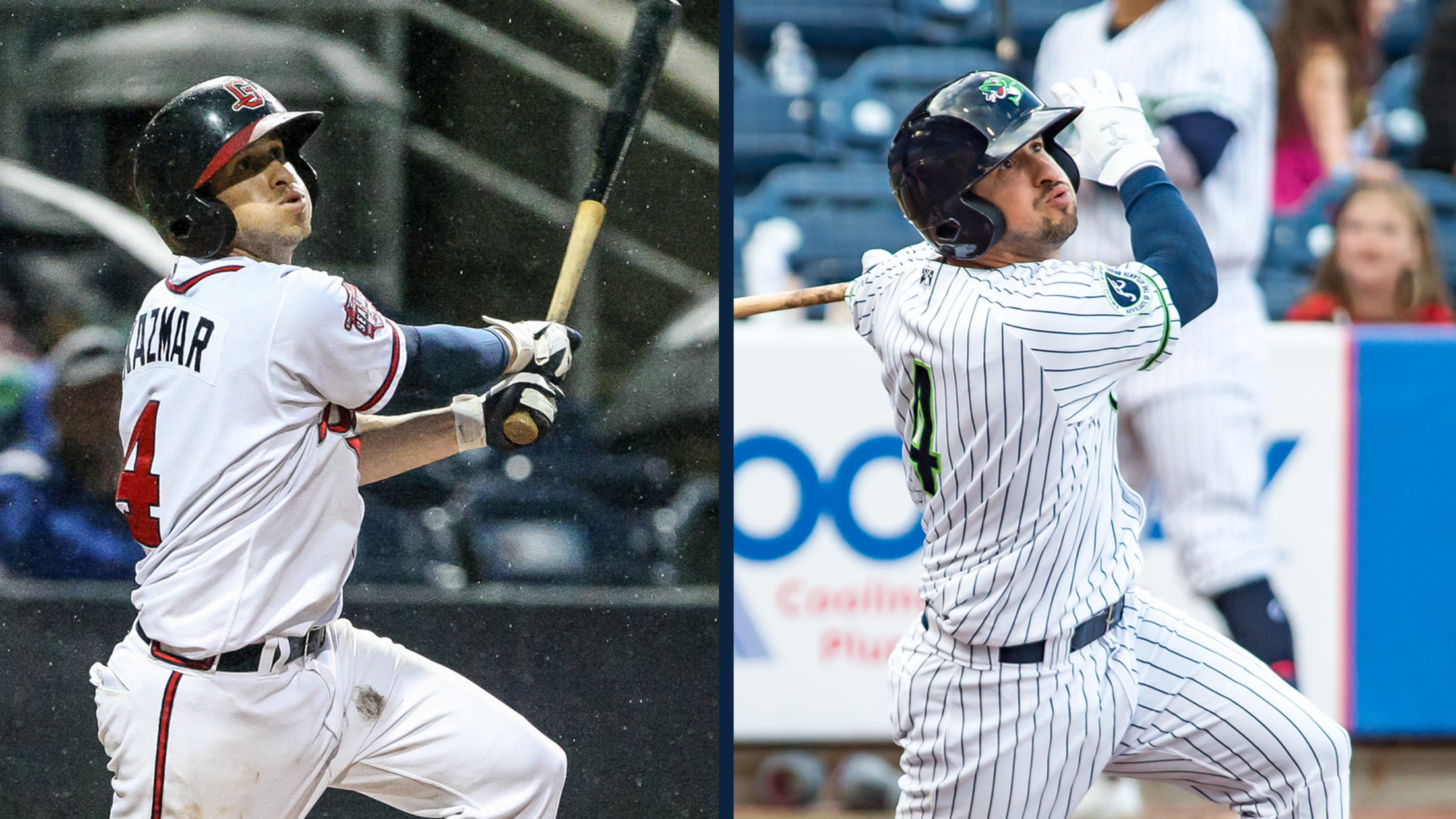 Career Closure
The decision to retire comes as the fitting end to a 2021 season that saw Kazmar achieve career closure in multiple ways.
It all started with simply getting the opportunity to play. In 2020, he was one of the thousands of players forced to sit out when the Minor League Baseball season was canceled by the COVID-19 pandemic. There were times during that shutdown when he thought he'd never get the chance to play again, but those fears abated when the Braves re-signed him to a minor league contract in December.
"I thank the Braves for giving me the opportunity all these years to play this game that I love," said Kazmar. "To bring me back, a 37-year-old after a year off, for them to invite me to (Spring Training) and give me that opportunity, I'm super thankful for that."
Kazmar rewarded Atlanta's faith in him by having the most productive Spring Training of his career. He led the team in batting, hitting .409 with one double, three home runs, nine RBIs, and a 1.415 OPS in a team-high 25 games. Though that spectacular showing didn't land him on the Opening Day roster, it did keep him top-of-mind for Braves' brass.
When several mid-April injuries created a bench spot in the big leagues, the Braves made the call that Kazmar had longed for but never expected over his nine years with the organization. On April 17, Atlanta selected his contract, putting him on a Major League roster for the first time since his 2008 debut with San Diego.
For the first time since 2008, Sean Kazmar Jr. is back in the big leagues!#ForTheA pic.twitter.com/oTEPdCS6D7

— Atlanta Braves (@Braves) April 17, 2021
Climbing in the box as a pinch hitter on a sunny Sunday at the venerable Wrigley Field in Chicago, Kazmar appeared in an MLB game for the first time in 12 years, 206 days dating back to September 23, 2008 with the Padres. It was the longest stint between big-league games for a player since Ralph Winegarner went 13 years, 14 days from June 23, 1936 to July 7, 1949.
For a kid born in Valdosta, Ga. that grew up idolizing the Braves even after his family moved to the Las Vegas area, it was more than one dream realized.
"Having the opportunity to actually put on a Major League uniform again, one, was amazing for me and my family, but two, to put on the Atlanta Braves uniform, I honestly can't (explain) how unbelievable and cool of a moment that was," said Kazmar, whose wife Jennifer and parents were at the game. "Most importantly because I grew up a huge Braves fan. To wear that Major League uniform again, to be in a Braves uniform, I honestly feel like I'm riding off (into) the sunset when it comes down to it."
Kazmar's comeback played like something out of a movie script, but his time in the Majors was ultimately brief, comprised of two pinch-hit at-bats. He was outrighted to Gwinnett on May 10, just in time to join the Stripers for the first homestand of the Triple-A season.
Returning to his familiar role, Kazmar went on to bat .215 with nine doubles, nine home runs, 29 runs, 26 RBIs, and three stolen bases in 83 games while providing defensive versatility at all four infield positions for the Stripers. The offensive numbers were down from his .270, 12-homer, 61-RBI, .763-OPS campaign in 2019, but the year did see him surpass one long-awaited milestone.
On July 31 at Memphis, in his first at-bat of the game against Johan Oviedo, he smacked a line drive into left field for his 658th career hit with Gwinnett. That single moved him past former Richmond Braves outfielder Larry Whisenton for the most hits all-time by an Atlanta Braves Triple-A player.
Here is @DaveLezotte on the call for Kazmar Jr.'s historic hit! pic.twitter.com/1ujZIsKIGR

— Gwinnett Stripers (@GoStripers) August 1, 2021
Said Kazmar the next day, "This is certainly neat for me to be able to hold any type of record, but to do it for the Atlanta Braves organization is just an amazing feeling."
The Decision
With the hits record now finally his, Kazmar settled into a reduced role the rest of the season. After July 31, he didn't play again until August 8, and saw action in only 12 games that month despite hitting a solid .303. The physical toll of playing every day was starting to catch up to him. It was around the end of August that he started to entertain the idea of retirement.
"To be honest, it didn't really hit me until I'd say a month left in the season," Kazmar admitted. "It wasn't until about two weeks left in the season when I was like, you know what, I think it's time. I let my wife know, we kind of kept it to ourselves there for a little bit. She asked me with about a week left in the season, 'Should I come out for the last game?' And I was like 'Yeah, I think it's time.'"
KAZZZZZZZZZZZZZZ BOMB‼️

Sean Kazmar Jr. hits his 9th home run of the season to give us our first lead of the night!

Stripers: 3 Red Birds: 2 pic.twitter.com/EfVIZiMArc

— Gwinnett Stripers (@GoStripers) September 2, 2021
Kazmar played sparingly in September as he quietly eyed the finish line of his career. As Gwinnett crossed into the "Triple-A Final Stretch" in late September, he started just once in a five-game road series at Durham, manning third base and going 1-for-3 on September 23. The next day, he woke up to pain that almost ended his year right then.
"I played a Thursday game and that Friday I woke up and my back pretty much went out," said Kazmar. "I had back spasms. That was kind of the icing on the cake as far as me making the decision (to retire). And then when I was trying to look a week ahead, I'm like, man, we've got one more series left. I can't go out like that, I've got to play again."
That series was a season-ending five-game set against Jacksonville at Coolray Field from September 29 to October 3. Kazmar, hampered by the back spasms, tried standard and non-traditional methods alike to get back on the field.
"It was definitely a struggle," he said. "Thanks to our training staff there with T.J. Saunders, and with Tui (manager Matt Tuiasosopo) saying 'hey, let's take it easy, let's just try and get you in there for a game.' I worked really hard to try and get back. It took a week, I was able to get the back spasms to calm down. I went and did acupuncture, I went and saw a chiropractor. I was like, I've got to play this last Sunday game."
The Last Game
The Stripers wrapped up the year on October 3 with Kazmar back in the lineup for the first time since September 23. Tuiasosopo, himself only two years retired, penciled his good friend and former Gwinnett teammate into the No. 2 spot in the batting order to maximize his chance for at-bats. It was the highest up the order Kazmar had batted all season.
"I would say pretty much everyone knew in the clubhouse, but it wasn't something I was trying to really talk about too much, because I knew it was going to be an emotional day," said Kazmar.
The game started with the National Anthem tribute from his teammates, led by first baseman Ryan Casteel.
"He was like, 'you lead us out there and we'll follow you,'" Kazmar recalled. "And I'm like, 'cool, that's perfect, I'll lead us out, but you guys better be behind me.' And of course, I took off for that sprint and I got halfway out when I realized that I was the only one out there. It definitely hit me in that very moment, that National Anthem was super emotional."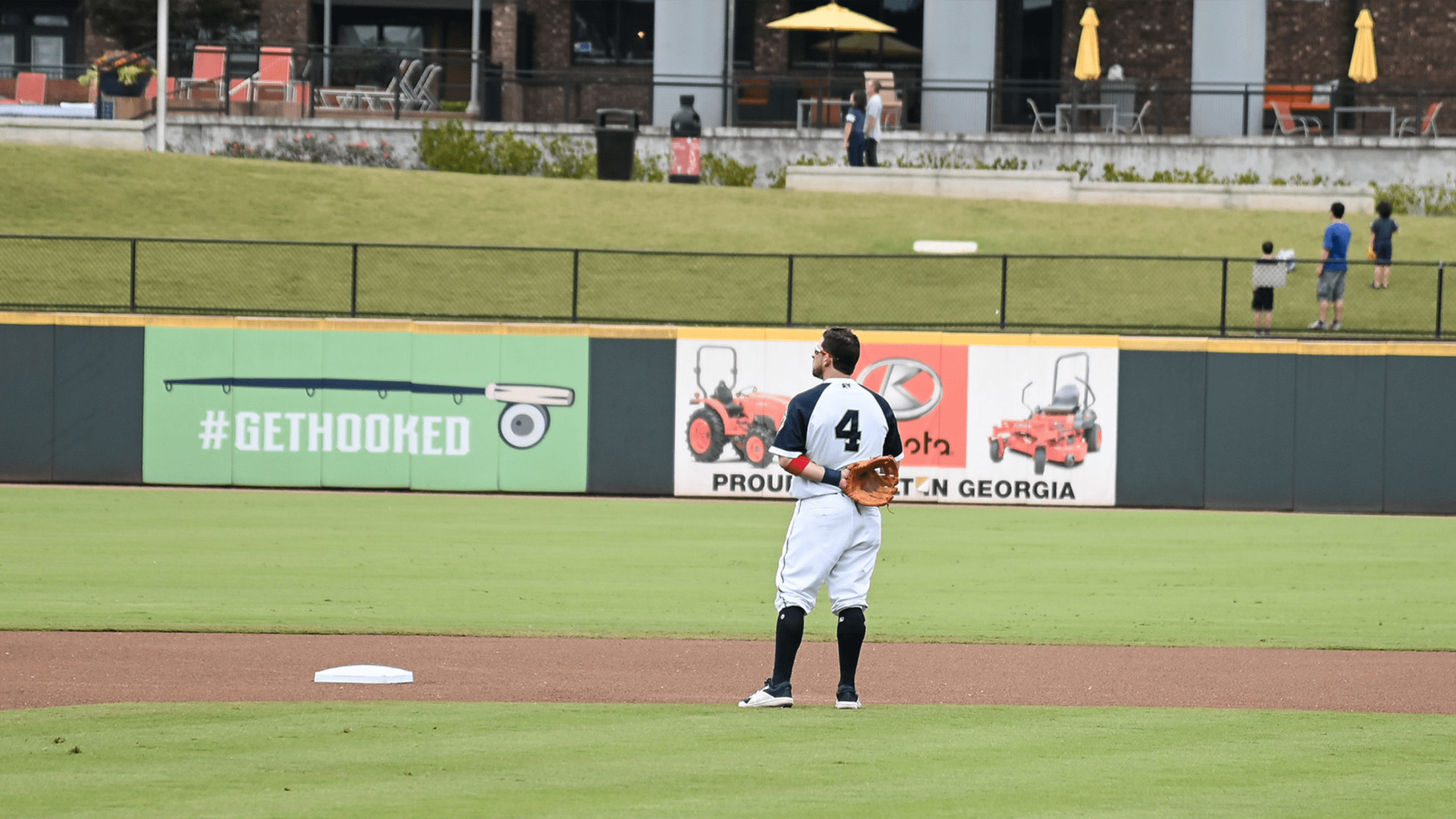 Following the deferential gesture, the rest of the team joined him for warm-ups, and rehabbing Atlanta Braves left-hander Tucker Davidson delivered the first pitch shortly after. The game then turned into the typical last-day-of-the-season sprint, with both teams aggressive at the plate and looking to speed through nine innings on their way to the off-season.
Kazmar grounded out to third base in the first inning, flied out to left field in the fourth inning, and grounded out to third for a second time in the seventh inning. Entering the eighth, his Stripers club had not yet managed a hit against the cruising Jacksonville starter, Daniel Castano.
Chadwick Tromp ended the no-hit bid when he pulled a leadoff single into left in the eighth. Casteel dumped another single into left, but Gwinnett failed to score before Castano's exit. In the ninth, closer Rob Zastryzny was summoned to finish the game, and after Drew Waters grounded out to open the inning, it was Kazmar's final turn.
Hoping to ambush a first-pitch fastball as he had done so many times throughout his career, Kazmar instead swung over the top of a nasty breaking ball. Zastryzny fired two more quality pitches after that, and Kazmar was quickly down on strikes.
"It was the toughest (at-bat) I say, because I'm like, well, they know it's my last at-bat, I know it's my last at-bat. They're going to give me three straight fastballs. I only saw one," said Kazmar. "You know, that's the competitor in him, I don't fault him for not throwing me three heaters."
Kazmar strode off the field for the last time, with applause swelling up from a crowd that once again included his wife and his parents. He stopped one more time as he crossed onto the warning track, delivering one last helmet-tip to the Coolray Field faithful.
Two batters later, the Stripers were finished off in a 4-0 loss. A celebration commenced in the Gwinnett clubhouse anyways, as Kazmar's coaches and teammates surprised him with a champagne shower typically reserved for a team postseason clinch. It was a fitting send-off for a man who had just completed his 17th – and final – season of professional baseball.
Looking Back on a Career
Not only did October 3 mark the end of Kazmar's pro career, it also closed a chapter on a lifetime of playing baseball.
"Realistically, I played baseball for 33 straight years," said Kazmar. "Since the age of four, growing up in Las Vegas, I felt like we were playing year-round there. Once I got to high school, and college, and pro baseball, I felt like my career as a player spanned 33 years, which is absolutely mind-boggling to me."
The last eight of those seasons came in Lawrenceville, Ga. as a member of both the G-Braves and Stripers. When looking back for highlights of his near-decade in Gwinnett, Kazmar kept it simple, recalling the special feeling of his two playoff runs with the club (2016 and 2019), the camaraderie he experienced with hundreds of teammates, and the 'neat' opportunity to watch the area around Coolray Field grow and develop.
Also developing around him in Gwinnett were the cornerstone players that powered the Braves to the 2021 World Series title. Kazmar played alongside the majority of Atlanta's current roster at one time or another in Triple-A, serving as a steady leader in the clubhouse throughout the Braves' rebuilding years.
From turning double plays with a 19-year-old Ozzie Albies in 2016, to talking hitting with a 21-year-old Austin Riley in 2018, to playing defense behind young arms like Max Fried and Ian Anderson as they matured into front-line starters, Kazmar was there with a mentor-like role to play in Atlanta's comeback story.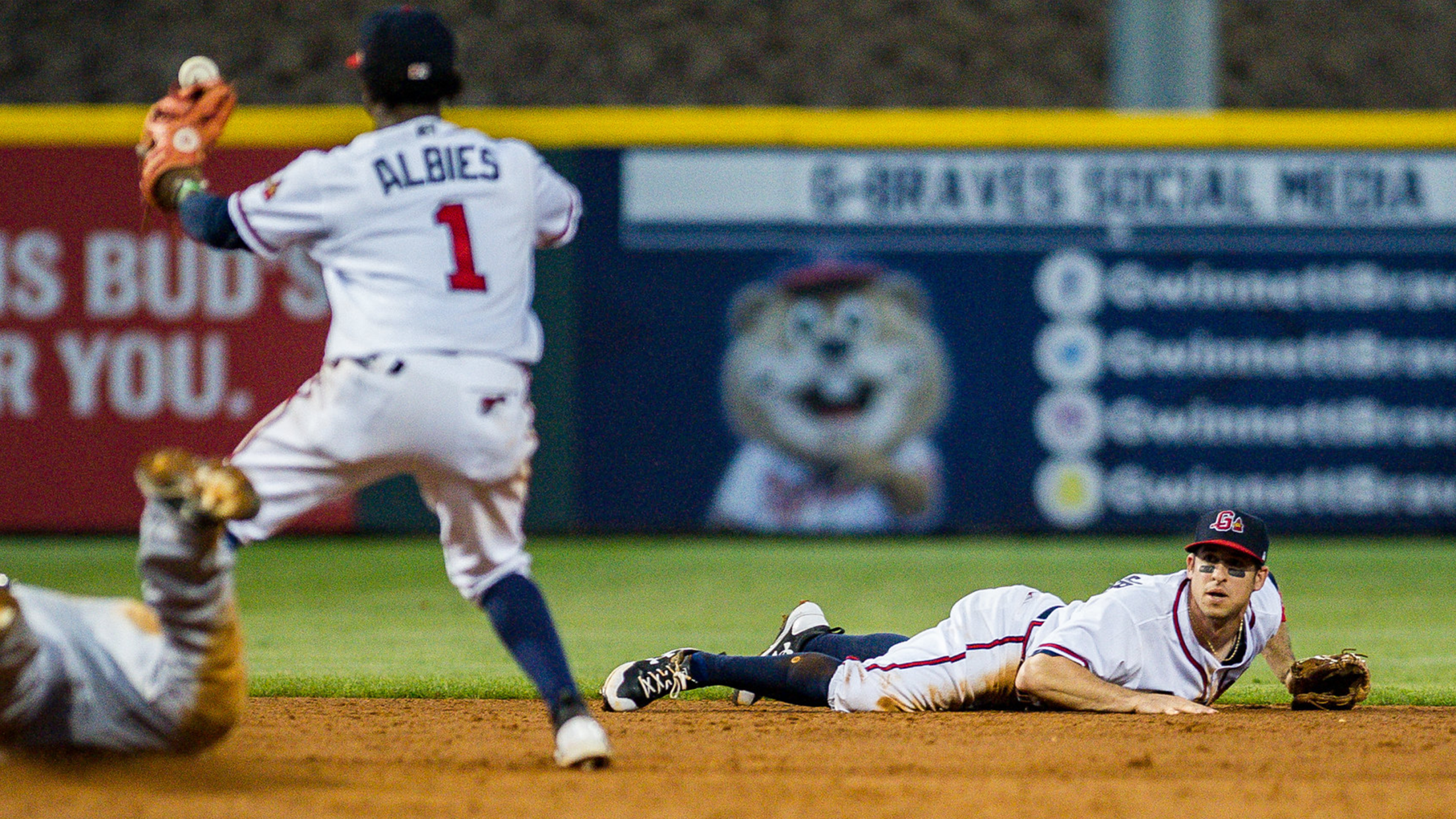 "I was in my early 30's, so I knew I'm not going to be able to play this game forever," said Kazmar. "So, having these younger guys, it was just me trying to share my experiences and help guys out any way I can through a full minor league season. (Playing) 140-plus games is extremely hard to do, especially in a minor league setting with the travel and everything else that comes along with it. Certainly, over the last 6-7 years, I've tried to take a lot of pride helping these younger players get through a minor league season."
Future Plans
That eagerness to help mold young ballplayers may be the key to Kazmar's next phase of life. Though he will miss the adrenaline rush that comes with directly affecting a game's outcome, it's clear he has the desire to impart his vast experience to baseball's next wave of talent.
"My plan is to stay in this game for a long time to come," said Kazmar. "Hang out in the dugout a little bit more. But yeah, that's what I'm going to miss, getting in between those lines and physically making a difference in the game."
Still only weeks removed from the end of his playing career, he hasn't yet formulated a plan for what he will do next.
"I'm not 100% sure exactly what's going to happen next year as far as where I'll be or what exactly I'll be doing," said Kazmar. "But I'm planning on being in a uniform in some capacity, helping an organization out the best way I can."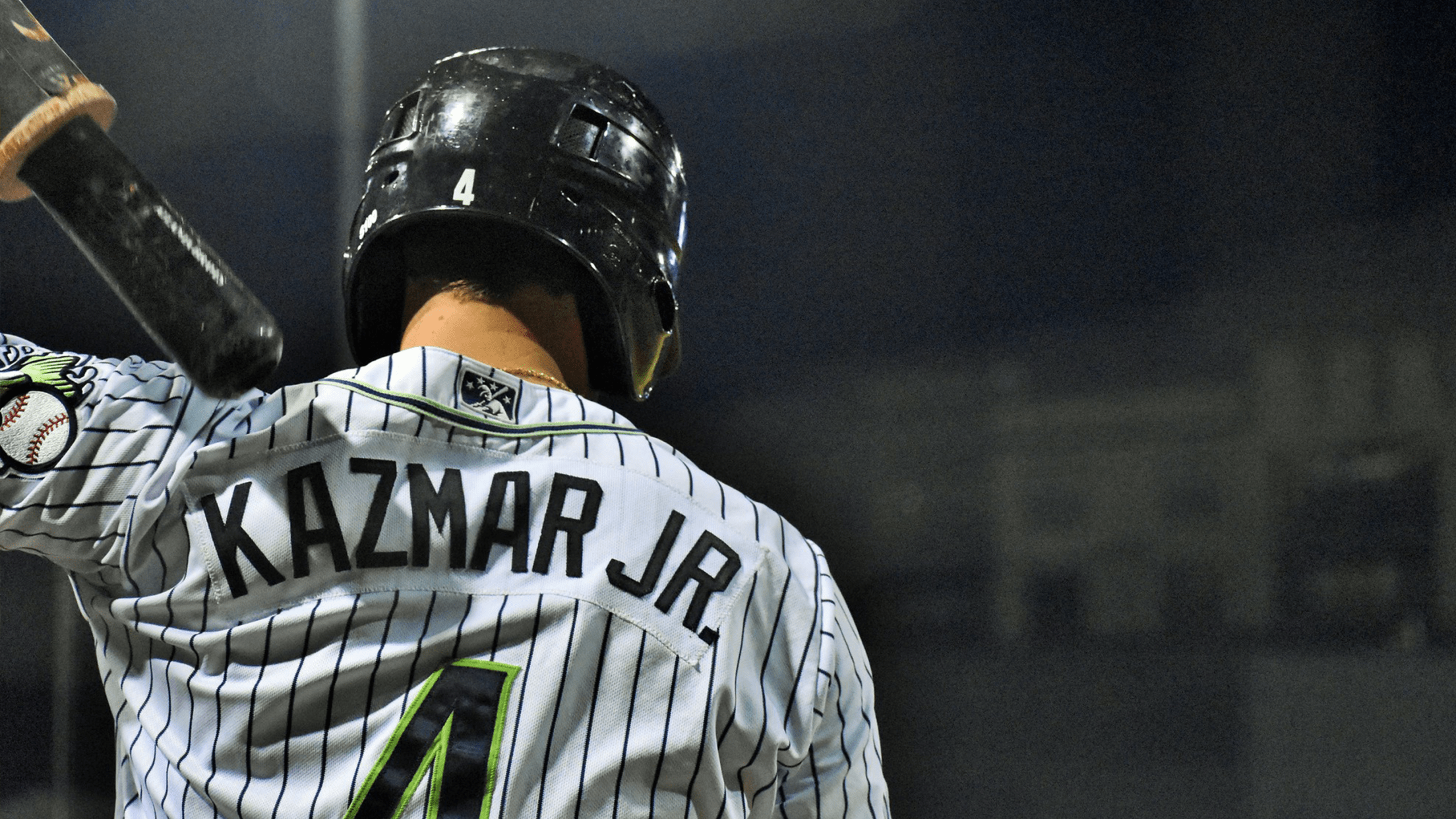 When he does don a jersey again, it would only be natural for Kazmar to feel the desire to get back between the white chalk lines. Nearly two decades worth of spring trainings, opening days, cross-state bus rides, batting practice rounds, defensive drills, muggy summer nights, doubleheaders, extra innings, getaway days – all the things that make up "the grind" are hard-wired into him.
Playing baseball is like muscle memory for Kazmar, but there's no question in his mind that he gave everything he had and left it all out on the field.
"I'm happy with my decision," he said. "I'm good with it. It was a long, wonderful career, I wouldn't take anything back."