Bashlor Strands Bases Loaded to Clinch Series Win 
Bashlor picked up his first save of the season in the 5-4 win over Toledo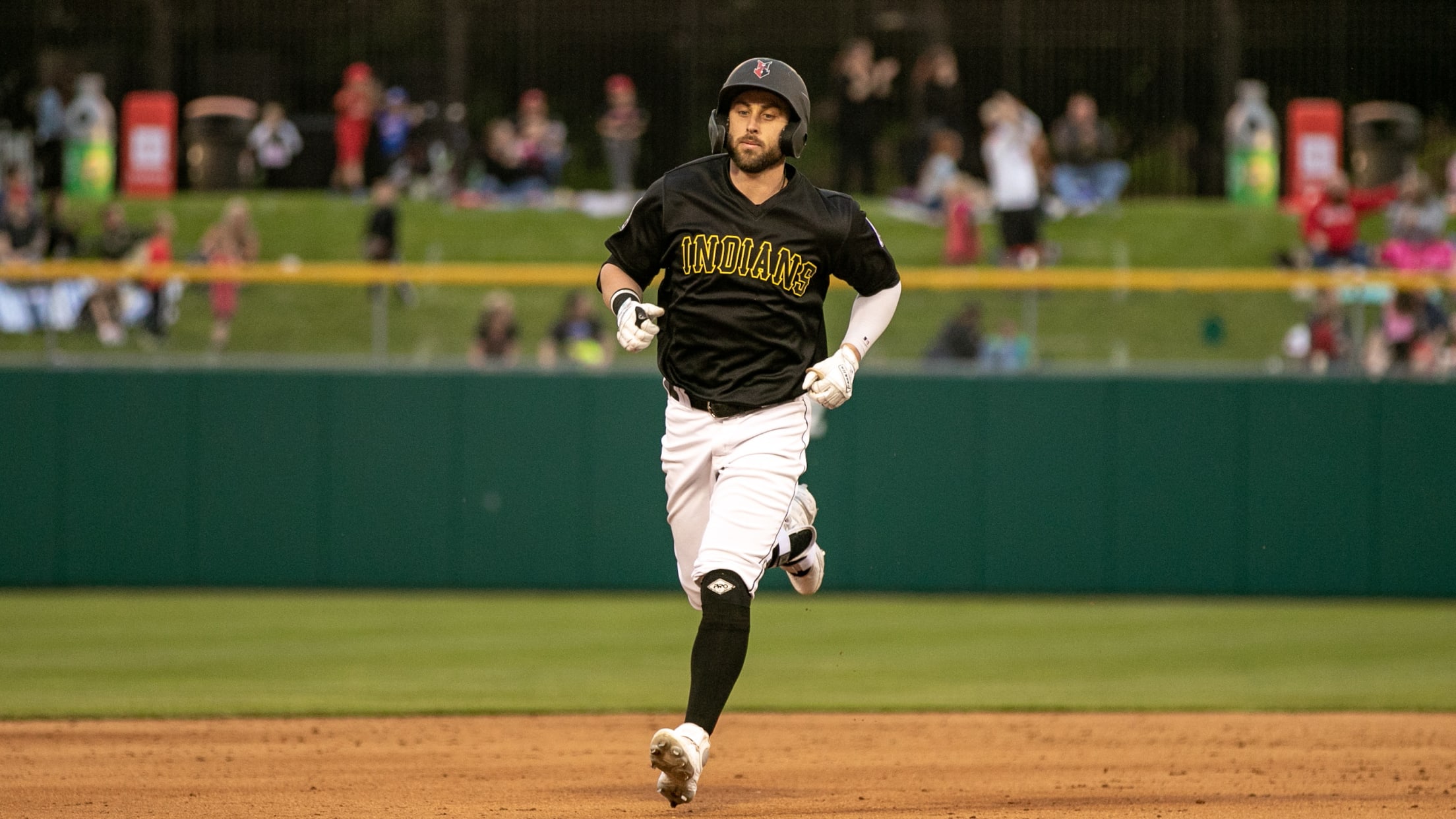 Dustin Fowler's second home run of the season led the Indians to a 5-4 win over Toledo. (Photo by Casey McGaw)
INDIANAPOLIS – With the bases loaded and one out in the ninth inning, relief pitcher Tyler Bashlor fanned back-to-back batters to clinch the Indianapolis Indians 5-4 win over the Toledo Mud Hens on Saturday night. With their fourth victory of the series, the Indians have earned their first series win
INDIANAPOLIS – With the bases loaded and one out in the ninth inning, relief pitcher Tyler Bashlor fanned back-to-back batters to clinch the Indianapolis Indians 5-4 win over the Toledo Mud Hens on Saturday night. With their fourth victory of the series, the Indians have earned their first series win of the season.
Toledo (3-7) led early in the game after beginning the scoring in the third. With a four-run fifth inning led by a three-run shot off the bat of Dustin Fowler, the Indians won their second consecutive game in comeback fashion. Fowler's home run extended the Indians home run streak to five games.
Down 4-1 at the end of six, the Mud Hens took advantage of a throwing error by second baseman Ethan Paul to score two runs in the seventh to cut the Indians lead to 4-3.
Following Fowler's second extra-base hit of the day, a two-out triple off Toledo reliever Beau Burrows, the Indians (6-4) right fielder Chris Sharpe doubled him home to score the eventual winning Indianapolis run.
The Mud Hens fought back in the ninth inning and scored one run in reliever Nick Mears' second inning of work. With two on and one out, Bashlor (S, 1) entered and loaded the bases with a walk. He clinched the win with back-to-back strikeouts of Aderlin Rodríguez and Renato Núñez.
Steven Wright (W, 1-0) toed the rubber for the Indians to begin the game and picked up his first win of the season. He fanned four batters over five one-run innings.
Toledo starter Rony García (L, 0-1) surrendered four runs in five innings of work. Burrows and Wladimir Pinto combined for three innings in relief.
The Indians and Mud Hens face off for the finale of the six-game series on Sunday afternoon at 1:35 PM ET in Indianapolis. RHP Chase De Jong (1-0, 1.64) is set to start for the Indians, while Toledo has yet to name a starter.