Historical Highlight: Rajai Davis
The former Tribe outfielder established the longest hitting streak in the Victory Field era in his final game with the Indians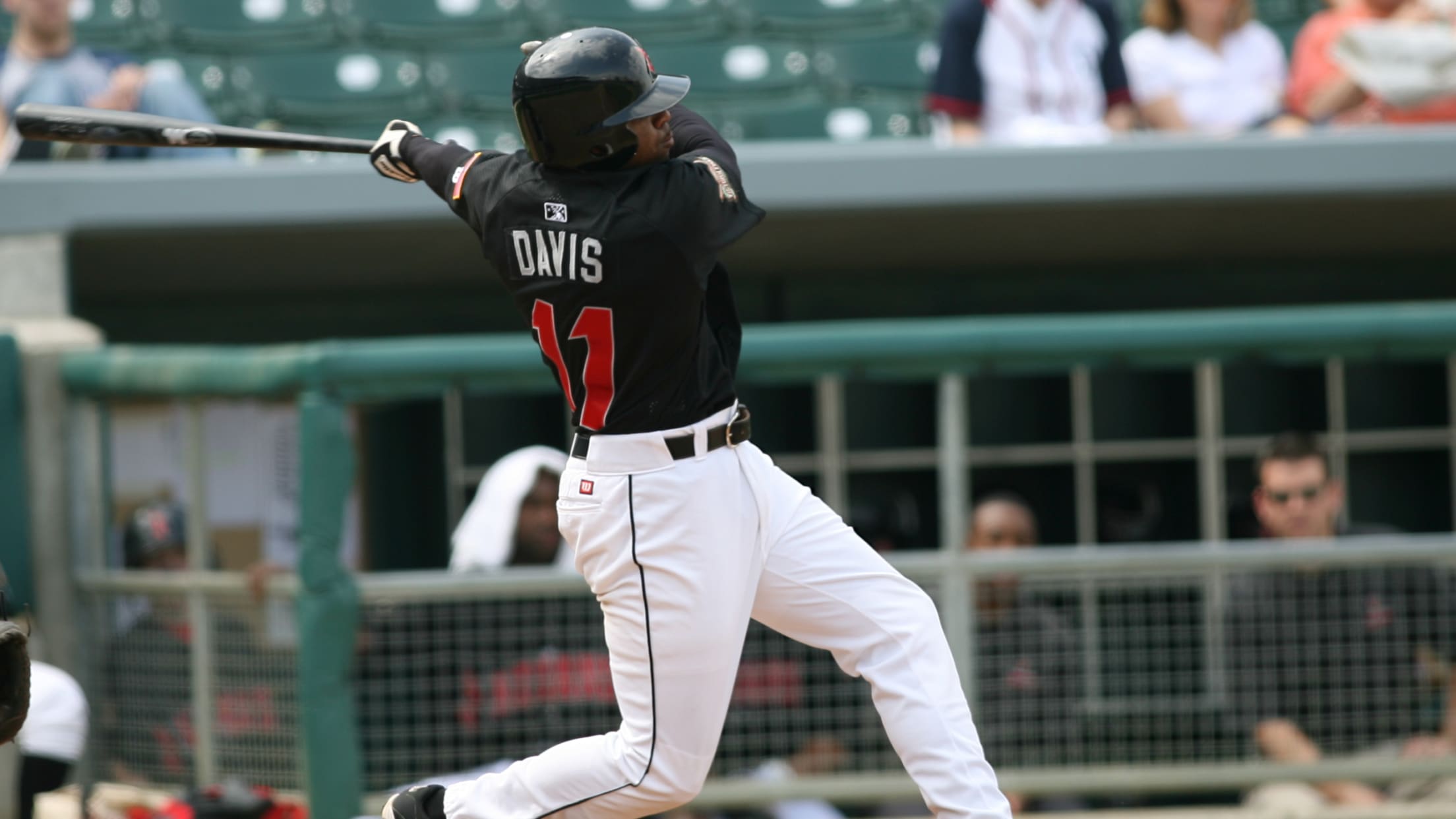 Davis played in 53 games for the Tribe during the 2007 season with a .318 (67-for-211) batting average and 27 stolen bases. (Photo by Bill Gentry)
A home run in the first inning vs. Charlotte extended the longest hitting streak in the Victory Field era to 21 games on June 3, 2007. Center fielder Rajai Davis, the Pittsburgh Pirates38th-round draft pick in 2001, blasted his fourth long ball of the season to put the Tribe ahead
A home run in the first inning vs. Charlotte extended the longest hitting streak in the Victory Field era to 21 games on June 3, 2007. Center fielder Rajai Davis, the Pittsburgh Pirates38th-round draft pick in 2001, blasted his fourth long ball of the season to put the Tribe ahead by one run early in the game against the Knights. The Indians went on to win 5-1, as Davis went 1-for-3 with one RBI.
Davis recorded eight stolen bases and 13 RBI while batting .364 (32-for-88) during that 21-game stretch to put himself in the Indians history books. On June 4, instead of facing Charlotte again for the chance to extend the streak to 22 games, the Connecticut native was making his way to Washington D.C. to join the Pirates for his first and only call-up of the season.
Before his 14-year major league career took him to eight different organizations, Davis established himself a base stealer in the Pittsburgh farm system. His 72 stolen bags outnumbered his 51 RBI during his two seasons in Indianapolis, and his record of 45 stolen bases in the 2006 season has yet to be broken.
Davis appeared in 44 games for the Pirates between two seasons until being traded to the San Francisco Giants after he hit .271 (13-for-48) in 24 games leading up to the 2007 trade deadline.
In 2008, he made the jump across the San Francisco Bay to Oakland. Davis became one of the biggest contributing players over the next three seasons for the Athletics as he stole 116 bases with a .287 (319-for-1,111) batting average.
One of his most successful campaigns came in 2016 with the Cleveland Indians, when they punched a ticket to their first World Series since 1997. Although Davis led the American League with 43 stolen bases, his career-defining moment came at the plate in Game 7 of the Fall Classic.
Down 6-4 with two outs and a runner on second base in the bottom of the 8th inning, Davis stepped into the right-handed batter's box against Chicago Cubs closer Aroldis Chapman. The seventh pitch of the at-bat, a 98-MPH fastball down and inside, brought mayhem to Cleveland. A two-run home run to left field tied the game, one that the Cubs would later go on to win in 10 innings. Davis went 5-for-22 in the series.
He played the next three seasons with four organizations, returning to both Oakland and Cleveland. After electing free agency from the New York Mets in the 2019-20 offseason, Davis signed with Acereros del Norte in the Mexican League. But due to the COVID-19 pandemic, Davis never suited up for the Acereros.