Indians Select Indy RBI as Triple-A Final Stretch Beneficiary
Minor League Baseball to donate $50 to Indy RBI for every home run hit by the Indians Sept. 22-Oct. 3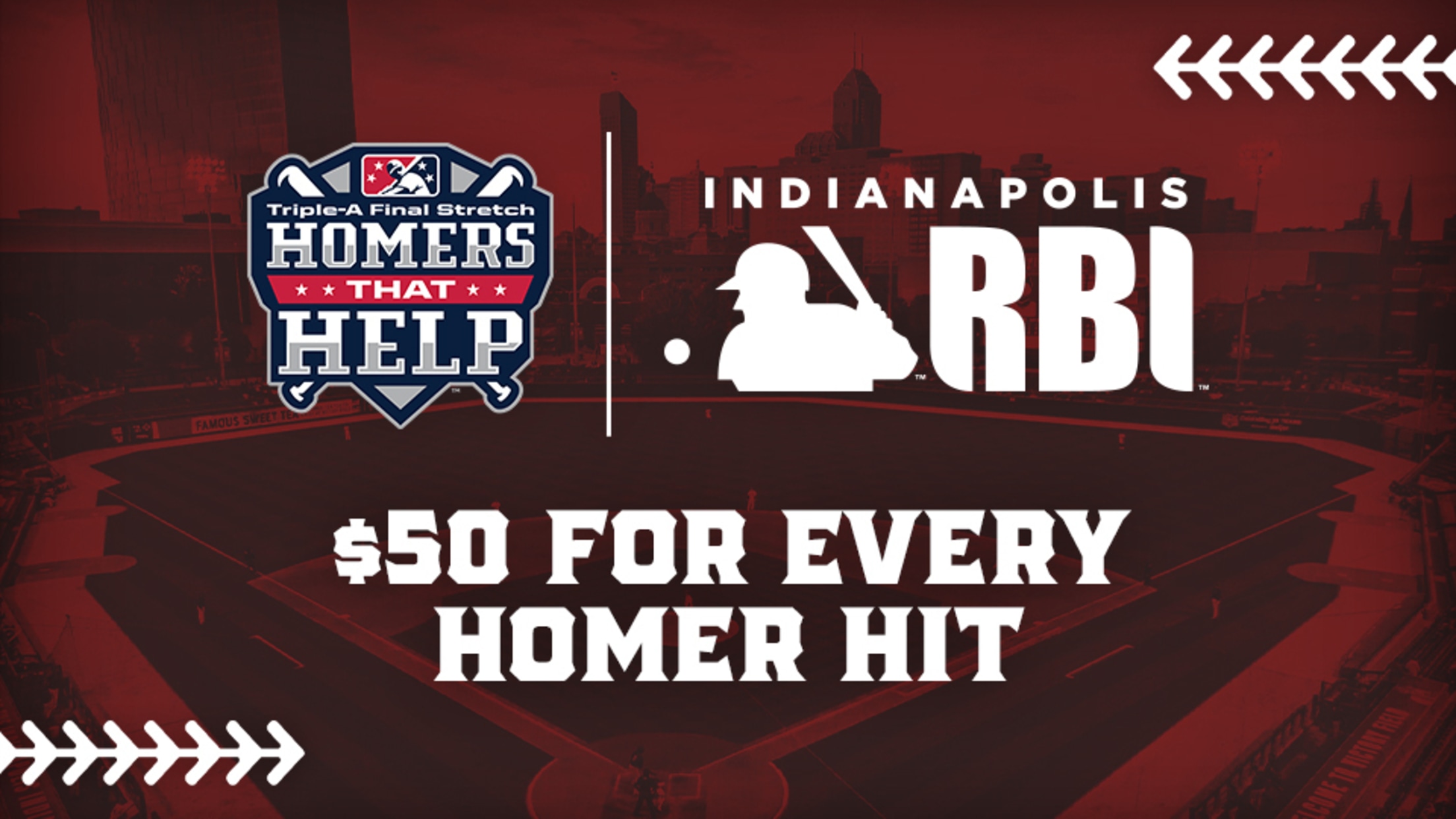 INDIANAPOLIS – Minor League Baseball™ (MiLB™) today announced the creation of a "Homers That Help" campaign, a charitable component to the 10-game Triple-A Final Stretch of games that will benefit 501(c)3 charities in each Triple-A city. The Indianapolis Indians selected Indy RBI, the exclusive affiliate of Major League Baseball's Reviving
INDIANAPOLIS – Minor League Baseball™ (MiLB™) today announced the creation of a "Homers That Help" campaign, a charitable component to the 10-game Triple-A Final Stretch of games that will benefit 501(c)3 charities in each Triple-A city. The Indianapolis Indians selected Indy RBI, the exclusive affiliate of Major League Baseball's Reviving Baseball in Inner Cities initiative, as the Circle City beneficiary.
MiLB will donate $50 to Indy RBI for every home run hit by the Indians over the final 10 games. Further, the Triple-A team to finish with the most home runs over the 10-game span will generate an extra $5,000 donation from MiLB to its respective charity.
"The last two years have been the most stable Indy RBI has been financially thanks to the Indianapolis Indians and Indianapolis Indians Charities," said Mike Lennox, Indy RBI Executive Director. "We've been able to focus our efforts on getting kids to play baseball and softball while having fun and maintaining good sportsmanship. We are thankful for Minor League Baseball's donation which will contribute to our success next season."
The Indians belted 120 home runs through their first 119 games of the season. Individually, Indiana native Hunter Owen leads the club with a career-high tying 19 homers.
"We are excited that our powerful lineup will lead to a powerful community impact during the Triple-A Final Stretch," said Randy Lewandowski, Indianapolis Indians President and General Manager. "Indy RBI provides great opportunities for inner-city youth to play baseball and softball, and we're thankful for Minor League Baseball's contribution to one of our greatest community partners and nonprofits in every Triple-A market."
The Triple-A Final Stretch begins tonight when Jacksonville hosts Memphis. The Indians begin their Final Stretch games tomorrow with the series opener of a five-game set at Omaha.
"Minor League Baseball teams have long been great community partners, and we are pleased to make a donation to each of these local charities on behalf of our Triple-A teams for their performance during the Triple-A Final Stretch," said Major League Baseball's Vice President, Minor League Operations and Development, Peter Woodfork. "These charities provide a variety of valuable services to their community, and it is our honor to recognize their efforts.
Tickets for Indy's final five-game homestand against the Nashville Sounds are still available. To purchase, visit IndyIndians.com or contact the Victory Field Box Office at (317) 269-3545 or [email protected].