Staff Highlight: Ryan Barrett, Senior Ticket Sales Account Executive
Love for baseball and relationships drive Barrett's sales expertise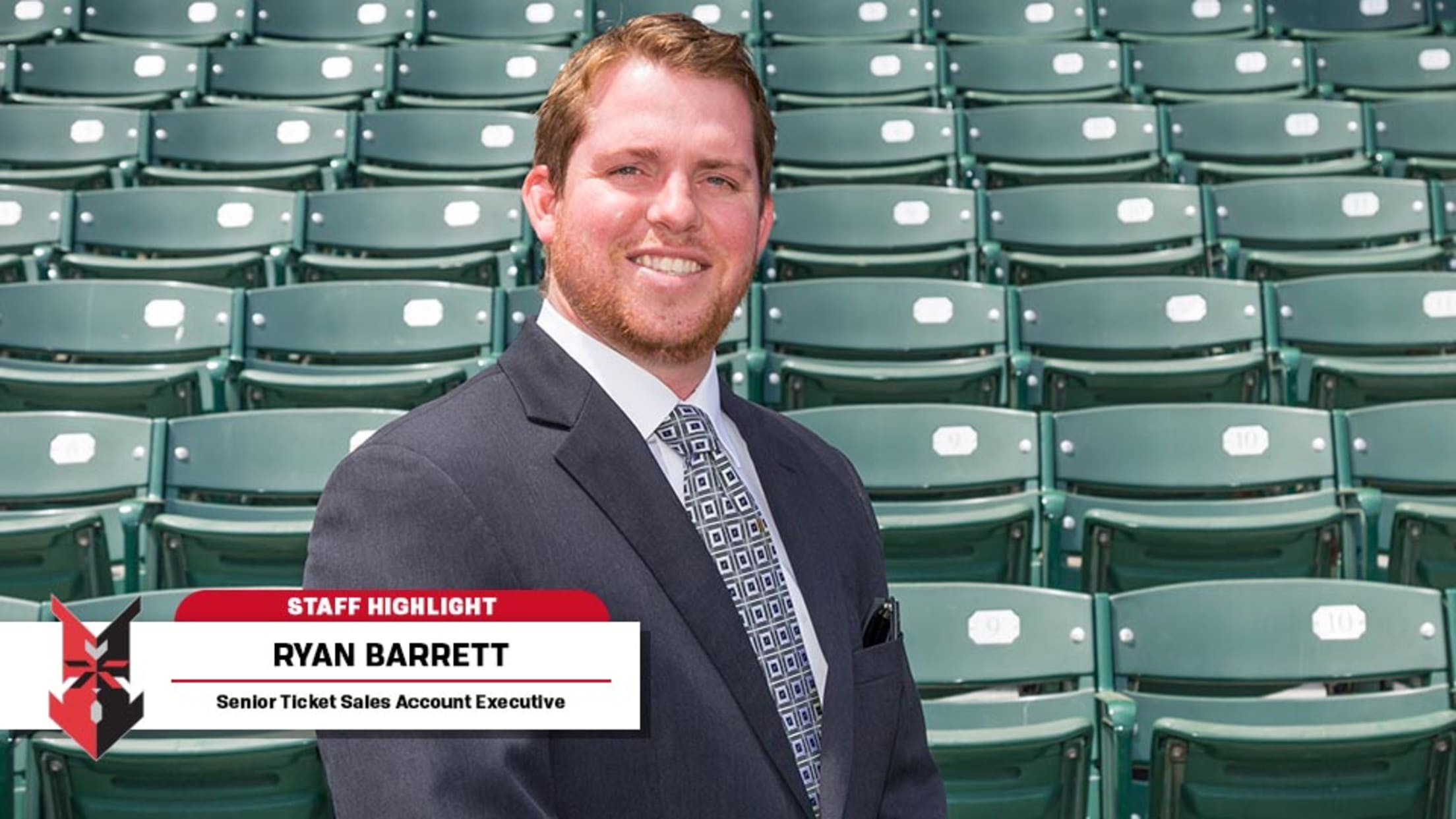 Baseball has been in Ryan Barrett's life for as long as he can remember. So, when his career on the diamond ended, the natural step forward was to work in the front office of a baseball organization. That step just so happened to land him a position within the Indianapolis
Baseball has been in Ryan Barrett's life for as long as he can remember. So, when his career on the diamond ended, the natural step forward was to work in the front office of a baseball organization. That step just so happened to land him a position within the Indianapolis Indians ticket sales department.
Before his impressive career in sales took off, Barrett was one of three boys in his family to play baseball beyond high school. He was an infielder at the University of Evansville – where his future wife played softball – through his graduation in 2007. Barrett's younger brother played at an NAIA school, and most recently, his brother Aaron played with the Washington Nationals during their 2019 World Series run.
Needless to say, baseball is engrained in Barrett's life. So, as an Indianapolis Indians intern in 2008, Barrett discovered that he could combine his passion for baseball with his love for ticket sales and creating relationships. Since then, he has found a home with the Indians through the family atmosphere and the day-to-day responsibilities of his job.
Over 10 years later, Barrett's goals going forward are to continue to find happiness in his career and to see his children grow through their experiences at Victory Field.
What is your favorite part of working for the Indians?
When you work at the best ballpark and have the strongest staff in Minor League Baseball, coming to work every day is easy. I really enjoy the relationships I have built with co-workers and with my clients. The organization has always been first-class and that has been reflected in the 13 seasons I have been with them.
What about the Indians organization has made you stay here for 10+ years?
After I interned here, I really fell in love with the power of tickets and what they can bring to both an individual and an organization. I always wanted to be in sales and my passion for baseball made working for the Indians an easy match. I might not be playing anymore, but I still love coming to the ballpark every day.
If you could give one piece of advice to college students looking to get into sales, what would it be?
Go after what you're the most passionate about. It's gotten to the point for me where, if you're not worried about pay or hours, if you're passionate and have a work ethic toward it, you'll have success.
What is your favorite part of coming to Indians games?
I'm only as good as the people I surround myself with. I owe a lot of success to the training I've had in the past and [Assistant General Manager] Matt [Guay] and [Director of Ticket Sales] Chad [Bohm] who have given me my foundation. I also owe a lot of it to my clients. I love the day-to-day of it. It's nice to walk the concourse and have conversations with longtime Indians fans and baseball fans.
What is your kids' favorite part?
I think my kids enjoy me working in baseball as much as I do. When they come to baseball games, they think they own the place! It wouldn't be a complete day at the ballpark if they didn't get Dippin' Dots or cotton candy and run on the field after the game. It's safe to say they love their dad working in baseball.
What do you like to do away from the ballpark?
Those who know me best know I have a huge passion for cooking. I also enjoy boating, golfing, traveling, and spending time with family and friends.
What help keeps you motivated during the long days and weeks of the season?
The type of people that the Indians have hired and the family atmosphere. Also, the goal to bring the organization back to pre-pandemic status. All the sales representatives and employees have the same mindset to bring as many fans to the ballpark to enjoy the great atmosphere that we have.