That's a No-No! Three Indians Hurlers Combine to No-Hit Saints
Chase De Jong, Austin Brice and Yerry De Los Santos complete Indy's 15th no-hitter in franchise history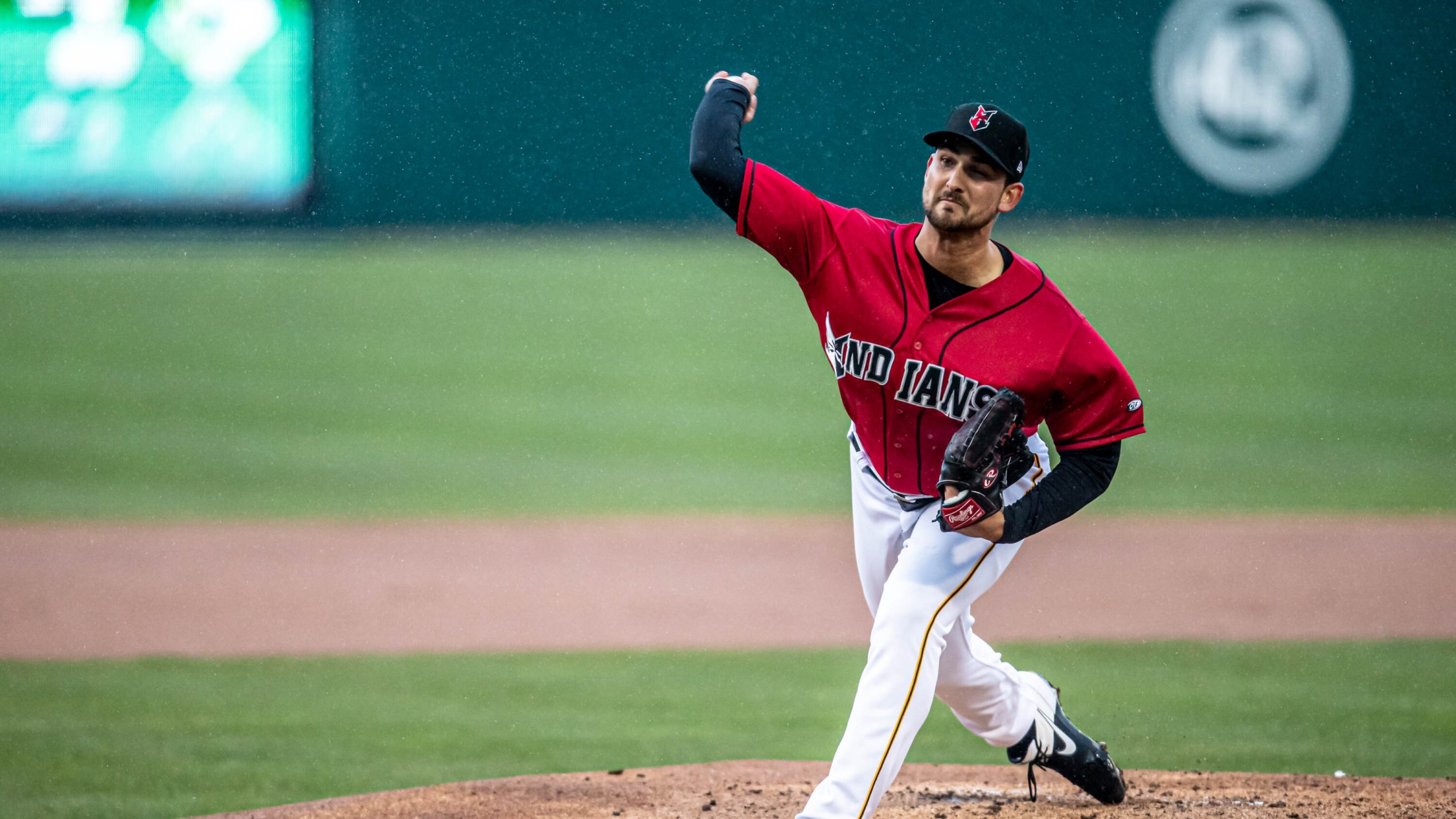 Chase De Jong fired 7.0 no-hit innings with only two walks allowed and nine strikeouts to spark a combined no-hitter for Indianapolis at CHS Field in St. Paul, Minn., on Wednesday night. (Adam Pintar)
ST. PAUL, Minn. – On a chilly night at CHS Field, three Indians pitchers – Chase De Jong, Austin Brice and Yerry De Los Santos – iced the Saints offense from start to finish en route to a 5-0 shutout for Indianapolis' fifth consecutive win and the club's 15th no-hitter
ST. PAUL, Minn. – On a chilly night at CHS Field, three Indians pitchers – Chase De Jong, Austin Brice and Yerry De Los Santos – iced the Saints offense from start to finish en route to a 5-0 shutout for Indianapolis' fifth consecutive win and the club's 15th no-hitter in franchise history.
De Jong (W, 1-0) retired the first seven batters he faced before issuing a one-out walk to Jermaine Palacios in the third inning. De Jong and his battery mate Jason Delay quickly ended the frame with a strikeout of Jose Godoy while Palacios was caught stealing.
In the fourth, Rodolfo Castro gave Indianapolis (6-2) the lead with a towering solo home run to right field for his first long ball of the season.
De Jong's only blemish over his final four innings pitched was another walk – a two-out free pass to Jake Cave in the home half of the fourth. He finished his 7.0 no-hit innings with nine strikeouts, six coming against the last 10 men he faced.
After Indy widened its lead with a four-run eighth thanks to RBI doubles by Mason Martin and Cal Mitchell, Brice and De Los Santos picked up where De Jong left off to complete the combined no-hit effort, but the organization's first no-hitter since 2012 didn't come without drama.
Facing the lower half of the St. Paul (5-3) lineup, Brice induced a groundout and caught Daniel Robertson looking at strike three for the second out of the inning. In the next at-bat with former Houston Astro Derek Fisher at the plate, the count went 3-and-0 before the lefty laced a ball to right field. Moving full speed to his left, Mitchell speared the sinking liner on a dive to keep the no-hitter intact.
De Los Santos was summoned for the ninth, and the Indians once again survived a sharp liner to open the frame. Palacios drilled a ball into the left-center alley, but Canaan Smith-Njigba made a running catch to bring Indy without two outs of history. The fireballing De Los Santos took it from there, retiring both Godoy and Jose Miranda on strikes.
Saints starting pitcher Cole Sands (L, 0-1) took the loss after yielding the Castro home run in the fourth. He tossed 5.0 innings and scattered three hits and one walk with five strikeouts.
Indy's last no-hitter came on Aug. 9, 2012 against Charlotte at Victory Field. Justin Wilson threw 8.0 innings and issued just one walk in the rain-shortened, 3-0 triumph. The last combined no-hitter for Indianapolis occurred at Durham on April 29, 2012 when Wilson, Jose Diaz and Doug Slaten silenced the Bulls. Five of the 15 no-hitters in franchise history are combined efforts.
The Indians and Saints continue their six-game series at CHS Field with a 7:37 PM ET tilt on Thursday. RHP Dereck Rodriguez (0-0, 0.00) gets the nod for St. Paul while Indianapolis has yet to name a starter.