Friday Night Lights: Nuts beat Locos, 14-7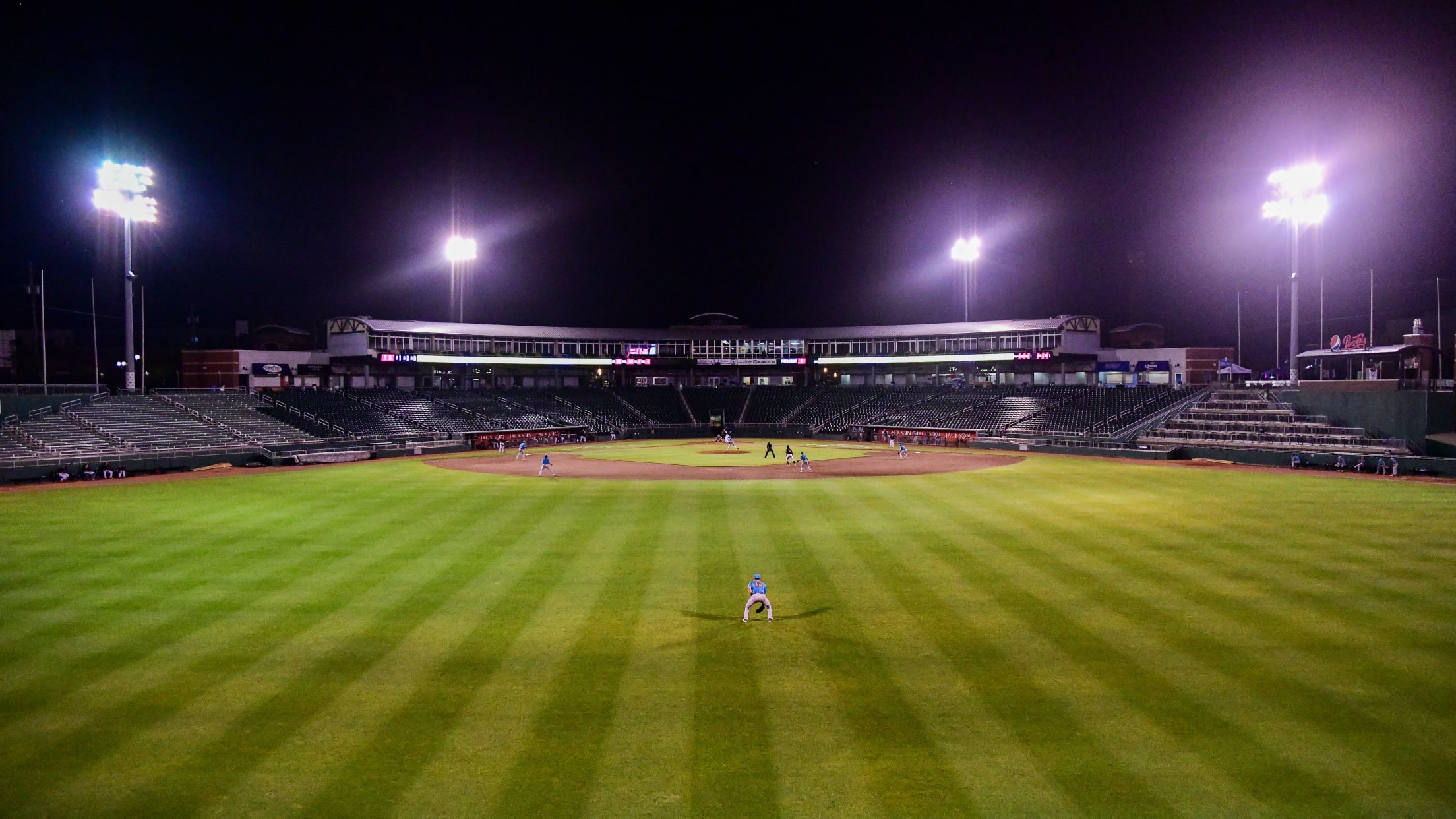 (MQH Photo Video)
LANSING, Mich. – With NFL teams in camp across the country, the Lemonade League's Lugnuts scored in each of the first five innings and rocked the Locos by a football-ish 14-7 score on Friday night at Cooley Law School Stadium. The game was played before a capacity crowd of 100
LANSING, Mich. – With NFL teams in camp across the country, the Lemonade League's Lugnuts scored in each of the first five innings and rocked the Locos by a football-ish 14-7 score on Friday night at Cooley Law School Stadium.
The game was played before a capacity crowd of 100 at Cooley Law School Stadium – a 19th straight sellout. (The stadium capacity is limited to 100 fans by health directive of Ingham County.) Only one further game remains on the Lemonade League's 20-game schedule: the Saturday finale at 1 p.m.
The early moments of the game featured a seesaw of lead changes. Each team scored a run in the first inning, and the Locos answered a Lugnuts solo tally with a pair of runs in the second inning.
In the third inning, the Lugnuts took control against Locos starter Nick O'Dea (Wayne State), drawing a walk and pounding out six hits on their way to a six-run rally and an 8-3 lead. Andrew Morrow (Michigan State) supplied the first key blow, blasting a two-run homer to left. Five batters later, Logan Welch (Saginaw Valley State) carved a two-run double to right, blowing the game open and ending O'Dea's night.
The Nuts' offense was far from done. Vann Acker (Concordia) lined a two-run single off reliever Brendan Bilkovic (Wayne State) in the fourth inning, and Mark Connelly (LCC), Morrow and Joey PeJuan (Madonna) each added run-scoring hits in a four-run fifth against Ryan Abenth (Concordia).
The Locos closed out the scoring with three runs in the fifth inning, including an RBI single by third baseman Matthew Williams (Albion), who finished 2-for-2 with two singles, two walks and two runs scored in the losing effort.
The game was shortened to six innings, with the debuting Jordan Beatson (Michigan State) recording the final four outs in relief for the Lugnuts.
Among the Lugnuts' offensive standouts, Morrow finished 2-for-4 with two runs scored and three driven in, thanks to his home run and an RBI single; Zaid Walker (Michigan State) singled, walked twice, delivered a sacrifice fly, stole three bases and scored three runs; Colin Cornwell (SVSU) singled, walked twice, stole a base and scored two runs; and Acker finished 2-for-3 with a single, double, sac fly, a run scored and three runs batted in.
On a night with 21 total runs, three defensive gems stood out. In the second inning, Lugnuts right fielder Walker made a sliding catch to his left to take away an extra-base hit from Adam Purdy (Concordia). In the fifth inning, Locos second baseman Brock Henley (Davenport) smothered a smash to his left and popped up to throw out a hustling Cornwell at first base. And in the sixth inning, Lugnuts third baseman Acker went far to his right to grab a bouncer off the bat of Craig Palidar (LCC), unleashing a high arching throw from behind the third-base coach's box that arrived on target at first to retire Palidar.
The Lemonade League is a college wood-bat league featuring Minor League Baseball umpires, yellow baseballs, seven-inning games, and extra innings replaced by a one-on-one Home Run Derby. Every Lemonade League game is livestreamed FREE across multiple social and digital platforms, including the Lansing Lugnuts' Facebook and YouTube pages.
For more information, visit lansinglugnuts.com or call (517) 485-4500.
# # #