Pelicans unveil Community Heroes Card Set members
The set features 24 incredible stories of those who went above and beyond during and after Hurricane Florence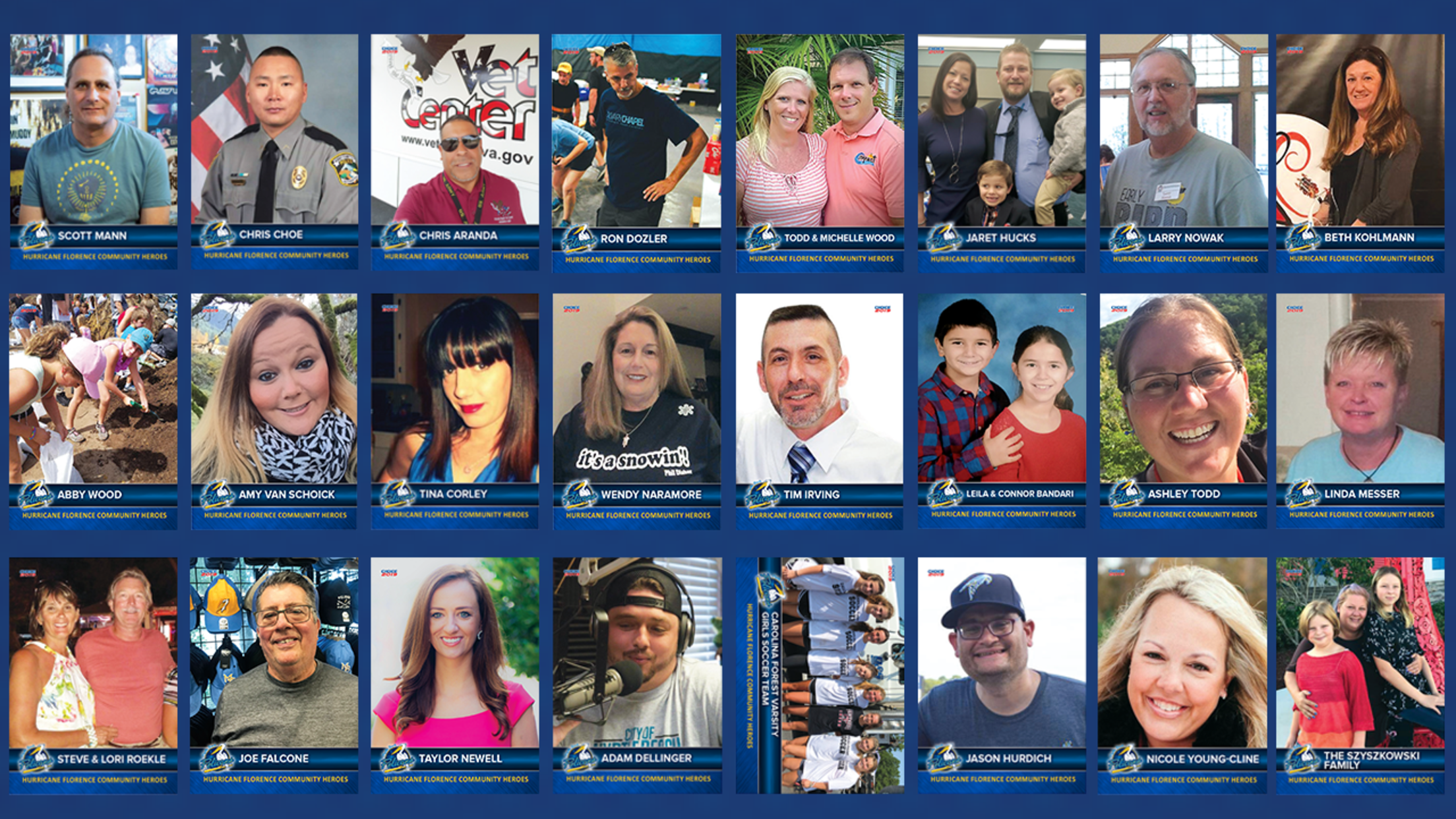 MYRTLE BEACH, S.C. (March 1, 2019) - During Hurricane Florence's devastation of the Atlantic coast of the United States and in the aftermath, stories began to emerge of heroism and selflessness by the people of this country. All along the Grand Strand, there were countless individuals that helped others, volunteered
MYRTLE BEACH, S.C. (March 1, 2019) - During Hurricane Florence's devastation of the Atlantic coast of the United States and in the aftermath, stories began to emerge of heroism and selflessness by the people of this country. All along the Grand Strand, there were countless individuals that helped others, volunteered their time and worked to rebuild the beautiful beaches in the coastal regions of South Carolina. This season, the Myrtle Beach Pelicans are recognizing 24 of these wonderful stories in which individuals gave their time to their communities, with a Hurricane Florence Community Heroes Card Set.
The card set will be given away to the first 1,000 fans through the gates of the Pelicans' game on Saturday, April 6 against the Lynchburg Hillcats. Gates open at 6:00 p.m. for a 7:05 p.m. first pitch.
The 24 honorees are as follows:
Scott Mann
Scott Mann is a host on the Wave 104.1 radio station. Wave 104.1 was up and running as Scott weathered the storm on air providing accurate information to the local community.
Chris Choe
Chris Choe is an Horry County police officer stationed in the south precinct. Chris worked countless days and hours patrolling neighborhoods to make sure residents were safe during and after the storm. He even worked river patrol while waiting for the flood waters to subside.
Chris Aranda
Chris Aranda is a retired veteran who serves as the Veteran Outreach Program Specialist for the Myrtle Beach Veteran Center. During Hurricane Florence, Chris visited shelters across the Grand Strand, searching for veterans and their families that were in need of help.
Ron Dozler
Ron Dozler, Pastor of Calvary Chapel, led teams from multiple states to help the Socastee community recover after Hurricane Florence. Pastor Ron shared information and updates from the church radio station WXMB. His congregation helped feed over 10,000 meals to those affected by the hurricane, as well as work on various reconstruction projects in the community.
Todd & Michelle Wood
When Hurricane Florence and the subsequent floods hit, Todd and Michelle coordinated hundreds of volunteers to help those in need. Todd and Michelle created the website disasterhelp.me which allowed homeowners to sign up and ask for assistance with anything they might need after the hurricane.
Jaret Hucks
When hundreds of families lost their homes and belongings to Hurricane Florence, Jaret and his staff stepped up. Jaret opened the doors of his 70-room Midtown Motel out of the kindness of his heart to homeless flood victims.
Larry Nowak
When Hurricane Florence and the subsequent flooding affected Myrtle Beach, Larry opened his bowling alley for free to those who had been displaced from their homes. Larry served meals and provided some entertainment during the time schools were closed.
Beth Kohlmann
Beth is a volunteer with South Strand Helping Hand. Beth began selflessly assisting the entire county with daily urgent needs during the aftermath of Hurricane Florence.
Abby Wood
Abby is a 3rd grader at Ocean Bay Elementary School and was one of the hundreds of Horry County students who used their time when schools were closed to help their community. She could be found filling sandbags, helping sort food and supply donations for flood victims, or serving a hot meal.
Amy Van Schoick
Amy collected and distributed clothes to people who desperately needed them since the flooding. She helped people find furniture, appliances and pretty much anything they needed.
Tina Corley
When Hurricane Florence hit, Tina went from hotel to hotel begging them to open their doors to flood victims. Everyone told her no, but Tina found Jaret's Midtown Motel. Once Midtown was full, Tina spent every day making sure their needs were met. After the storm, Tina spent months and days making sure each family was placed after the storm.
Wendy Naramore
Wendy helped during the storm by collecting donated food and delivering it to the right place no matter the distance. If someone had a need and Wendy didn't have it, she purchased it with her own money: blankets, diapers, food and so much more.
Tim Irving
Tim Irving is the Director of Citizens Helping in Natural Disasters (CHIND) and a member of Voluntary Organizations Active in Disaster (VOAD). Tim and his organization have been instrumental in the rescue and safety of the Hurricane/Flood areas in North and South Carolina.
Leila & Connor Bandari
Leila and Connor, siblings from Waterway Elementary, held a bake sale to raise money to give care packages to kids whose families had lost everything in the flood. They packed 94 bags with a stuffed animal, coloring book, crayons and a puzzle.
Ashley Todd
Ashley helped form the collective volunteer group One Neighbor To Another and has been selflessly dedicated to assisting and providing meals to the Socastee area flood victims. Ashley has helped and protected so many families since the flood and has done this with her own money and limited donations.
Linda Messer
Linda helped form the volunteer group One Neighbor to Another. Linda has been helping those in the Rosewood neighborhood every week since the hurricane, sometimes even more than once.
Steve & Lori Roekle
Steve and Lori single-handedly organized a supply drive in the Highlands neighborhood. Their neighborhood drive collected four vehicle loads of supplies, which they delivered to the shelter for flood victims. The two also helped during Christmas time as they delivered over 300 toys to the shelter for the children of flood victims so they could have a Merry Christmas.
Joe Falcone
While others evacuated, Joe stayed home and patrolled neighborhoods, looking for house damage, flooding and suspicious activity. He patrolled several times each day until home owners could return.
Taylor Newell
Taylor is the Public Information Officer for the City of Conway. She spent countless hours updating the people of Conway on road closures, flood damage and places for residents to get help.
Adam Dellinger
Adam is the program director and morning show co-host on 107.9 The Gator. Adam and many members of The Gator team, worked extended hours during Hurricane Florence to provide listeners with pertinent information about evacuation and subsequent flooding.
Carolina Forest Varsity Girls Soccer Team
The CFHS varsity girls soccer team heard students from Socastee High were going to be affected by the rising water and wanted to do something to help their community. The players requested to help as a team, and came together to fill sand bags.
Jason Hurdich
Jason, a professor of American Sign Language at Clemson, volunteered with Horry County Emergency Management to make ASL videos during Hurricane Florence. Through Jason's videos, the deaf community was able to receive proper instructions on evacuation and preparing their houses for flood waters. Jason did all of this on his own time to make sure that everyone was able to stay safe.
Nicole Young-Cline
Nicole and her family went above and beyond after Hurricane Florence, filling sandbags for days and taking food to volunteers. She helped run a collection drive through her speech therapy center, and updated patients and people in the community through her center's Facebook page.
The Szyszkowski Family
When the Szyszkowski's first heard about the families who were relocated at the Midtown Motel, Ashley, along with her daughters Caroline and Katherine donated 100 bars of soap from their family business, Ash's Practical Magic.
In addition to being recognized in the Community Heroes Card Set, these individuals will be recognized on the field prior to the April-6 game.
Single-game tickets will be available on March 14 with the first Thirsty Thursday of the season as part of the Season Kick-Off Party. The event includes live music from Julio Navarro, $1.00 Bud and Bud Light drafts, $2.00 craft drafts, and 1/2 price Duplin Winery wines from 4:30 to 7:00 p.m. Admission is free, and all fans are welcome to attend.
The Pelicans' 2019 season kicks off on April 4 against the Lynchburg Hillcats. Season tickets are available now. For more information or to purchase tickets visit myrtlebeachpelicans.com or call 843-918-6000.
ABOUT THE PELICANS: The Myrtle Beach Pelicans are the Class A-Advanced affiliate of the Chicago Cubs and play their home games at TicketReturn.Com Field at Pelicans Ballpark in Myrtle Beach, South Carolina. Since being acquired by a group led by Chuck Greenberg during the 2006 season, the Pelicans have repeatedly set team attendance records and become known as one of Minor League Baseball's most innovative and creative franchises. The team and its employees have been dedicated to making a difference in the Myrtle Beach community, specifically giving back over $2 million in donations, fundraising proceeds, in-kind services and community service since launching the Pelicans Play It Forward Community Initiative in 2013. TicketReturn.Com Field at Pelicans Ballpark has ranked in the top eight in all of Minor League Baseball by Stadium Journey in six of the last seven seasons. The same publication also placed the Pelicans in the Top 100 Stadium Experiences and the best in the Carolina League for six of the past seven seasons. In June 2017, the Pelicans won the 2017 TripAdvisor.com Certificate of Excellence award. On the field, the team has won four Mills Cup Championships, including claims to back-to-back titles in 1999 and 2000, and again in 2015 and 2016. The Pelicans have made 11 postseason appearances behind 13 half-season Southern Division championships, including the first half of the 2015 season, second half of 2016 and first half of 2017. For more information on the Myrtle Beach Pelicans, please contact the Pelicans at (843) 918-6000 or email [email protected].