Playing Every Day: James Triantos Adjusting Well to Full-Season Baseball
May 9, 2022 by Sam Weiderhaft 2021 was a rollercoaster of a year that only went up for James Triantos. He won Virginia's 6A State Championship with James Madison High School by pitching a one-hitter and hitting a solo homer in the championship game. He made an early stop at
May 9, 2022 by Sam Weiderhaft
2021 was a rollercoaster of a year that only went up for James Triantos. He won Virginia's 6A State Championship with James Madison High School by pitching a one-hitter and hitting a solo homer in the championship game. He made an early stop at Pelicans Ballpark for a pre-draft workout by the Chicago Cubs in June where they decided he would be their second-round pick. Following the draft, Triantos put up impressive numbers in the Arizona Complex League with a .327 batting average and six home runs through 25 games. He was ready for the jump up to full-season baseball.
The 19-year-old has kept that momentum moving to 2022, where he's continuing to turn heads with the new challenge. Through the first month of the season, the Virginia native is almost already at the extent of his games played last season. After a slower start through the first two weeks, the Pelicans' third baseman is hitting .260 with 25 hits through his first 23 games at the Single-A level. It was a six-game stretch where Triantos collected 13 hits that turned around his opening month.
"It was more just me trusting my craft, knowing that I can play ball," Triantos said. "Sometimes I'll overthink things, it's really just simplifying things down."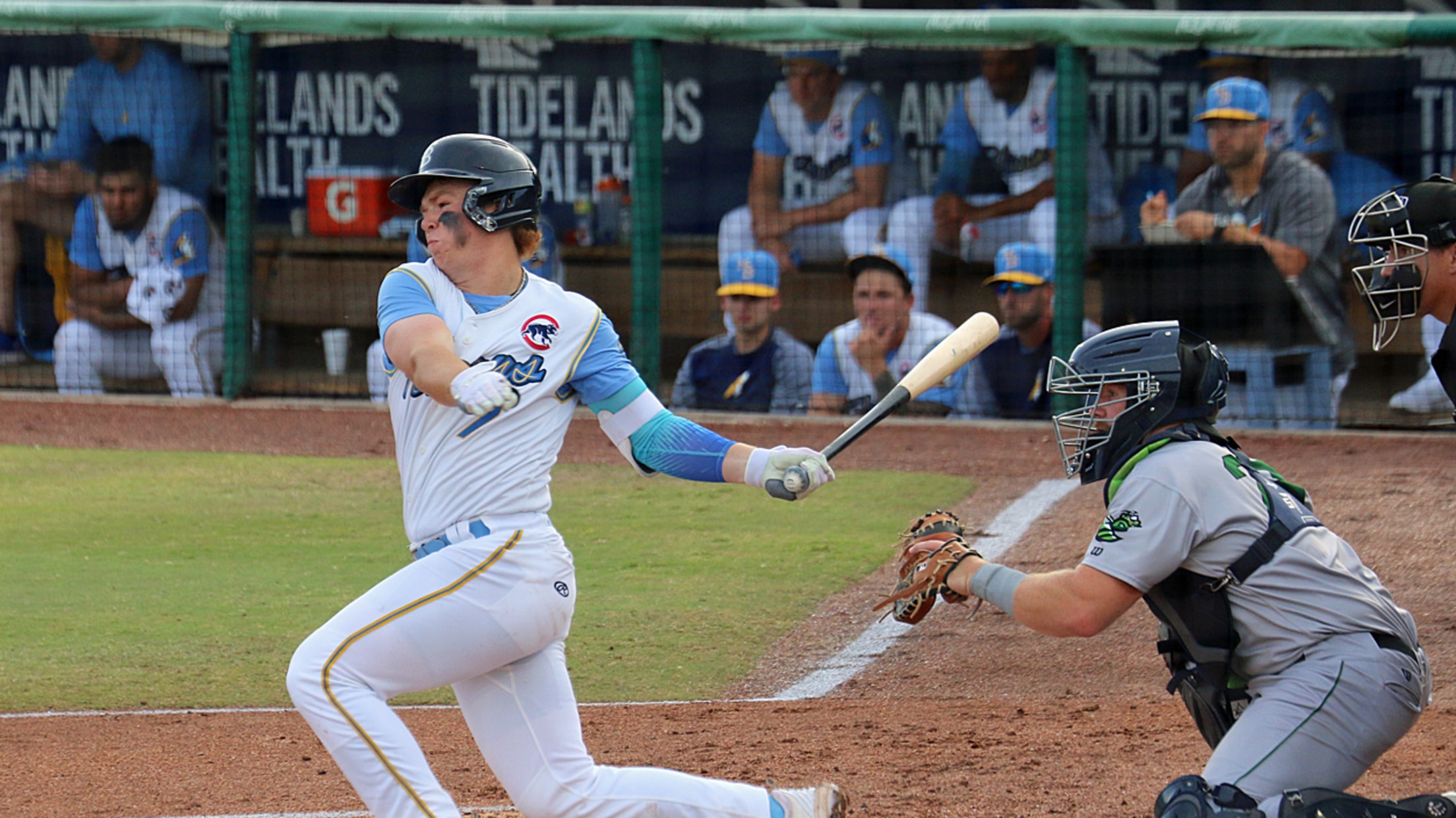 The adjustment to a much bigger slate of games has come easy so far for Triantos. His James Madison High School team played just 19 games in the 2020-21 year, going 18-1. Triantos has missed just four games of the Pelicans' first 27 and is looking forward to the next 105 contests throughout the summer.
"It's not that hard to stay focused, I just love playing baseball," Triantos said. "Being able to go out every day is a blessing."
It took a few weeks for Triantos to start hitting. Before that six-game stretch, Triantos started with just three hits in his first 36 at-bats with nine strikeouts. It was his first time leaving the Cubs complex in Mesa, Arizona after playing with the Big-League club for two games in the spring. Triantos went 3-5 in his two-game stint with the Cubs in Spring Training.
"Leaving the complex was an eye-opener for him," Pelicans hitting coach Steven Pollakov said. "He's at a stage now where he's ready to dominate the league."
Now that Triantos is hitting, the challenge now turns to bringing out his power. His six homers in Arizona last year gave a peek at what the future could hold for the third baseman who's drawn comparisons to Alex Bregman and David Wright. Triantos is still looking for that first home run with the Pelicans this season while slugging just .333.
"It's as simple as getting my pitch to hit," Triantos said. "If I wait and trust myself to drive a pitch, that's basically it."
"He knows he could probably hit every pitch, now it's choosing his pitches to drive," Pollakov added.
For a team that has gotten off to an incredible start at 19-8, Triantos has played a big part in that success both on the field and off.
"He gets along with everybody," Pollakov said. "He wants to be great, sometimes where we need to make sure he doesn't put too much pressure on himself. We're making sure the development happens organically."
"Everybody gets along with everyone, pitchers and hitters," Triantos said. "It's just a really good dynamic."
As of early May, Triantos is the fourth-youngest player on the Pelicans roster that includes a young core of 18-year-old Reginald Preciado, 19-year-olds Kevin Alcantara and Kevin Made, and 20-year-old Pete Crow-Armstrong. All players listed are ranked in the top 15 on MLB Pipeline's Chicago Cubs Prospect Rankings for 2022. Triantos has found his spot to contribute as a part of the younger age group on the Myrtle Beach roster.
"He is so young and is at a level where he sits in the younger age bracket," Pollakov said. "By no means does that mean he can't dominate it."
One month down, four more to go for the number three Cubs prospect by MLB Pipeline. Fans from Chicago and Myrtle Beach will have their eyes focused on Triantos with his development continuing as a member of the Pelicans during the 2022 season.