Rally Falls Short, Pelicans Drop Series Opener to GreenJackets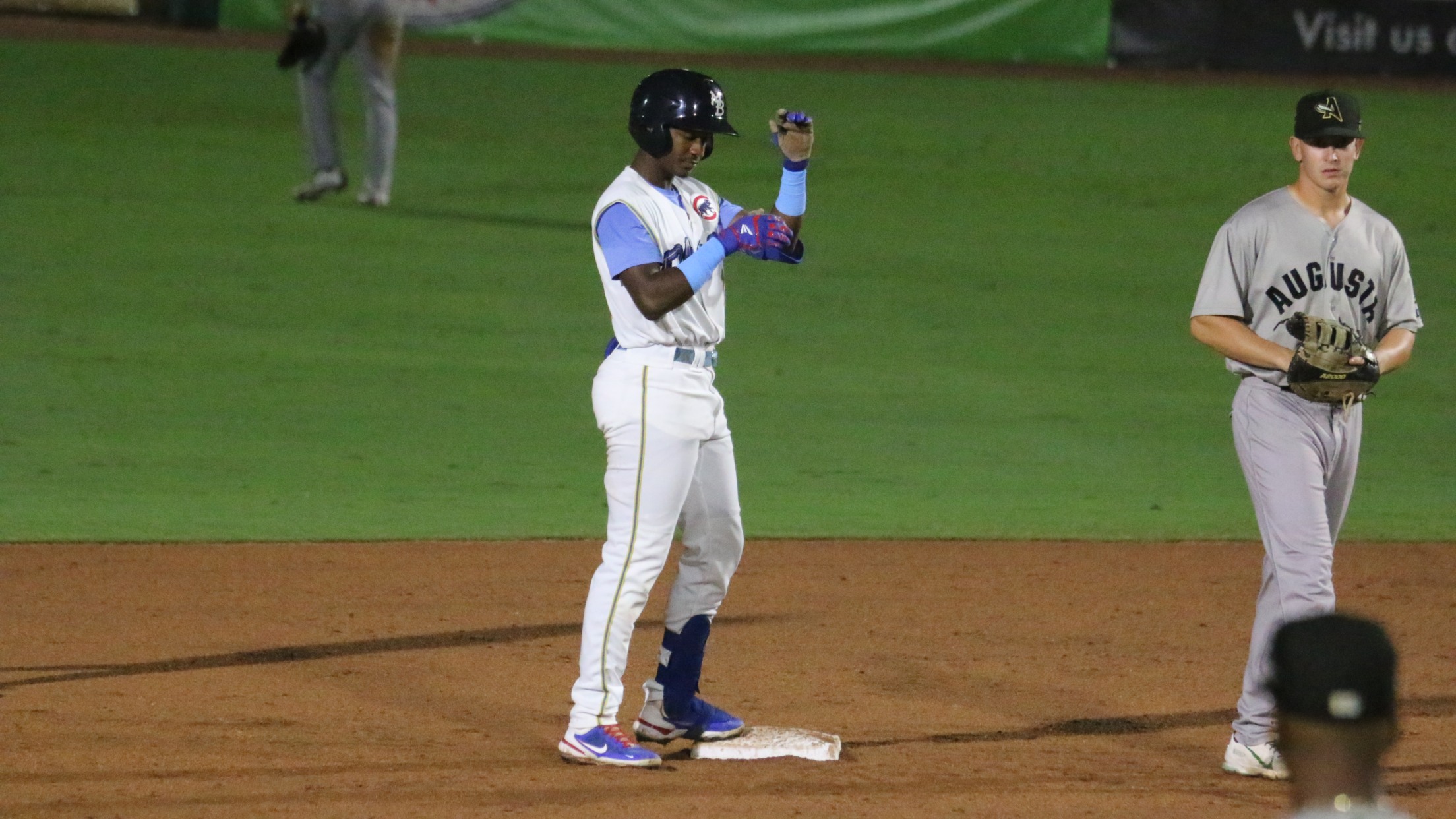 (Larry Kave/Myrtle Beach Pelicans)
By Sam Weiderhaft
Myrtle Beach stranded the bases loaded with the tying run on third to end the ballgame
After trailing 5-0, the Myrtle Beach Pelicans rallied to bring the game within one before falling short to the Augusta GreenJackets with a 5-4 loss on Tuesday night. The loss drops the Pelicans back under .500 at 57-58 while the GreenJackets move up to 51-64.
Four of the seven hits by Myrtle Beach were doubles as Kevin Made (2-5, 2B, RBI), Jonathan Sierra (1-4, 2B, RBI), Ed Howard (1-4, 2B, RBI) and Josue Huma (1-3, 2B, RBI) all brought in runs with two-baggers. Christian Franklin (0-2, 3 BB, R) and Owen Caissie (1-2, 3 BB, R) both walked three times in the loss as well. The Pelicans left 10 on base, including stranding the bases loaded with the tying run on third base to close out the game.
Richard Gallardo (3-9) gave up a career-high 10 hits in his 4 2/3 innings with five earned runs as he took his ninth loss of the season. The bullpen held Augusta scoreless for the final 4 1/3 innings with just two hits and seven strikeouts.
The GreenJackets were led by Christian Robinson (3-4, 2B, 3 RBI) with an RBI double and a two-run single in the game. Bryson Horne (2-4, RBI) and Justyn-Henry Malloy (1-5, RBI) brought home the other runs for Augusta.
On the pitching side, Royber Salinas (1-0) lasted five innings in just his second start in Low-A and took the win with one earned run off two hits. He also struck out eight and walked give in his outing. Peyton Williams collected his sixth safe by striking out Jacob Wetzel with the bases loaded to end the game.
Augusta hopped out to an early lead with one run in the first. Cal Conley and Robinson both singled to put runners on the corners to start. Justyn-Henry Malloy grounded to short as Conley came home for an RBI groundout.
In the second inning, Tyler Tolve hit a triple that bounced off the centerfield wall with one out. He came home on a double by Robinson to make it a 2-0 lead.
Three more runs came for Augusta in the fifth as Cade Bunnell hit the second GreenJacket triple of the game to center field with one out. Horne hit him in with a single to right. After Landon Stephens and Tolve both walked to load the bases on Gallardo, Robinson snuck a ground ball in between first and second to bring two runners home and stretch the Augusta lead to 5-0.
With two outs in the bottom half, Franklin drew a walk for Myrtle Beach to get on base. Made followed with a double to deep center to score the Pelicans' first run of the game.
Caissie led off the sixth with a walk but failed to advance as the following two batters were retired. With two outs in the inning, Sierra doubled to left to bring in Caissie and make it a 5-2 game. One pitch later, Howard hit a chopper up the middle as Sierra scored to make it 5-3. Howard stretched the play into a double to move into scoring position. Huma jumped on the next pitch with a double into the right-field corner to bring in Howard and Myrtle Beach was within one at 5-4.
The game stayed the same into the bottom of the ninth when Williams came on to close it out for Augusta. After striking out Franklin, Made singled to put the tying run aboard. Jordan Nwogu grounded into a force out as Made was thrown out at second. With two outs, Caissie singled and Casey Opitz worked a walk to load the bases. Wetzel was the last chance as he went down looking on a 2-2 pitch to end the game.
Myrtle Beach and Augusta will square off for game two of the series on Wednesday at 7:05 p.m.