Ready and waiting: A's Nick Allen
A's No. 5 prospect trying to maximize time at home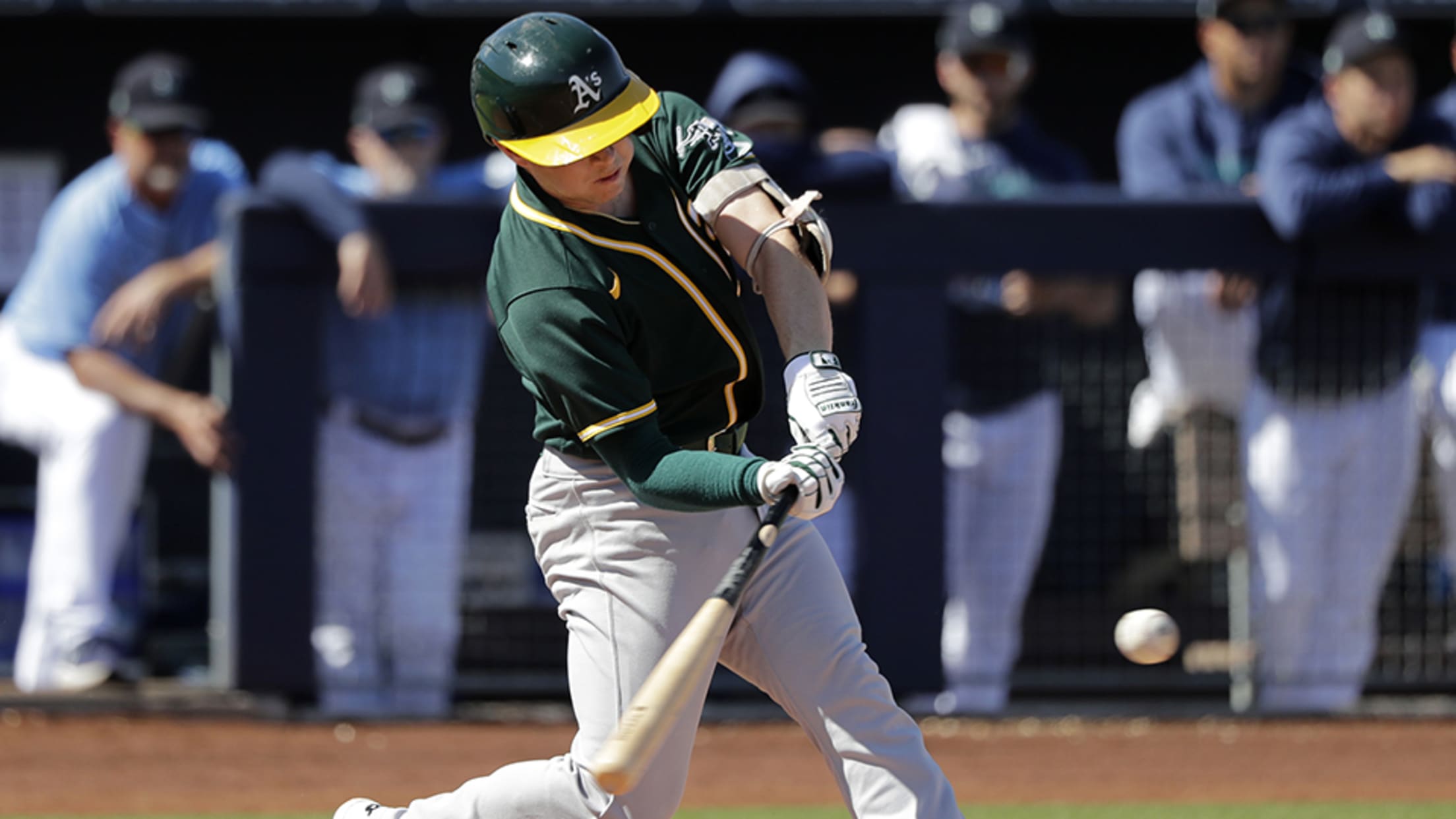 Nick Allen held a share of the California League lead with 22 doubles when he got injured on June 27. (Elaine Thompson/AP)
Players at all levels of the Minor Leagues missed significant playing time in 2019 due to injury only to have their return interrupted by the global pandemic. Each week, MiLB.com checks in on an elite prospect's road back from injury. This week, we focus on Oakland A's infielder Nick Allen.
Players at all levels of the Minor Leagues missed significant playing time in 2019 due to injury only to have their return interrupted by the global pandemic. Each week, MiLB.com checks in on an elite prospect's road back from injury. This week, we focus on Oakland A's infielder Nick Allen.
It was a Thursday night in San Jose and Nick Allen rounded third and headed for the plate, only to see Joey Bart standing straight up "like a pencil."
Allen had seen this act before. As an infielder, he'd performed this act before. He'd even done it to Bart earlier that season.
"Usually, when people slide into second base and I'm at short or at second base, I kind of do a little deke here and there," the fifth-ranked A's prospect said, describing a tactic in which he holds off on giving the runner any indication of which side of the base to slide until the last possible second by standing straight and tall.
Suspecting that Bart had caught on to his tricks, Allen made an effort to slide around the 6-foot-3, 225-pound backstop. The incoming throw forced Bart to break character and follow the ball up the line.
"The ground was a little bit wet out there, so I slipped a little bit, then I tried to catch my footing and try to go for the plate and my cleat just got stuck," Allen recalled. "Then the rest was kind of history."
The 5-foot-9, 166-pound infielder evaded the tag and was safe at the plate. But the June 27 game was the last time he stepped on a field last summer. During the play, Allen suffered a partially torn ligament and high ankle sprain in his left leg. He was a 20-year-old infielder who'd put together nearly three excellent months to wash away a difficult season in 2018.
Allen is healthy now, but he's back in limbo and waiting patiently at home in San Diego with the rest of the baseball world. Although he returned to play in the Arizona Fall League and saw action in the Cactus League this spring, he's missing out on more crucial time in his development, time that could be used to prove himself and show he's healthy again.
He was still in big league camp when Spring Training was shut down in March. He said he was 100 percent healthy when he returned to San Diego. The organization has stayed in touch, but there hasn't been much of a directive in terms of specific work he should be doing.
"If I can get in what I get in, they want me to do that," he said. "But they also understand this whole thing going down. … Just, if you can do something, do it; if you can't, we understand."
Allen and Trenton Brooks, an Indians outfield prospect and friend in Southern California, work out together at a neighboring turf field, sometimes facing live pitching from someone throwing behind a screen. To get in some extra work, the duo even embarked on a four-day construction project to build a batting cage in Brooks' backyard.
"Honestly, getting in all the parts was the toughest part," Allen remembered. "Then we got it all together, got the netting, attached on the poles and we're using it all the time now, so it's been a great purchase, for sure."
Although there's hardly such a thing as a well-timed injury, Allen's ankle sprain came during something of a high point in his career.
The 2017 third-rounder had to find his form after a difficult start with Class A Beloit in 2018. Over the first 59 games of the season, he batted .198/.263/.250 with 49 strikeouts in 212 at-bats. But he improved to .274/.332/.347 and reduced his strikeout rate by 8.6 percent over the final 62 contests.
"I just kind of simplified a lot of things," Allen said. "I really worked on my 'go' move, having my 'go' move be solid toward the baseball and through the baseball. I think that really helped me hit the ball harder consistently."
Allen said that getting the timing right on his "go" move was a catalyst when he moved up to Class A Advanced Stockton last year. He batted .292 with 30 extra-base hits, including three homers, in 72 games. Before going down with the injury, he shared the California League lead with 22 doubles, ranked third with 84 hits and was fifth with 45 runs scored.
Instead of making a push toward Double-A, Allen was resigned to wearing a walking boot for a few weeks before eventually graduating to an ankle brace. The nature of the injury allowed him to continue throwing, but it took some time before he could run on solid ground. Allen worked up from a walk to a jog by using zero gravity and underwater treadmills, eventually getting out onto the field to work on sprinting, cutting, planting and changing directions.
"It was a process, for sure," he said. "We had to strengthen the foot and the ankle back up together. It took a good bit of time. I wish it obviously didn't take that much time so I could get back to the season and try and help my team get into the playoffs. But it is what it is, and I'm good now."
Allen received a clean bill of health the day before the start of the AFL. He played 18 games with Mesa but did not have much success at the plate. Seeing live pitching for the first time in nearly four months, he batted .194 with one extra-base hit and six RBIs in 66 at-bats.
"It really opened my eyes to things I need to work on, especially at the plate," he said, surprised that he felt comfortable and that his ankle held up on defense. "I didn't really hit that much before, going into it. But I was just trying to base everything off of what I did during the season. But I think I had so much time to think about what I would normally do that [I took up] some bad habits."
Allen said he needed to work on building good forward movement in his swing during last offseason. He felt he'd get stuck being too far back and his front shoulder would fly out before his front foot came down. This caused him to pull off the ball and not stay through the zone.
He entered this offseason with the goal of working out those mechanical issues: controlling his move forward, holding his back hip and shoulder down and working through the ball. But, of course, no amount of repetition can match the value of playing in an actual game.
"Honestly, when you get up to the plate, you're not thinking about any of that," he said. "It's just approach and battle."
The Parker High School product made the most of his few opportunities this spring. His second big league Spring Training was limited due to shoulder inflammation, but he managed to collect three hits, including a homer and a double, in five at-bats across three games.
"I think it's just learning how to, like when you're going to make that 'go' move toward the baseball and what you're sitting on or expecting. How is it all going to translate?" Allen said. "Seeing spin is obviously different. If you go up there, you can hit a fastball if you know it's coming.
"A lot of those guys there are obviously really good pitchers, so it's just being able to learn, 'OK, this is a pitch I want, this is what I'm looking for,' and making my 'go' move to it and having that all be timed up and in sync."
The time off gave Allen a good handle on what he needs to work on when baseball resumes. And although it's a success in ingenuity, the homemade batting cage in Brooks' backyard doesn't quite measure up to live pitching.
"It's not necessarily game-like, but it's the closest you can possible get to that," Allen said. "I'm just trying to stay ready for whatever happens."
Gerard Gilberto is a contributor to MiLB.com. Follow him on Twitter @GerardGilberto._