International League playoff preview
Irvin leads IronPigs vs. RailRiders; Mud Hens battle with Bulls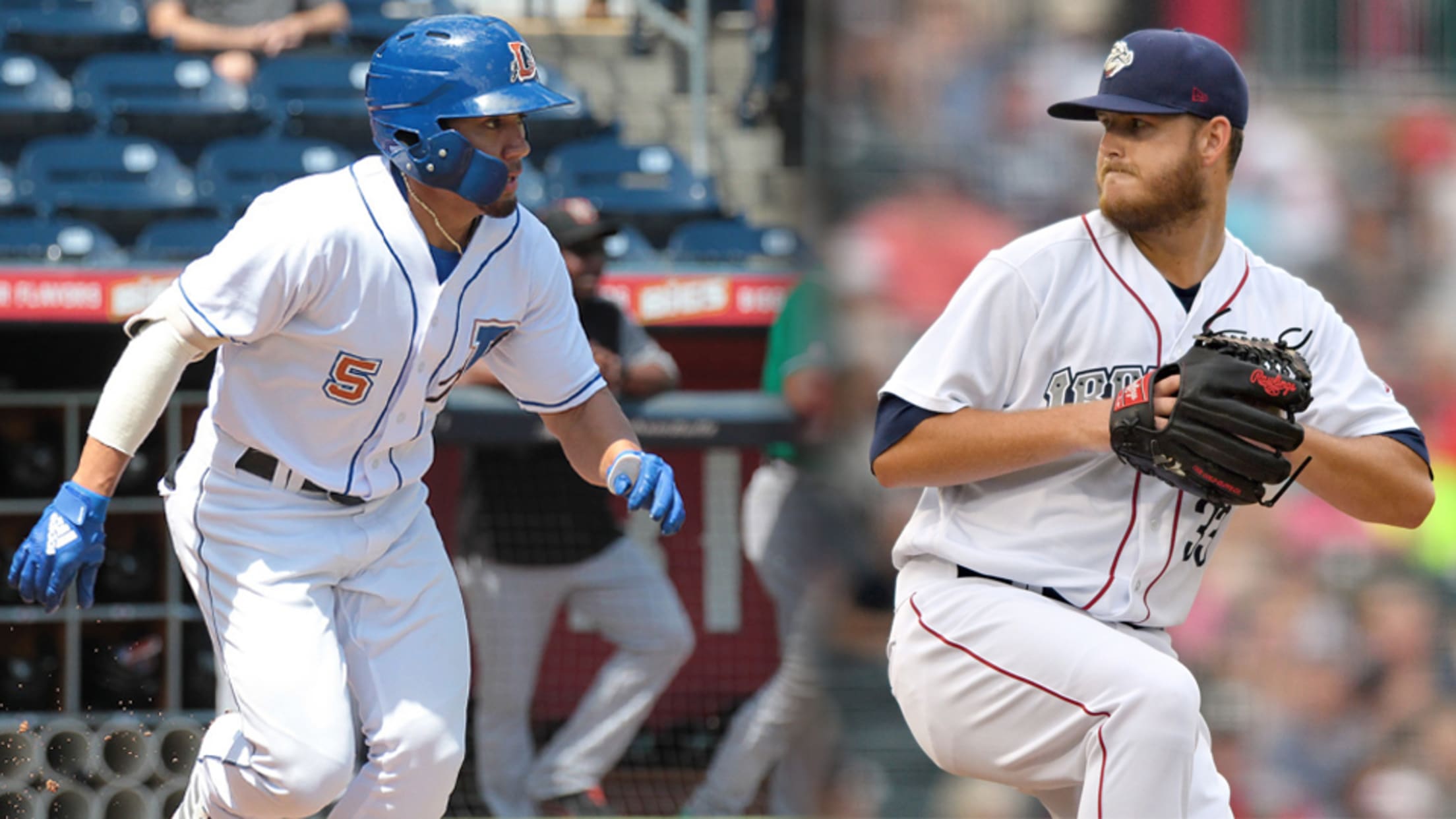 After a wild regular-season finish, the International League playoffs have a familiar feel.The final two spots in the battle for the Governors' Cup were not decided until the next-to-last day of the season, when wins by Toledo and Scranton/Wilkes-Barre helped the Mud Hens claim the West Division title and gave
MVP Meneses headlines IL All-Stars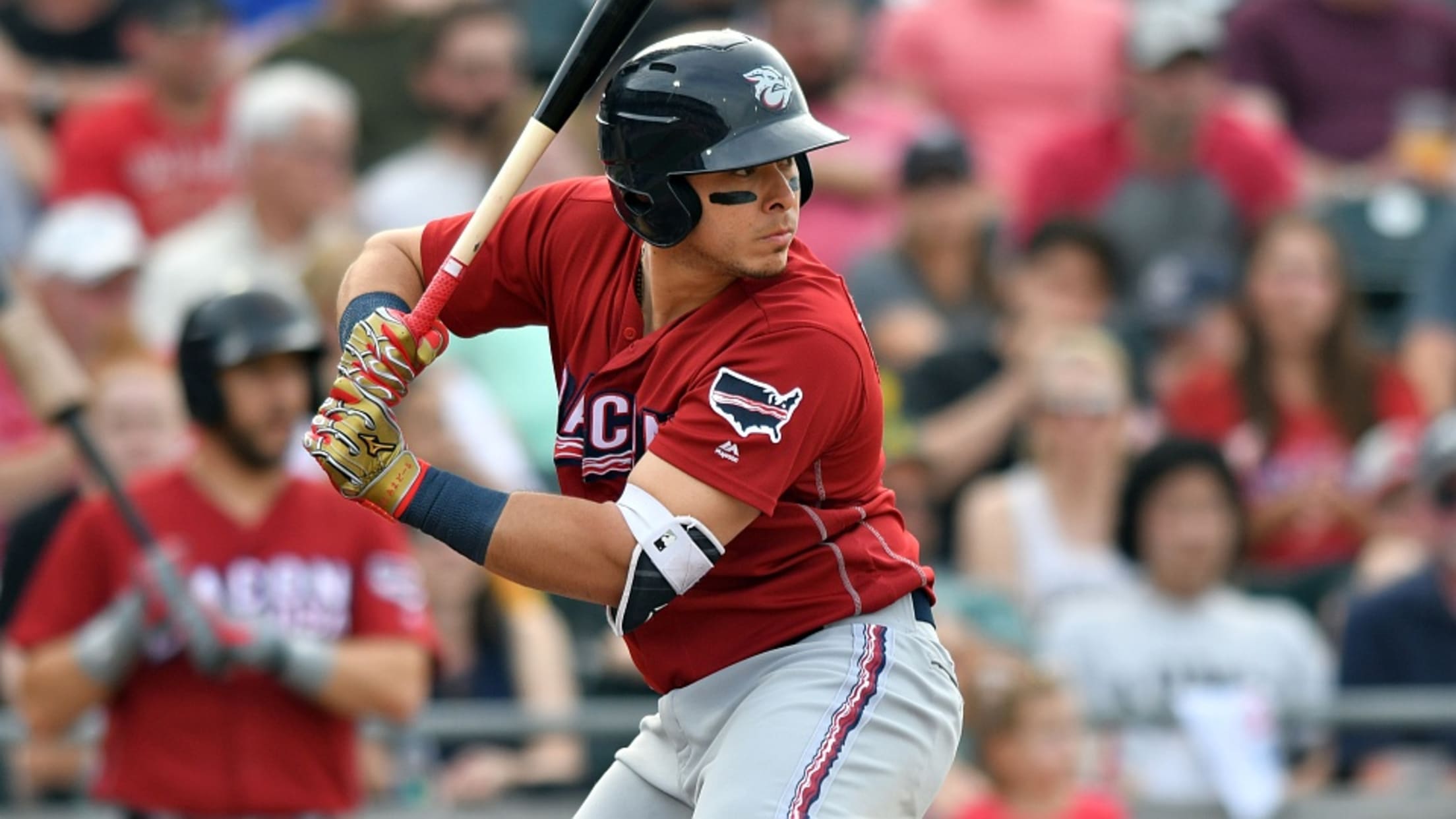 The International League today announced its Postseason All-Star Team and Award Winners as selected by the circuit's managers, coaches, media, and club representatives. The Lehigh Valley IronPigs, who with the League's best record have already clinched the North Division title, are the first team since Norfolk in 1995 to sweep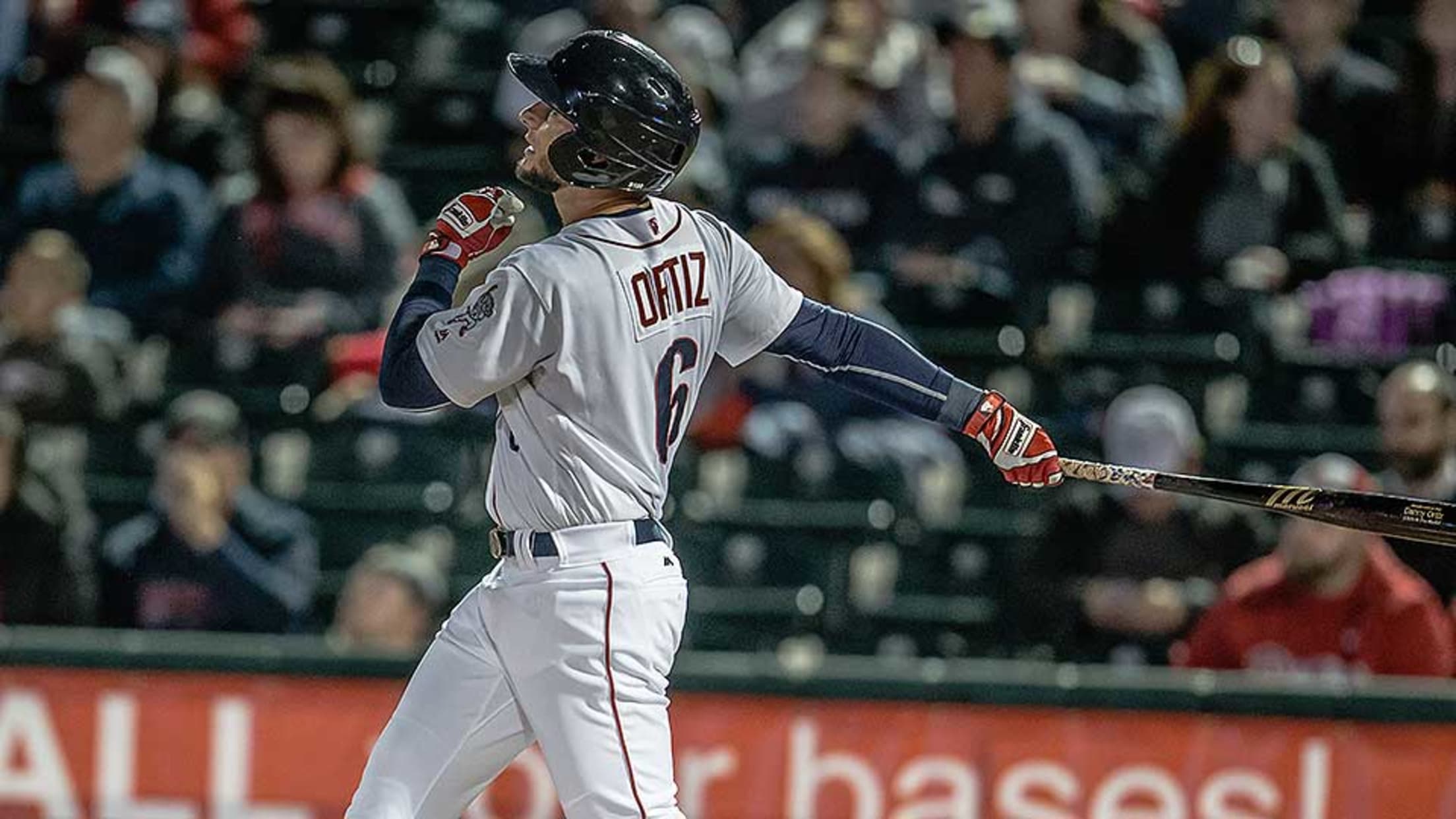 Follow @IronPigsThe Pigs happily saw their four-game losing streak come to an end Saturday night, thanks to an extra-inning thriller in Louisville.
Gorman leads Player of the Week honorees
No. 3 Cardinals prospect batted .522/.560/1.043 for Johnson City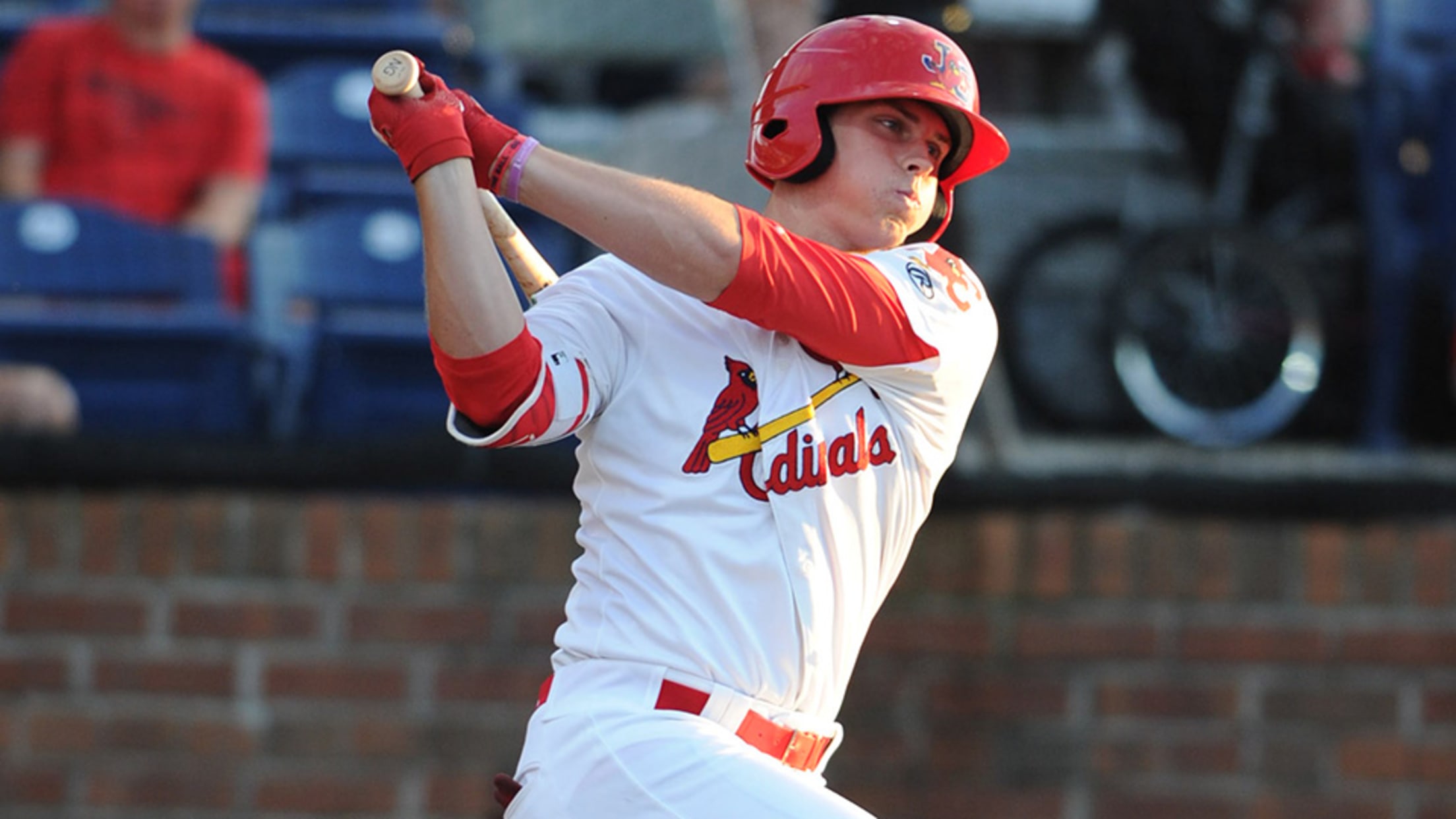 Barely old enough to vote, Nolan Gorman is making himself a household name in Minor League circles. Just six weeks into his professional career, the 19th overall pick has been selected as the Appalachian League Offensive Player of the Week for July 30 through Aug. 5 after going 12-for-23 with
Pigs cap record-setting July with 11-8 win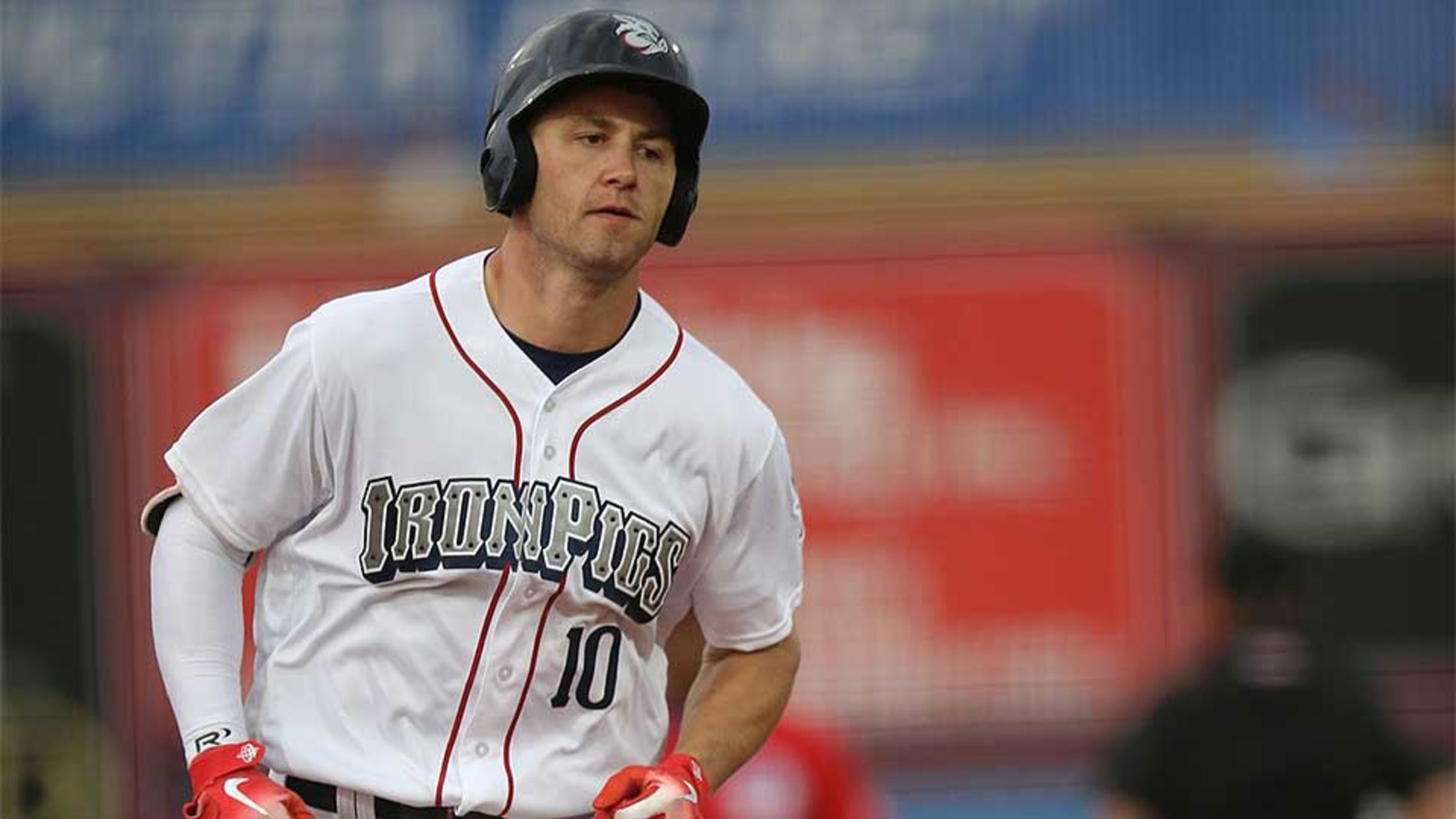 Follow @IronPigsThe Pigs jumped out to an 8-0 lead Tuesday at Coca-Cola Field and held on to win Game 2 of a five-game-in-four-days series 11-8. Lehigh Valley is now a season-high 25 games above .500 and leads the IL North by 9.5 games over SWB. 
Pigs complete three walk-off sweep of Rochester
Each contest went to extras with the IronPigs coming out on top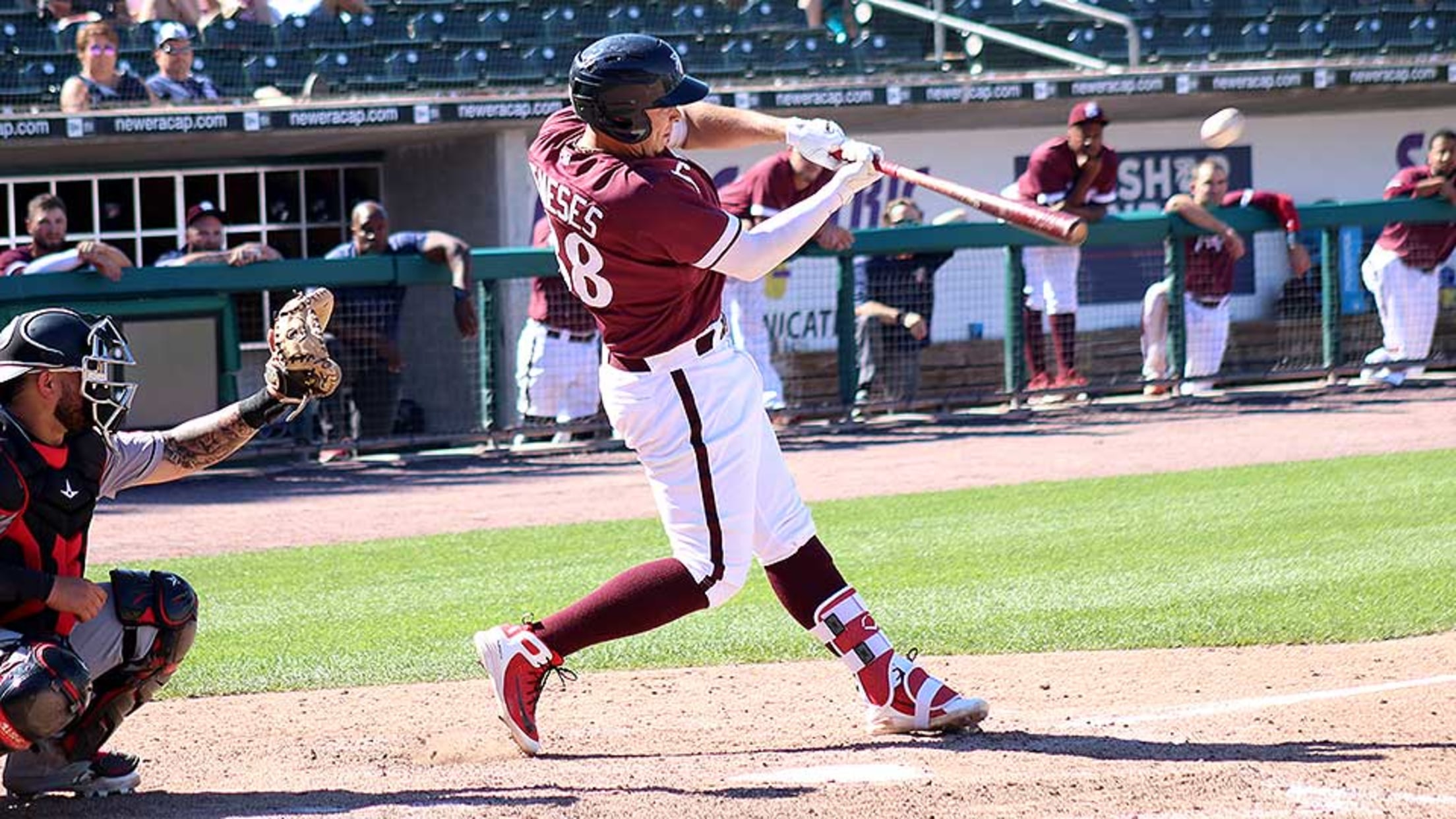 Follow @IronPigsThe IronPigs' home walk-off streak was stretched to four games on Sunday as the Pigs swept the Red Wings with an 8-6 victory. With the win, the IronPigs maintain their IL North lead and enter the All-Star Break with a 52-36 record.
Triple-A, Eastern sluggers set for HR derbies
League leaders ready to flex muscle as part of All-Star festivities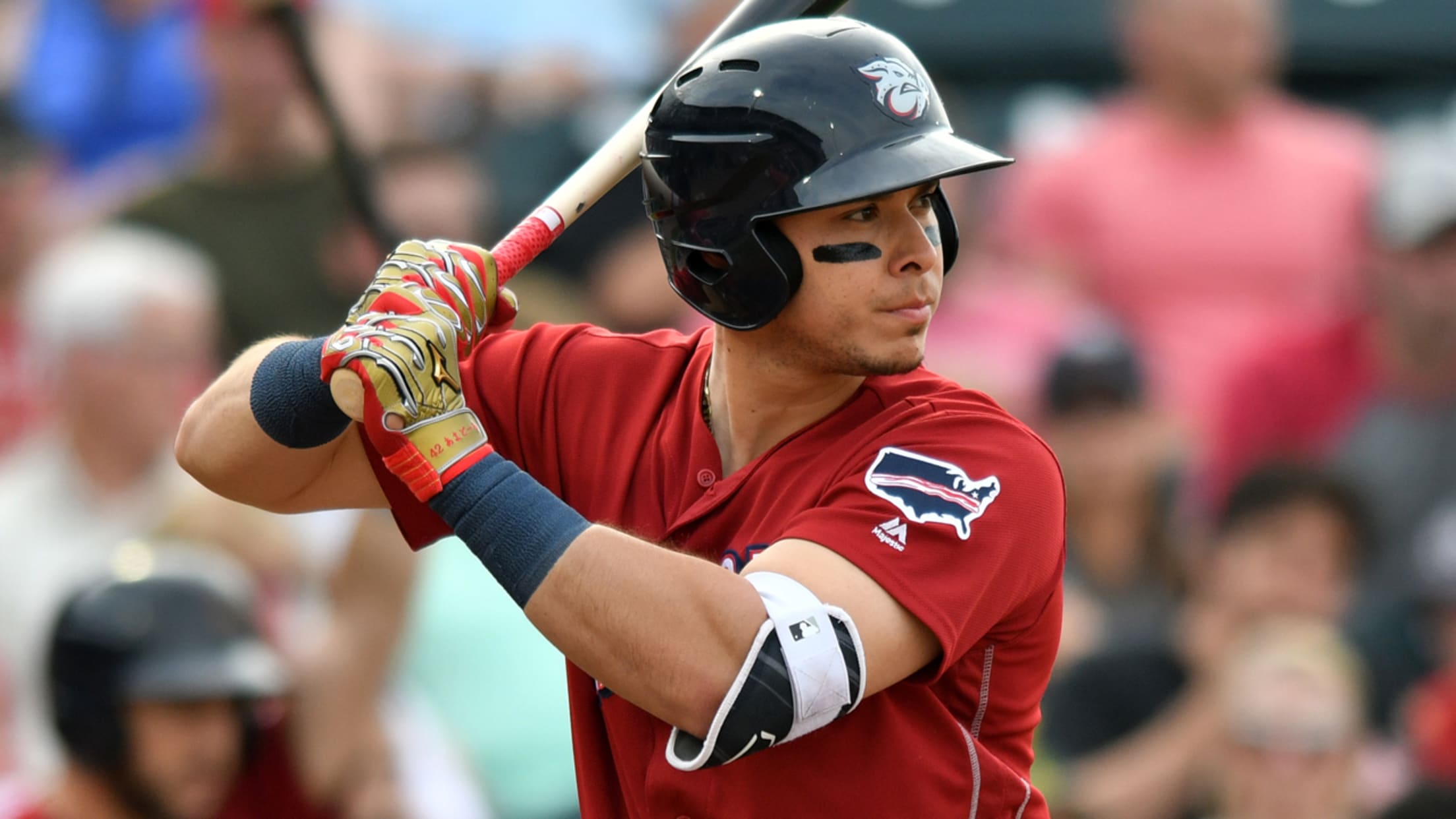 Fans in Columbus and Trenton better make sure their gloves are oiled, laced up and ready to go.Derby season arrives next week for the Triple-A and Eastern leagues, and each circuit has announced its list of participants for their respective home run competitions. The Triple-A showcase will take place in
Pigs claim IL's top record with 4-2 victory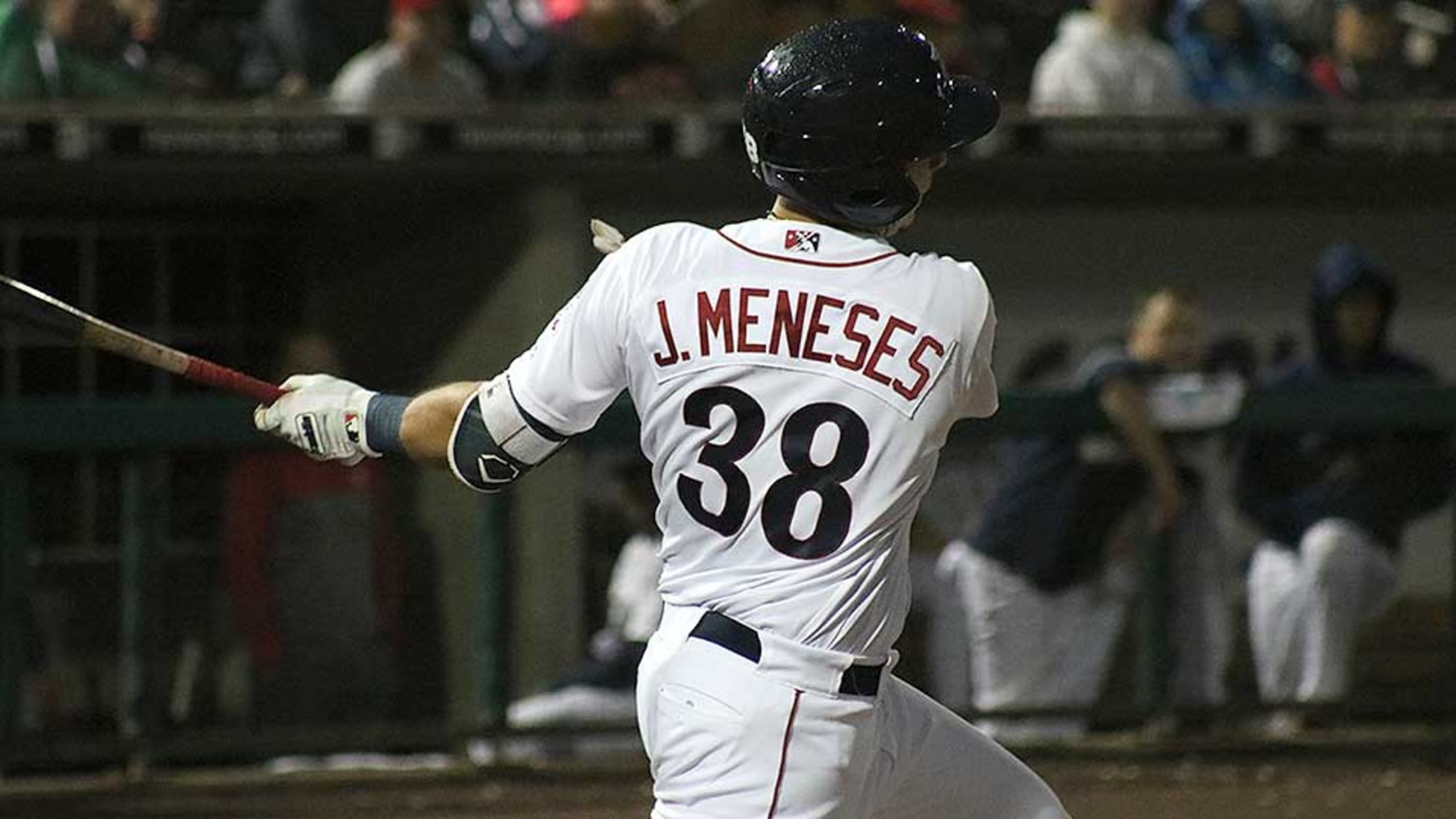 The Lehigh Valley IronPigs topped the Scranton/Wilkes-Barre RailRiders 4-2 Wednesday evening at Coca-Cola Park. Drew Anderson (5-2) earned his fifth victory of the season as the Pigs improved to 13 games above .500. Their 45-32 record is the best in the International League. 
Plouffe's late homer lift Pigs over RailRiders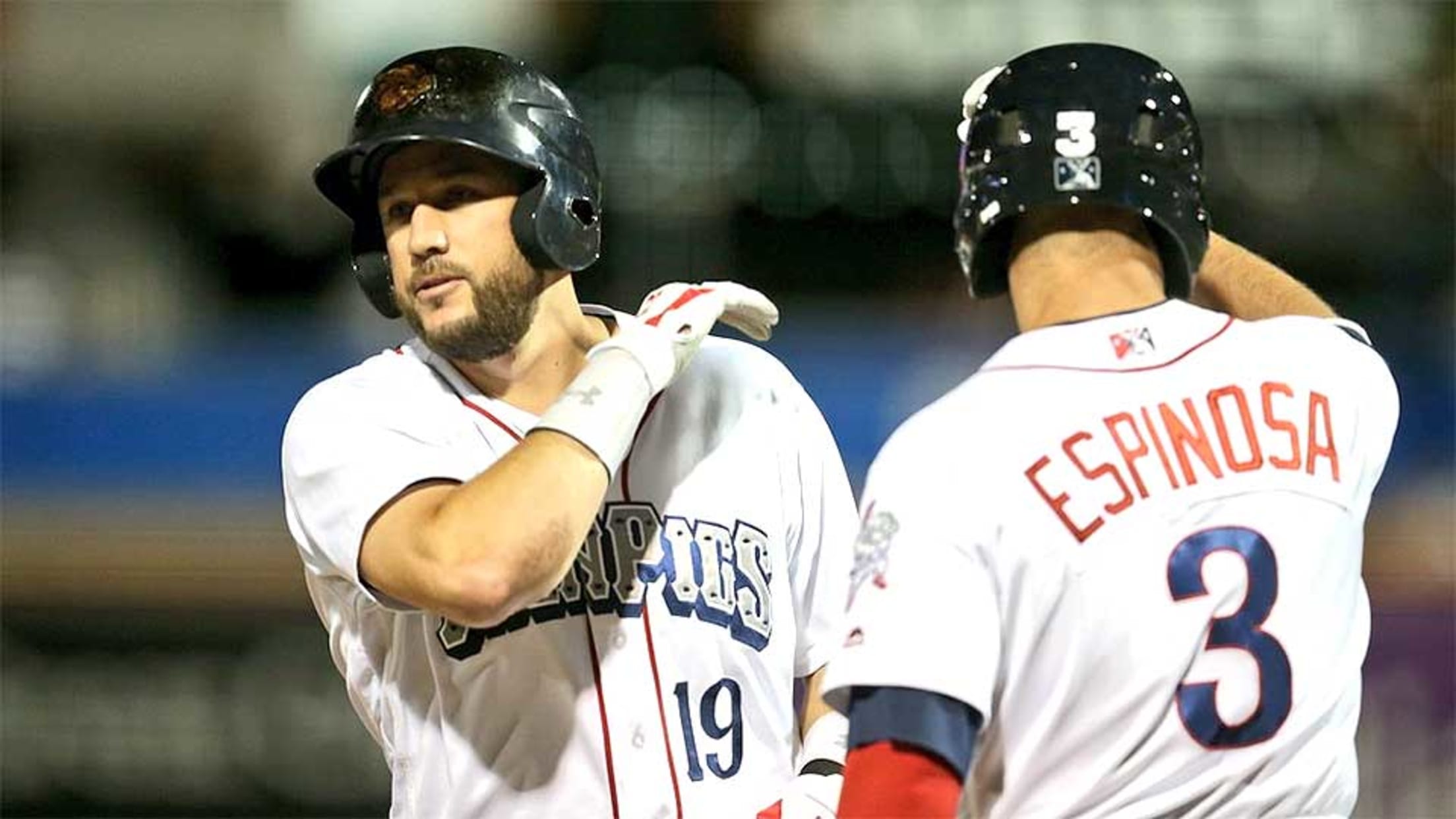 Follow @IronPigsTied at two with two outs in the bottom of eighth inning, Trevor Plouffe belted a solo home run put the Pigs on top in a 3-2 victory Monday at Coca-Cola Park. The Pigs are now a season-high 13 games above .500.
Pigs take opener from Stripers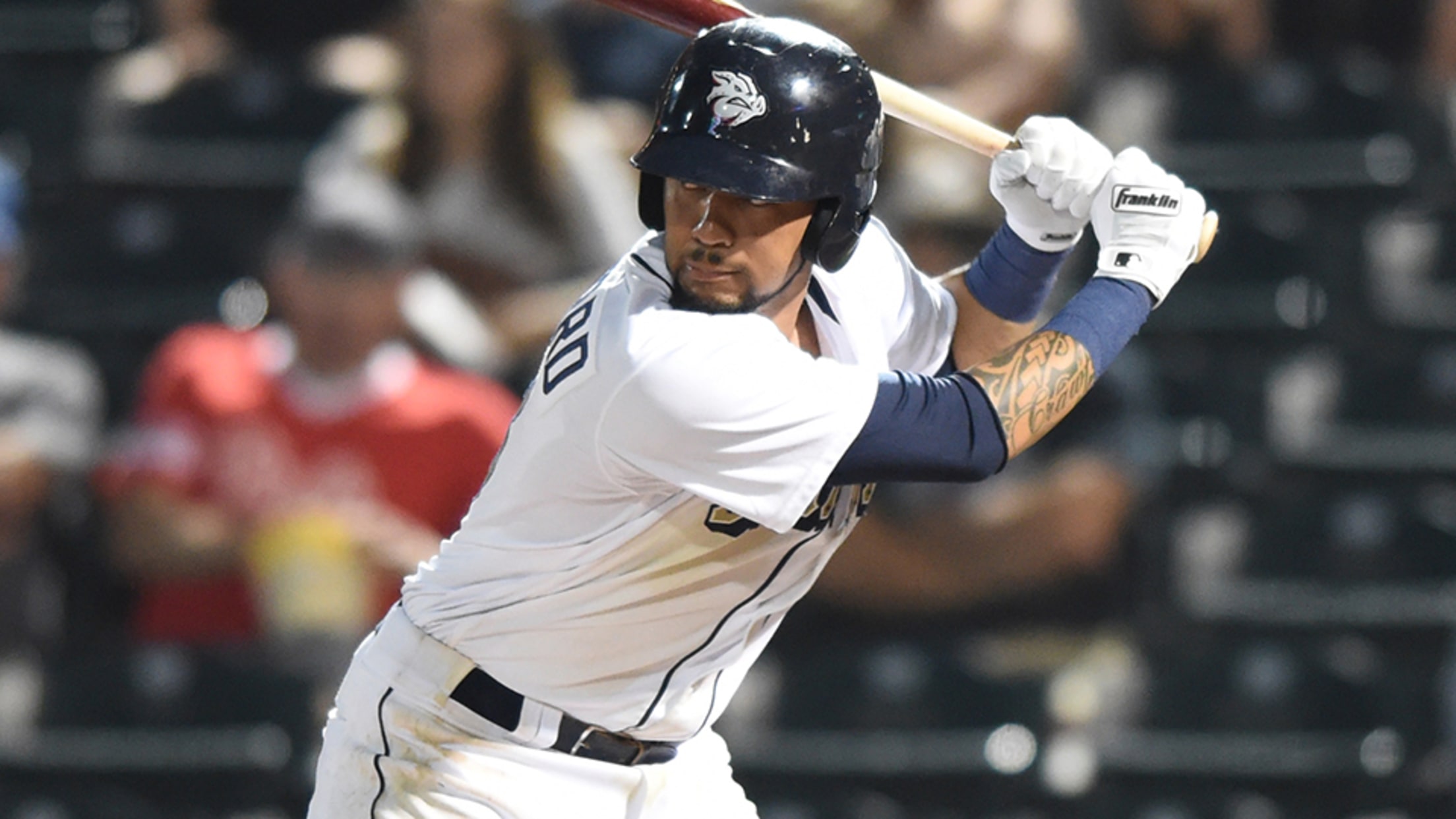 Follow @IronPigsBacking up six-strong innings from Cole Irvin (7-1) the Lehigh Valley IronPigs defeated the Gwinnett Stripers 4-3 at Coolray Field. A two-run single by Joey Meneses in the top of the seventh springboarded Lehigh Valley to the victory. 
Meneses powers Players of the Week
Phillies farmhand wins IL award for second time in three weeks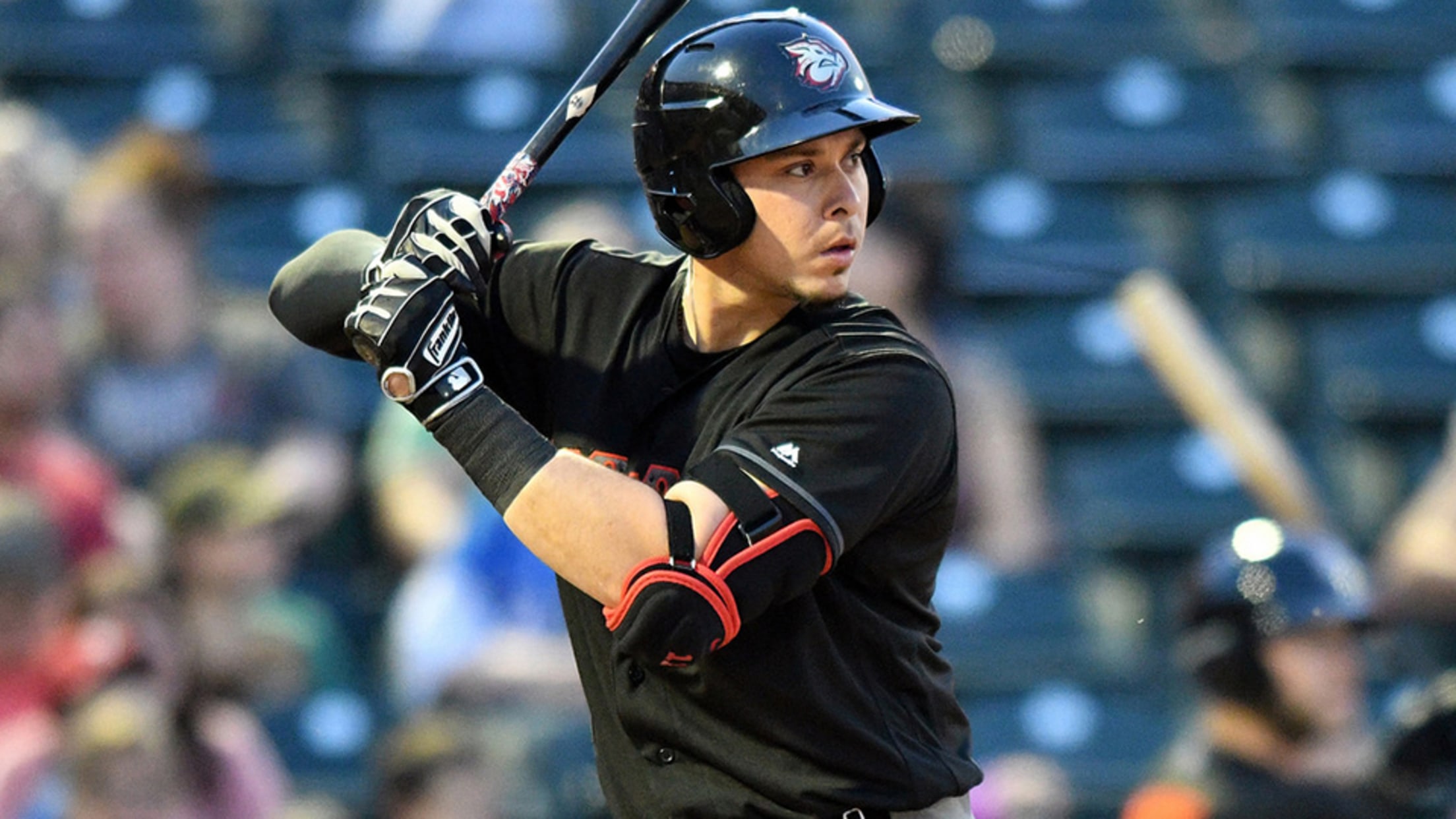 An offseason free-agent signing of a first baseman is working out pretty well for the Phillies. No, this isn't about Carlos Santana. Philadelphia farmhand Joey Meneses has been named the International League Offensive Player of the Week for the second time in the last three weeks, the circuit announced Monday.
Meneses again named Batter of the Week
Infielder's week highlighted by four-game home run streak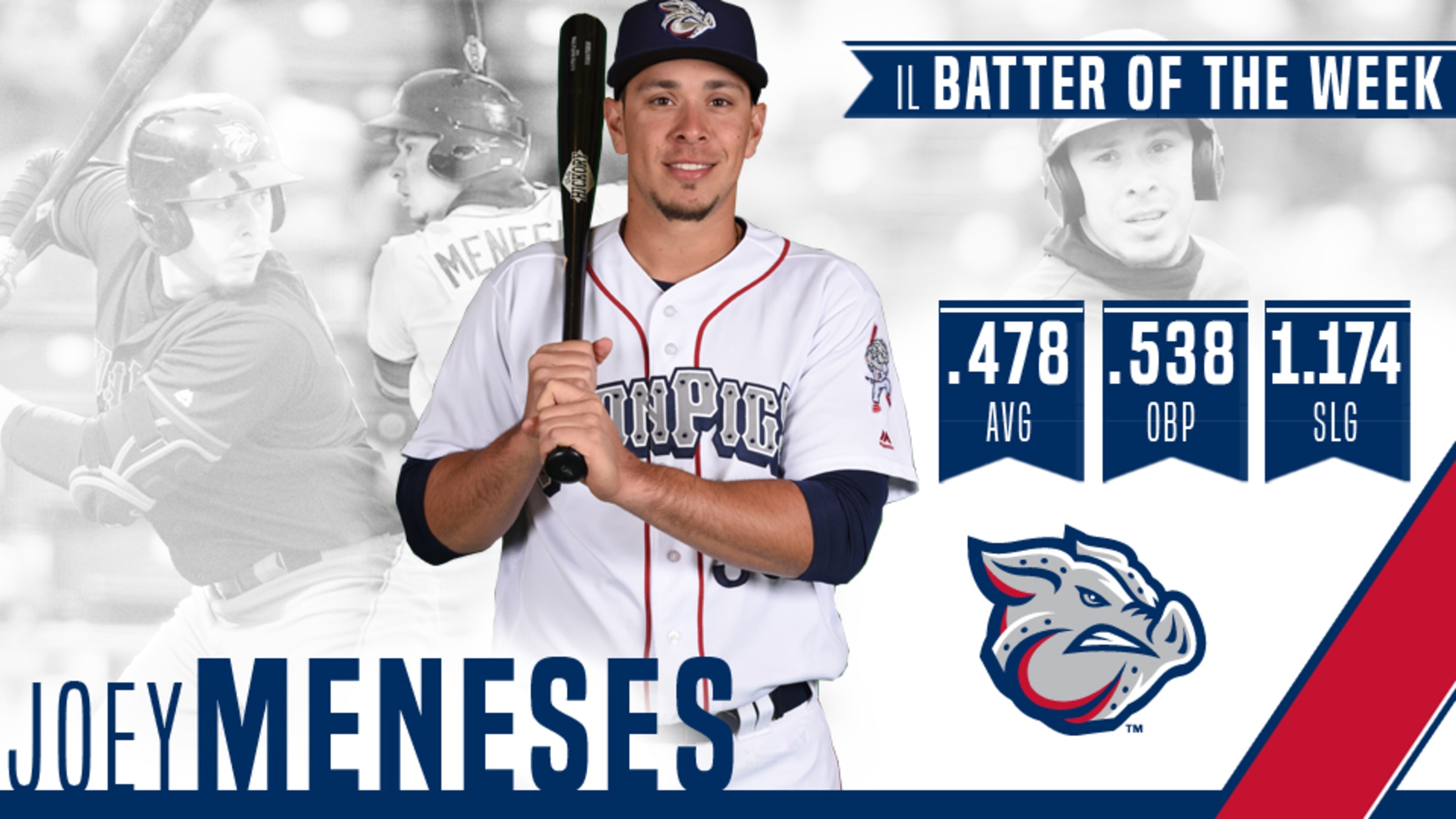 Follow @IronPigsFor the second time in three weeks, IronPigs' infielder Joey Meneses has been named International League Batter of the Week. He becomes just the second Lehigh Valley player to earn this honor twice in the same season, joining Andy Tracy from the IronPigs inaugural season of 2008. In fact,
Pigs shut out Chiefs 5-0
Irvin tosses 6 scoreless innings while Meneses homers for 4th straight game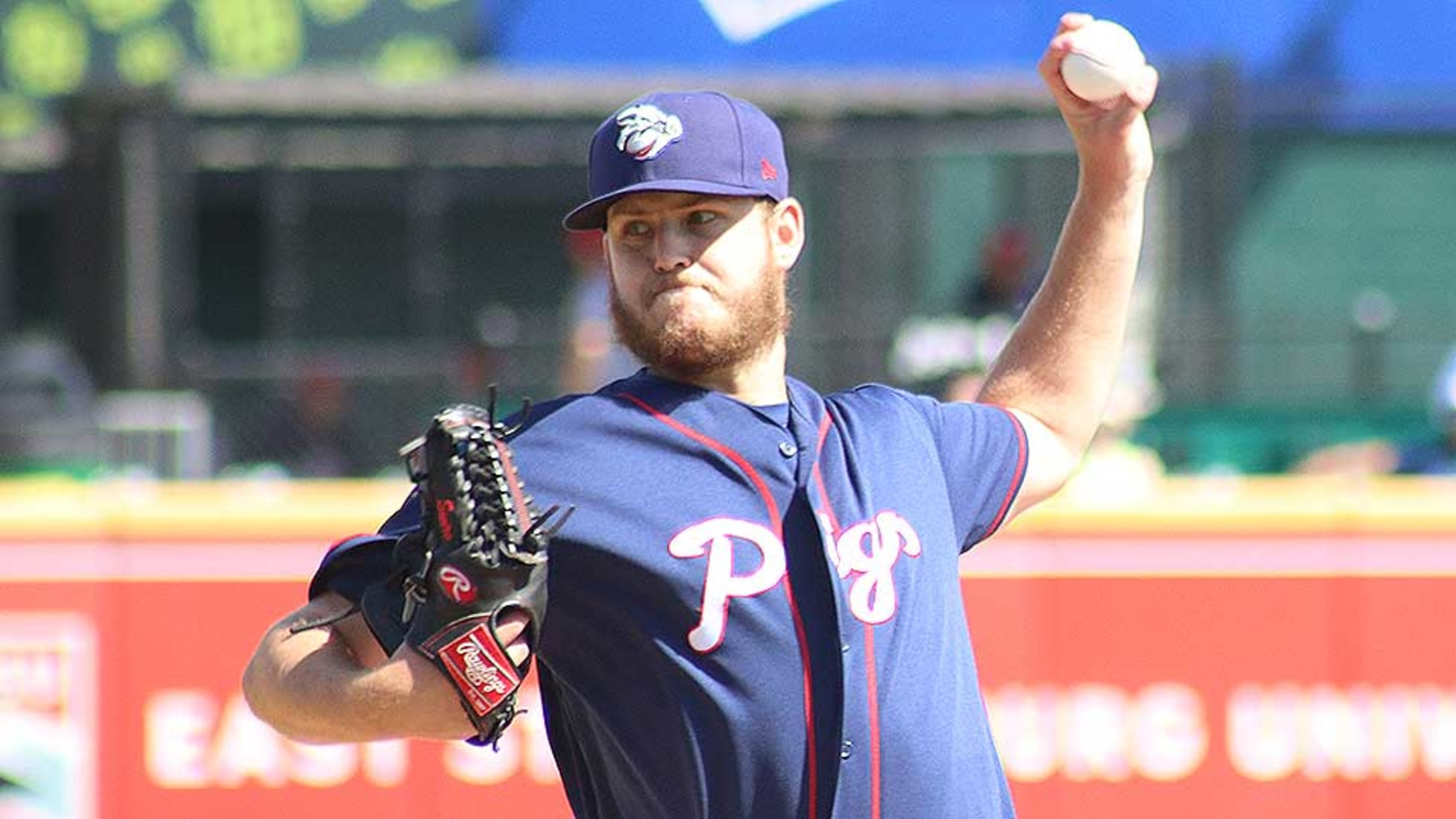 Follow @IronPigsSix scoreless innings by Cole Irvin (4-1) and three RBI by Joey Meneses lifted the Lehigh Valley IronPigs to a 5-0 victory Saturday afternoon against the Syracuse Chiefs. Meneses finished a single shy of the cycle and is now batting an IL-leading .372 on the year.
Meneses' homer powers Pigs past Chiefs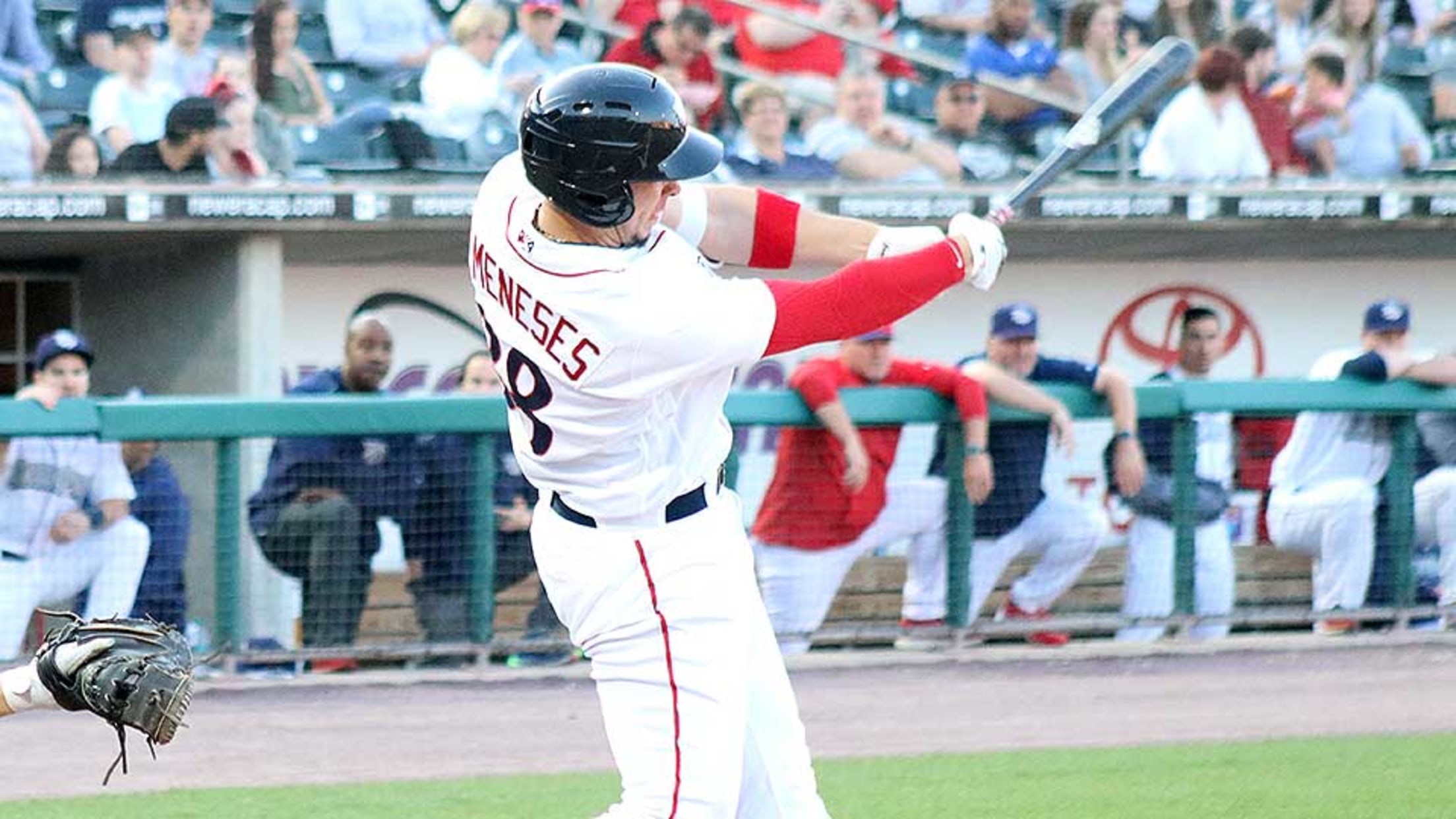 Follow @IronPigsJoey Meneses provided the game-winning power Friday for Lehigh Valley, launching a two-out ninth-inning home run off Chris Smith (1-2) as the IronPigs rallied to defeat the Syracuse Chiefs 2-1 at NBT Bank Stadium. The victory keeps the Pigs atop the International League North Division. 
Marlins' Jones honored after smashing debut
'Hoppers outfielder homered four times in first five Class A games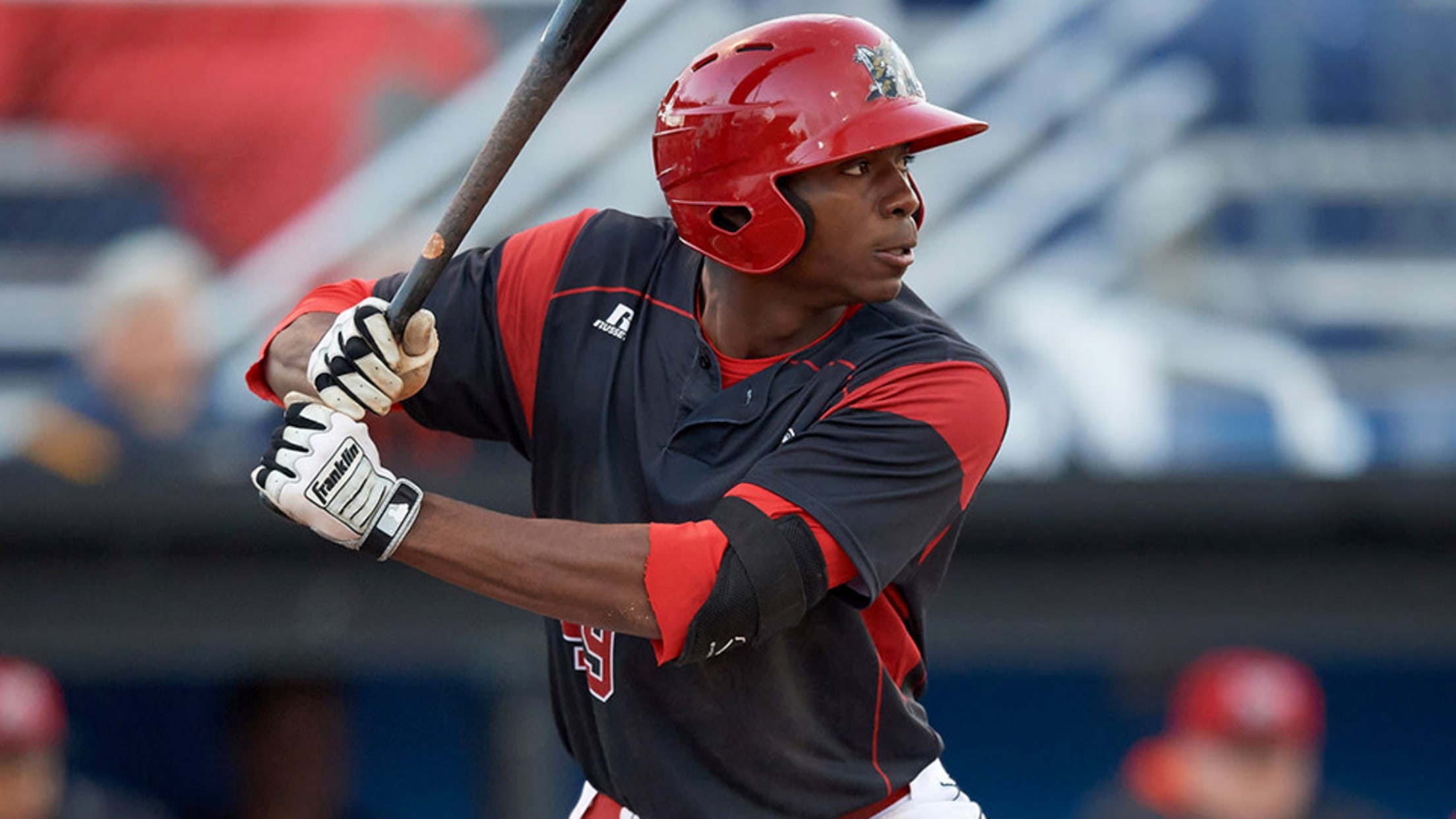 Franmil Reyes, Vladimir Guerrero Jr., Juan Soto and Eloy Jiménez all dominated the headlines last week -- and justifiably so. Three of MLB.com's top 30 overall prospects showed why they're each considered among the game's best young hitters, while Reyes teed off for a mind-boggling eight homers in five Triple-A
Meneses posts hat trick in Mexican playoffs
Ex-Braves prospect smacks three solo homers for Tomateros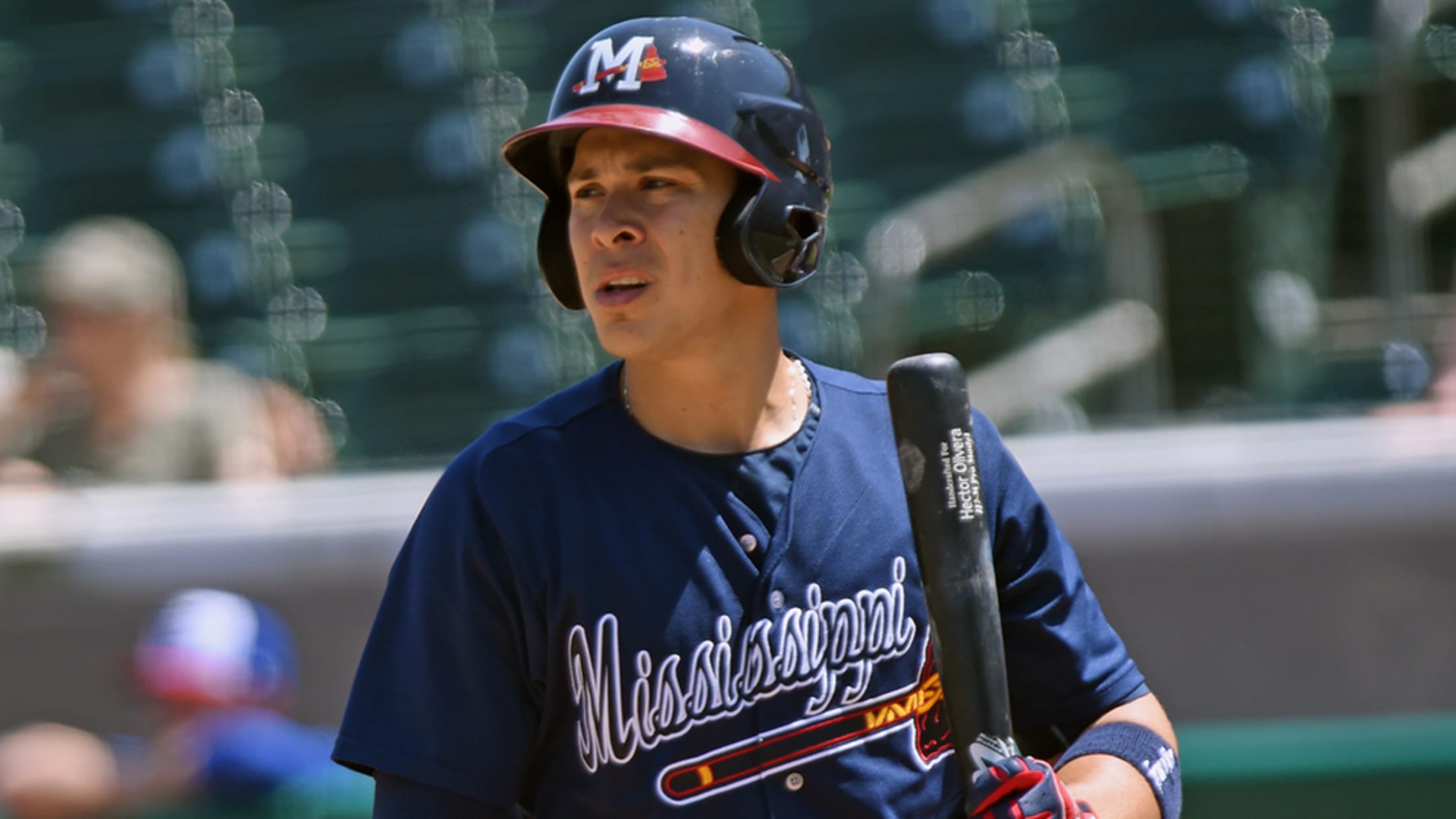 Joey Meneses is no stranger to milestone performances. He made history again on Friday night.The former Braves prospect tied the Culiacan record for homers in a game, smacking three solo shots as the Tomateros dropped a 7-6, 12-inning decision to the Charros de Jalisco in Game 4 of the Mexican
Unselfish Acuna leads next wave of Braves
Top prospect breaks out; Wilson, Wentz dominate on mound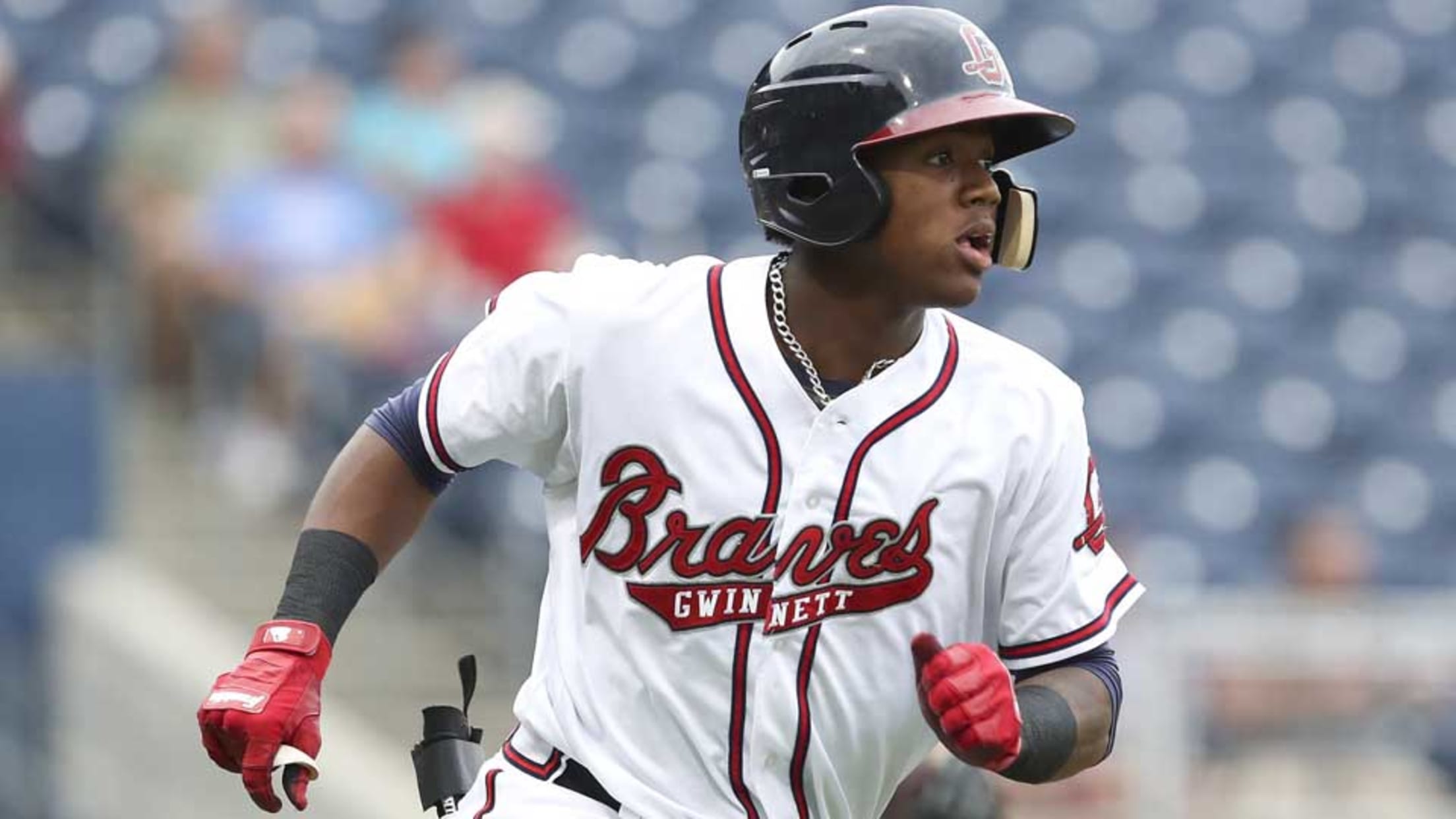 This offseason, MiLB.com is taking a look at the most outstanding campaigns by players in each system across Minor League Baseball and honoring the players -- regardless of age or prospect status -- who had the best seasons in their organization.After being named the farm system with the best pitching
Power propels M-Braves to series clinching win over Birmingham
Mississippi totals 15 hits in 7-2 victory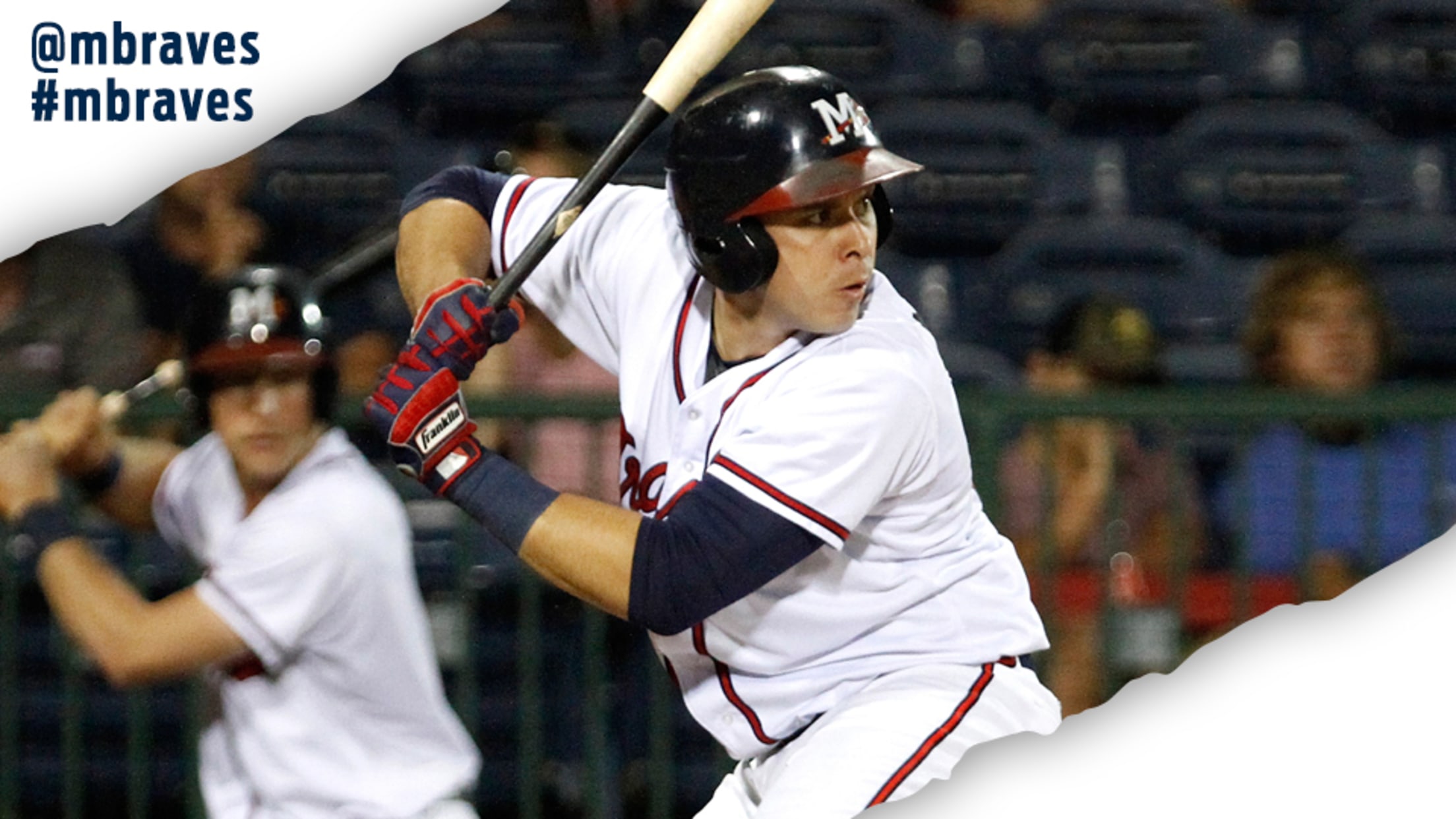 PEARL, MS -- The Mississippi Braves (23-44, 57-80) produced one of their top offensive games of the year to defeat the Birmingham Barons (27-41, 53-84) 7-2 and clinch the final series of the season in front of a crowd of 5,869 at Trustmark Park Sunday afternoon.The M-Braves tallied seven runs
Lookouts jump on Braves early, cruise to 7-2 victory
Chattanooga scores three in first, four in fourth to move within one game of series win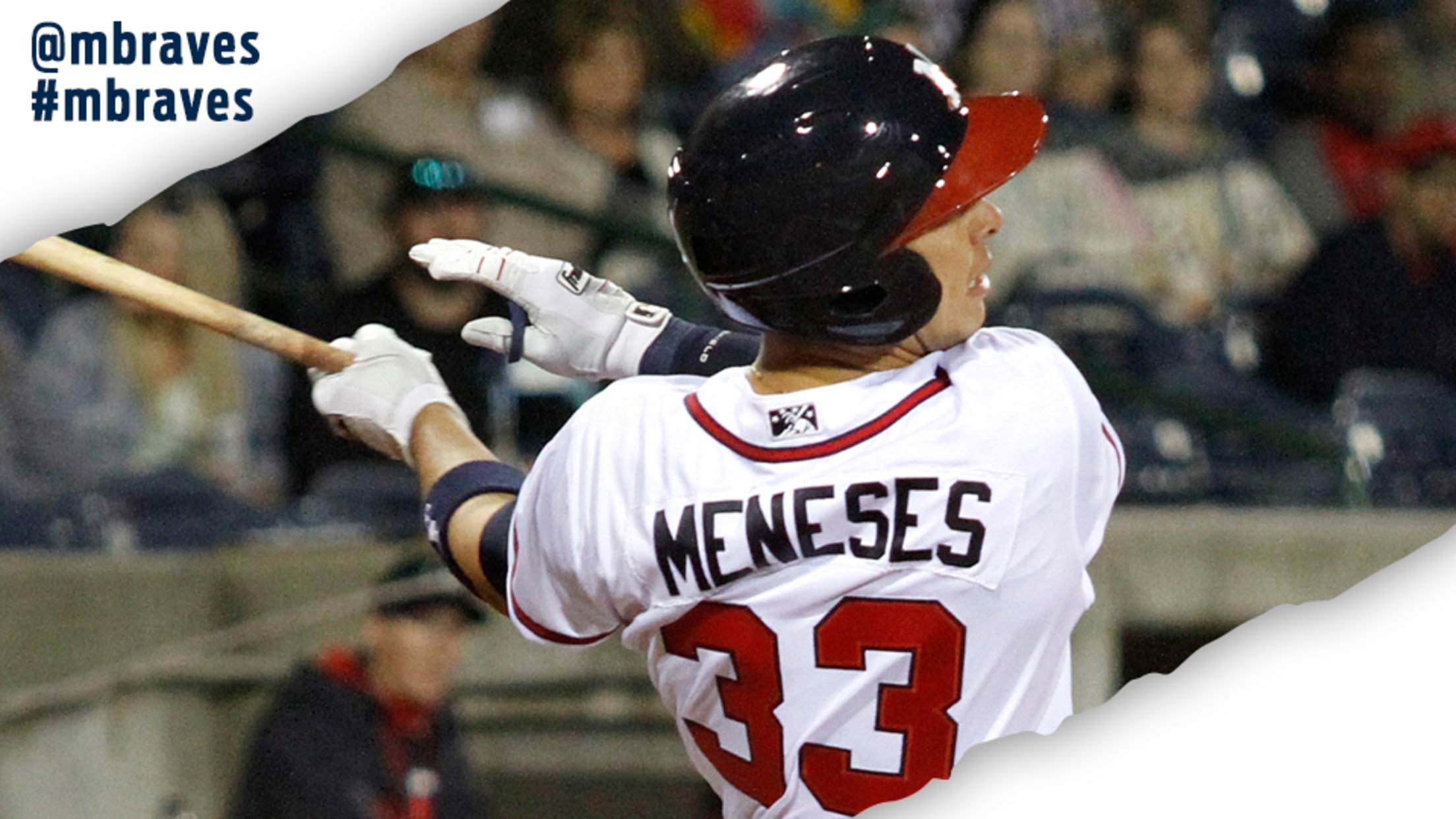 CHATTANOOGA, TN -- In game three of the five-game series at AT&T Field, Chattanooga took advantage of seven walks by M-Braves pitchers to take an early lead and never looked back, claiming a 7-2 win Wednesday evening. The Lookouts won the Southern League North Division First Half Title and are
Meneses, Toussaint claim weekly honors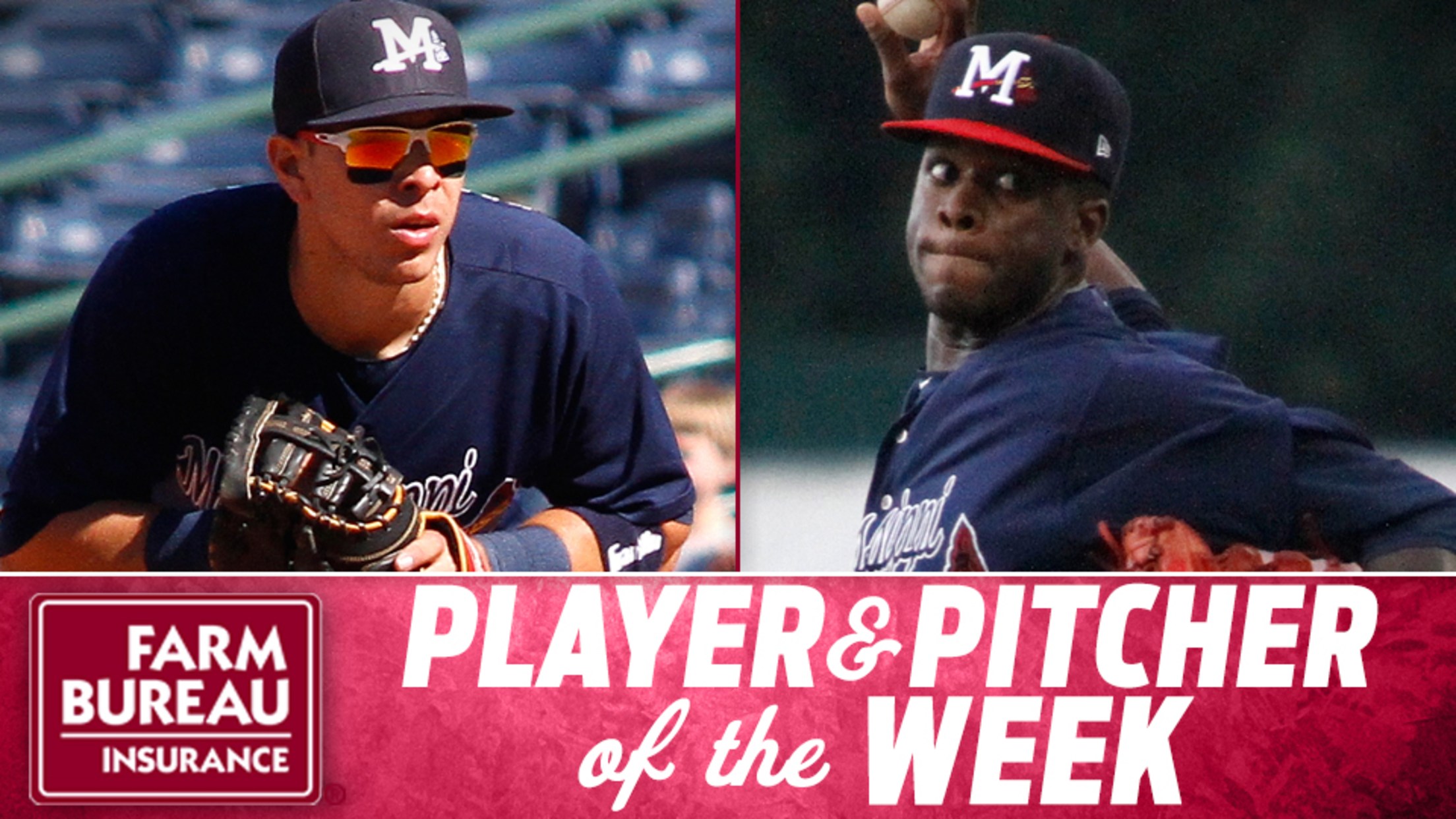 PEARL, MS -- Mississippi Braves infielder Joey Meneses  and RHP Touki Toussaint  have been named Mississippi Farm Bureau Player and Pitcher of the Week for the week ending Sunday, August 20.Meneses, 25, posted a .438 batting average (7-for-16) with one double in six games during the week. In 93 games with the
M-Braves dominate Blue Wahoos in game four
Touki Toussaint tosses seven scoreless innings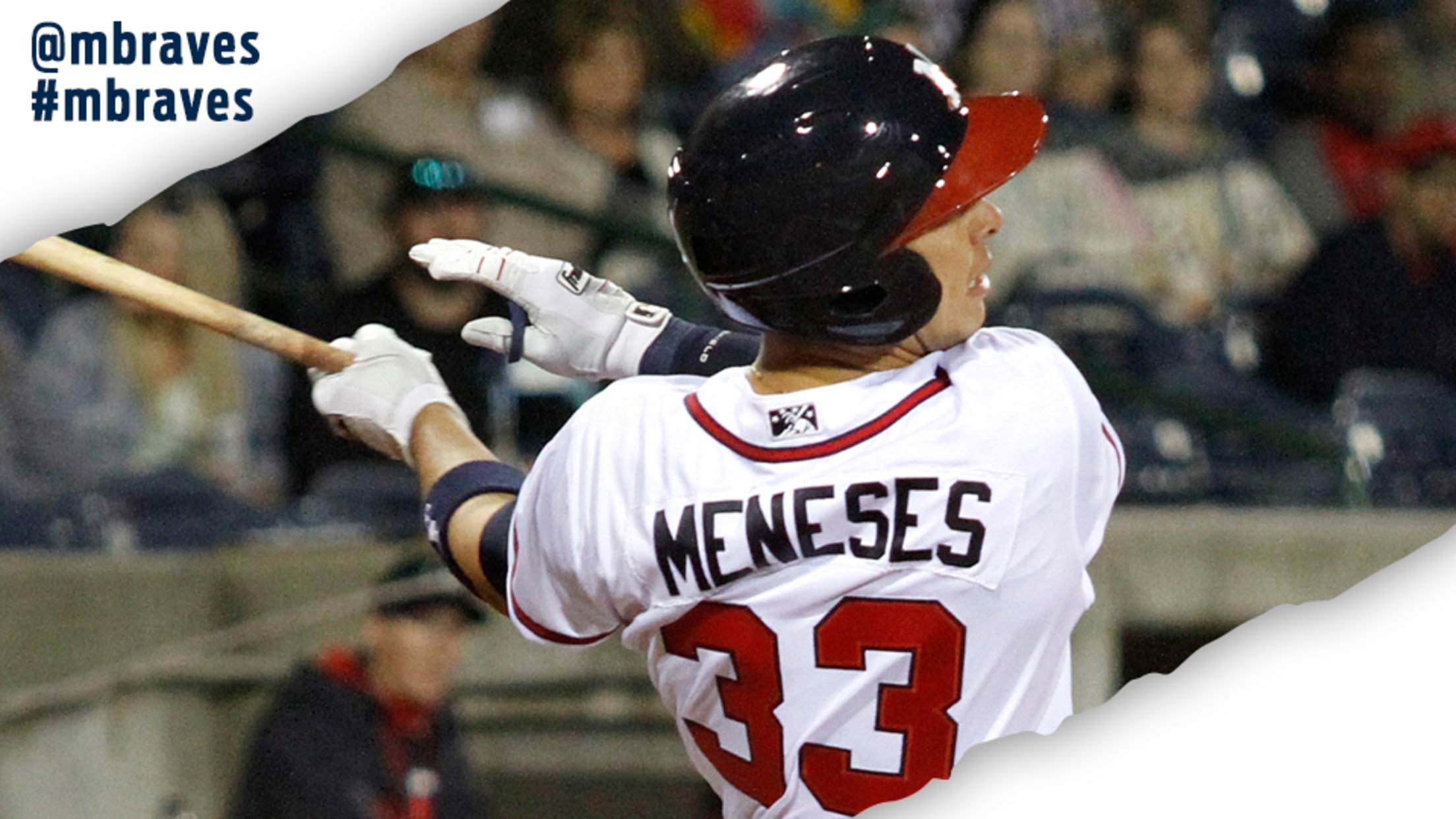 PEARL, MS -- The Mississippi Braves bounced back after three losses to defeat the Pensacola Blue Wahoos 4-0 Saturday night at Trustmark Park. The M-Braves were led by No. 15 prospect Touki Toussaint on the mound and Joey Meneses at the plate, as Mississippi put on a complete performance in
Jacksonville defeats Braves 5-2
Richards pitching, Ard's homer defeat Braves in game three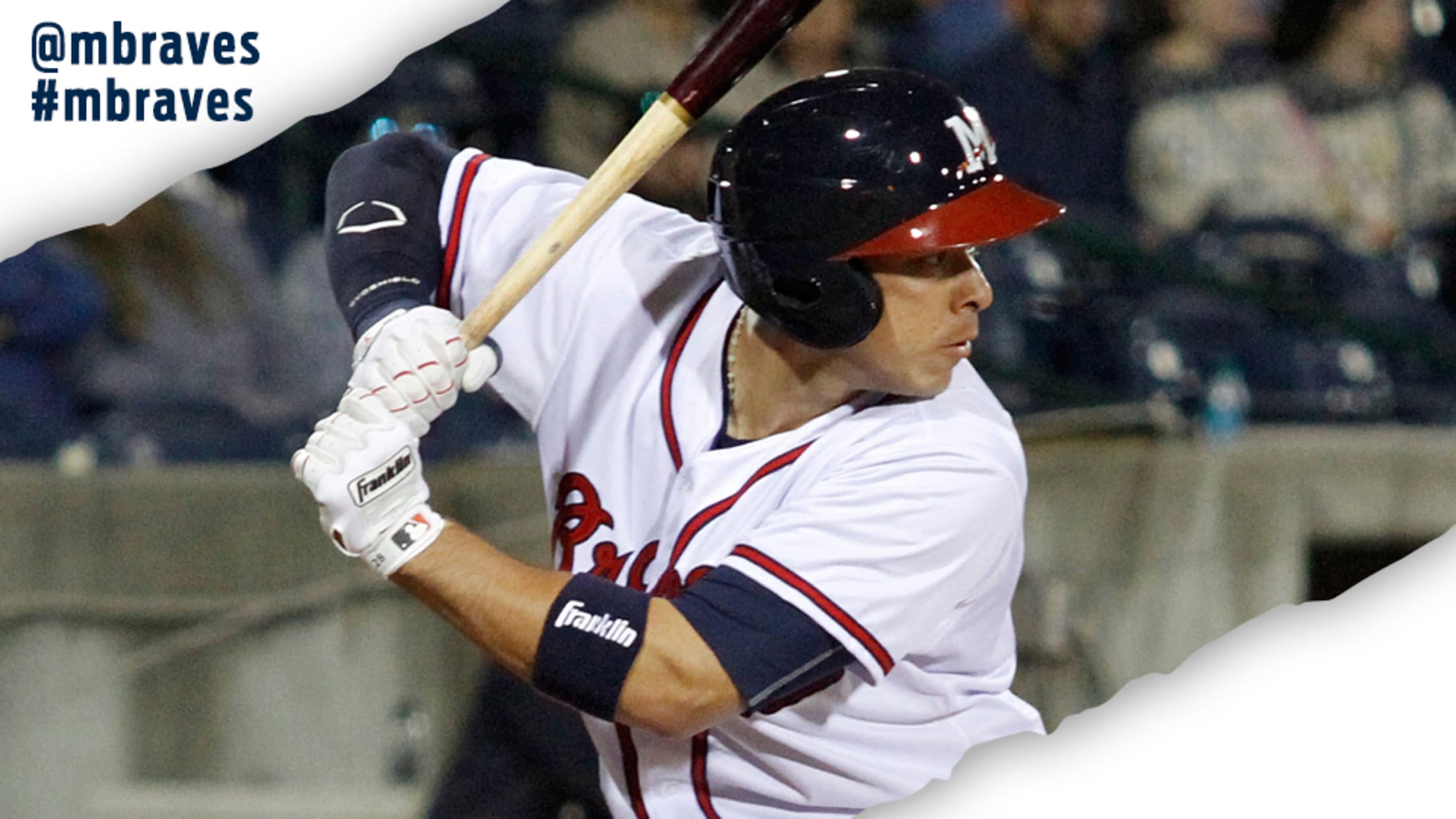 JACKSONVILLE, FL -- Mississippi and Jacksonville, behind great pitching from Tyler Pike and Trevor Richards, were scoreless through five innings until Taylor Ard hit a three run homer to put the Jumbo Shrimp out front en route to a 5-2 victory Saturday evening. The win gives the Jumbo Shrimp a
Meneses, Pike claim weekly honors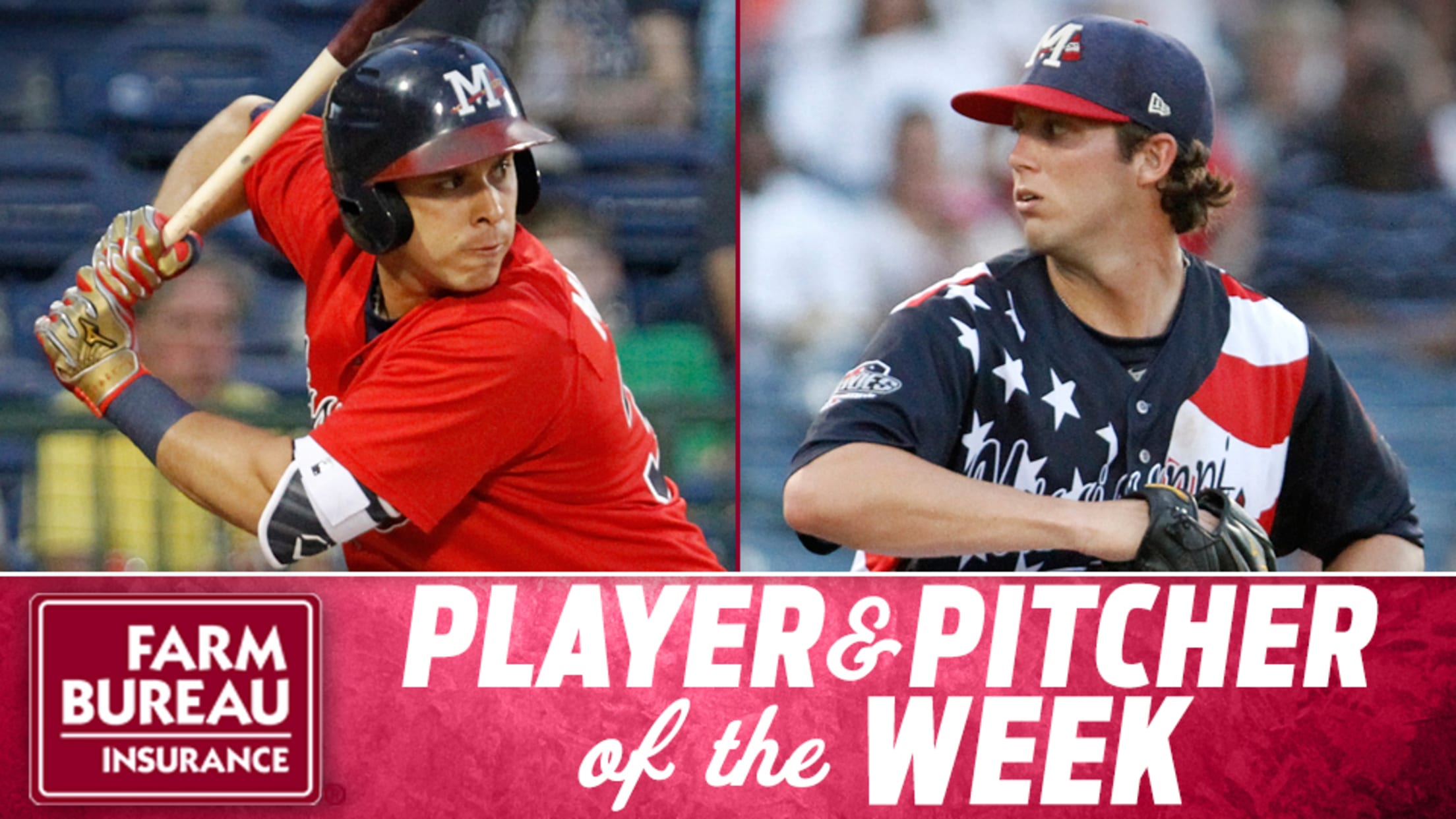 PEARL, MS -- Mississippi Braves infielder Joey Meneses  and LHP Tyler Pike  have been named Mississippi Farm Bureau Player and Pitcher of the Week for the week ending Sunday, August 6.Meneses, 25, posted a .370 batting average with two doubles, one homer and two RBI in eight games during the week. In
Mississippi falls to another late-inning rally by Biloxi
Tyler Pike's quality start not enough for M-Braves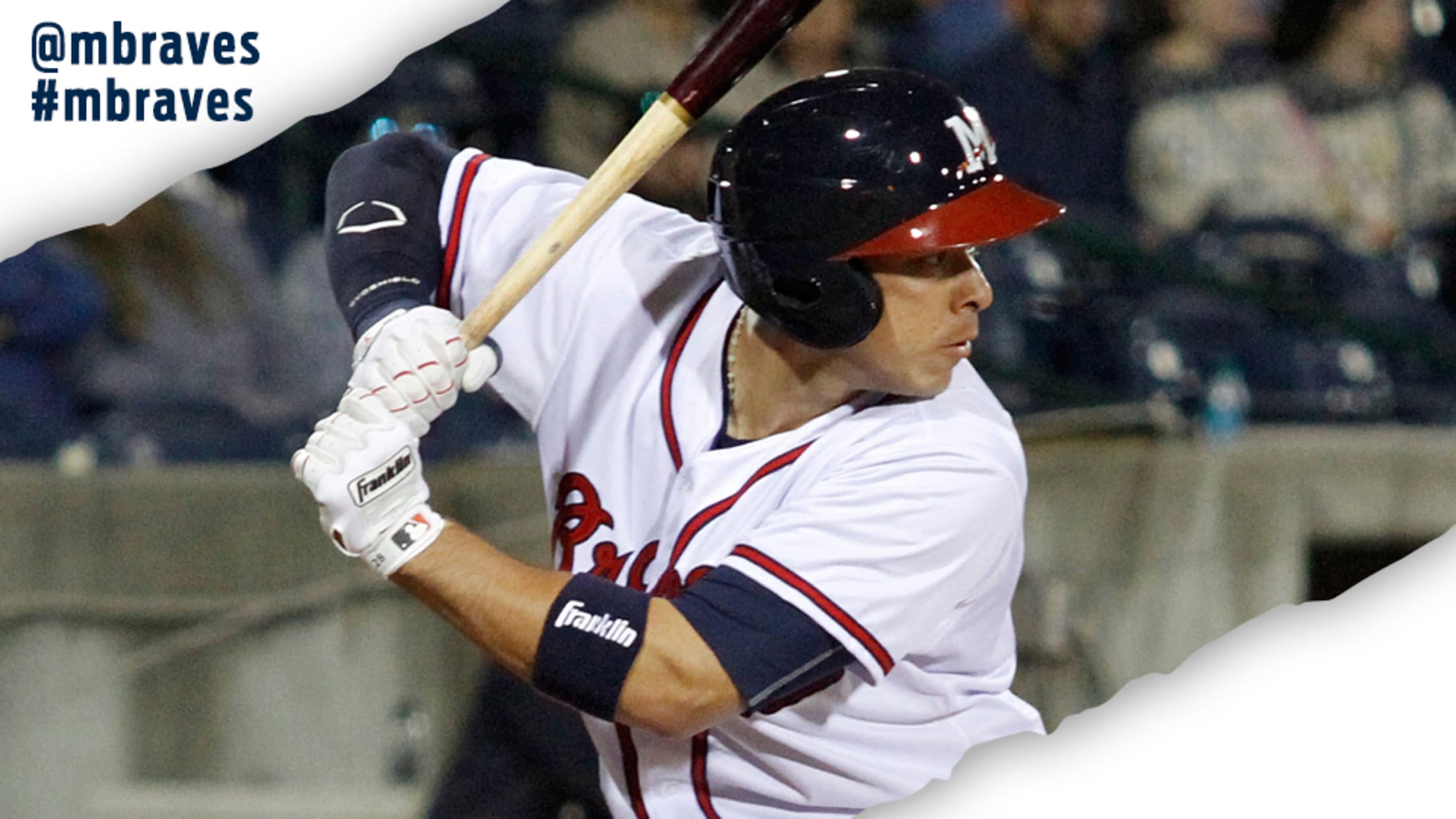 PEARL, MS -- For the second straight night, the Mississippi Braves (12-30, 46-66) fell to a late-inning rally at the hands of the Biloxi Shuckers (20-22, 56-55), dropping a 3-2 contest at Trustmark Park Saturday night. Mississippi got a great start from Tyler Pike in game two of a five game
Mobile completes six-game sweep, defeats Mississippi 6-4
Meneses goes 3-for-4 with three runs scored in the loss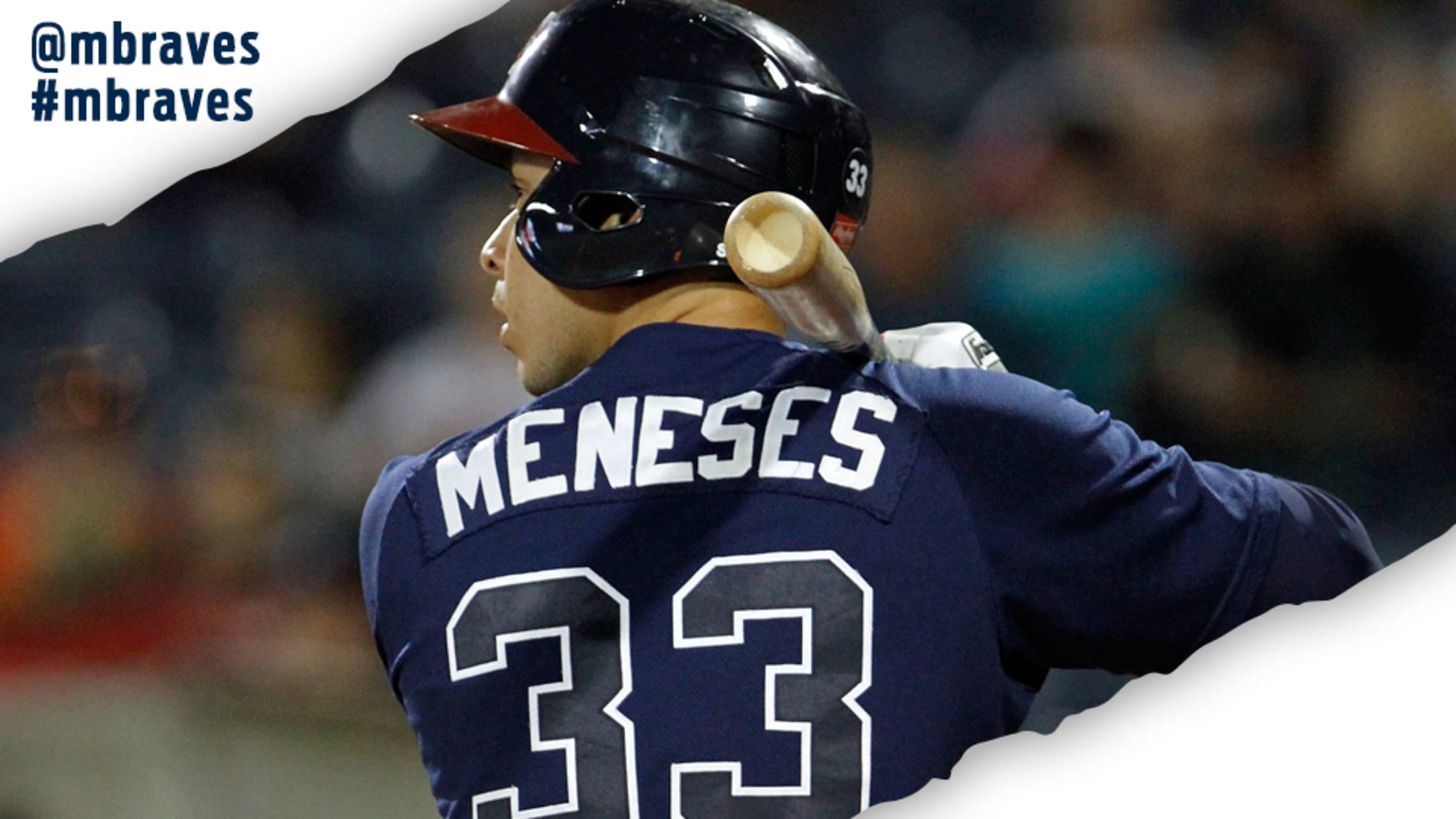 MOBILE, AL -- The Mobile BayBears completed a six-game sweep of the Mississippi Braves with a 6-4 victory in Thursday's series finale at Hank Aaron Stadium. The South Division-leading BayBears outscored the Braves 33-16 during the series and took over the top spot in the second half standings with only