The Road to The Show™: Royce Lewis
Top overall pick in '17 Draft making climb to Minnesota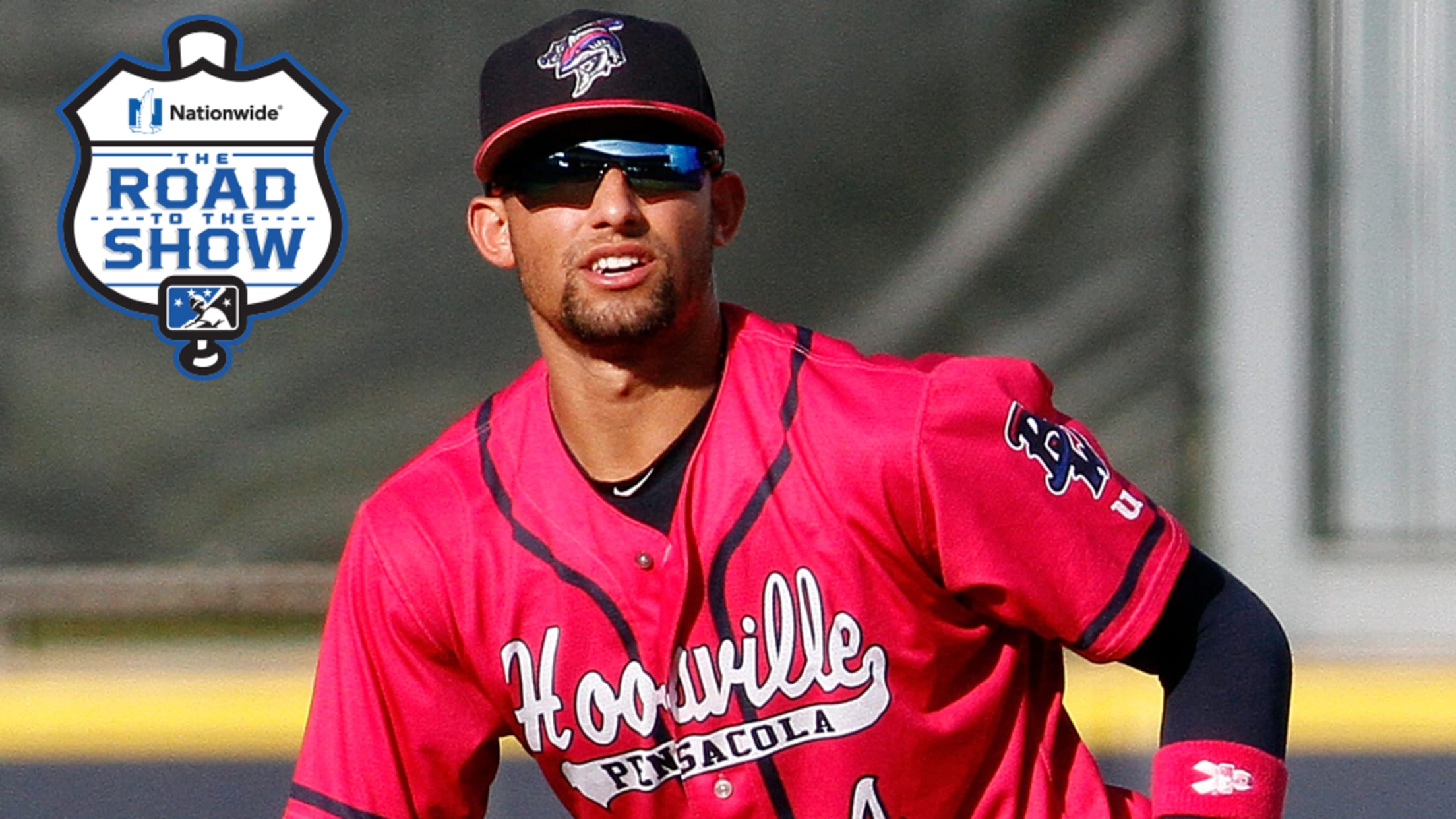 Royce Lewis split his 2019 season between Class A Advanced Fort Myers and Double-A Pensacola. (Ed Gardner/MiLB.com)
Each week, MiLB.com profiles an elite prospect by chronicling the steps he's taken to reach the brink of realizing his Major League dream. Here's a look at Minnesota Twins shortstop Royce Lewis: First round, first pick. On June 12, 2017, the Twins put Royce Lewis in exclusive company as a
Each week, MiLB.com profiles an elite prospect by chronicling the steps he's taken to reach the brink of realizing his Major League dream. Here's a look at Minnesota Twins shortstop Royce Lewis:
First round, first pick. On June 12, 2017, the Twins put Royce Lewis in exclusive company as a 1-1. Three years later, he's working hard and on the right track to reward their faith.
Since being drafted first overall out of a California high school, Lewis -- MLB.com's No. 9 overall prospect -- has played in just over 300 career professional games, steadily climbing the Twins organizational ladder. From Rookie level, he advanced to full-season Class A in his debut year. From Class A to Class A Advanced the following season, his first full pro campaign. And last year, Lewis made the jump to Double-A at just 20 years old.
2017 (Rookie-level GCL Twins, Class A Cedar Rapids)
The Twins had a wealth of intriguing options with their first pick three years ago, from potential two-way stars in Louisville product Brendan McKay (now with the Rays) and California prep phenom Hunter Greene (Reds) but went with Lewis out of Junipero Serra High School. The fleet-footed shortstop, ranked fifth among draft prospects that year, signed five days after his selection and reported immediately to the Gulf Coast League.
Lewis debuted with a bang, homering in his first professional at-bat. He compiled a .271/.390/.414 line in 36 games, drawing 19 walks while striking out only 17 times, to earn his first promotion.
Finishing the season with 18 games in the Midwest League, Lewis held his own during his first taste of full-season ball. Again, he made a noteworthy debut by recording his first career four-hit game. On Aug. 12 against Quad Cities, he also stole a base, scored twice and drove in a run. He duplicated the feat just over a week later and ended up batting .296/.363/.394 with the Kernels to vault himself to top prospect status in the Twins system.
2018 (Class A Cedar Rapids, Class A Advanced Fort Myers)
Lewis' first full season came across two Class A levels. He conquered the Midwest League in 75 games with Cedar Rapids, batting .315/.368/.485 on his way to midseason and end-of-season All-Star nods.
In a 12-game stretch from April 21-May 7, he produced a four-hit effort and three three-hit games. And on May 27 against Clinton, he registered his first two-homer game with a pair of solo shots. Lewis celebrated his 19th birthday in style on June 5, belting his first career grand slam, then closed the month with eight hits over a three-game span.
Lewis earned a promotion to Fort Myers on July 14 and collected four singles in his second Florida State League game. A week later, he homered and drove in a career-high five runs, a mark he equaled on Aug. 6, when he went 4-for-6 with a pair of homers in a battle with 2018 top overall pick Casey Mize.
In 46 contests with the Miracle, Lewis put up a respectable .255/.327/.399 slash line with five homers, 33 runs scored and 21 RBIs. MiLB.com selected him as a Twins Organization All-Star, the first such honor of his career.
2019 (Class A Advanced Fort Myers, Double-A Pensacola)
With the 2019 season came Lewis' first bumps as a professional.
Beginning the year back in Fort Myers, he hit .238 with a .289 on-base percentage and .376 slugging percentage. There were still highlights. On June 6, he notched his first three-hit game in nearly two months, then capped his first two-homer game of the season with a walk-off blast on June 19.
The Twins saw enough to give the shortstop the bump to Double-A Pensacola after 94 FSL contests and a Futures Game selection, where he singled in two plate appearances. Lewis had another stellar debut for the Blue Wahoos, picking up two hits and two RBIs on July 28 against Jacksonville.
In his first Southern League test, he hit. 231/.291/.358 in 33 games, then went 8-for-20 with a homer, five runs scored and three RBIs in five postseason contests.
For the year, Lewis produced a .236/.290/.371 line in 127 games, belting 12 homers and stealing 22 bases but striking out 123 times while drawing 38 walks. Speaking with the MiLB.com podcast "The Show Before The Show" during Spring Training this year, Lewis diagnosed what went wrong.
"Honestly, I think it was all mental, 100 percent," he said. "Looking at the video of my swing, people were trying to compare it to the leg kick. Get rid of the leg kick. I feel like people were waiting for me to fail to say, 'It's his leg kick' when really the failure came mentally from me losing my confidence or not believing in myself and how good I actually can be and trusting those abilities to where I go up there sometimes not believing in myself or really doubting I'd get a hit that time.
"That's really a horrible mentality, and I apologized to all my teammates and coaches already about it. I shouldn't have done that, and it was really a growth year mentally for me. I think that's what's going to separate you from a lot of guys, not just myself but all these players in the Minor Leagues. That's how you get to the big leagues. It's the mental side, not just the physical."
Even after the Minor League season, Lewis' year wasn't over. He had room for redemption and captured it.
Assigned to the Salt River Rafters in the Arizona Fall League, Lewis took off. In 22 games, the Californian hit .353/.411/.565 against some of the top talent in Minor League Baseball, earning a Player of the Week award (Oct. 13), a selection to the league's Rising Stars game and MVP honors for both that showcase game and the season as a whole. Perhaps more impressively than the offensive resurgence is that Lewis did it while playing substantial innings at positions other than his natural shortstop for the first time in his career.
"I think that was some of the most fun I've had playing at the professional level just because I was playing against all my buddies that I either got drafted with, played against, et cetera, et cetera," Lewis said on the podcast. "Being able to compete with them on a nightly basis, there's only about [six] teams out there, so competing with all your buddies literally every night was really cool, just going mano-a-mano like, 'Hey, I've got to outplay you today.' I think going off of that, my mentality has changed to I need to have that attitude no matter who's on the field, no matter who I'm playing against. for some reason, mentally something happens where I just click and do a little better when the lights are on."
The AFL showing turned Lewis' year into a positive and put him on good footing heading into the 2020 campaign.
Royce Lewis blasts a homer against the Phillies! #MNTwinsST pic.twitter.com/t7TcEh9wbJ

— Minnesota Twins (@Twins) March 10, 2020
"This is already my third full season, going into it, and I feel like I was just drafted the other day," he said in Spring Training. "For me, it's almost like you had a dream, and when you have a dream and a goal and you expect things to happen, it's still really cool, but at the same time, I expect to be [in the Majors] helping teams out and playing against guys like this. That's my goal. How am I going to get there? I've got to expect it and believe in it."
Lewis' skill set is as impressive as ever, and the shortstop has been young for every level he's reached. He was off to a good start in big league Spring Training with two homers and a double in 10 games and likely was headed back to Pensacola before play was halted.
Tyler Maun is a reporter for MiLB.com and co-host of "The Show Before The Show" podcast. You can find him on Twitter @tylermaun.